Best Urethral Sounds and Sounding Sets – Top 15 Ranked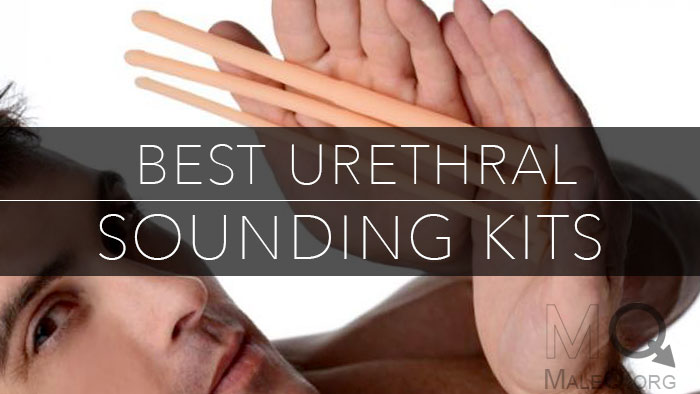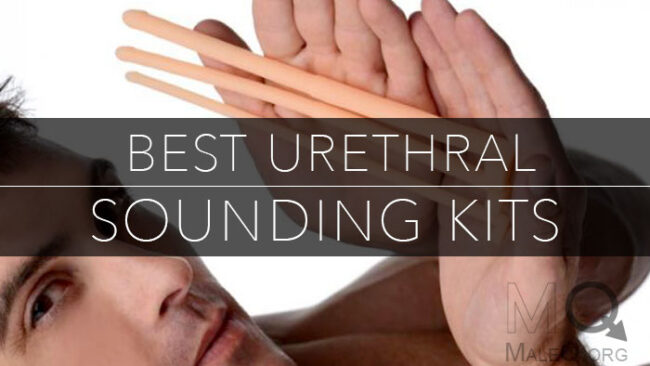 If you're new to urethral sounding or an experienced user, you've come to the right place. In this guide we go over the best urethral sounds and sounding sets available right now. We've researched and reviewed the top sounds and sounding sets on the market. Together we will explore sounding tools that deliver both comfort and stimulation.

What is Urethral Sounding?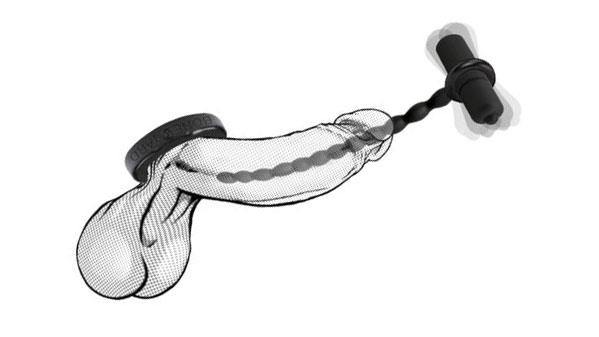 Urethral sounding refers to the practice of inserting thin, smooth rods into the urethra for sexual pleasure or medical purposes. It can enhance sexual stimulation and intensify orgasms for some individuals. The best urethral sounds and sounding sets are specially designed tools with smooth surfaces, various sizes, and high-quality materials to ensure safety and comfort. It is essential to understand the importance of safety, hygiene, and pleasure. That's why you should choose sounds from trusted brands and consult with a medical professional to minimize risks.
Does Urethral Sounding Feel Good?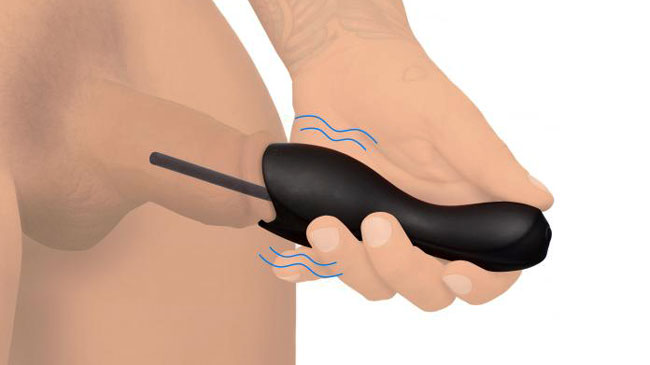 Urethral sounding is the sexual practice involving inserting objects into the urethra for pleasure or stimulation. When done correctly, sounding can stimulate sensitive nerve endings in the penis, and even the prostate, leading to an entirely different feeling orgasm. A quality sounding tool can enhance your urethral play in the most satisfying ways possible.
Best Urethral Sounds and Sounding Sets


Whether you're a beginner or an experienced adventurer, the following products offer unparalleled pleasure and stimulation. These are our picks of the best sounds and sounding sets avalible right now.
Vibrating Sounds
Urethral sounding is stimulating on its own. Add a bit of vibration, and you are in for a pulsating world of fun. Below are the best vibrating sounds that feel great to use.
Cadence Extreme Vibrating Urethral Sound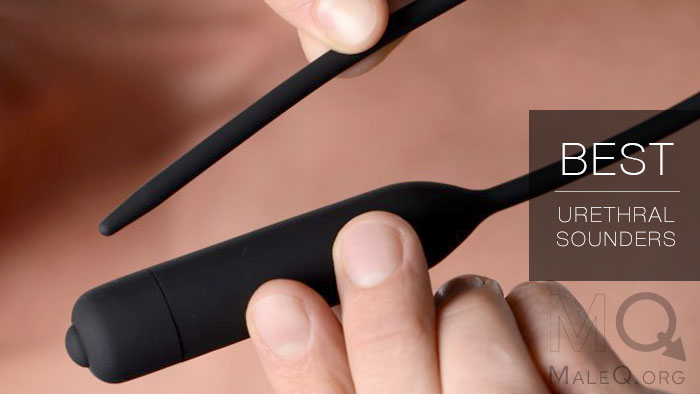 The Master Series Cadence Extreme 10X Vibrating Urethral Sound is a thrilling toy. It's made with high-quality materials and the silicone is flexible, making it comfortable to use. The size and shape of the sound provide intense sensations, and the vibration function added an extra level of pleasure. I was impressed by the variety of vibration settings and how easy it was to cycle through them. The sleek black design and discreet storage also added to its appeal. Overall I was very satisfied with this product and would recommend in to others looking for an intense and exciting experience.
Insertion Length: 14 Inches
3 Speeds & 7 Pulsing Patterns
Material: Silicone
Phthalatefree, Nonporous
Discreet, Easy To Clean Design
View on: MQ Store

Trinity Vibes Sound Penis Head Teaser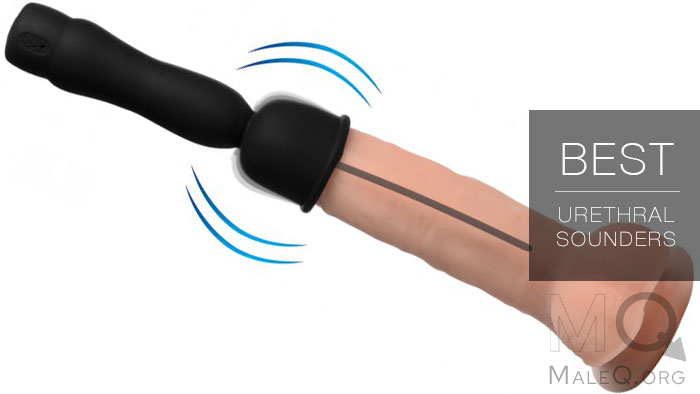 The Trinity Vibes Sound Penis Head Teaser is a versatile toy designed to stimulate both inside and outside of the penis. It features a vibrating head teaser component that delivers intense sensations and pleasure. Made from premium, body-safe silicone, this toy is safe for use on delicate areas. With multiple vibration settings and a convenient control button, you can easily customize your experience. The toy is USB rechargeable with multiple vibration modes.
Penis Head Teaser
Multiple Vibration Settings
USB Rechargeable
Material: Silicone
View on: MQ Store

Vibrating Plug Urethral Sound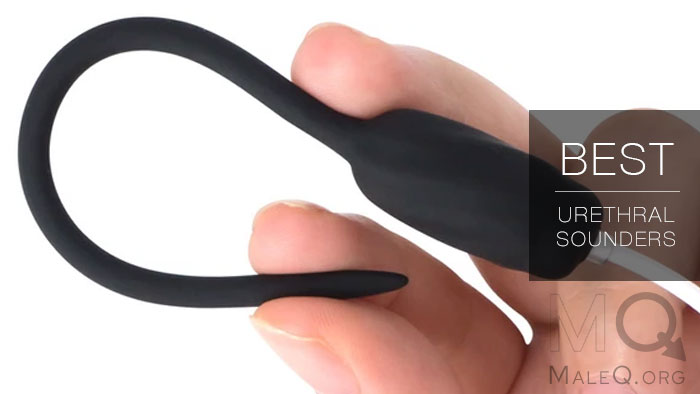 The Silicone Rechargeable Vibrating Plug Urethral Sound is a one-of-a-kind toy for urethral sounding enthusiasts. It offers a unique and intense experience by stimulating the sensitive nerve endings within the urethra. This toy is suitable for both beginners and experienced users, featuring 20 whisper-quiet vibration modes for customizable play. Made from medical-grade silicone, it is bodysafe, hypoallergenic, and phthalate-free. The smooth material and range of vibration modes make it one of the best urethral sounds you can buy right now.
Material: Medical-grade Silicone
20 Vibration Modes
Usb Rechargeable, 2 Hours Of Playtime
Rounded Tip For Easy Insertion
Total Length: 5.3 Inches
View on: MQ Store

Beaded Vibrating Urethral Sound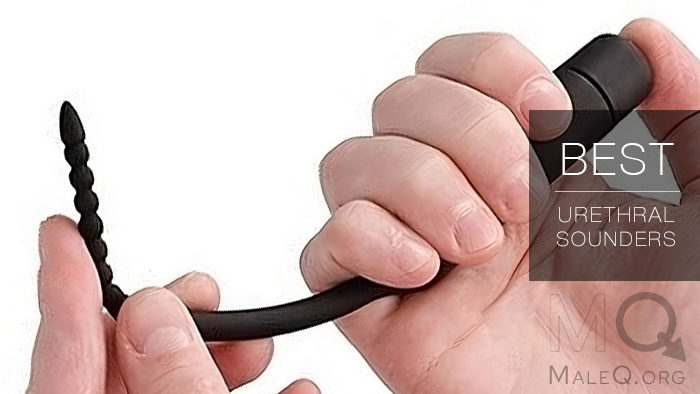 The Ouch Beaded Vibrating Sounder is a toy designed for urethral exploration. It offers intense stimulation by targeting the highly sensitive nerve endings in the urethra. Insert it fully for a direct prostate massage. The rounded tip give you easy insertion, while the ribbed balls provide additional stimulation. With a single vibration mode reaches an impressive 12,000 rpm, that delivers a mind-blowing experience. This simple, sleek urethral sounder is one of the absolute best urethral sounders to get right now.
Rounded Tip For Easy Insertion
Beaded For Added Stimulation
Single Vibration Mode At 12,000 Rpm
Discreet, Quiet Operation
View on: MQ Store

Boneyard Piss Holer With Vibrating Bullet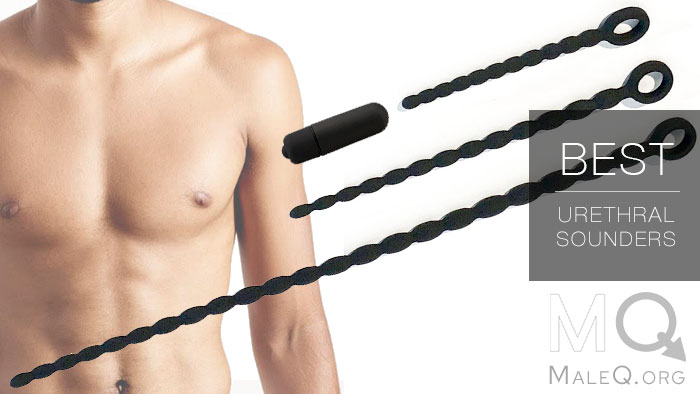 The Boneyard Piss Holer Vibrating Bullet is a sounding kit unlike any other. The kit includes three graduated silicone sounding rods that are flexible and easy to use. The best part is the interchangeable 7-speed vibrating bullet. It provides intense vibrations and adds a whole new level of pleasure. The sounds are made from premium medical-grade silicone, so they're safe and easy to clean. Overall, this kit offers a unique and exciting way to explore new sensations to enhance your sounding experience.
3 Graduated Silicone Sounding Rods
7 Speed Vibrating Bullet For Added Stimulation
Suitable For Beginners and Advanced Users
Material: Medicalgrade Silicone
View on: MQ Store

Sounding Sets
Spiral Screw Plug – Urethral Sounding Set of 4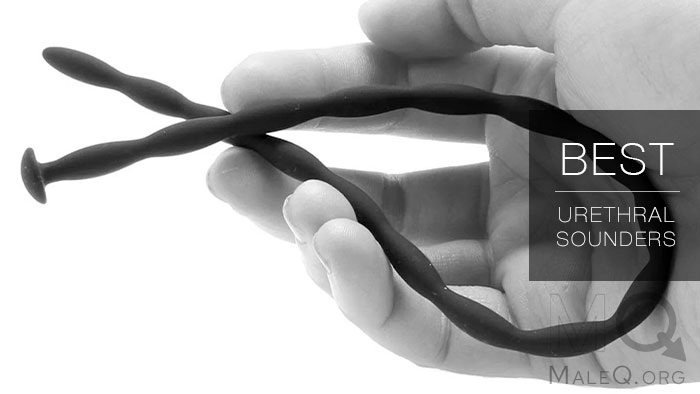 The Silicone Spiral Screw Plug Set Advanced Urethral Sounding Black is a unique and innovative product designed for those looking to explore the world of urethral sounding. This set of four twisted, extra-long probes offers a range of options to suit both beginners and experienced users. The smooth, pointed tips ensure easy and gentle insertion, while the flat, rounded head allows for safe and straightforward extraction. Made from medical-grade silicone, these probes provide a comfortable and pleasurable experience. Whether you're seeking pleasure or prostate massage, this product delivers the ultimate satisfaction.
Material: Silicone
Level: Advanced Urethral Sounding
Insertable Length: 11.65 inches
Smooth, Beaded Design
View on: MQ Store

Urethral Sounding Ring Set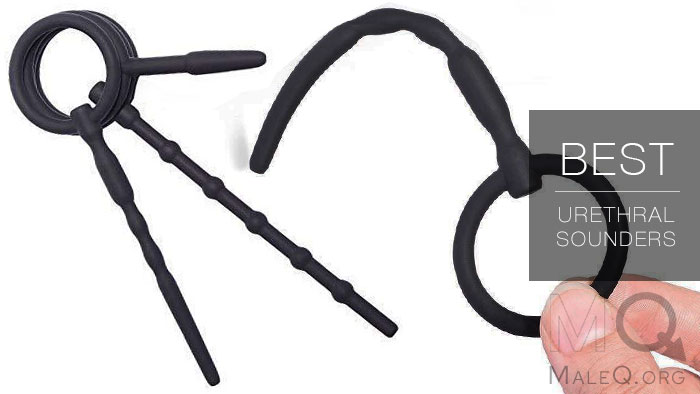 The Urethral Sounding Plug Set from Shots Toys, offers a fifferent experience for urethral play. This set includes three smooth silicone dilators, allowing you to gradually explore new depths to experience intense stimulation like never before. The flexible and textured material of these dilators provides incredible sensations that can enhance your erections and lead to powerful orgasms. These dilators come in different sizes and textures for a gentle transition making them some of the best urethral Sounds on the market. The ring pull design ensures easy removal, providing peace of mind during your playtime.
3 Silicone Ring Dilators
Gradually Explore Longer, Thicker Sizes
Perfect For Bdsm And Medical Roleplay
Insertion Length: 5 in, 9.5 in, 11.5 in.
View on: MQ Store

Master Series Urethral Sound Trainer Set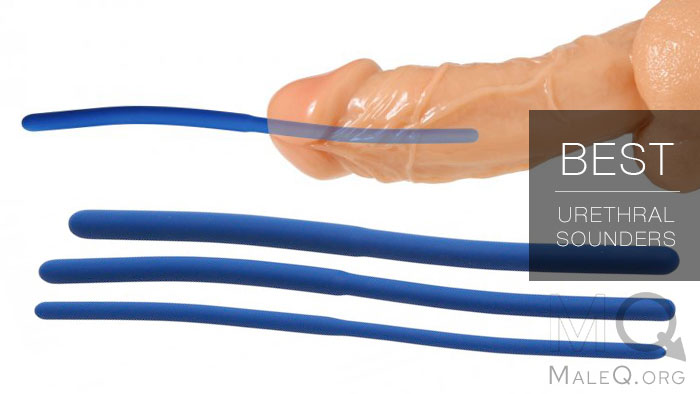 The Master Series Urethral Sound Trainer Set Silicone is a premium set of urethral sounds designed for safe and pleasurable experiences. Made from phthalate-free and non-porous silicone, these sounds are body safe and easy to sterilize. The set includes flexible rods that bend with the body for a comfortable experience. Each sound is double-sided, offering a different sized girth on each end, allowing users to gradually increase the size and stretch of their urethral opening. With its high-quality construction and customizable sizing options, this set is perfect for individuals interested in expanding their pleasure horizons.
Material: Bodysafe Silicone
Includes 3 Flexible Rods
Gradually Increase Size
View on: MQ Store

Rugged Nail Plug Set Urethral Sounder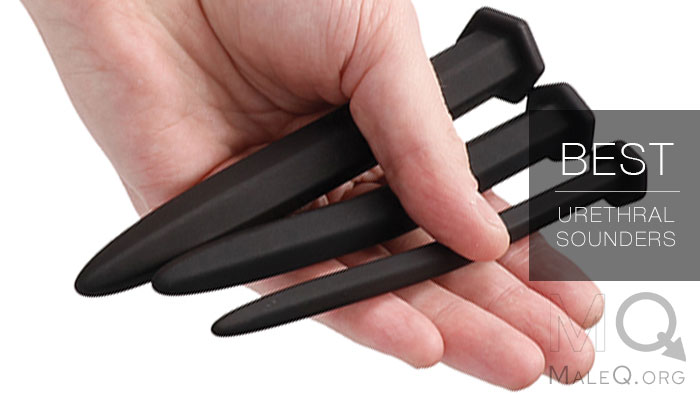 Introducing the Ouch Silicone Rugged Nail Plug Set Urethral Sounding Black by Shots Toys. This set of urethral sounders is perfect for both beginners and advanced users, offering an exhilarating experience of urethral sounding. Made from high-quality medical-grade silicone, it ensures a comfortable and enjoyable experience. The smooth pointed tips and flat rounded heads make insertion and extraction safe and hassle-free. With three different diameters for personalized pleasure, and the opportunity to stimulate the prostate, this set allows for intense sensations and heightened orgasms. Take your exploration to the next level with the Ouch Silicone Rugged Nail Plug Set.
Set Of 3 With Different Diameters
Material: Body-Safe Silicone
View on: MQ Store

Master Series Hardware Nail & Screw Urethral Sounder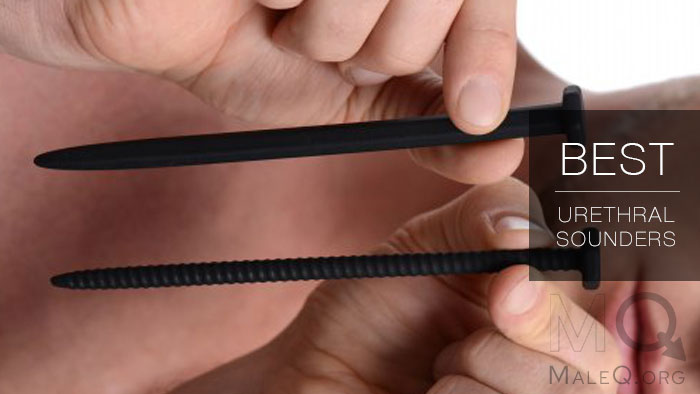 I recently tried the Master Series Hardware Nail & Screw Silicone Urethral Sounds and was blown away by the unique and kinky experience they offer. These urethral sounds come in two tempting shapes – a smooth, hexagonal nail and a spiral textured screw. Made from high-quality silicone, they are both comfortable and safe to use. The flexibility of the silicone allows for easy insertion, conforming to the natural curves of the body. Overall, these urethral sounds provide a thrilling and pleasurable experience while prioritizing comfort and safety.
Two Enticing Shapes: Nail And Screw
Designed For Intense, Hardcore Users
Hypoallergenic Silicone
View on: MQ Store

Master Series Dockers Silicone Urethral Sound Set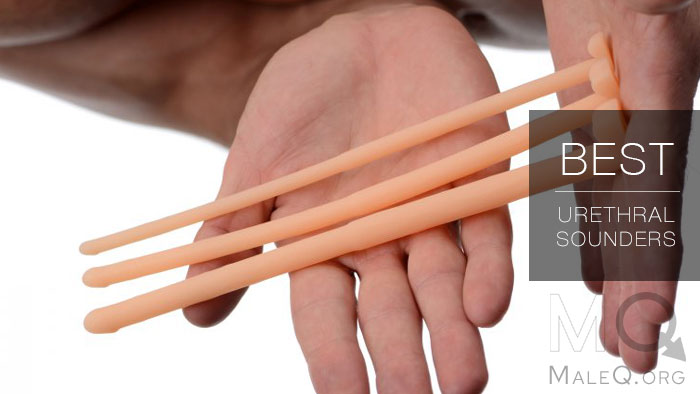 The Master Series Dockers Silicone Urethral Sound Set is a collection of three urethral sounds designed for individuals who are looking to explore unique pleasures and sensations. Made of flexible silicone material, these sounds are comfortable to use and body-friendly. They feature a textured design with a bulb head and veins, with the texture becoming more prominent as the size increases. The set includes three sounds of increasing sizes, allowing users to gradually work their way up. Measuring 8 inches in length, these sounds offer a pleasurable and stimulating experience for those interested in urethral stimulation.
Master Series Dockers Silicone Urethral Sound Set
Three Urethral Sounders
Gradually Increases In Size & Length
Made Of Flexible Silicone Material
View on: MQ Store

Sounding Cages
Master Series Gates Of Hell Urethral Plug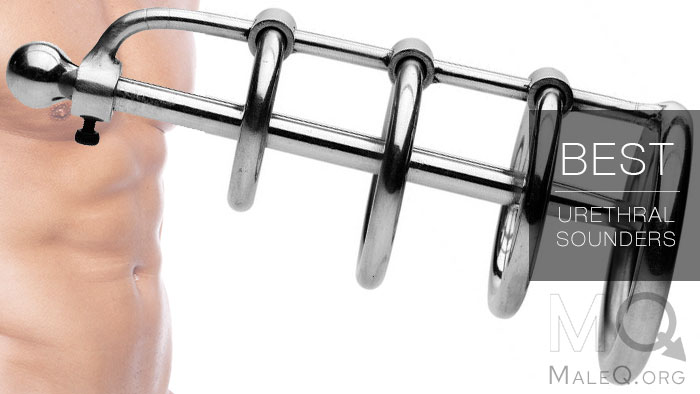 Wow, let me tell you about my experience with the Master Series Gates Of Hell Urethral Plug. This versatile stainless steel device is designed for prostate and urethral stimulation, and boy does it deliver! The cage holds the penis upright while the hollow urethral insert slides deep inside, creating an intense sensation. But here's the real kicker: it features a floating sound capped with a ball that allows liquid to pass through. Talk about mind-blowing! Plus, the adjustable design and included Allen wrench ensure a customized fit. Made from high-quality stainless steel, this device is not only durable but also easy to clean. Trust me, the Master Series Gates Of Hell Urethral Plug takes pleasure to a whole new
Stainless Steel Urethral Stimulation
Floating Sound For Liquid Passage
Adjustable Design For Customized Fit
Durable And Easy To Clean
View on: MQ Store

Mancage Chastity Sounding Cage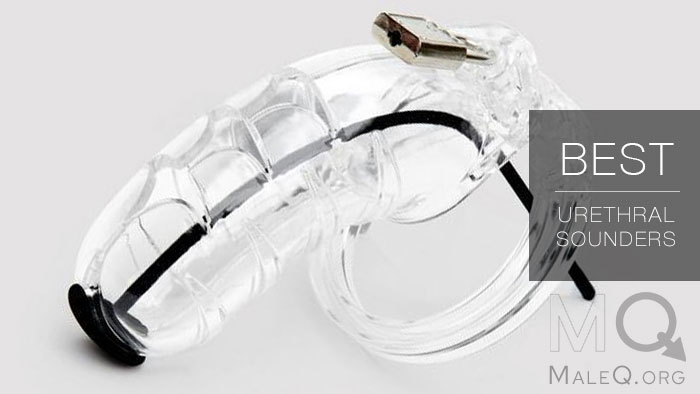 The Mancage Model 16 Chastity Cage is designed for restraint and control. Made from smooth and flexible medical-grade silicone, the cage measures 4.5 inches in length and securely encases the penis. The inclusion of a urethral sounding dilator enhances the experience of chastity play. With its comfortable design and added pleasure, this device provides a unique and thrilling design for those seeking a high-quality chastity experience.
4.5 Inch Cage
Includes Integrated Sounding Dilator
Constructed From Medical Grade Silicone
Secure Lock and Key For Cage
View on: MQ Store

Mystim Pubic Enemy Number 2 Cock Cage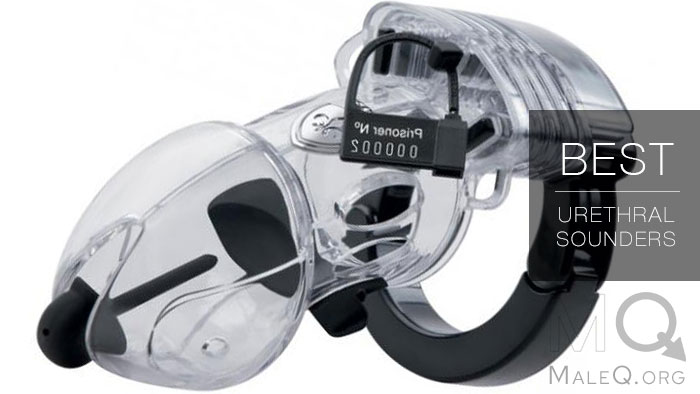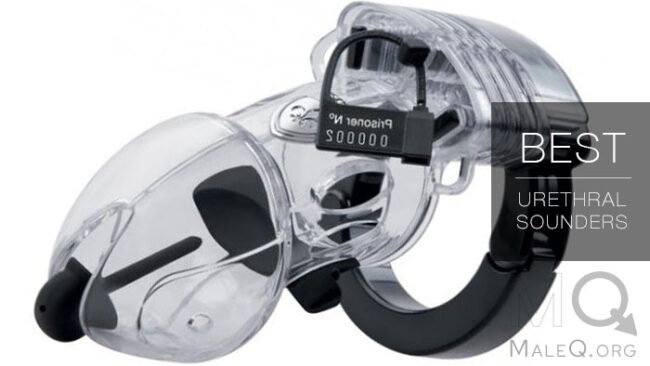 The Mystim Pubic Enemy Number 2 Cock Cage is a unique and thrilling product for those interested in bondage and cock cages. This transparent and adjustable cage keeps your excitement under lock and key until the dominant partner releases you. It features an e-stim function with a removable urethral sound and conductive surfaces, allowing for intense stimulation. The cage can be customized in terms of length and diameter. It comes with a metal lock, plastic seals, and name plates for personalization. Note that an e-stim device is required for activation (sold separately).
Mystim Pubic Enemy #2 Is A Transparent Cock Cage With Estim Function.
Adjustable In Length And Diameter For A Customized Fit.
Features A Removable Urethral Sound And Conductive Surfaces.
Comes With A Metal Lock And Name Plates For Personalization.
Requires An Estim Device, Sold Separately.
View on: MQ Store

The Mortal Coil Sounder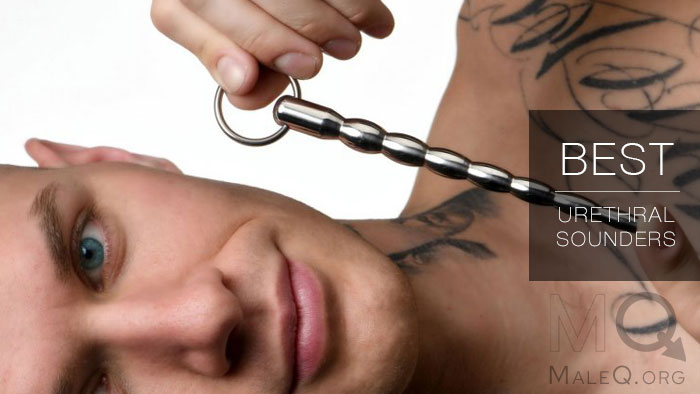 The Mortal Coil Sound from XR Brands and is an amazing, high quality sounder. It is made from high-quality brushed stainless steel. This urethral sound is designed to provide extra stimulation. I love the unique design with progressive swells, which allows for a gradual insertion. Plus, it's the perfect size for most users. What sets it apart from other sounding tools is its versatility – you can even warm or cool it for temperature play. I also appreciate the convenient ring pull for easy retrieval. Overall, this is a top-notch product that delivers a great sounding experience.
Material: Brushed Stainless Steel
Features Progressive Swells
Heat or Cool for Tempurature Play
Easy Manipulation With Ring Pull Top
View on: MQ Store

Ouch! Urethral Sounder Stainless Steel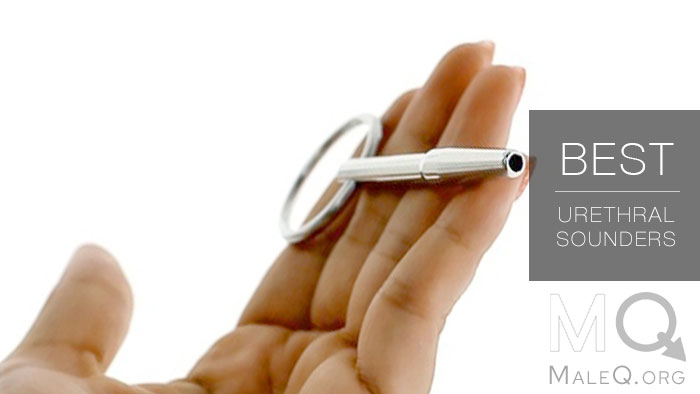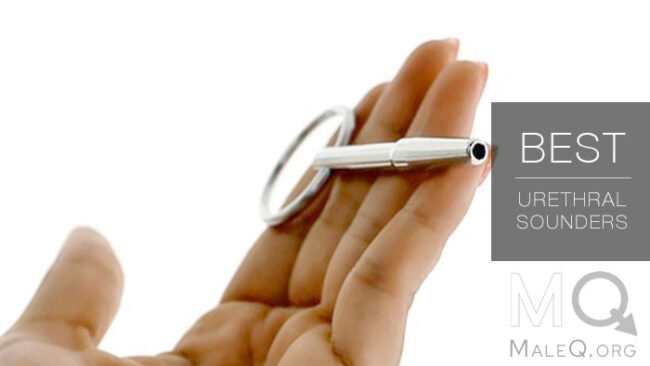 The Ouch! Urethral Stainless Steel Sounder is a thrilling way to explore sounding. Crafted from premium stainless steel, this plug offers both durability and a rugged, formidable appearance. With its smooth and comfortable graduated head, you can insert it easily. The hollow design allows for unrestricted airflow and fluid movement for the ultimate orgasm. The pull ring at the top makes for easy manurerability and retreival. Whether you're a curious beginner or an experienced explorer, this is a great, high quality sounder for most users.
Material: Stainless Steel
Smooth Shape for Comfortable Insertion
Hollow Body For Airflow And Fluid Movement
Pull Ring Top for Easy Retrieval
View on: MQ Store

Urethral Sounding Metal Dilator Set of 5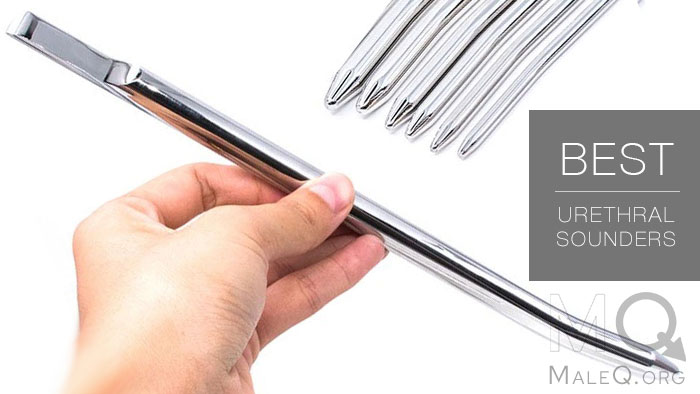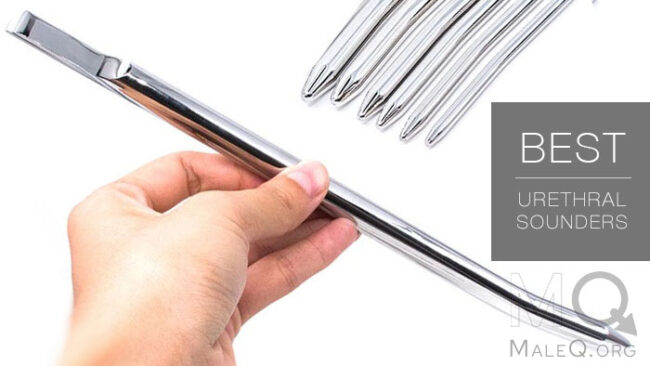 The Urethral Sounding Metal Dilator Set of 5 is a unique and exhilarating product that offers a daring exploration into uncharted territory for those seeking an extraordinary intimate experience. Crafted from robust stainless steel, this set exudes strength and durability, ensuring a smooth and easy insertion into the urethra. The set includes five distinct urethral dilator sounding tools, each varying in size, allowing for a customized experience tailored to individual preferences. Prioritizing safety and pleasure, proper care and hygiene are emphasized. This set is designed for those who crave the extraordinary and are ready to embrace thrilling sensations that defy convention.
Material: Stainless Steel,
5 Urethral Dilator Sounders
Length of Sounds: 10.25 inches
Diameter: 0.16 / 0.24 / 0.34 / 0.39 / 0.47 inch
View on: MQ Store

Lubes for Sounding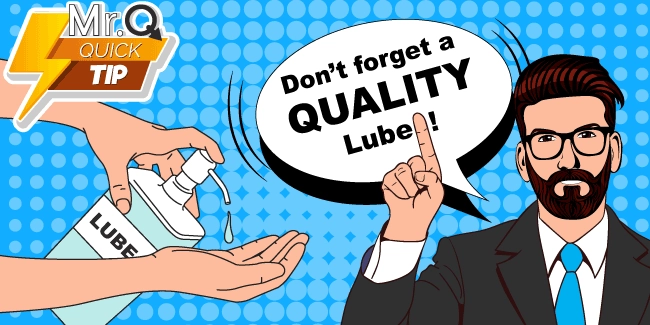 When performing sounding, it is absolutely essential to use a lubricant. This will make your experience, safer, smoother, and more enjoyable. It is important to choose a lube that is toy compatable and hygenic. That's why we recomend using a Gycerin Free lube. These lubes are free of glycerin sugars that may lead to urinary tract infections. That makes them the best lube for sounding!
Gun Oil H2O Gel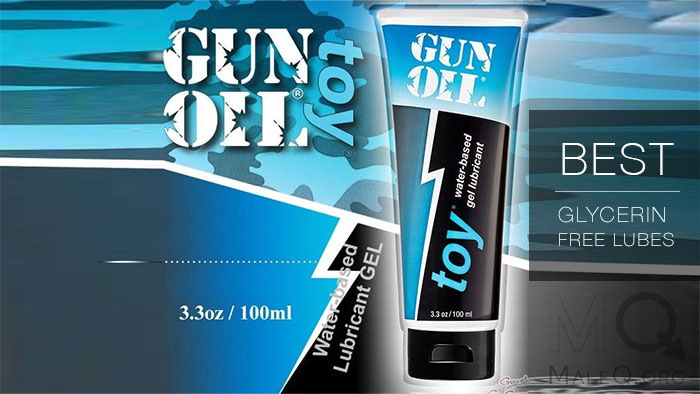 Gun Oild H20 is a pure water based lube that is unscented, unflavored, and free of glycerin. This makes it ideal for sounding and preventing UTIs. The super smooth formula is extra lubricating and feel great to use inside and out.
Water Based
Glycerin free & Paraben free
Unscented and unflavored
For Sensative Skin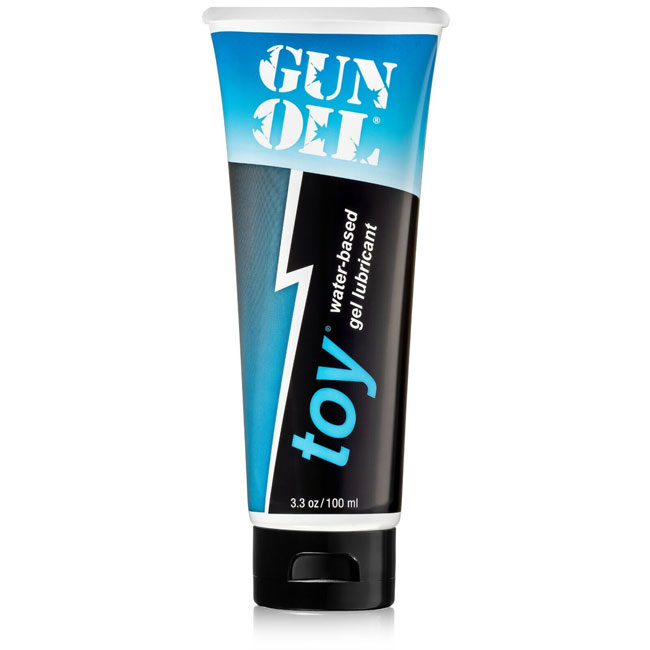 View on: MQ Store

Wicked Aqua Sensitive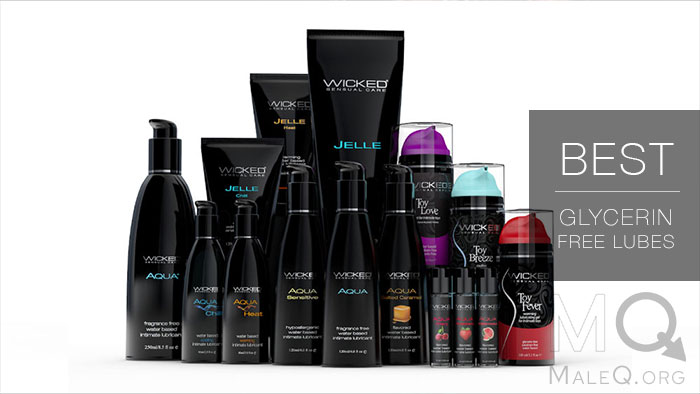 Wicked makes a great line of lubricants which are all glycerin free and freindly for sensative skin. Wicked Aqua Sensative is the ideal lube for sounding as it is pH Balanced, Hypoallergenic, Glycerin and Paraben free. This makes it perfect for sounding with your favorite toy.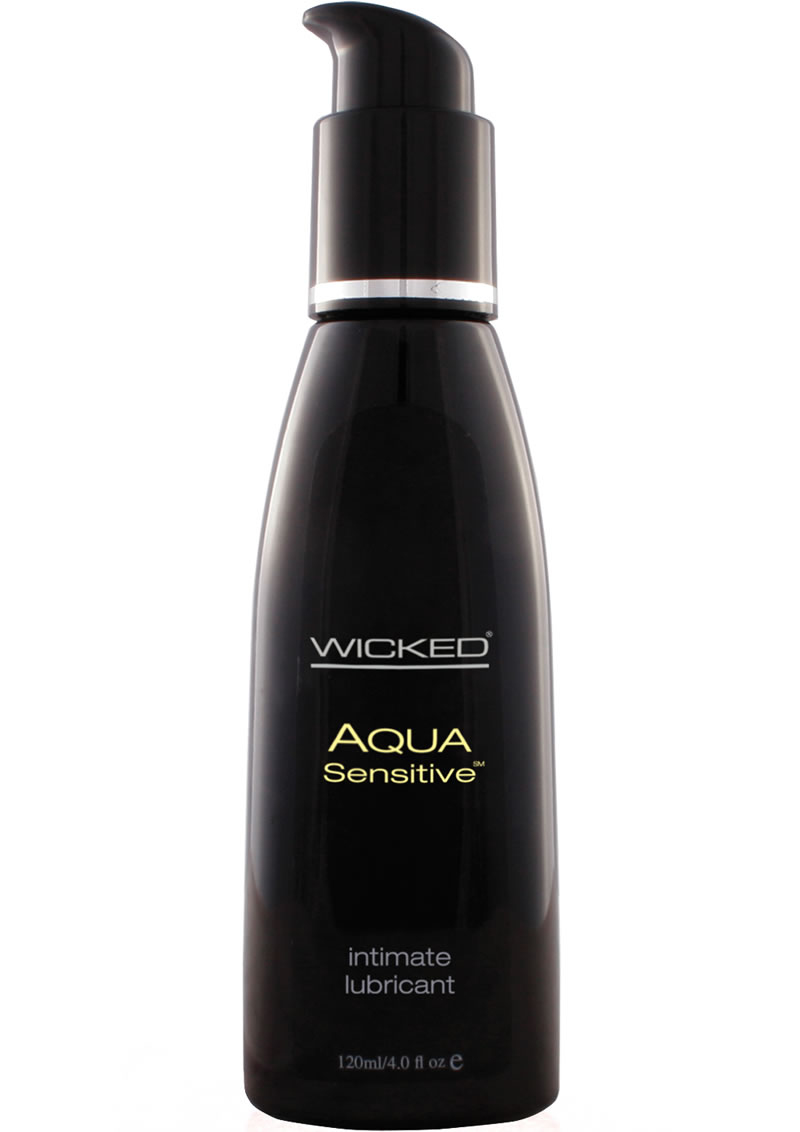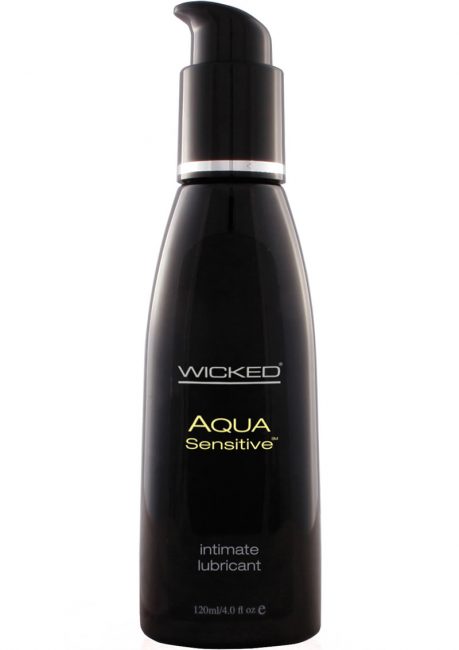 Glycerin and Paraben free
Ideal for sensitive skin
pH Balanced
Hypoallergenic
View on: MQ Store

How to Clean Your Urethral Sounds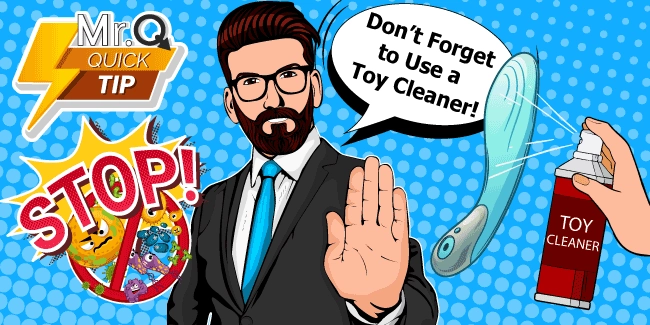 Hygeine before and after sounding is extremelt important. Improper toy hydein can lead to bacterial growth and urinary tract infections. That is why it is essential to clean your sounds before and after every use. Always wash and dry your sounds thoroughly with soap and water. Be sure to also disinfect with a quality toy cleaner.
Toy cleaner is a great way to keep your toy fresh, hygienic, and odor-free.
View on MQ Store

There are a world of Urethral Sounders that offer a wide range of options, from beginners to experienced users. Whether you are looking for a simple sounder, or a complete set, there is something for everyone. Remember, when experimenting with urethral play, it is essential to prioritize safety, hygiene, and communication with your partner/partners. With the right knowledge, understanding, and the right tools, this can be a rewarding and fulfilling journey for those willing to explore the depths of their pleasure.