Best Prostate Massagers – Top 15 P-Spot Stimulators of 2023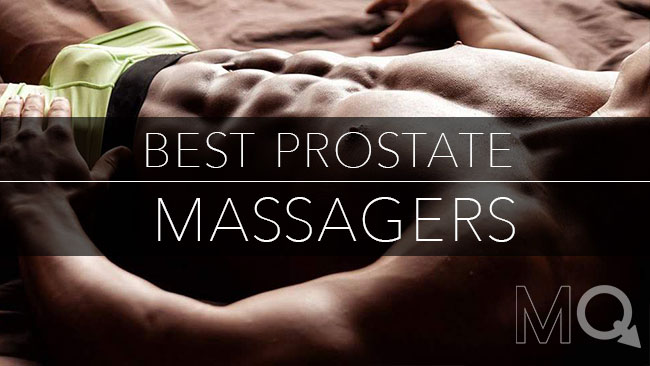 Picking a prostate massager can be tough. You need to choose the best shape and size to hit the right spot (your p-spot). To make your search a bit easier we have put together a list of the best prostate massager you can buy right now.
What is the Prostate?
The prostate is a gland in the male reproductive system that is located just below the bladder and in front of the rectum. It is roughly the size of a walnut and surrounds the urethra, the tube that carries urine and semen out of the body.
The prostate produces a fluid that is a component of semen to help to nourish and transport sperm during ejaculation. The prostate is regulated by male hormones, particularly testosterone, and can continue to grow throughout a man's life. The prostate also has powerful nerve endings that when stimulated can help trigger a prostate orgasm.
What is a Prostate Stimulator?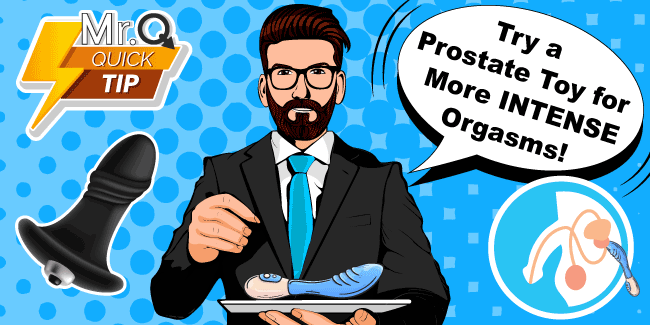 A prostate stimulator sometimes referred to as a prostate massager is a male anal sex toy designed specifically to target the prostate to trigger an anal orgasm. A prostate massage along with masturbation will help you climax faster, longer, and harder than you ever have before. There is even some evidence that a regular prostate massage can even help to prevent things like prostate cancer! With the right tools and the proper technique, you will be dripping and ready to cum.
The Best Prostate Massagers

The goal of your prostate massager is to stimulate the prostate effectively. The best prostate massagers are ergonomic, easy to insert, and provide maximum stimulation. Aside from these basics, we also consider things like materials, features, and price to help you decide. If you are looking for the best prostate massager money can buy, then the decision is easy.
Lelo Loki Prostate Vibe
If you want a luxury prostate stimulator, The Loki is the best prostate massager you can buy. Made from high-quality silicone the build is high quality and premium feel. The Lelo Loki has a new 10-speed, adjustable vibration, sleek design, and rechargeable battery.
This year's model also adds USB charging and a Water-Proof design.
The price is well above anything else on this list, but for those who can afford it, the new level of orgasm you will experience is well worth the price.
Water Proof & USB Rechargeable
Playtime: Up to 2 hours
Material: Silicone
10 Vibrations Settings
Diameter: 1.47 in. (3.7 cm) Length 3.54 in. (9 cm)
Difficulty Level: Beginners
Lelo Loki Dual Wave Prostate Massager
The Lelo Loki also comes in a Delux variant with two massagers that vibrate and wave back and forth. This double shaft design gives you simultaneous internal and external pleasure for twice the stimulation. Packed with so many features, it is the best prostate massager for intermediate to advanced users.
Water Proof & USB Rechargeable
Dual Stimulator Design
10 Vibrations Settings + Prostate Push
Diameter: 1.47 in. (3.7 cm) Length 3.54 in. (9 cm)
Difficulty Level: Intermediate
Dr. Joel Prostate Massager
Universal Prostate Probe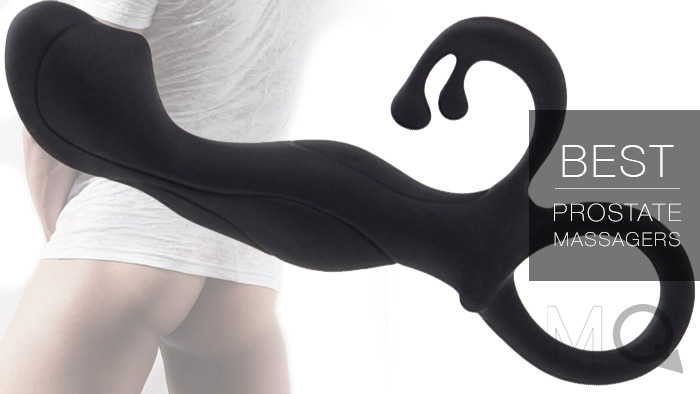 The Universal Prostate Probe is a premium massager for prostate stimulation. Made from pliable and durable silicone material, this black probe is virtually seamless and designed for optimal pleasure. Its easy-pull handle ensures maximum control and comfort during use.
This latex-free, phthalate-free and non-toxic probe is safe and pure for body and pleasure. Its dimensions measure 4 inches long by 1.25 inches wide, and it weighs 3.52 ounces, making it a lightweight and user-friendly option for both beginners and advanced users.
Length: 4 Inches
Width: 1.25 Inches
Latex & Phthalate Free
Material: Silicone
View on MQ Store

Sono Prostate Stimulator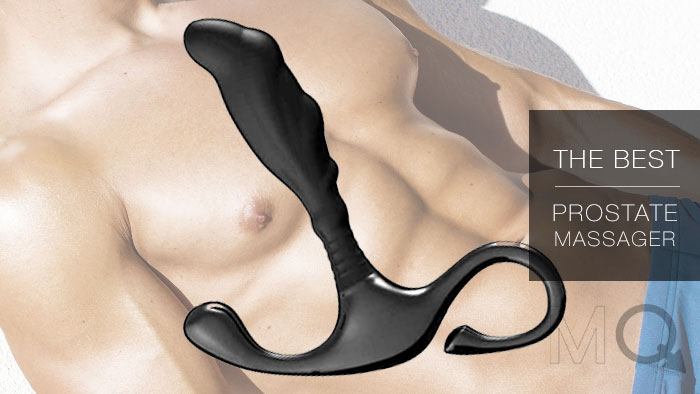 For something a bit more affordable, the best manual prostate massager is the Sonos because its material, design, and overall orgasm-level stimulation are the best we have ever tested. There is no other massager on the market at this price point with this level of quality, that gets the most important things right.
The Sonos is made from a skin-soft, durable, medical-grade silicone, material that is comfortable and extra smooth – which makes using it more comfortable than any other prostate massagers we have ever tested.
The sculpted shape and grooved design is more pronounced with angular speed bumps, which help to give more stimulation.
As a result, the stimulation you get on your p-spot is much more immediate and intense than other options out there. For one of the best prostate massagers you can buy right now, Sonos is easily the best, most affordable p-spot stimulator.
MQ Reader Review:
Great toy! – "Sonos is a perfect toy for prostate fun! The size is just right and the angled bulbous tip gives it a nice kick. A little bit of lube and it pops right in! Easily moves around. The sensation was awesome from the beginning, but don't expect Super-Os (dry orgasm) right away–only a lucky few get that! Practice Kegels and focus on new sensations and you'll soon be on your way! As your orgasm nears and your ass clamps down it will drive you insane!". – Varmint
Material: Medical-Grade Silicone
Diameter: 2.3 cm.
Insertable-Length: 10 cm.
Features: Targeted Prostate Tip
Difficulty Level: Anal First-Timers
Glas Anal Dildo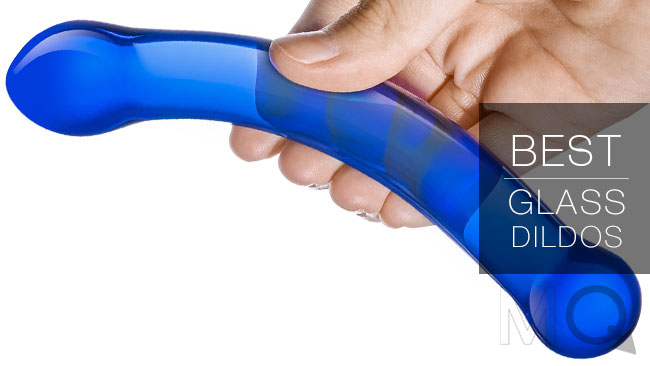 Glass sex toys have the advantage of being non-porous, and free of plastics and other synthetic materials. Their smooth and slick surface also makes them comfortable and easy to insert. The Glas anal dildo is sculpted specifically for prostate play, with a curve that contours to the inner shape of your body and a head that targets the prostate leading to some powerful orgasms.
Material: Extra-Strength Glass
Diameter: 1.5in. (3.5cm)
Insertable-Length: 6in. (15cm)
Features: Chemical-Free, Extra Firm
Difficulty Level: Intermediate
Adam's Glass Prostate Massager
The Adam's Glass Prostate Massager is the ultimate tool for exploring the P-spot. Made from high-quality borosilicate glass, this prostate plug is a must-have for your bedroom collection. The tapered tip ensures easy insertion and the curved shaft design allows for effortless navigation to the prostate pleasure zone. With its nonporous and body-safe properties, you can trust it to provide orgasmic results.
The ringed handle doubles as a safety base, allowing for precise navigation and added security. This glass prostate plug is also phthalate and latex-free, ensuring a safe and pleasurable experience. And for added excitement, you can cool or heat the plug with water for temperature play.
Length: 6.5 In.
Insertable Length: 4.5 In
Material: High-Strength Tempered Glass
Phthalate Free
View on: MQ Store

The Thunderplug Swell And Thrust Prostate Plug is a premium prostate massager that vibrates and trusts. This toy lets you choose from 5-Speed vibration and 5-thrusting modes. The massager is also fully remote controllable and USB rechargeable. This balance of price and features makes it one of the best prostate massagers available right now.
What makes this a bit different from other massagers is the rounded nub which is designed to stimulate your prostate. The main shaft is also shaped to hit the prostate in exactly the right spot.
MQ Reader Review:
Absolutely enjoyable! – "What an amazing feeling, it slid right in with a good lube of course. I began to rotate it back and forth. It felt amazing! The design hit the prostate perfectly. Felt as if I was going to have an orgasm the whole time it was inside of me. It is still by far the best prostate massager I have tried. Spend the money on this if you are even thinking about an anal toy or prostate massager."
What you get is a well-designed product carefully made to curve along the contour inside and channel pressure in exactly the right spot. The result? It does an amazing job at "hitting your p-spot". The Thunderplug produces some fantastically intense orgasms and the difference is noticeable.
Waterproof
5 Vibration and Thrusting Modes
Material: Medical Grade Silicone
Rechargeable
View on MQ Store

Ass-Gasm Silicone Cock Ring Plug
The Ass-Gasm is a two-in-one punch with an anal prostate stimulator and cock ring which play in tandem together.
The cock ring gives extra tension to make you rock hard and the p-spot plug hits in the right place to send you straight over the edge. Altogether you get one of the best prostate massagers and cock rings bundled as one.
Starter Kit Includes
2 Finger Sleeves
Anal Desensitizing Cream
Anal Lube
A How-to-Use Guide
Toy Cleaner
For anyone looking for a prostate plug with a little extra fun, the Ass-gasm is a no-brainer.
Material: Medical-Grade Silicone
Diameter: 1.2 in.
Insertable-Length: 4 in.
Features: Cock Ring Anal Plug Combo
Difficulty Level: Anal First-Timers
View on MQ Store

Assgasm Vibrating Prostate Plug
The Assgasm also comes in a vibrating variant, with an included vibrator bullet. Because of its price, functionality, and extra stimulation, it makes the list of the best prostate massager and cock ring combo.
Like before, it includes all the tools from the starter kit to help get you started.
View on MQ Store

Intro to Prostate Play Kit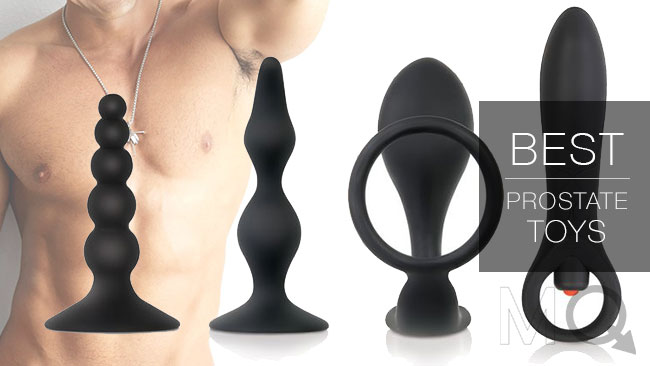 The Assgasm also comes in an anal starter kit including a butt plug, an anal vibrator, and anal beads. For what you get, it's an overall awesome value.
Material: Medical Grade Silicone
Waterproof
4-Piece Prostate Kit
Prostate Vibrator Probe
Difficulty Level: Beginner-Intermediate
View on MQ Store

Adam's Rechargeable P-Spot Massager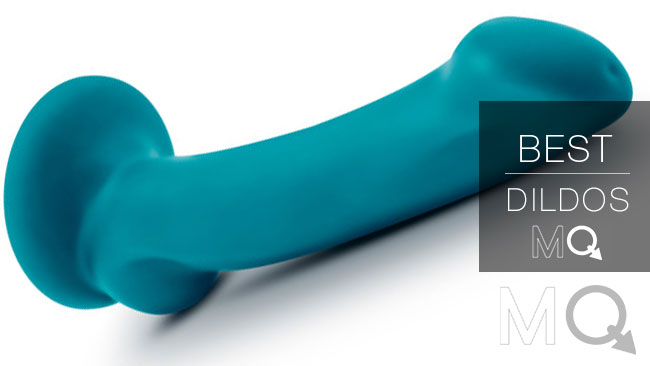 This dildo is perfectly designed with your pleasure in mind, bringing a hint of realism and an amazing P-Spot massage corona, making it the perfect addition to your collection. Crafted from pure body-safe, platinum-cured silicone, the silky smooth shaft is 7.25 inches in length, with 5.5 inches of insertable length, and measures 1.4 inches in diameter at its widest point.
Reina is non-porous, boilable, and easy to clean, ensuring your pleasure and safety. The Reina is harness compatible, featuring a strong suction cup base that will stick to all smooth flat surfaces. And with no fragrances, phthalates, or latex, you can have peace of mind while indulging in your desires. Experience the ultimate pleasure with the Temptasia Reina Teal Blue P-Spot Dildo.
Material: Silicone
Strong Suction Cup Base
Smooth Glide Body
Insertable Length: 5.5 in. (14 cm)
Diameter: 1.4 in. (3.5 cm)
Fragrance & Phthalate Free
Pleasure Probe Prostate Massager
The pleasure probe is one of the most premium massagers you can buy right now and is in many ways like a piece of tech. It is fully waterproof, USB rechargeable, and sports an impressive 150-minute battery. To top it off, the vibrator has 12 unique vibration and pulse modes that range in speed and feel.
Material: Medical Grade Silicone
Diameter: 1.25in. (3.25cm)
Insertable Length: 4in (10.25cm)
12 Function Vibrator
Difficulty Level: Intermediate

View on MQ Store

Eclipse Thrusting Rotator Probe
It is pretty crazy to describe The Eclipse. It is a thrusting, rotating probe that in many ways tries to replicate the feeling of being "Fucked". The Eclipse has 12 thrusting modes to choose from that are designed to trigger your prostate pretty effectively.
The Eclipse's unique functionality really sets it apart from other simulators on the market making it our final pick for the best prostate massagers this year.
Material: Medical Grade Silicone
Diameter: 1.25in. (3.25cm)
Insertable Length: 3.75in (9.5cm)
12 Function Vibrator-Thruster
Difficulty Level: Intermediate
View on MQ Store

O Boy Prostate Stimulator
Our last pick for the best prostate stimulators O Boy is a powerful prostate massager with a 7-Speed variable vibrator. The lower bulb allows The O-Boy to stay in place for hands-free play. The massager is smooth, with a shaped angle for pretty intense prostate stimulation.
Insertable Length: 3.22 in. (82mm)
Diameter: 1.14 in. (29mm)
Material: Medical Grade Silicone
Waterproof, 7-Speed Vibrator
Difficulty Level: Anal First-Timers
View on MQ Store

How to Massage Your Prostate
Prostate milking, also known as prostate massage, involves the insertion of a finger or toy into the rectum to massage the prostate gland, which can stimulate the flow of prostate fluid and release it through the urethra. Prostate milking in collaboration with masturbation can lead to extremely powerful climaxes and orgasms.
The prostate gland is located just below the bladder and in front of the rectum in the male body. To find the prostate gland, you can follow these steps:
Wash your hands and ensure that your fingernails are clean and clipped short to avoid injury.
Lubricate your index finger with a water-based lubricant, and apply lube to your anus.
Lie on your back or stand with one leg propped up on a stool or chair.
Gently insert your finger into the rectum, aiming toward the front of your body, toward the belly button.
The prostate gland will feel like a small, rounded lump, about the size and shape of a walnut, located about 2-3 inches inside the rectum towards the front of the body.
Gently massage the prostate, pressing in and out of the gland.
Insert your prostate massager and continue massaging the prostate.
If you have never tried prostate milking before I recommend you check out our full guide "Finding Your P-Spot." We will walk you through hygiene, prep, and prostate stimulation in full detail. You will also want to be sure to use a good anal lube, so if you don't have one already check out our list of The Best Anal Lubes.
Clean-Up With an Enema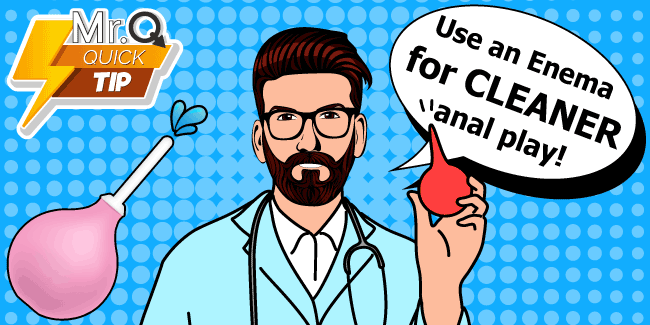 Enemas are the best way to clean up before using an anal toy. Enemas work by injecting water inside to flush out any surprises that might still be lingering behind. For most people, a medium-sized enema will do the trick!
View Pros Enema on: MQ Store

Don't Forget an Anal Lube!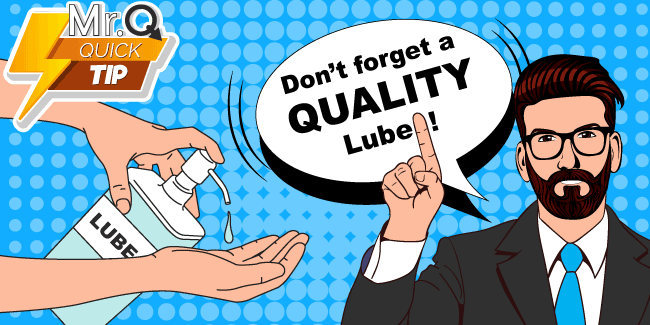 To make things smooth and comfortable, it is essential to use a quality Anal lube! For most people, Pjur Analyse Me is our top pick because it includes an anal relaxant, is toy friendly, and long-lasting.
View on: MQ Store

Keep Your Prostate Massager Clean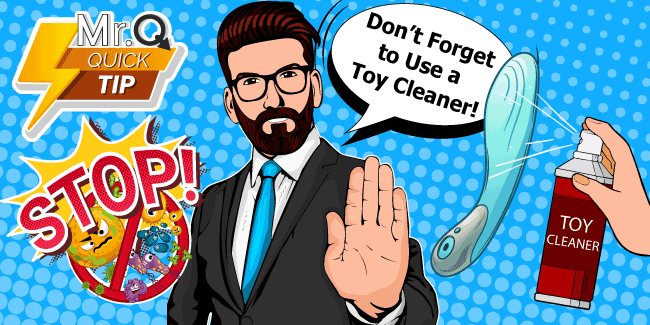 Toy cleaner is an easy way to keep your prostate massager fresh and free of bacteria and funny smells. Toy cleaner will help keep your toy hygienic and safe to use. It is definitely money well spent.
Toy cleaner is a great way to keep your toy fresh, hygienic, and odor-free.
View on MQ Store

This is our like for the best prostate massagers and simulators that will be sure to bring you cumming to your knees. Do you have any personal favorites? Be sure to let us know in the comments below!
If you have any questions follow us on YouTube, Facebook, or if would rather ask directly feel free to email us at [email protected] or write them down in the comments below!