Description
Pjur Analyse Me Comfort Anal Glide Personal Lubricant is a revolutionary product with a two in one action. A water-based lubricant that feels almost like silicone, Pjur Analyse Me! Comfort Glide has a long lubricating effect and boasts all the advantages of water. Furthermore, the formula of Pjur Analyse Me!
Pjur Analyse Me Comfort Anal Water Glide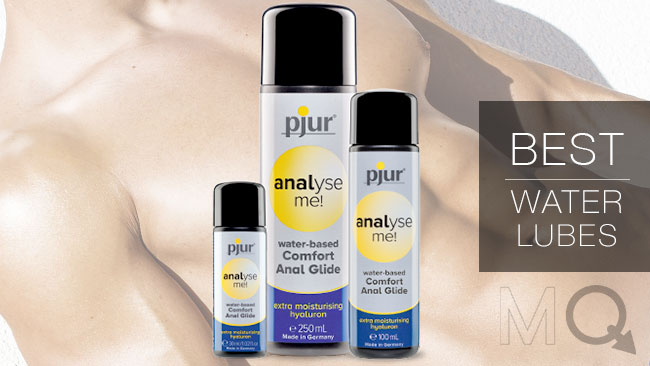 Unleash Pleasure and Comfort and experience the ultimate in intimate pleasure with Pjur Analyse Me Anal Comfort Water Based Lubricant. Pjur Analyse Me Anal Comfort Water Based Lubricant is specifically designed for penile, vaginal, and anal application, this premium lubricant is here to enhance your intimate experiences with ease and comfort.
Available in two convenient sizes, 100ml and 250ml, Pjur Analyse Me ensures you always have the perfect amount of lubrication for your needs. Explore your desires with confidence and indulge in the pleasure this exceptional lubricant provides.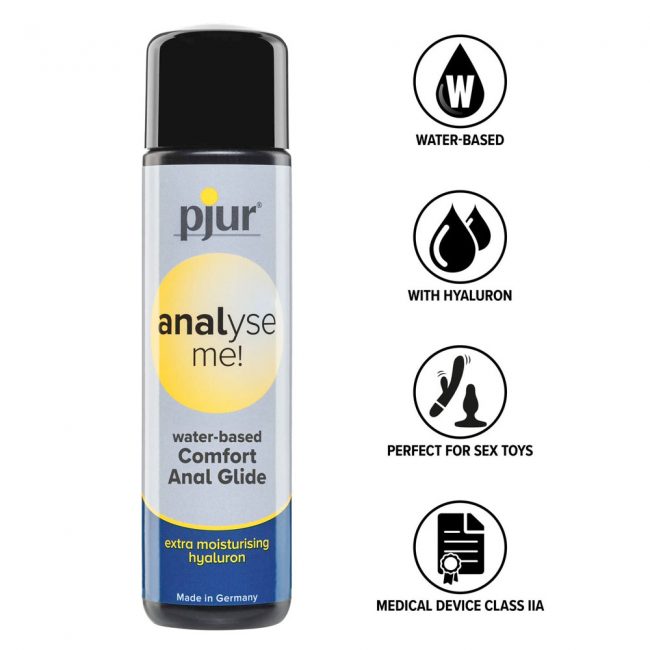 This water-based formula is carefully crafted to moisturize and lubricate, offering seamless gliding and heightened sensations. Whether you're engaging in anal play, vaginal intercourse, or seeking enhanced comfort during intimate moments, Pjur Analyse Me is your perfect companion.
Unlock a world of pleasure with Pjur Analyse Me. Its long-lasting and super slippery formula ensures uninterrupted and exhilarating experiences. Glide effortlessly and luxuriate in the silky smoothness it leaves on your skin.

Not only does Pjur Analyse Me provide optimal lubrication, but it also leaves your skin feeling soft and silky, adding a sensual touch to your intimate encounters. Immerse yourself in the luxurious sensations this exceptional lubricant offers.
Rest assured that Pjur Analyse Me is latex condom compatible, making it a reliable choice for safe and protected pleasure. It is meticulously formulated to ensure compatibility with latex materials, allowing you to focus on pure enjoyment.
Made in Germany, Pjur Analyse Me upholds the highest standards of quality and safety. Experience the confidence that comes with using a lubricant crafted with precision and care.


Enhance your intimate experiences and supplement your body's natural lubrication with Pjur Analyse Me Anal Comfort Water Based Lubricant. Embrace pleasure, comfort, and satisfaction with every application.
Please note: Pjur Analyse Me is intended for adult use only and should be used responsibly.
MQ's Favorite lube in a water base.  Plays well with all toys!
Comfort Glide is an exceptional anal lubricant ideal for all fans of water-based products, who at long last have a water-based lubricant commensurate with the special requirements of hard anal sex. Water-based lubricant can be used with all materials.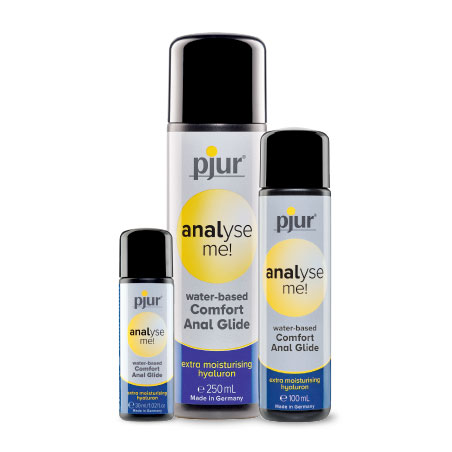 This product is compatible with natural rubber latex condoms only. Hyaluronan: hyaluronan has hygroscopic properties that increase viscosity without becoming sticky.
Directions for use: apply to any area of the body where you desire extra moisture. Replace cap after use. Safe for daily use. Store at room temperature.
Ingredients: water, glycerin, xanthan gum, sodium hyaluronate, benzyl alcohol, sodium benzoate, potassium sorbate, citric acid.
Warnings and precautions: avoid contact with eyes. Keep out of the reach of children. Do not use on irritated or infected skin. This product is not a contraceptive and contains no spermicide. If irritation or discomfort develops, discontinue use and consult a healthcare professional. Very slippery on surfaces so clean spills immediately and use special caution in bath and shower areas. Pjur personal lubricants meet the quality standards of US health authorities. Features with extra moisturizing hyaluronan.