Best Anal Lubes to Buy in 2023 for Anal Sex & Butt Stuff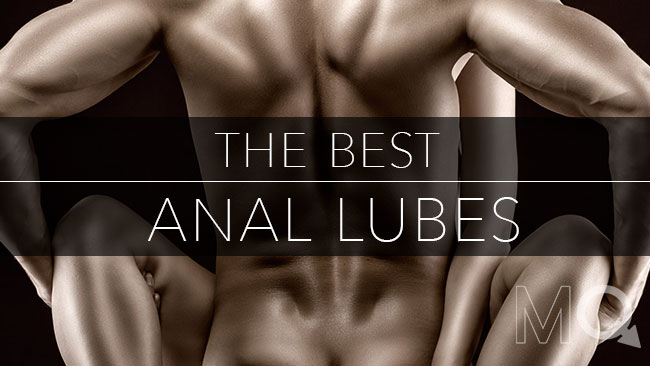 If you are going to have anal sex then you are going to need quality anal lube. To make your search a little easier we compiled a list of the top lubricants this year. So what are the best anal lubes?

What is an Anal Lube?
Anal lubricants are designed with anal sex in mind. These formulas are typically more durable, slippery, and long-lasting than standard lubes. The best anal lube will come down to your personal experience, and needs. If you are just starting out, then there is one category of anal lube that can be extra helpful at reducing pain and discomfort.
Best Anal Lubes


When having anal sex, some kind of added lubrication is necessary. Unlike vaginal or oral sex, the anus does not self-lubricate and can be extra sensitive to pain, and potential injury. For comfort, and for safety, a good anal lune (and lots of it) is absolutely necessary! A quality anal lubricant will help reduce friction, increase pleasure, and make anal sex overall more enjoyable.
Relaxing and Desensitizing Anal Lubes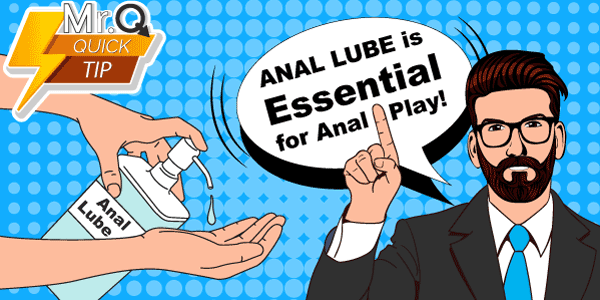 The best anal lubes not only have an extra slippery, long-lasting, lubricating base but also include anal relaxants and desensitizers. For anyone who has had problems with pain in the past, the inclusion of an anal relaxant can make anal sex much more comfortable and enjoyable. When it comes to quality, relaxing anal lubes our choice was quite easy.
Pjur Analyse Me! Anal Glide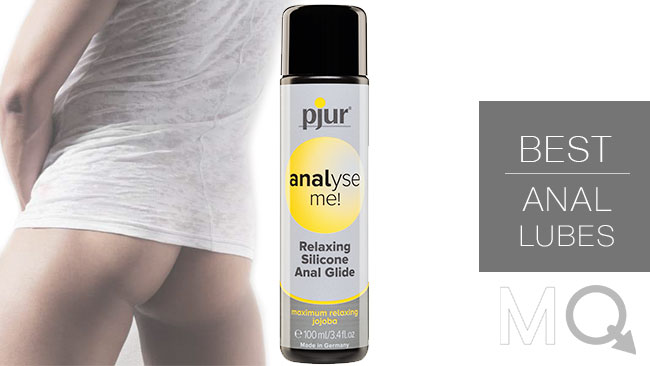 Pjur Analyse Me is the best anal lube you can buy. Its unique formula is designed specifically for anal sex and has been my personal favorite and a reader's top choice for years.
Analyse Me's included an anal relaxant that makes anal sex more comfortable and pain-free, especially for people who have had problems with pain or discomfort in the past.
MQ Reader Review:
Fabulous! – Analyse Me has to be one of the best lubes for anal sex ever! Silky smooth and helps make it easier to take either a toy or the real deal! Love this lube!"
Relaxant Type: Natural
Active relaxing Ingredient: Jojoba Extract
Relaxing Strength: Mild
Lube Thickness Level: 4/5
View on MQ Store

Pjur Analyse Me Water Comfort
Analyse Me! also comes in a water-based variant which is a bit cheaper and stacks up pretty well performance-wise. At this price, it is one of the best anal lubes we have tested.
Relaxing Ingredient: Jojoba Extract
Relaxant Strength: Mild
Lube Thickness: 3/5
Water-Based
Toy Compatible
View on MQ Store

Pjur Backdoor Anal Glide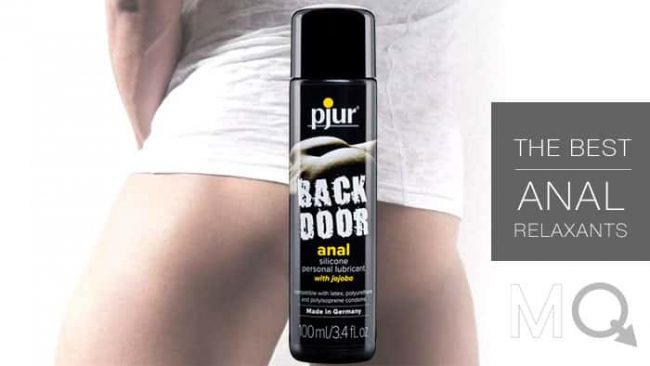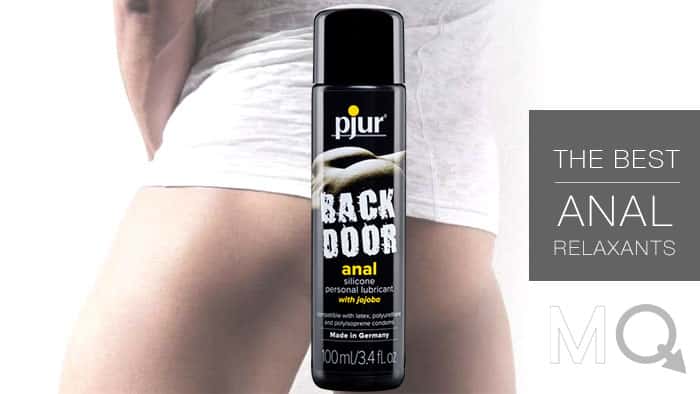 If by chance you are looking for a more powerful relaxing effect and an added extra numbing agent then I recommend our previous years' best anal lubes top pick, Pjur Backdoor. It is a stronger formula and packs a bit more punch.
Base: Silicone
Relaxant: Natural Jojoba Extract
Relaxant Strength: Strong
Added Numbing Effect
Lube Thickness Level: 5/5
View on MQ Store

Extra Strength Relax Desensitizing Anal Gel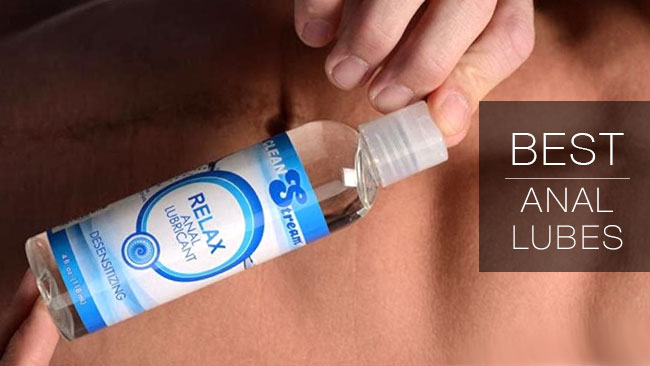 Relax is a heavy-duty water-based lube that is long-lasting, slippery, and best of all – comes with an anal relaxant inside. The included pump design makes one-handed application extra easy. Clean-stream doesn't disappoint, delivering one of the best anal lubes on the market.
View on MQ Store

More impressive, Relax comes in a 17.5oz bottle giving you over 4X the lube for only a bit more money.
View on MQ Store

Anal Glide Relaxing Lubricant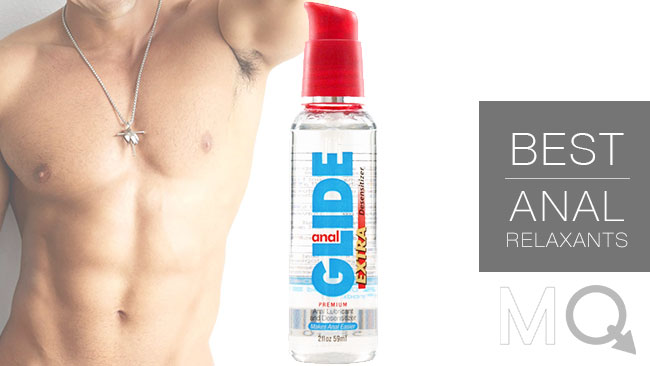 Anal Glide is an anal lube / anal desensitizer combo. This anal lube comes in both a water and silicone variant. Glide is a classic anal lube brand that performs well. The pump dispenser can lock for easy storage and prevent leaking when on the go, or want to keep a discreet bottle on hand.
View on MQ Store

For a longer-lasting lube that doesn't dry out, you can opt for the silicone formula.
View on MQ Store

Silicone Anal Lubes
Silicone anal lubes are some of the best anal lubes you can choose from. They are slippery, long-lasting, and easy to clean up. Most importantly though, silicone lubes are condom safe. The silicone base is specifically designed to create minimal heat and friction. This makes them among the best anal lubes out there.
Swiss Navy Silicone Lube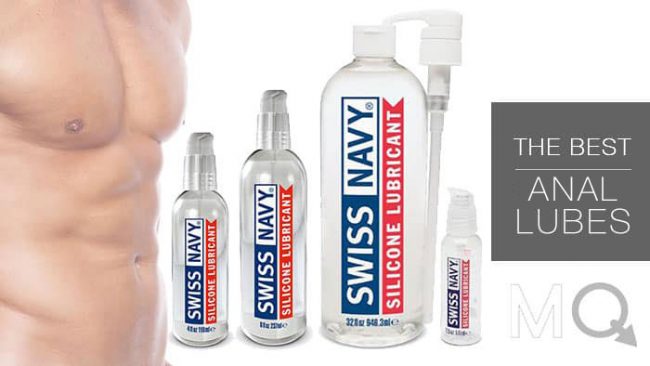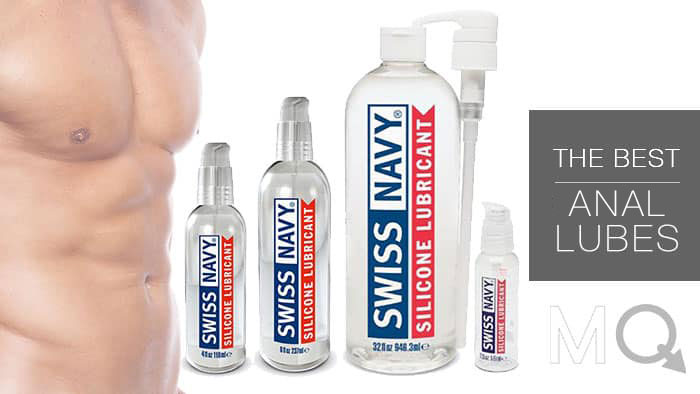 Swiss Navy's formula is pure silicone but is thinner and therefore less tacky than Pjur, and in many ways, I prefer the consistency. Not to mention it is almost $7 cheaper with MORE lube per bottle compared to Pjur, (4oz vs. 3.4oz).
MQ Reader Review:
"Great Deal – I have been a Swiss Navy fan for years. I'm glad they finally came out with this 32oz size. I like when I can buy in bulk and save money. Now I can afford to buy gas and have sex!" – Issac
If you don't need the added cost of a relaxant and are looking for a lube that feels great, and will take a pounding then go for Swiss Navy.
View on MQ Store

Gun Oil Silicone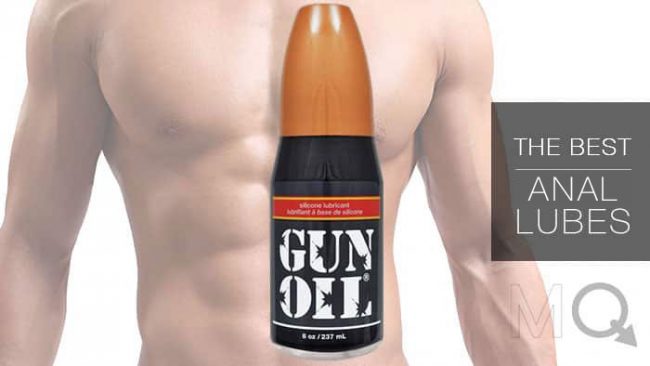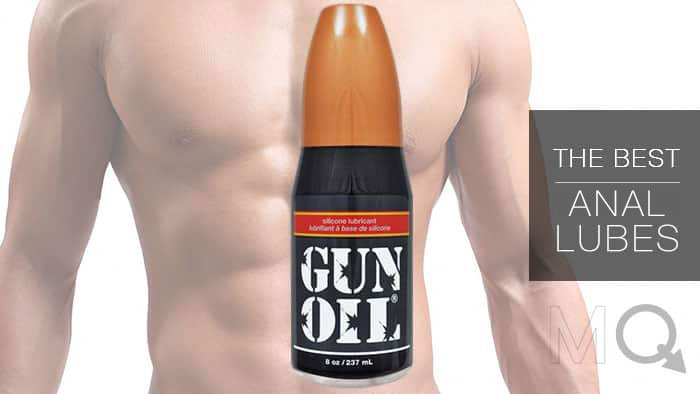 The single best thing about Gun Oil? It lasts forever. Gun Oil is one of the slipperiest, smoothest, and long-lasting lubes I have tested and its slickness makes it ideal for anal. Overall, Gun Oil is a more "heavy-duty" choice and good for the experienced trying to "go bigger".
MQ Reader Review:
"Feels Natural, lasts long – Feels natural and not sticky, yet did not dry out fast. Very good product without odor and not hard to keep around since it does not look interesting to prying eyes."
View on MQ Store

Spunk Hybrid Body Lube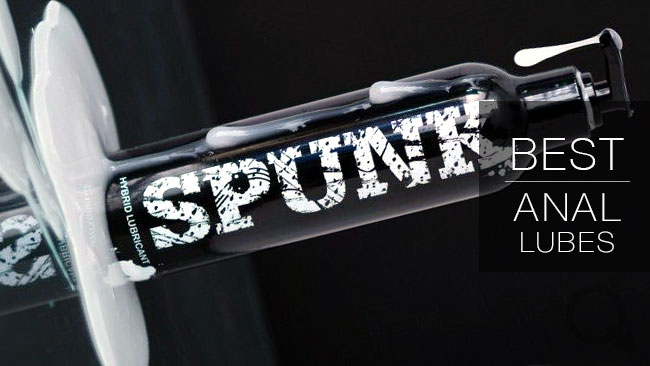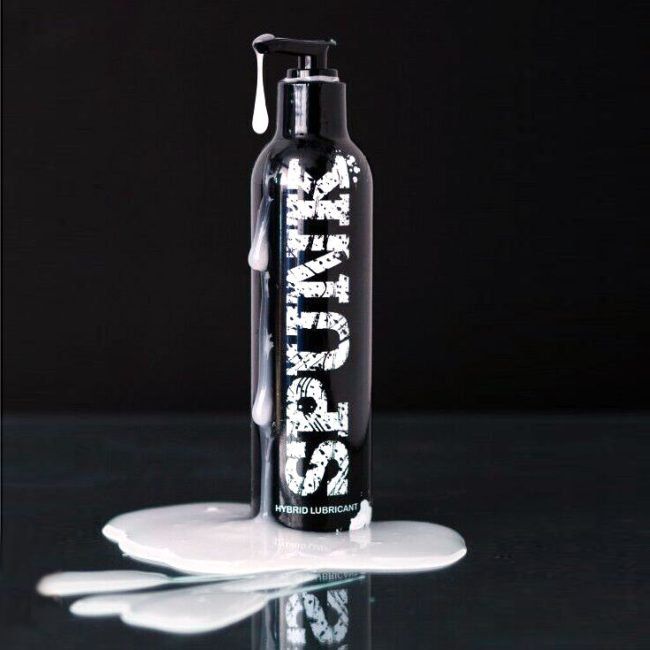 Waterbased Anal Lubricants
Like their silicone counterparts, water-based lubes are completely condom-safe and great for sex. The main difference between water and silicone-based lubricants is how long they last. Yes, water evaporates, and the body absorbs the water. Therefore the water-based lubes can dry out quickly. This means that you will need to re-apply it fairly regularly. On the other hand, this means that water lubes are a breeze to clean up because unlike silicone lubes, there is no oily residue left over.
Gun Oil H20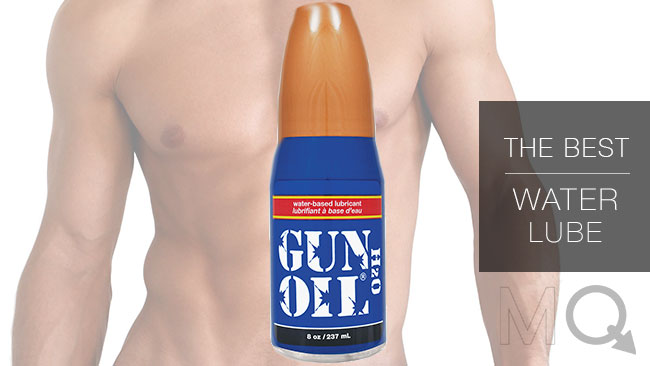 Like the others, Gun Oil also comes in a water variant with a similar feel and a cheaper price. As one of the best anal lubes for sex toys because of its toy-friendly water base, it is a great option.
View on MQ Store

Swiss Navy Water-Based Lube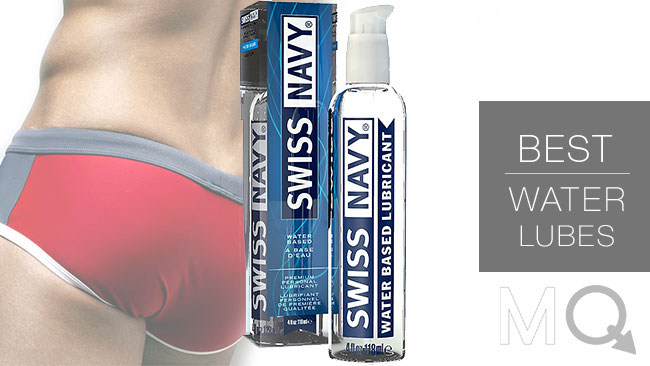 Swiss navy also comes in a water variant which is just as great as its silicone brother. Despite its water base, it maintains a heavy-duty, ultra-slick feel, yet gives all the slippery fun plus a little more.
Relaxant: None
Lube Thickness Level: 4/5
More Natural Feeling
Lower Price
View on MQ Store

Elbow Grease H2O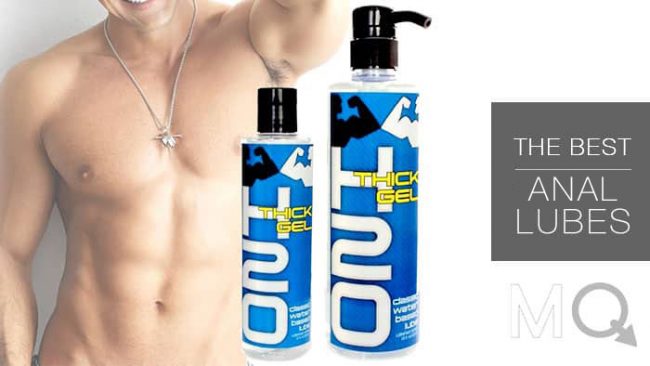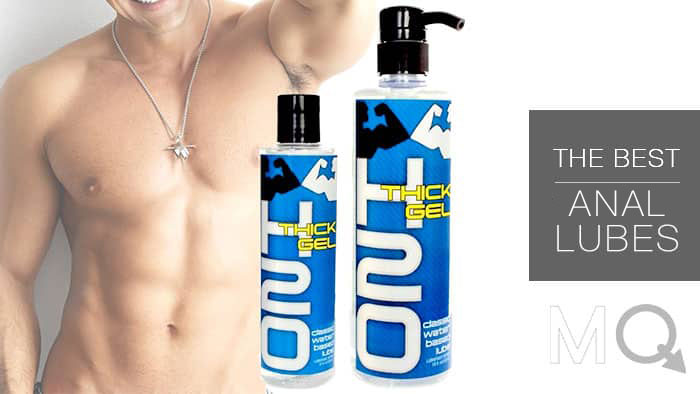 H2O is one of the longest-lasting water-based lubes I have ever tested and has a thick slippery feel. If I didn't know any better I would have guessed Elbow Grease to be a water-silicone hybrid, as it is super thick and super slippery.
MQ Reader Review:
Great product – "I have tried several lubes for anal sex, but this is by far among the best anal lubes I have tried. It is very slick and lasts a long time. I would recommend this to anyone."
Best of all, it comes in large bottles and a little bit goes a long way.
View on MQ Store

Smooth and Slick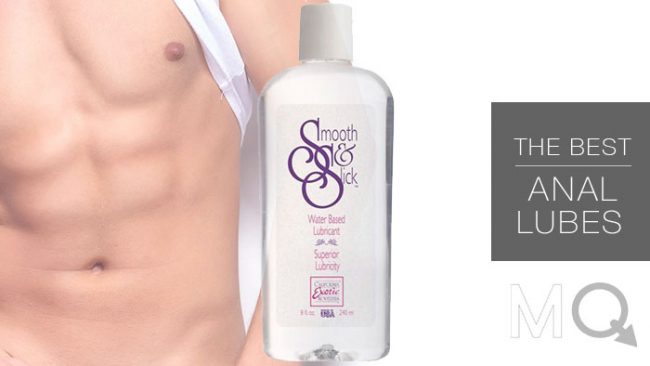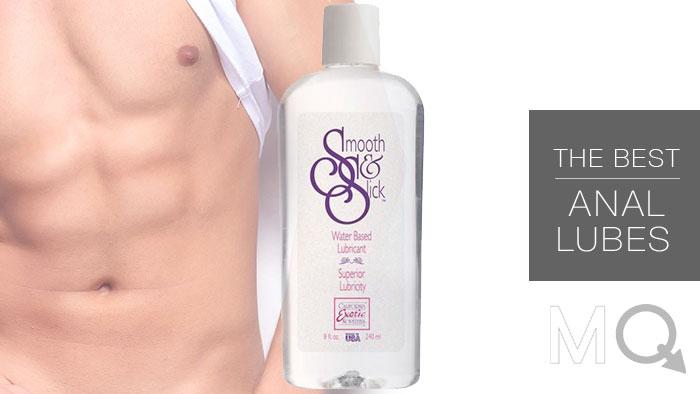 At less than $20 for an 8oz bottle, Smooth and Slick gets you the biggest bang for your buck. To top it off, despite its low price, it is actually a surprisingly good-feeling lube. If you are on a budget or looking for a good lube to pair with one of the more high-end brands, Smooth and Slick is among the best anal lubes this year at this price.
MQ Reader Review:
Just Right Smooth & Slick Lubricant – "Wife loves this lubricant. Just the right amount of slickness. Not too much, not too little. In addition, a great price."
View on MQ Store

Oil Based Anal Lubes
Oil lubes are made from oil and are some of the slipperiest, longest-lasting lubes you can buy! The main drawback is that oil lubes are not latex compatible and will break down condoms and some toys.
So, if you want to use a condom then DO NOT use oil lubes.
Oil base lubes are also more of a pain to clean up. If this isn't an issue, then their slipperiness is absolutely unmatched! They are great for extended play sessions and are amazing for non-latex (or more extreme) toys.
Invade Deep Cream – Best Anal Lube for Fisting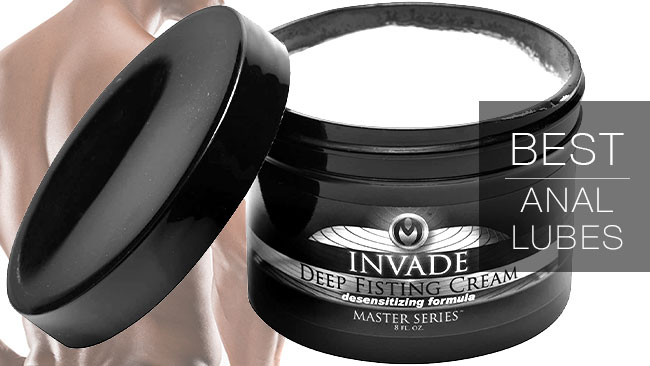 Invade Deep is about as hardcore as it gets. If you are looking to go big, (and I mean BIG) and need all the help you can get, then Invade is the anal lube for you. If you are looking to experiment with some more "expert level" toys, or have fun with some super-sized boys and aren't concerned about condoms then invade deep is one of the best anal lubes out there.
MQ Reader Review:
Works for hours – "I have used Him lubricating cream for 4 days now and I am completely satisfied with the performance and last quality. I am able to reinsert my toys without the need to add more lube. And that is a winner in my ass." – Chrissy4605
Anal Relaxant: Benzocaine (5%)
Thickness: 5/5
Oil Type: Mineral oil, Petroleum Gel
Ideal for Large Toys or Extreme Play
View on MQ Store

Boy Butter Anal Grease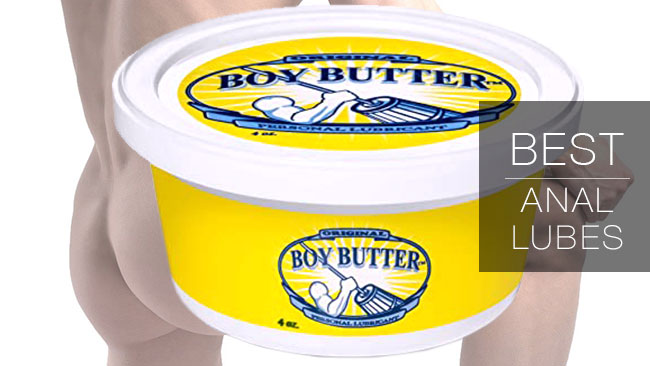 When it comes to the best oil-based anal lubes, Boy Butter is the name of the game. One of the oldest, tested, famous formulas out there, Boy Butter is the original anal lube for butter-smooth sex.
View on MQ Store

Cleverly named – "You'll Never Know It's Not Boy Butter" is a condom-safe anal lube alternative made with a water base, but with much of the grid and heavy duty feel of the original.
View on MQ Store

Elbow Grease Anal Cream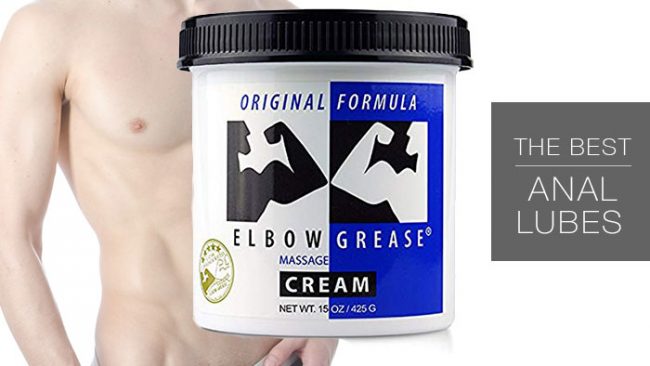 Creamy, oil-based, and longlasting – Elbow Grease is a lube and is about as slippery as it gets. This is more for the heavy-duty user, and if you are looking to reduce friction to as little as possible and "go a bit bigger" with a toy (or the real thing) then this will make things more comfortable and those larger sizes more manageable.
MQ Reader Review:
"This stuff is AWESOME. It's nice and slick and doesn't dry out fast so you don't have to keep adding lube. One of the big tubs of this lube will last a good while. It washes away nice and odor free with just some simple soap and water. I love it!"
Anal Relaxant: None
Thickness: 5/5
Oil Type: Petrolatum Gel
Ideal for Large Toys or Extreme Play
View on MQ Store

Anal Lube Injectors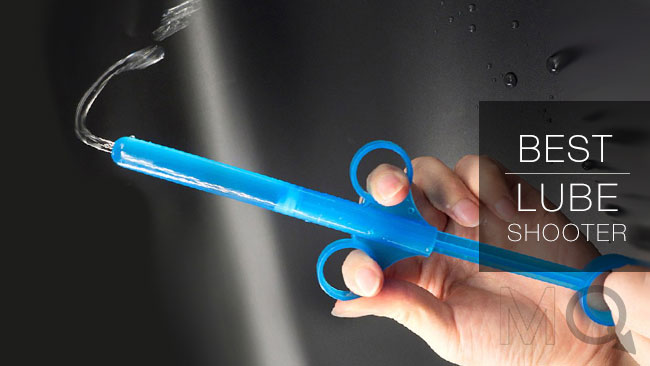 In addition to buying the right lube, you should also look into getting an anal lube injector. This makes applying lube as a bottom effortless. It literally shoots a generous amount of lube deep inside making prep extremely easy. It took me a while to start using one, but it was worth making the switch.
Inject Lube Deep Inside
For Anal or Vaginal Application
Easy One-Handed Design
View Lube Shooter XL on MQ Store

Anal Sex Starter Kit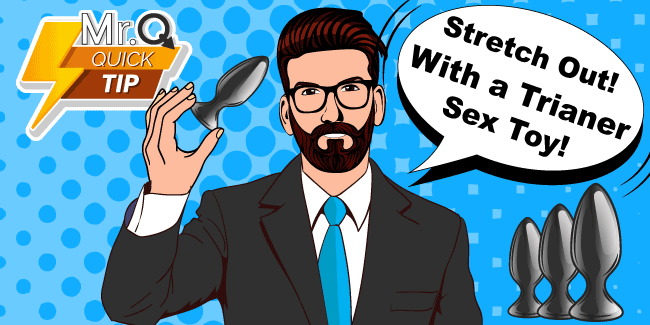 The anal sex starter is everything you need to practice on your own at your own pace. Best of all, combined together the Anal Starter Kit will save you about $40 over buying each item individually.
It has everything you need to get started including:
3 Plug Anal Starter Kit
2 Cock Rings
2 Lube Injectors
Anal Enema (90ml)
Pjur Analyse Me Lube (100ml)
Toy Cleaner (100ml)
View on: MQ Store

Tips for Choosing the Best Anal Lube
Getting the right lube is the first step, but if you want to fully prepare yourself then it is good to go in with a little practice. This will give you will have a better idea of what to expect and allow your body to get used to a new and unfamiliar experience.
These are our picks for the best anal lubes you can buy right now. Do you have any favorites we forgot to mention? Let us know in the comments below! If you have any questions about anal sex or would rather ask us directly feel free to email us at info@maleq.org or write them down in the comments below!