Description
Male Q Adult Store Featured Lubricants – Relax Anal Gel Desensitizing Lubricant released on 6/14/2016, by XR Brands.
Relax Anal Desensitizing Lubricant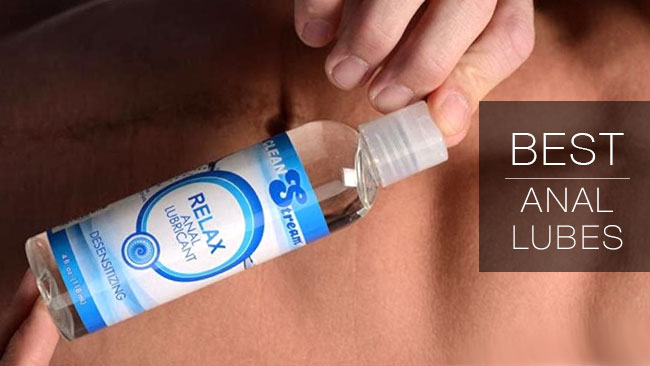 Relax Anal Lubricant by Clean Stream: Discover Pleasure and Comfort in Backdoor Exploration
Embark on a journey of pleasurable anal play with Relax Anal Lubricant, the ultimate solution to ease any potential discomfort associated with this intimate experience. Specially formulated as a desensitizing lube, it is designed to keep unwanted friction at bay and provide a gentle numbing effect, ensuring your backdoor exploration is as comfortable as possible.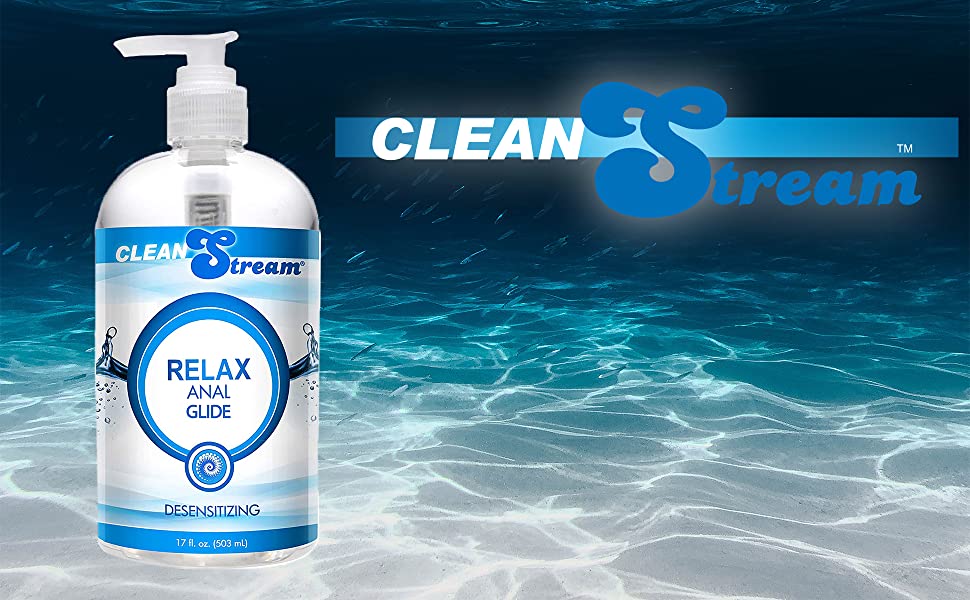 Relax Anal Lubricant's silky smooth liquid glides effortlessly, reducing friction and creating a pleasurable and friction-free environment. Say goodbye to worries about discomfort and hello to heightened pleasure and relaxation during your anal adventures.
Formulated with an active numbing ingredient, Lidocaine 2%, Relax Anal Lubricant delivers targeted desensitization to the area, helping to alleviate any potential discomfort and allowing you to fully enjoy your experience. It provides a delicate balance of numbing and sensation, enhancing comfort while maintaining pleasurable sensitivity.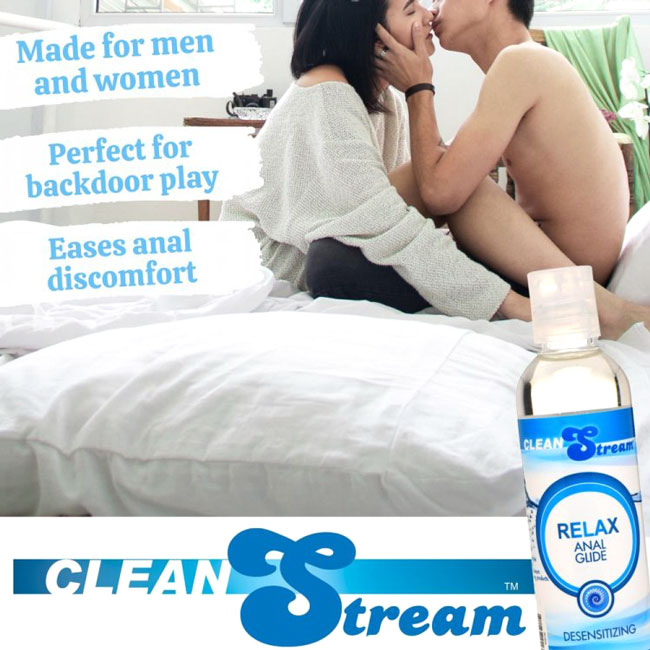 This water-based lube offers exceptional moisturizing properties, ensuring a smooth and hydrating experience with every use. Its gentle and non-irritating formula is suitable for all skin types, providing a pleasurable and worry-free experience.
Relax Anal Lubricant is brought to you by Clean Stream, a trusted brand dedicated to providing exceptional products for intimate exploration. With Clean Stream, you can trust that you are using a high-quality lubricant specifically designed for backdoor pleasure.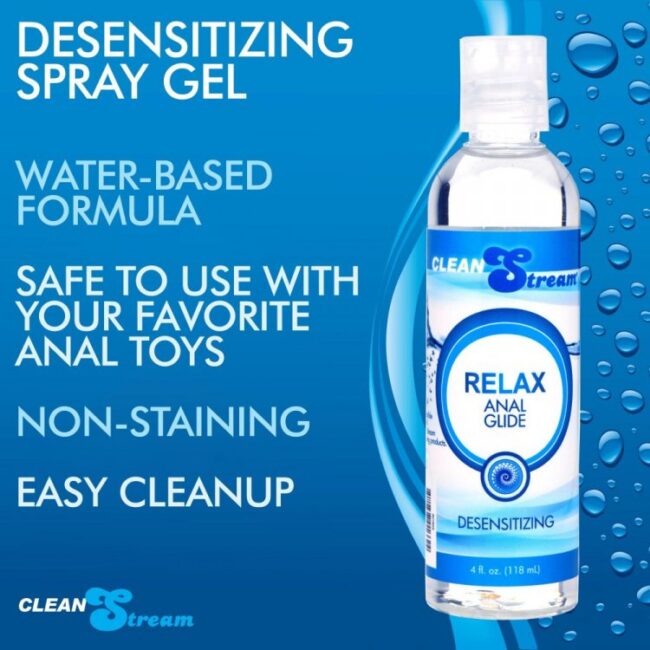 Indulge in the freedom of exploration and enhance your intimate encounters with Relax Anal Lubricant. Experience the ultimate comfort and pleasure, all while maintaining the highest standards of hygiene and cleanliness. Let Relax Anal Lubricant redefine your backdoor experiences, ensuring a pleasurable and relaxed journey every time.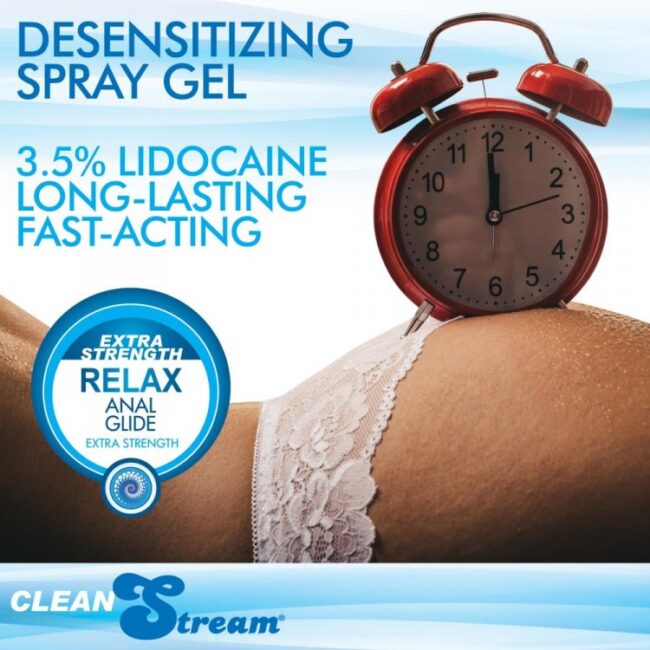 Extra Strength Relax Anal Gel Lubricant Desensitizing Lube. This extra-strength formula has plenty of the powerful ingredient shown to prevent premature ejaculation, providing temporary male genital desensitization, and prolonging intercourse. It is also great as an anal lubricant, providing relief from any discomfort. Just apply where needed, and you are ready for a full night of breathless passion. Size 4 fluid ounces. Active Ingredient: Benzocaine UPS 3.5 percent.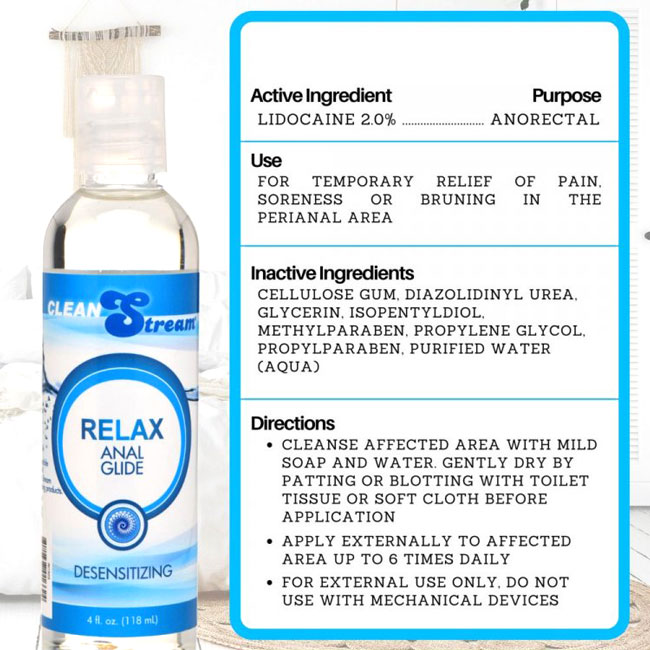 Product Details
Color: Clear
Function: Desensitizes, Moisturizes
Feature: Water Based
Brand: Clean Stream
Manufacturer: XR Brands
Features
Color:   Material: Barcode: 8.48518E+11
MQ Sex Toy Store Desensitizing product collection.