Top 15 Best Anal Relaxants of 2023 for Great Anal Sex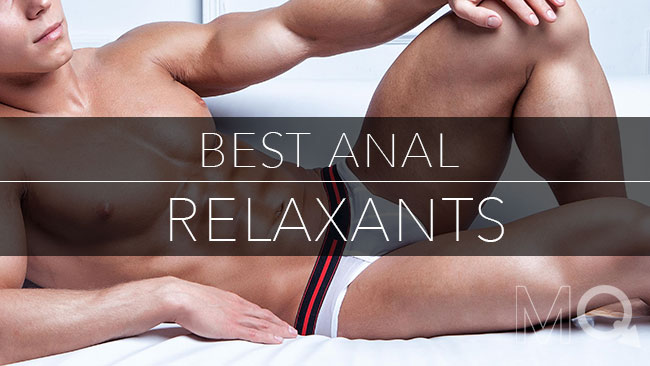 Anal relaxants come in a number of forms. When paired with a high-performing anal lube, anal relaxants can help to make entry easier, reduce pain and provide a more enjoyable experience. Below are the best anal relaxants to help make sex more comfortable and pain-free.
What is an Anal Relaxant?

As the name suggests, anal relaxants use ingredients or additives designed specifically to aid your sphincter muscles to relax naturally. Common active ingredients include natural plant-based extracts such as Jojoba, from the Jojoba plant native to Northern Mexico.
Some of the best anal relaxants have even stronger formulas and may use mild anesthetics such as FDA-approved Benzocaine to lightly numb the area and relax the sphincter muscles. More powerful formulas use medical-grade ingredients such as Lidocaine for an even stronger effect.
How to Relax Before Anal Sex?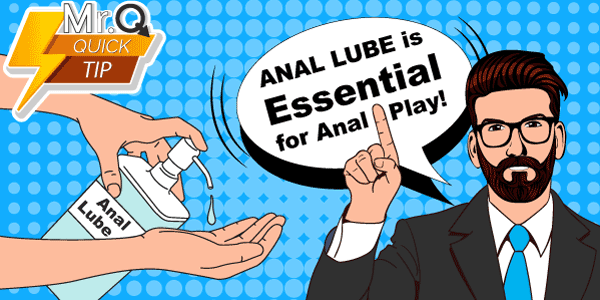 Just Relax.  It sounds easy on paper, but it's not always the case in real life.  Anal sex is tough, and learning to relax your anal muscles can be a challenge enough.
Being able to control these muscles is important, and using an anal relaxant along the way can help give you that extra control to ease you into the new experience of having anal sex. Take a deep breath, start slow, and communicate with your partner. Also, be sure to use plenty of lubricant!
The Best Anal Relaxants


The best anal relaxants will give a balance of relaxation while still letting you stay in control. Many of the even come in a lubrication relaxant hybrid formula that let you lube up and open up at the same time. Our favorite anal relaxants do all of these and even come with a mild numbing agent to make things even easier for beginners. These are our picks of the best anal relaxants and anal easing lubes for more comfortable anal sex.
Pjur Backdoor Anal Glide – Silicone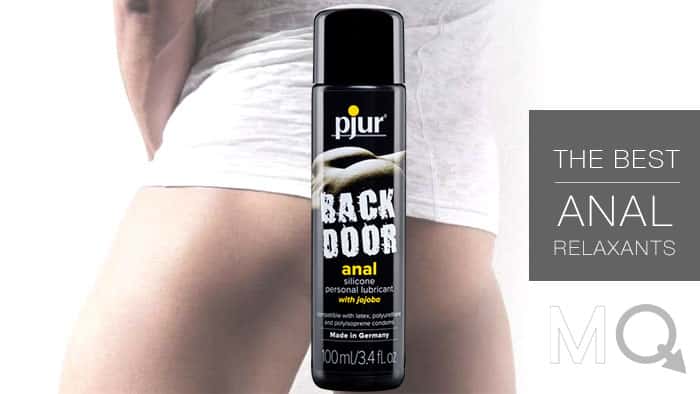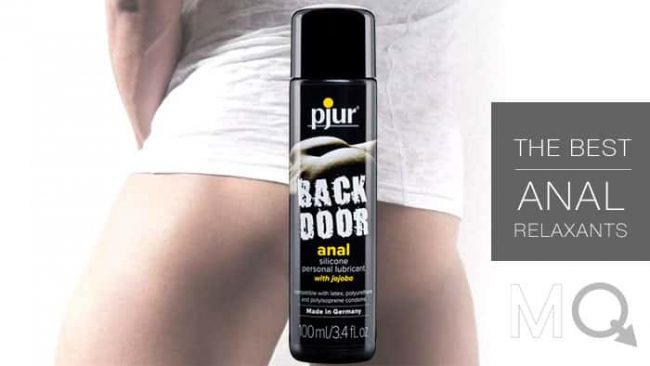 The best anal relaxant for most people is Pjur Backdoor. It is a silicone lube hybrid featuring the most powerful anal relaxant I have ever tested. Backdoor uses what is known as Jojoba extracts, a natural muscle relaxant that as an added benefit, also provides a numbing effect to ease the pain.
If you are looking to avoid pain, or if are having anal sex for the first time, this is your most effective and powerful option. The included silicone lube is also slippery and heavy-duty making things "slide" in with almost no effort.
MQ Reader Review:
It has to be the best lube for anal sex ever! Silky smooth and helps make it easier to take either a toy or the real deal! Love this as does my ass!
Pjur Backdoor is a great lube, a fantastic relaxant, and the all-around best choice you can use for anal sex. For a more in-depth look, you can check out my full Pjur Backdoor review here.
Active Relaxing Ingredient: Jojoba Extract
Relaxant Type: Organic
Relaxant Strength: ⭐☆☆☆☆
Pjur Backdoor also comes in a water variant that is a bit cheaper and easier to clean up.
Anal Glide Relaxing Lubricant Silicone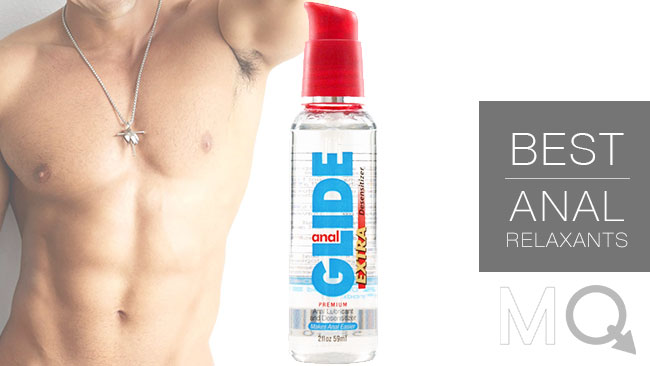 For a longer-lasting lube that doesn't dry out, you can opt for the silicone formula. As before you still get the same great relaxing effect, but with even better lubrication.
Active Relaxant Ingredient: Benzocaine
Base: Water or Silicon
Size: 2 oz (59 ml)
Relaxant Strength: ⭐⭐☆☆☆
View on MQ Store

Water-Based Anal Relaxants
Water-based anal relaxant lubes are some of the most realistic feeling lubes. The water base mimics our body's natural lubricant and therefore can be the most pleasurable to use. Water-based options do suffer in terms of longevity due to the fact that water does evaporate. Overall, these are some of the best feeling anal relaxants and easing lun to choose from.
Anal Glide Relaxing Water Lubricant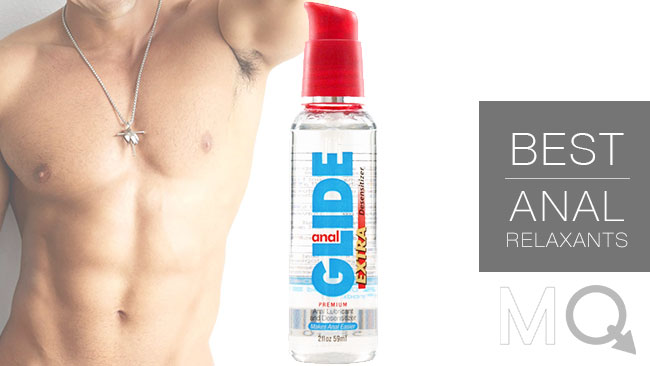 Anal Glide has been one of our long-time favorites. It is a premium anal lubricant with a fast-acting anal relaxant mixed in. The lube feels great to use and makes entry extra smooth and painless.
The one-handed pump design also makes it seamless to apply or add more without breaking up the action. Overall, it is the best anal relaxant lube combo we have tested.
View on MQ Store

Extra Strength Relax Desensitizing Anal Gel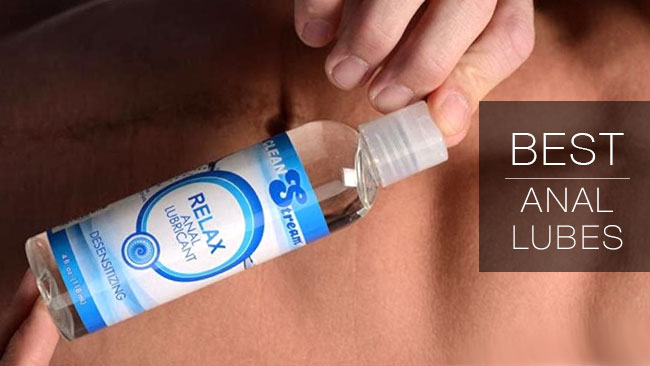 Relax is a water-based lube and anal relaxant all in one. The water lube base is heavy-duty and long-lasting and has an extra slippery consistency. Best of all the anal relaxant kicks in quickly but is not over-powering.
The included pump design makes one-handed application extra easy. Clean-stream is well known for its anal sex products, including lubes, enemas, and lube shooters. If you are looking for a water-based option with one of the best anal relaxants already mixed in, then look no further.
Active Relaxant: Lidocaine
Base: Water
Size: 4 to 17 oz.
Relaxant Strength: ⭐⭐☆☆☆
View on MQ Store

More impressive, Relax comes in a 17.5oz bottle giving you over 4X the lube for only a bit more money. The 4 oz size has a stronger "Extra Strength" relaxant, but the standard relaxant from the bigger 17 oz version definitely still does a great job.
View on MQ Store

Ass Relax Anal Desensitizing Lubricant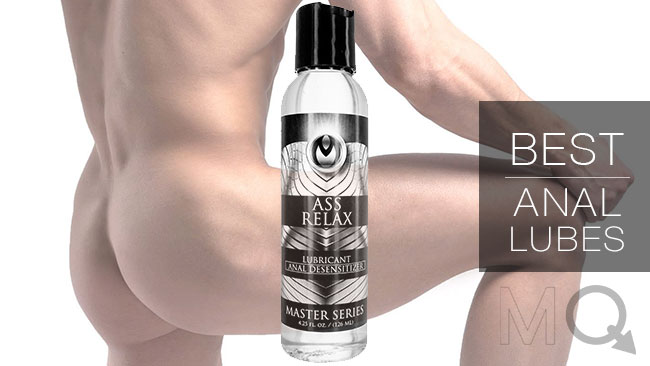 Ass Relax is another high-performing anal relaxant-lubricant hybrid. Made from a water base it is smooth and stands out for its feel alone. The anal relaxant is also well-balanced and helps to reduce pain and friction.
Size: 4.25 oz. (126 ml)
Type: Lube-Relaxant Hybrid
Base: Water
Active Relaxant: Lidocaine
Relaxant Strength: ⭐⭐⭐☆☆
Overall, Ass Relax feels a bit more refined and mature than other items we have tested making it one of the best anal relaxants on the market.
View on MQ Store

Anal Relaxing Creams & Sprays
These are stand-alone anal relaxants in the form of creams and sprays. These anal relaxants are best paired with your favorite lube for better lubrication. On the plus side, these can be mixed and matched, and often have anal desensitizers in higher concentrations and perform better than pre-mixed options.
Anal Eze Cream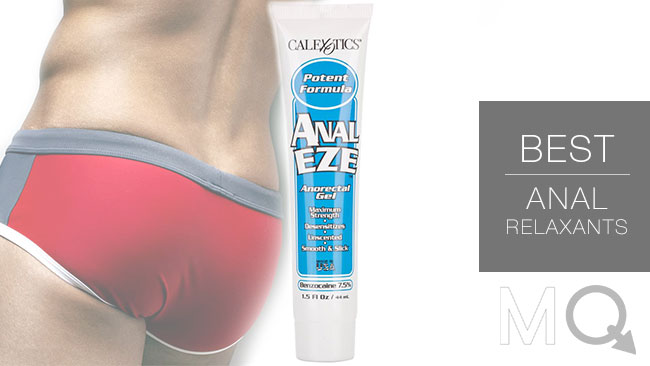 Anal Eze is one of our top picks because the application is easy, simply squeeze a little on a finger and rub it onto the skin.
MQ Reader Review:
"I would not have anal sex with my husband because it was painful. With anal-eze cream, it does not hurt. I actually had an orgasm with it!"
The cream feels similar to a hand lotion, but it is not oily and the relaxing effects work quickly.
There are very few other cream products out there, but Anal Eze is easily the most convenient and long-lasting of all others that I have tested. For the average user, Anal Eze is the best anal relaxant cream.
Active Relaxing Ingredient: Benzocaine
Relaxant Type: FDA-Approved Synthetic
Size: 1.5 oz (44 ml)
Relaxant Strength: ⭐⭐☆☆☆
Happy Hiney Anal Comfort Cream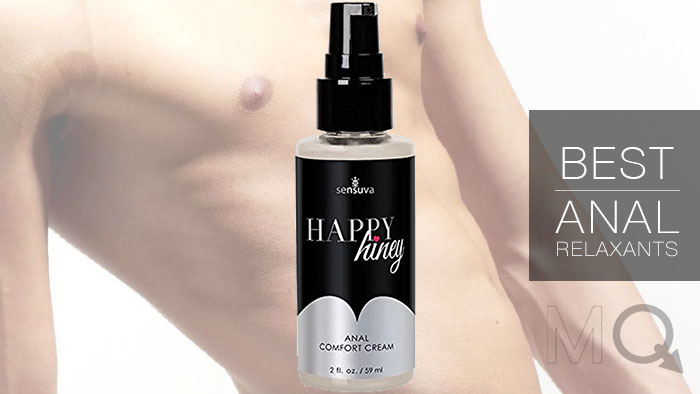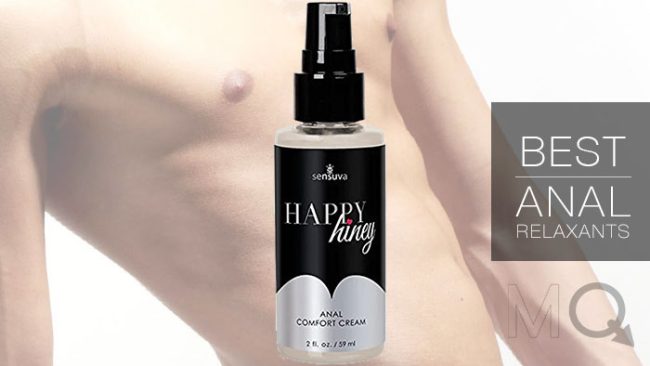 The first thing you will notice about Happy Hiney Anal Comfort Cream is the feeling of quality throughout, from the packaging to the gel itself.  This relaxant is catered specifically to relax your muscles and does not have a numbing agent.
Overall, I like this compared to most other relaxants because the lack of a numbing agent makes you feel like you have more control while having sex. You are therefore more in-tune with what is going on.
It also pairs well with other lubricants and doesn't get diluted if you decide to mix it up. I have had a lot of fun experimenting with different combinations and this is one of my overall favorites.
It has been a reader's choice for the best anal relaxants for the past few years and is definitely worthy of its place on the list.
Tush Ease Anal Relaxant Au Naturel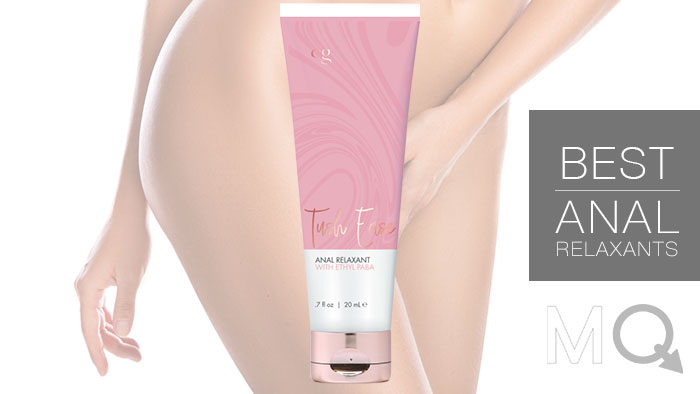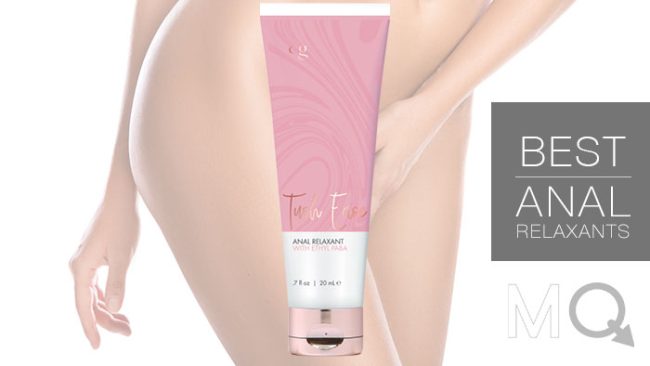 Make your Tush a bit more comfortable. Tush is an anal relaxant with a feminine touch. Like other relaxants on this list, it is infused with benzocaine which is fast and effective. Not only does tush help you ease into anal play, but also lets your open up for extra anal pleasure.
Active Relaxing Ingredient: Benzocaine (4.9%)
Relaxant Type: FDA Approved Synthetic Relaxant
Size: 0.7 oz (20 ml)
Relaxant Strength: ⭐⭐⭐⭐☆
Passion Spray Anal Relaxant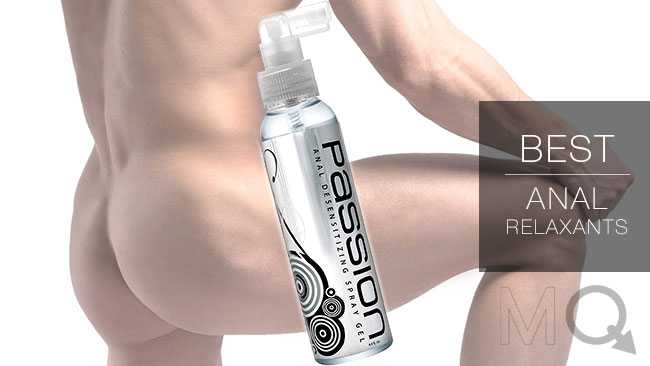 Passion Spray is one of the best anal relaxants because it is fast-acting and includes a desensitizer that is not overpowering.
Without a doubt, Passion is one of the best anal relaxants I have used. The effects will last you without having to add more halfway through.
The actual product is more like a gel and all it takes is one or two good pumps to get the right amount. It is important to note that this is primarily a relaxant and will not numb you out so you can still sense what is happening.
Passion Spray is a very well-balanced product and an optimal choice for first-timers.
Active Relaxing Ingredient: Lidocaine
Fast-Acting Spray
Size: 4.4 oz (130 ml)
Relaxant Strength: ⭐⭐⭐⭐☆
View on MQ Store

All Natural Anal Relaxants
For some, synthetic relaxants can be overpowering, or may even be irritating, especially if you have super sensitive skin. Below are our picks of anal relaxants made from all natural ingredients.
Intimate Earth Adventure Anal Gel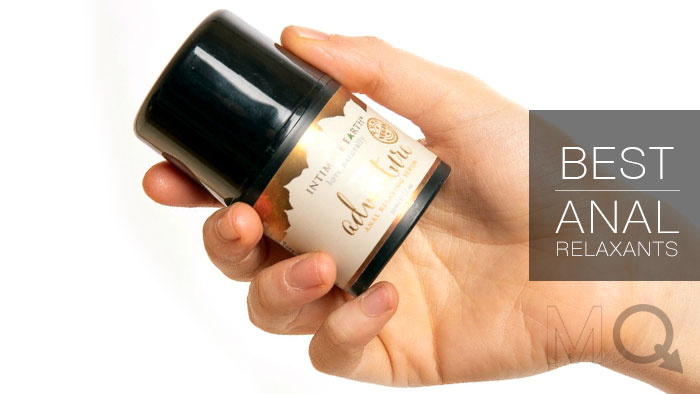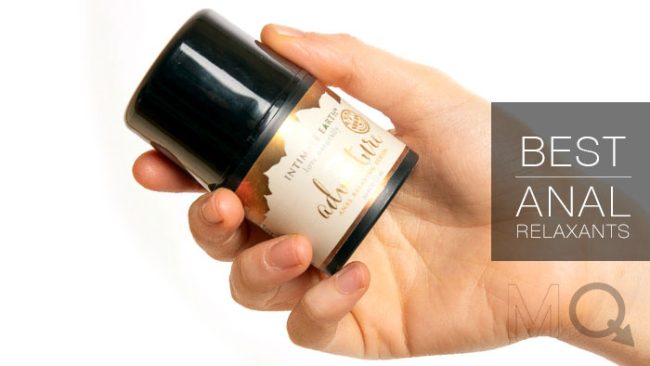 Intimate Earth is known for making lubes and lotions from all natural ingredients. Unlike other anal gels or creams that can numb the sphincter, this herbal gel has no anesthetic effects.
Instead, the unique certified organic formula comes with an extract blend of clove, goji berry, aloe, and lemongrass. These work to loosen and relax your anal sphincter becomes to make penetration becomes more comfortable.
Made From Vertified Organic Ingredients
Free of Synthetic Numbing Agents
Natural Relaxing from Clove, Goji Berry, Aloe, & lemongrass
Relaxant Strength: ⭐⭐☆☆☆

View on MQ Store

Ooowee Anal Relaxer Lubricant with Hemp Seed Oil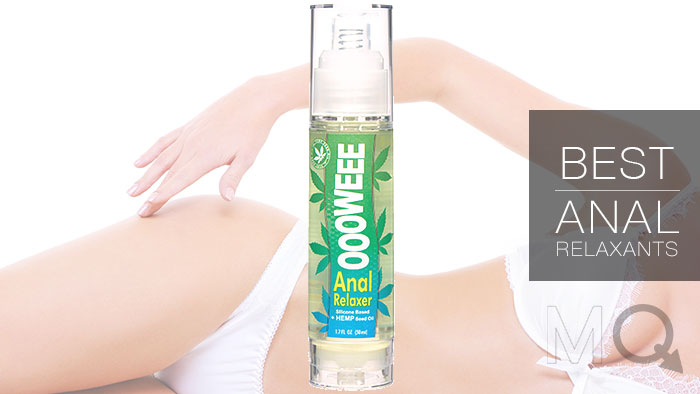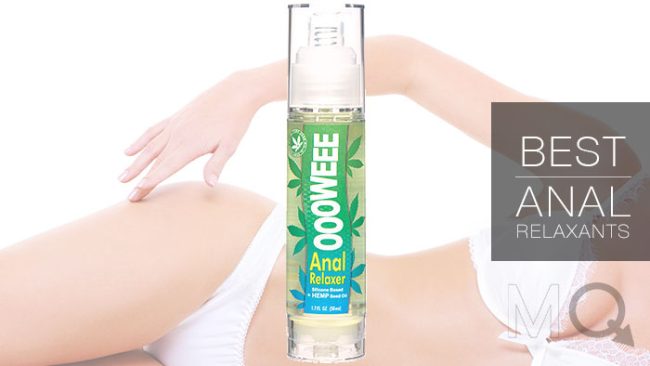 Hemp is known as a miracle plant, and can be used for a variety of purposes. But did you know that hemp seed oil also works as an all natural muscle relaxant? Ooowee pairs the natural relaxing properties of hemp seed oil with a quality silicone based lube for an impressive, all-natural anal relaxant.
Silicone Based Lube
Infussed with Hemp Seed Oil Muscle Relaxant
Relaxant Strength: ⭐⭐☆☆☆

View on MQ Store

Oil Based Anal Relaxants
These are anal relaxants paired with oil-based lubes for even smoother anal sex. Oil-based lubes are the most slippery, durable options available. As a downside, they can break down condoms, and are a lot of work to clean up. These anal lube relaxants are ideal for people looking for longevity and endurance.
Natural Anal Lube Airless Pump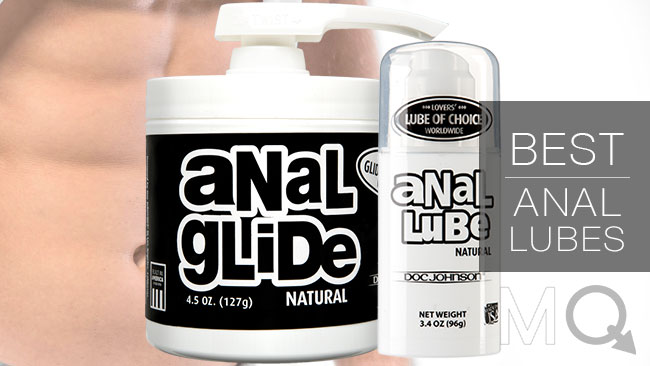 Anal Glide – Natural is a heavy-duty, oil-based anal lube and relaxant designed for maximum lubrication. Although oil lubes are not condom compatible, they are some of the slipperiest and long-lasting lubes you can buy. Anal glide combines this slickness with a powerful anal relaxant that makes anal play an absolute joy.
MQ Buyer Review:
Finally, an anal lube that will let me use it with all my toys. Nothing on the market like it. Toys I had problems getting in and out now slide in with no problem. I'll never buy another anal lube. Don't pass this up!
The new airless pumping system in the 3.4oz bottle works by pumping from the very bottom of the bottle, making sure that every last drop gets used. This is the best anal relaxant for anyone not worried about condoms and who wants to go extra big.
Thickness: 5/5
Base: Petroleum Gel
Size: 3.4 oz (100 ml) or 4.5 oz (133ml)
Relaxant Strength: ⭐☆☆☆☆
Ideal for Toys
View on MQ Store

Invade Deep Anal Fisting Cream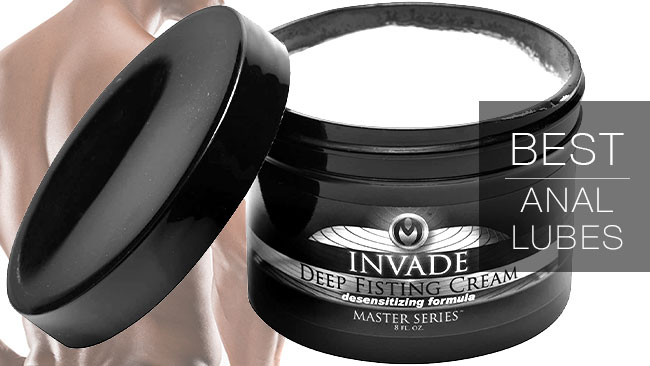 Invade Deep is for people looking to try extreme anal play. If you are looking to go big, whether it be with a dick, a toy, or more, then Invade is the best anal relaxant for you. Unlike other options on this list, Invade is an oil base cream with a built-in desensitizer. We are talking about buttery smooth entry and intense lubrication potential.
MQ Reader Review:
Works for hours – "I have used Him lubricating cream for 4 days now and I am completely satisfied with the performance and last quality. I am able to reinsert my toys without the need to add more lube. And that is a winner in my ass." – Chrissy4605
In terms of the relaxant, it takes a few minutes to kick in, but once it does you will feel looser and able to take bigger and bigger sizes.
Anal Relaxant: Benzocaine (5%)
Thickness: 5/5
Base: Mineral oil, Petroleum Gel
Size: 8 oz (236 ml)
Relaxant Strength: ⭐⭐⭐⭐☆
Ideal for Large Toys or Extreme Play
View on MQ Store

Choosing an anal relaxant is only the first step. If you want great sex then don't forget to pair your relaxant of choice with a quality anal lube.
Many anal lubes such as Pjur Backdoor already have an anal relaxant built right in, so you can get all the great effects of the relaxants above in one package.
Anal Sex Starter Kit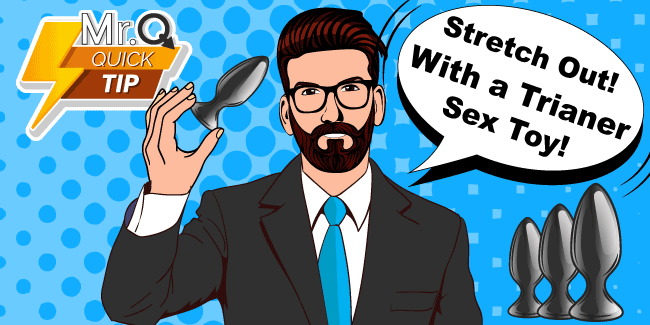 If you haven't already, also be sure to check out the MQ Anal Starter Kit. This gives you everything you need to start with anal sex including:
3-Piece Anal Plug Trainer Kit
2 Lube Injector
2 Cock Rings
An Anal Enema for Clean-Up
Anti-Bacterial Sex Toy Cleaner – 100ml
Pjur Analyse Me Anal Lube – 100ml
Best of all, bundled together it'll save you about 40 bucks.
If you have any questions about our picks for the best anal relaxants or would rather ask us directly feel free to email us at [email protected], follow us on YouTube, Facebook or Twitter or write them down in the comments below!
These are our picks of the best anal relaxants out there right now. If you have any thoughts or recommendations share them in the comments below.