Top 15 Best Anal Relaxants of 2023 for Smooth Anal Sex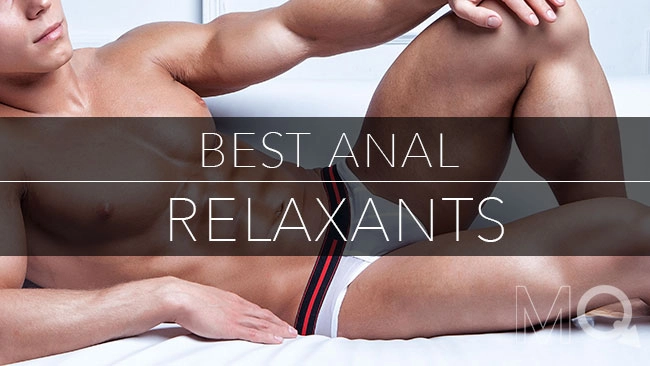 No matter if you are an anal sex first timer, or a backdoor pro, you have come to the right place. Anal relaxants can help to make entry easier, reduce pain and provide a more enjoyable experience. Below are the best anal relaxants to help make sex more comfortable and pain-free.
👉 Skip to Our List of the Best Anal Relaxants Here
What is an Anal Relaxant?

As the name suggests, these products are designed specifically to aid your sphincter muscles to relax your body naturally and improve comfort. These can come in the form of creams, sprays, or lubes. The goal of an anal relaxant is to reduce discomfort or pain during anal intercourse.
Common Active Anal Relaxing Ingredients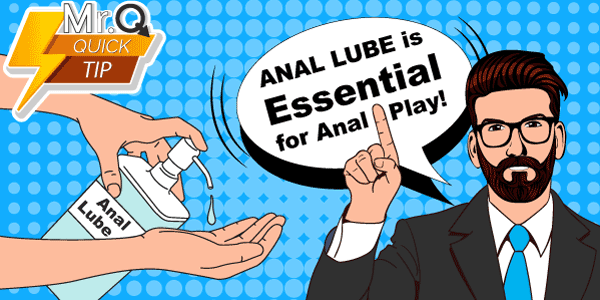 Benzocaine: An FDA-approved local anesthetic that numbs the area it's applied to. It's often used in over-the-counter products for tooth pain, sore throats, and other discomforts. It is often used to lightly numb the area and relax the sphincter muscles.
Lidocaine: Another local anesthetic similar to benzocaine but slightly stronger and longer-lasting.
Natural Extracts: Some products use natural ingredients like jojoba extract or clove oil to create a relaxing effect.
Before using an anal relaxant, it's essential to:
Use with Care: Remember that if you numb an area, you might not feel if something is causing damage. Always go slow and communicate with your partner.
Test for Allergies: Before applying any product to sensitive areas, test it on a less sensitive part of your body (like the inside of your forearm) to ensure you don't have an allergic reaction.
Consult a Healthcare Professional: If you're unsure about using a product or if you experience persistent pain or discomfort, consult with a healthcare professional for guidance and advice.
Sort and Compare Anal Relaxants
Best Anal Relaxants Ranked
The best anal relaxants will give a balance of relaxation while letting you stay in control. Many of the even come in a lubrication relaxant hybrid formula that let you lube up and open up at the same time. For an even stronger effect, mild anal numbing agents help make sex even easier. Here is a quick break down of our favorite anal relaxants.
All Natural Anal Relaxants


For some, synthetic relaxants can be overpowering, or may even be irritating, especially if you have super sensitive skin. Below are our picks of anal relaxants made from all-natural plant-based relaxants.
To start off our list we have an all-time 10 year best seller. Pjur is one of our favorite lube brands and they make possible the best anal relaxant on the market.
Pjur Backdoor Anal Relaxing Glide with Jojoba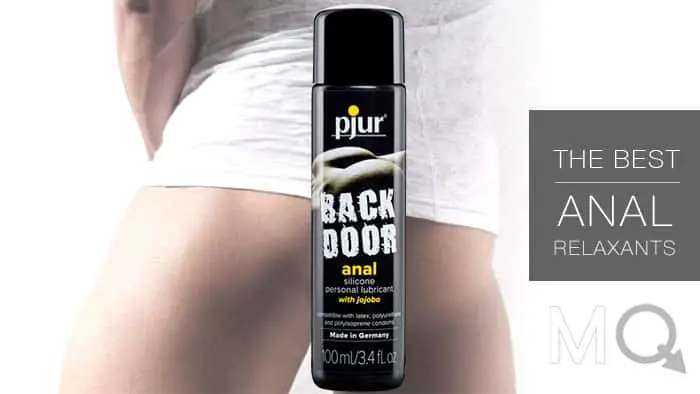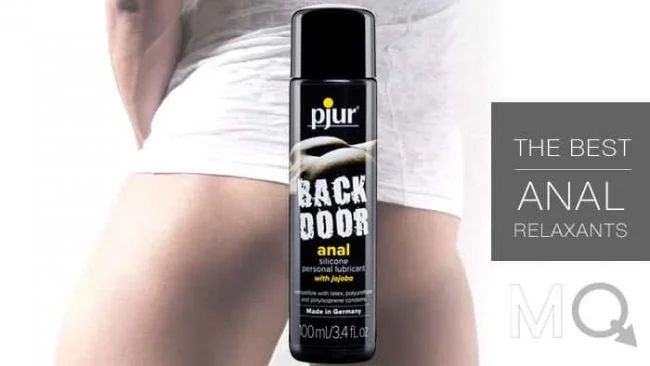 The best anal relaxant for most people is Pjur Backdoor. It is a silicone lube hybrid featuring Jojoba extracts, a natural muscle relaxant that also provides a mild numbing effect to ease the pain.
If you are looking to avoid pain, or if are having anal sex for the first time, this is your most balanced option. The included silicone lube is also slippery and heavy-duty making things "slide" in with almost no effort.
MQ Reader Review:
It has to be the best lube for anal sex ever! Silky smooth and helps make it easier to take either a toy or the real deal! Love this lube, and so does my ass!
Base: Silicone
Relaxant: Natural Jojoba Extract
Relaxant Strength: ⭐⭐☆☆☆
Lube Thickness Level: 5/5
View on MQ Store

Pjur Backdoor also comes in a water variant that is a bit cheaper and easier to clean up.
Intimate Earth Anal Relaxing Serum with Clove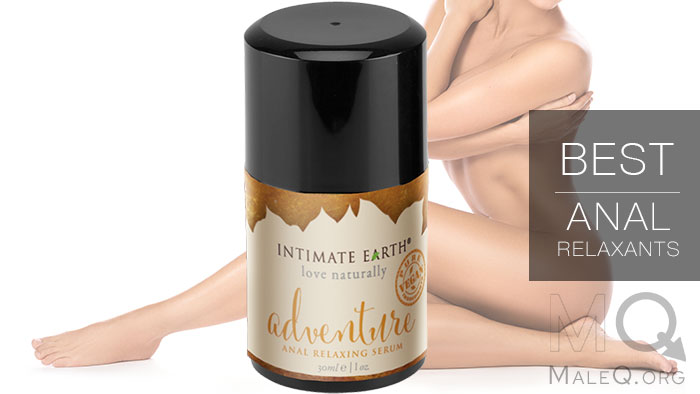 Intimate Earth is known for making lubes and lotions from all-natural ingredients. Unlike other anal gels or creams that can numb the sphincter, this herbal gel has no numbing effects. The organic formula comes with an extract blend of clove, goji berry, aloe, and lemongrass. These work to loosen and relax your anal sphincter becomes to make penetration more comfortable.
Made From Certified Organic Ingredients
Free of Synthetic Numbing Agents
Relaxant: Clove, Goji Berry, Aloe, & Lemongrass
Size: 1 oz (30 ml)
Relaxant Strength: ⭐⭐☆☆☆

View on MQ Store

Intimate Earth Ease Relaxing Glide with Bisabolol Extract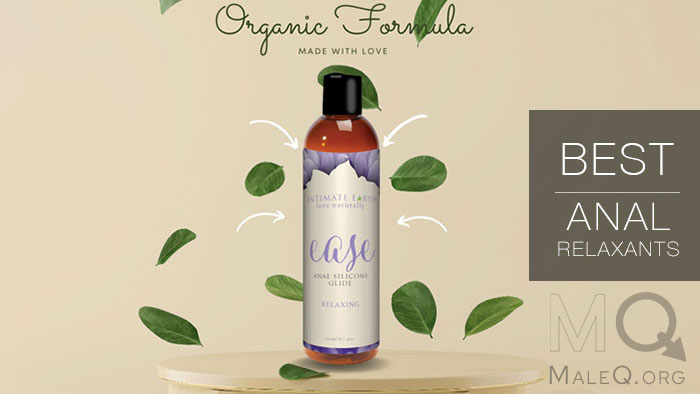 Intimate Earth Ease Silicone Relaxing Glide is a high-quality, all natural silicone-based relaxing lube. It contains Bisabolol extract, to help relax the anal sphincter and provides anti-inflammatory, and anti-microbial benefits. It has no added fragrance or taste, making it perfect for individuals with sensitive skin.
Relaxant: Bisabolol Extract
Type: Silicone Lube with Relaxant
Size: 4 oz (120 ml)
Relaxant Strength: ⭐☆☆☆☆
View on: MQ Store

Butt Eze Anal Desensitizer With Hemp Seed Oil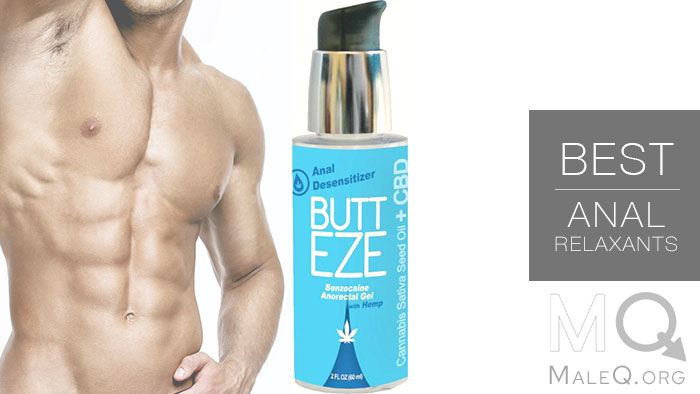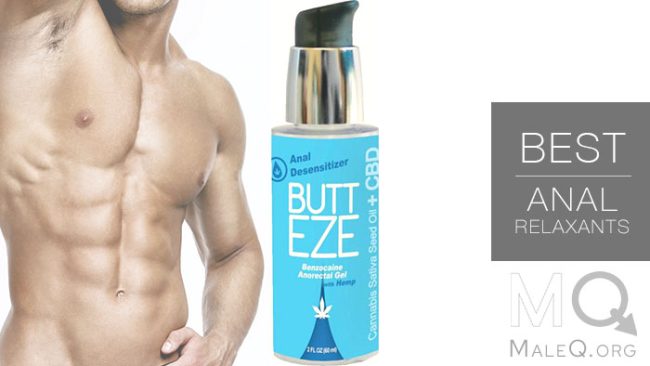 Hemp is known as a miracle plant and can be used for a variety of purposes. But did you know that hemp seed oil also works as a natural muscle relaxant? Butt Eze pairs the natural relaxing properties of hemp seed oil with a quality silicone-based gel for an impressive, all-natural anal relaxant.
Type: Silicone Gel with Relaxant
Relaxant: Hemp Seed Oil
Size: 2 oz (60 ml)
Relaxant Strength: ⭐☆☆☆☆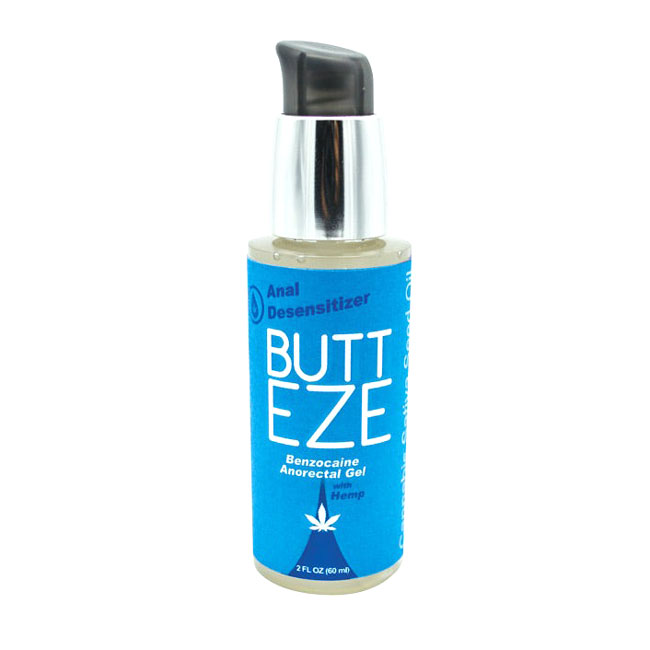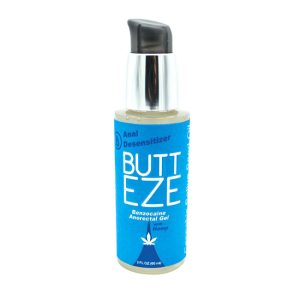 View on MQ Store

Medium Strength Anal Relaxants
For those looking for something a bit more powerful, we recommend synthetic relaxants. These commonly include Benzocaine, an over-the-counter topical formula used to ease ache and tightness. Topical Benzocaine is considered safe to use for adults and can provide quick relaxing results with a mild numbing effect. This is ideal if you are looking for a medium-strength anal relaxant.
Anal Glide Relaxing Lubricant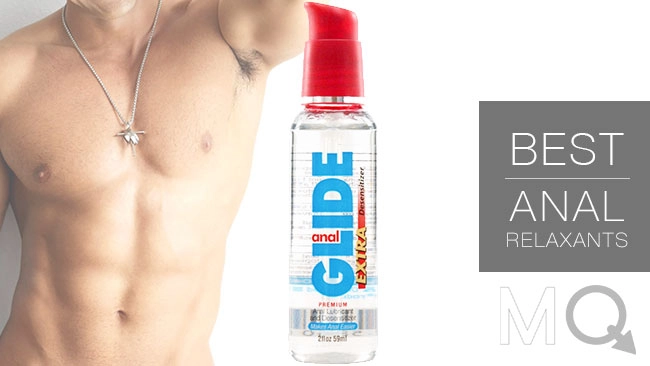 Anal Glide has been one of our long-time favorites. It is a premium anal lubricant with a fast-acting anal relaxant mixed in. The lube feels great to use and makes entry extra smooth and painless. The one-handed pump also makes application easy without breaking up the action. Overall, it is the best anal relaxant lube combo we have tested.
Active Relaxant Ingredient: Benzocaine
Base: Silicone
Size: 2 oz (59 ml)
Relaxant Strength: ⭐⭐⭐☆☆
View on MQ Store

For a more natural feel and cheaper price you can opt for the water based formula.
Active Relaxant Ingredient: Benzocaine
Base: Water
Size: 2 oz (58 ml)
Relaxant Strength: ⭐⭐⭐☆☆
View on MQ Store

Anal Eze Cream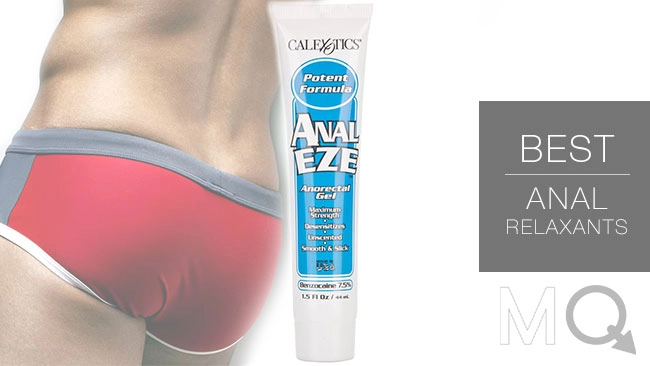 Anal Eze is one of our top picks because the application is easy, simply squeeze a little on a finger and rub it onto the skin. The cream feels similar to a hand lotion, but it is not oily and the relaxing effects work quickly. There are very few other cream products out there. For the average user, Anal Eze is the best anal relaxant cream.
MQ Reader Review:
"I would not have anal sex with my husband because it was painful. With anal-eze cream, it does not hurt. I actually had an orgasm with it!"
Active Relaxing Ingredient: Benzocaine
Relaxant Type: FDA-Approved Synthetic Relaxant
Size: 1.5 oz (44 ml)
Relaxant Strength: ⭐⭐⭐☆☆
Happy Hiney Anal Comfort Cream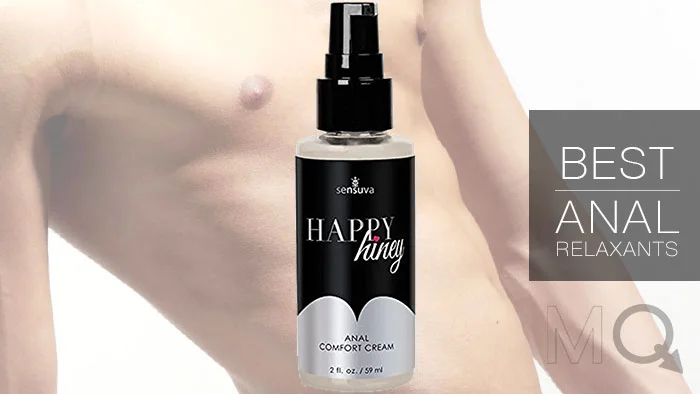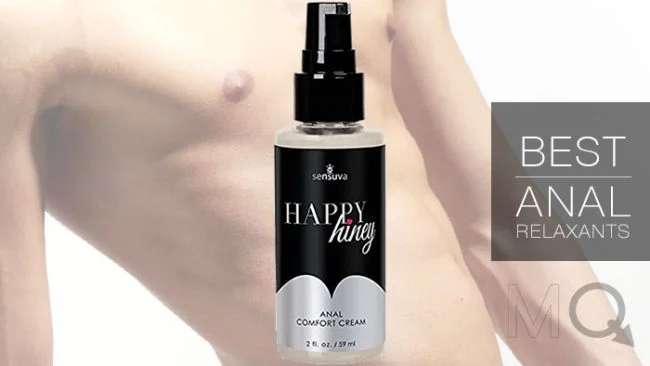 This relaxant is catered specifically to relax your muscles and does not have a numbing agent. Overall, I like this compared to most other relaxants because it makes you feel like you have more control while having sex.
It also pairs well with other lubricants and I have had a lot of fun experimenting with different combinations. This is one of my overall favorites.
Relaxant: Benzocaine
Relaxant Type: FDA-Approved Synthetic Relaxant
Size: 2 oz (59 ml)
Relaxant Strength: ⭐⭐⭐☆☆
Tush Ease Anal Relaxant Au Naturel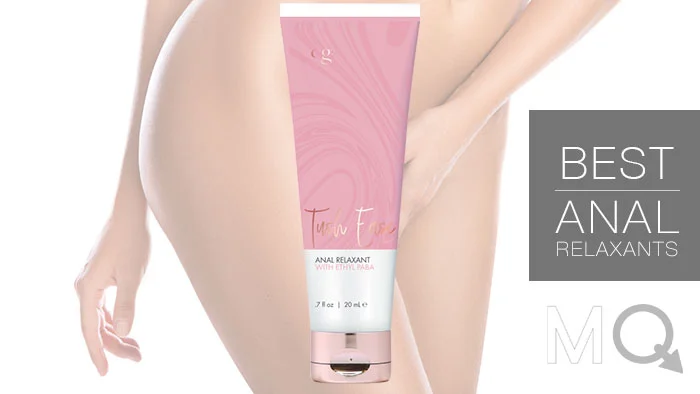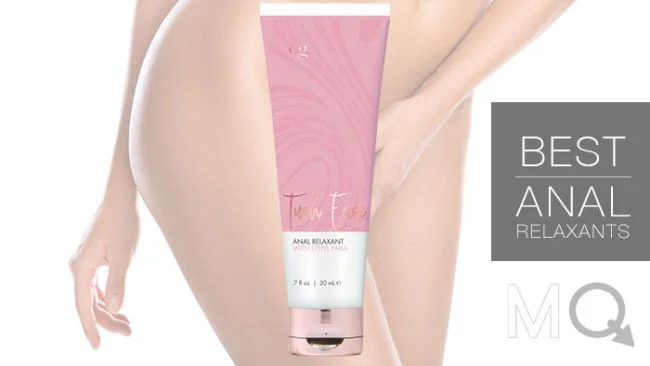 Tush is an anal relaxant with a feminine touch. Like other relaxants on this list, it is infused with benzocaine which is fast and effective. Not only does tush help you ease into anal play, but also lets your open up for extra anal pleasure.
Active Relaxing Ingredient: Benzocaine (4.9%)
Size: 0.7 oz (20 ml)
Relaxant Strength: ⭐⭐⭐⭐☆
Strong Anal Relaxants
Lidocaine-based products offer the maximum relaxing and numbing effect. These relaxants are more powerful and offer ssubstnatial releif for users who have had problems with anal in the past. These products should be used with care, espiacially when getting used to a new product.
Extra Strength Relax Desensitizing Anal Gel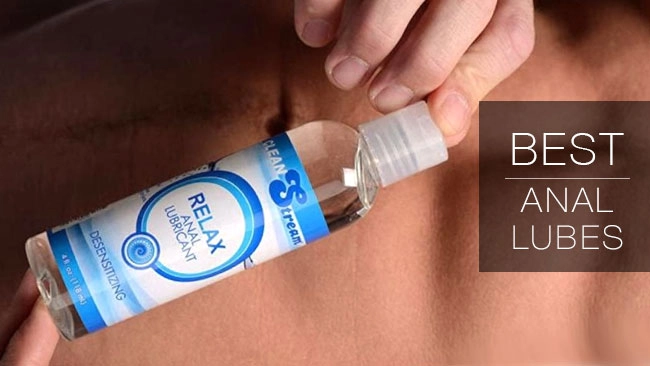 Relax is a water-based lube and anal relaxant all in one. The water lube base is heavy-duty and long-lasting and has an extra slippery consistency. Best of all the anal relaxant kicks in quickly but is not over-powering. The included pump design makes one-handed application extra easy. If you are looking for a water-based option with one of the best anal relaxants already mixed in, then look no further.
Active Relaxant: Lidocaine
Base: Water
Size: 4 oz (120ml)
Relaxant Strength: ⭐⭐⭐⭐☆
View on MQ Store

Relax also comes in a 17.5oz bottle giving you over 4X the lube for only a bit more money. The 4 oz size has a stronger "Extra Strength" relaxant, but the standard relaxant from the bigger 17 oz version definitely still does a great job.
View on MQ Store

Ass Relax Anal Desensitizing Lubricant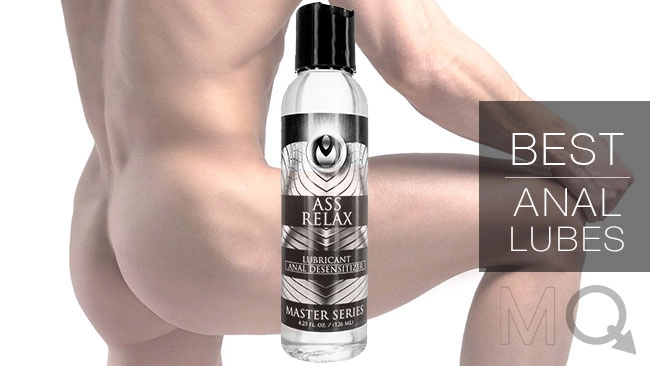 Ass Relax is another high-performing anal relaxant-lubricant hybrid. Made from a water base it is smooth and stands out for its feel alone. The anal relaxant is also well-balanced and helps to reduce pain and friction. Overall, Ass Relax feels a bit more refined and mature than other items we have tested making it one of the best anal relaxants on the market.
Size: 4.25 oz (126 ml)
Type: Lube-Relaxant Hybrid
Base: Water
Active Relaxant: Lidocaine
Relaxant Strength: ⭐⭐⭐⭐☆
View on MQ Store

Numb Af Anal Desensitizer Flavored Gel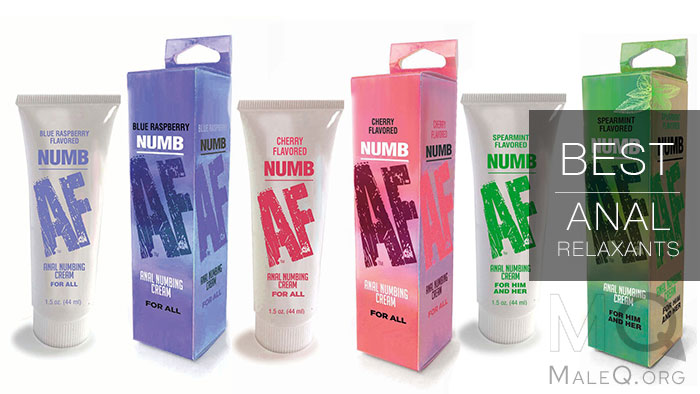 Numb Af Anal Desensitizer Flavored Gel is formulated with Lidocaine, which gently numbs the anus on contact. With a quick activation time of just 5 minutes, it is one of the fastest acting anal relaxants we have tested. What makes Numb AF stand out is the 5 delicious flavors including Cupcake, Strawberry, Raspberry, Mint, and Cherry.
Relaxant: Lidocaine
Relaxant Strength: ⭐⭐⭐⭐⭐
Size: 1.5 oz (44 ml)
Comes In 5 Flavors: Cupcake, Strawberry
Raspberry, Mint, Cherry, or Unflavored.
5 Minute Activation Time
View on: MQ Store

Passion Spray Anal Relaxant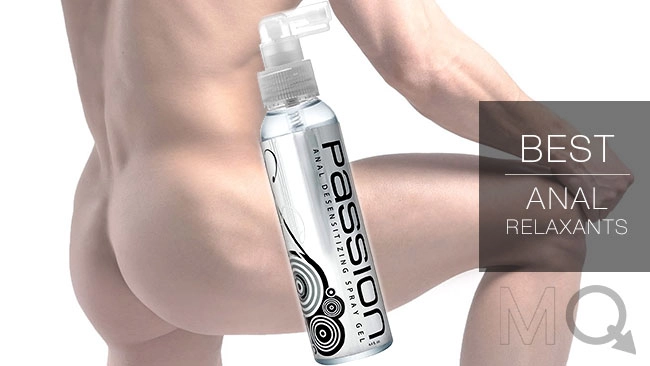 Passion Spray is one of the best anal relaxants because it is fast-acting and includes a desensitizer that is not overpowering.
Without a doubt, Passion is one of the best anal relaxants I have used. The effects will last you without having to add more halfway through. Passion Spray is a very well-balanced product and an optimal choice for first-timers.
Active Relaxing Ingredient: Lidocaine
Fast-Acting Anal Spray
Size: 4.4 oz (130 ml)
Relaxant Strength: ⭐⭐⭐⭐⭐
View on MQ Store

Choosing an anal relaxant is only the first step. If you want great sex then don't forget to pair your relaxant of choice with a quality anal lube.
Many anal lubes such as Pjur Backdoor already have an anal relaxant built right in, so you can get all the great effects of the relaxants above in one package.
Anal Sex Starter Kit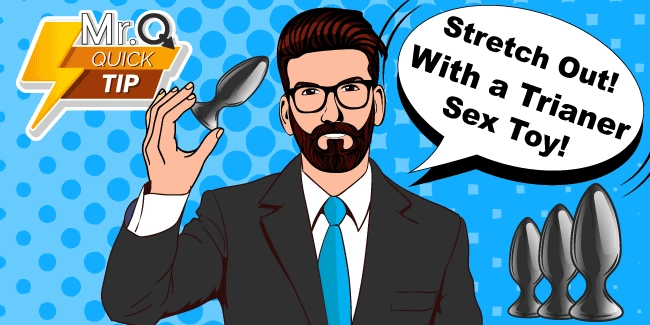 If you haven't already, also be sure to check out the MQ Anal Starter Kit. This gives you everything you need to start with anal sex including:
3 Plug Silicone Anal Trainer Kit
2 Cock Rings
2 Lube Injectors
Anal Enema (90ml)
Pjur Analyse Me Lube (100ml)
Toy Cleaner (100ml)
View on: MQ Store

Tips to Relax Before Anal Sex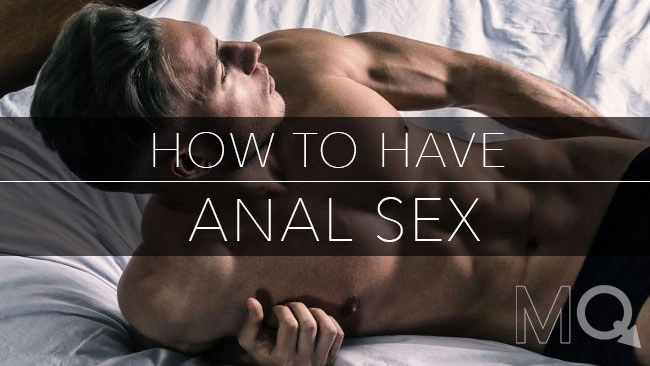 Aside from using an anal relaxant, there are many ways to prepare mentally and physically before engaging in anal sex. Here are some tips to help you relax before anal sex:
Communicate with your partner: Open and honest communication is crucial when it comes to any sexual activity. Discuss your desires, boundaries, and concerns with your partner to ensure you feel comfortable and safe, especially for new sexual experiences like anal play.
Use plenty of lubrication: The anus does not naturally lubricate like the mouth or vagina. Therefore, a high-quality, lubricant is essential to reduce friction and discomfort. Don't be affraid to apply generous lube in and around the anus for smoother entry. You can even inject lube with a lube shooter.
Try relaxation exercises: Take some time to relax your mind and body. You can practice deep breathing, meditation, or even take a warm bath or shower to help you unwind and reduce tension.
Use gentle touch and foreplay: Engage in sensual activities like kissing, caressing, and light massaging to relax your body. This can help make the experience more enjoyable.
Start small and go slowly: If you're new to anal play, start slowly and use smaller objects like toys or fingers before attempting larger ones. Gradual progression can help your body adapt and reduce discomfort.
Use anal toys for practice: Anal training kits, which include progressively larger toys, can help you get accustomed to anal penetration at your own pace. This can be especially helpful for beginners.
Choose a comfortable position: Experiment with different positions to find the one that is most comfortable for you. Try lying on your back or side with their knees bent to relax your entire body.
Relax your sphincter muscles: The key to comfortable anal penetration is to relax the anal sphincter. You can do this by taking deep breaths, exhaling slowly, and consciously relaxing your pelvic floor muscles, like you are having a bowel movement to help the muscles open up.
Practive safe anal sex: Always use condoms during anal sex to reduce the risk of sexually transmitted infections (STIs). If using toys, ensure they are clean and have a flared base to prevent them from getting stuck inside.
Respect your boundaries: If at any point you experience pain or discomfort that doesn't improve with time or additional lubrication, it's essential to stop and communicate with your partner. Consent should be ongoing and enthusiastic.
Remember that anal sex should always be consensual and enjoyable for all parties involved. Taking your time, communicating openly, and prioritizing comfort and safety are key to a positive experience.
If you have any questions about our picks for the best anal relaxants or would rather ask us directly feel free to email us at [email protected], follow us on YouTube, Facebook, or Twitter or write them down in the comments below!
These are our picks of the best anal relaxants out there right now. If you have any thoughts or recommendations share them in the comments below.