Description
Introducing Gun Oil: The Ultimate Silicone-Based Lubricant for Unforgettable Adventures. No, this is not really Gun Oil, but one of the most heavy duty, long-lasting lubes on the market.  Gun Oil is the MQ top pick for silicone personal lubricants.  In terms of feel, durability and longevity, it is unmatched by other lubes in its class.
Gun Oil Silicone Lube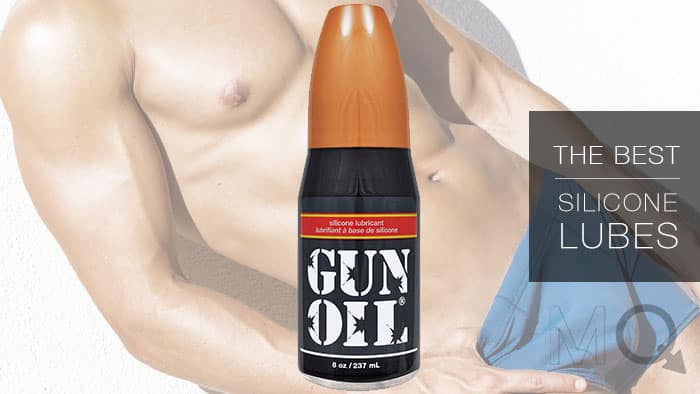 Experience a new level of pleasure with Gun Oil, the high-quality silicone-based lubricant that takes your intimate moments to extraordinary heights. Formulated with an exclusive blend of three powerful silicone molecules, Gun Oil is renowned for its ultra-concentrated, long-lasting slickness that will leave you craving for more. Discover why Gun Oil has become a household name among discerning individuals seeking unparalleled pleasure.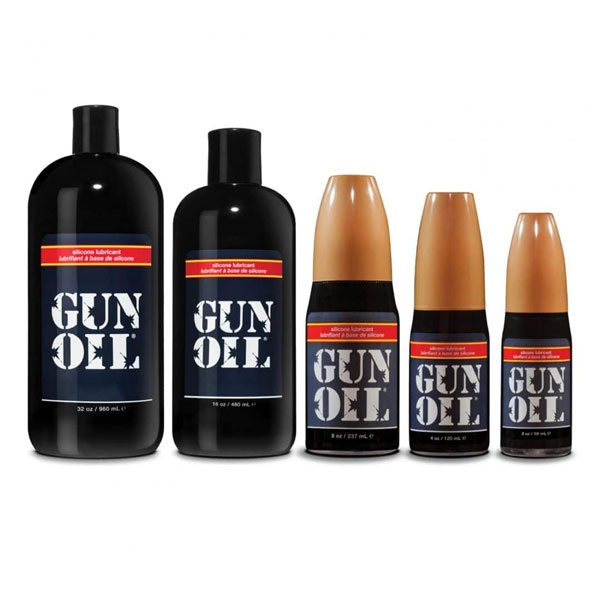 The key to Gun Oil's success lies in its superior formulation, meticulously crafted to provide a smooth, non-irritating feel that enhances every intimate encounter. We've enriched Gun Oil with the goodness of Vitamin E and Aloe Vera, offering additional benefits such as minimizing friction, protecting delicate tissues, and providing a soothing touch.
One of the standout features of Gun Oil is its exceptional longevity. Highly concentrated and water-resistant, this lubricant ensures that your adventures last as long as you desire. A little goes a long way, allowing you to enjoy continuous pleasure without interruption. No need for constant reapplication, as Gun Oil stays slick and luxurious, even during the most passionate moments.
For those concerned about compatibility, Gun Oil Lubricant is latex condom compatible, providing worry-free protection without compromising your pleasure. Whether you're exploring solo or with a partner, you can trust Gun Oil to enhance your experience while keeping you safe.

Gun Oil isn't just any lubricant – it's a specially fortified formula that has been meticulously designed to exceed your expectations. This hypoallergenic lubricant is safe for most non-porous toys, making it a versatile addition to your collection. Its water-resistant properties ensure that it won't break down or dry out, maintaining its superior performance and allowing you to focus on pure pleasure.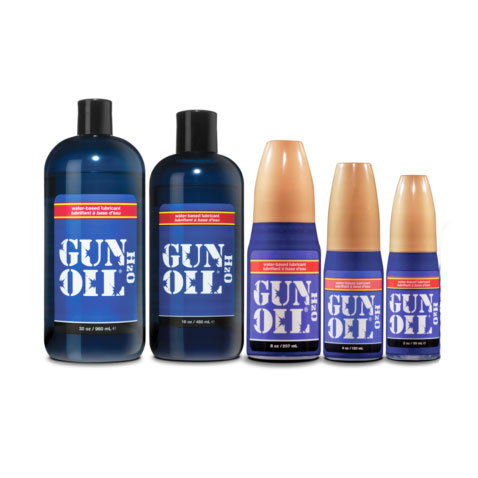 Unscented and unflavored, Gun Oil lets you enjoy a purely sensory experience. Free from glycerin and parabens, this lubricant is gentle on your body and eliminates any worries about potential irritants. The addition of special botanical ingredients further enhances its benefits, providing an extra touch of natural goodness.
Choose Gun Oil, the product that has revolutionized intimate experiences worldwide. Experience the smoothness, longevity, and pleasure that have made Gun Oil a trusted and beloved name among those who demand the very best. Elevate your adventures and indulge in pure pleasure with Gun Oil – the ultimate silicone-based lubricant.
For toys, solo, or couples play, Gun Oil will last you the longest out of any silicone lube you can buy. It's condom safe and perfect for any situation. What makes this a great lube is its male oriented appeal. While it's a great formula for heterosexual sex, it's less frilly and more manly that most lubes.  Any guy can feel good about keeping their member well lubricated for high performance in the toughest situations.