Description
The Moist Personal Lubricant Backdoor Formula is a high-quality personal lubricant designed specifically for anal play. It comes in a conveniently sized 4.4 fluid ounces bottle and is made by Pipedream Products, a trusted brand in the adult industry.
Moist Personal Lubricant Backdoor Formula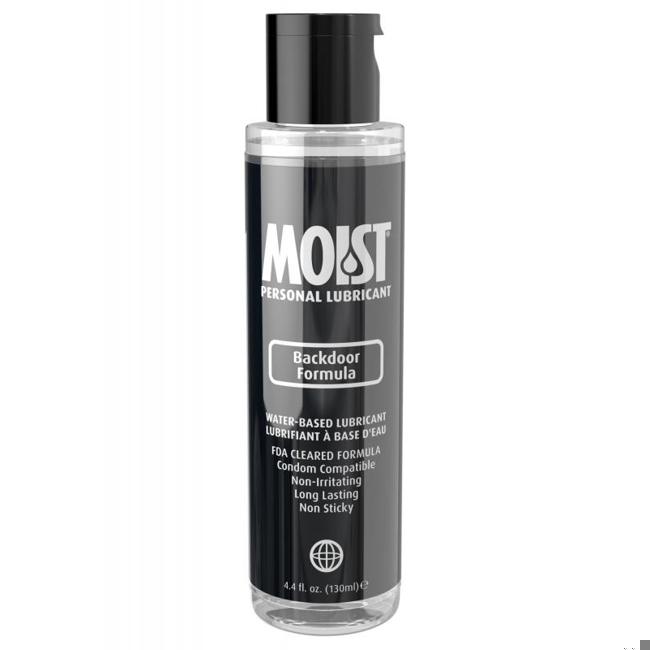 This lubricant is intended to provide moisture and lubrication to enhance the ease and comfort of intimate sexual activity. It can be used for both penile and vaginal application, making it versatile for couples or individuals who want to explore different types of sexual experiences.
The Backdoor Formula has a thicker consistency, which is perfect for anal play. It is formulated to mimic the body's natural lubrication, making it feel smooth and comfortable during use. It is odorless and gentle on the skin, minimizing any discomfort or irritation.
One of the standout features of this lubricant is its long-lasting formula. It is designed to provide lasting lubrication without becoming sticky or tacky. This ensures that you can enjoy uninterrupted pleasure without the need for constant reapplication.
The Moist Personal Lubricant Backdoor Formula is also condom compatible, making it safe for use with natural rubber latex, polyisoprene, and polyurethane condoms. This allows for worry-free protection during sexual activities.
To use this lubricant, simply apply a few drops to the area of the body you wish to lubricate. If lubrication decreases during use, you can reapply or add a few drops of water to reactivate its slippery properties.
The ingredients of this lubricant include water, glycerin, propylene glycol, cellulose gum, EDTA, carbomer, PEG-90M, tetrahdroxypropyl ethylenediamine, methylparaben, sodium benzoate, and potassium sorbate. These ingredients are carefully chosen to provide a safe and effective lubrication experience.
Overall, the Moist Personal Lubricant Backdoor Formula is a top-notch product for anyone looking to enhance their anal play experiences. With its thick and long-lasting formula, you can enjoy comfortable and pleasurable encounters. Plus, its compatibility with various condom types adds an extra layer of safety. Try this fantastic lubricant and discover a new level of enjoyment in your intimate moments.
Dimensions
Height: 1.25  Length: 6.25 Diameter: 2  Weight: 0.34
Features
510(K) CLEARED FORMULA
MADE IN THE U.S.A.
Water-Based Lubricant
Condom Compatible
Non-Irritating
Long Lasting
Non Sticky
INGREDIENTS: WATER/AQUA/EAU, GLYCERIN, PROPYLENE GLYCOL, CELLULOSE GUM, EDTA, CARBOMER, PEG-90M, TETRAHYDROXYPROPYL ETHYLENEDIAMINE, METHYLPARABEN, SODIUM BENZOATE, POTASSIUM SORBATE
Color: Clear  Material: water based Barcode: 6.03912E+11
MQ Sex Toy Store Lubricants product collection.