Penis pumps are great for people who have trouble with ED, but also for anyone looking to take their erections to a whole new level.  These are our picks of the best penis pumps you can buy today.
Best Penis Pumps
Penis pumps sometimes get a bad rep, but that is because they are a bit mis-understood.  Contrary to popular belief, penis pumps will not make your dick any bigger.  What a penis pump WILL do is improve the hardness and intensity of your erections which in turn can make maximize the appearance of your penis's natural size.
---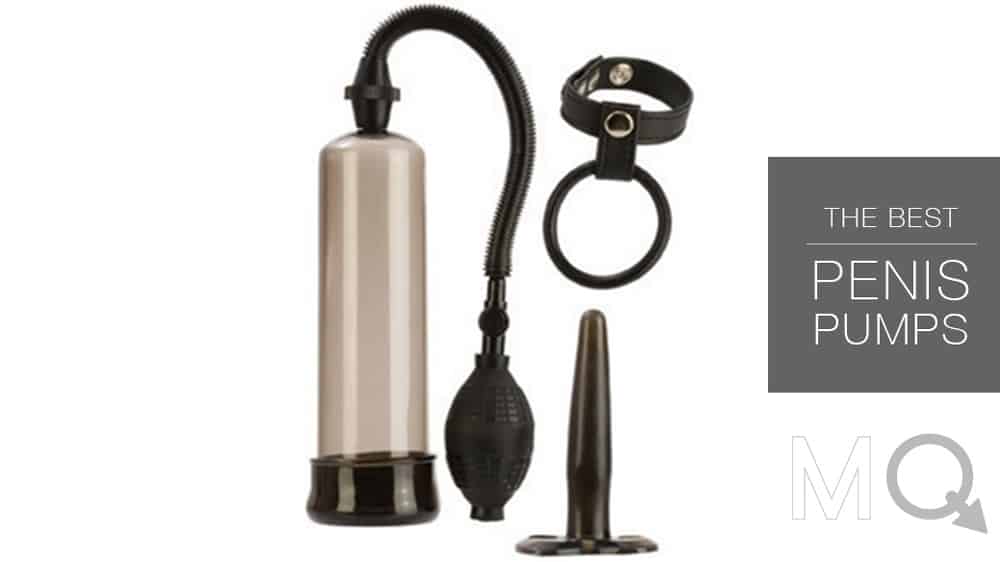 As the best value for a penis pump, the Rock Hard is well built, gives a great amount of suction, and is big enough to fit most users. Best of all, the penis pump kit comes with a double-cock ring to tighten up around your cock base and balls which helps to make your dick firmer and stay hard longer.
The kit also comes with a butt plug for those looking for some extra adventure.  All these together make the Rock Hard Kit tone of the best penis pumps in terms of value and our highest recommendation to first timers.
MQ Reader Review:
"Great lil pump. Went from a pony to a stallion. My cock is stronger, wider and longer! Definitely would recommend this pump. Great buy for the price."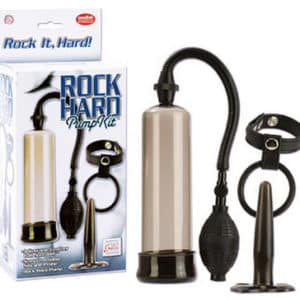 View on: MQ Store


$74.99 Add to cart



---
The Quick Draw is a premium feeling penis pump with an extra layer of customization.  The two included sleeves let you adjust the internal size, feel and suction strength and the 8.75 in tube can accommodate even the most sizable cocks.  The hand pump valve is also extra fast acting, only taking a few squeezes to get things working.
MQ Reader Review:
"This one works very well, and the longer ribbed sleeve worked better for me but I'm not small to begin with so they are trying to cover all the bases I think. The ribbed one is easily cut to whatever size you want and once you dial it in, it only takes about 10 pumps and your dong is fully hard and swelled up and ready to go! If you have a cock ring put it on before pumping up your dick, it will stay harder longer that way but be careful not to pump it up too much if you do it that way, the release valve works but extracting your hard dick can still be a challenge."

View on: MQ Store


$72.60 Add to cart



---
The Adonis Silicone stands out because of its high quality silicone and soft suction seal base which holds air-tight.  But the killer feature here is the added vibrating function which adds extra stimulation (and arousal) which feels just as much like a sex toy as it does a tool.
If you want a penis pump that will make you hard, but also has the ability to make you cum, then you have found your match.
MQ Reader Review:
"It gave me an immediate erection. I had to use lube to get it on. Once I started pumping I could feel a lot of pressure again my pelvis. I could feel how powerful it was, it was awesome. I could really feel the vibrations. That was something different for me. I have never used a pump with vibration before. I really liked it. Over all this is a good pump. It sucked the air out well and gave me a good erection and the vibrations are a nice touch."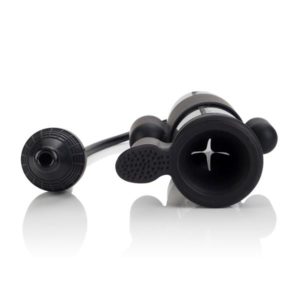 ---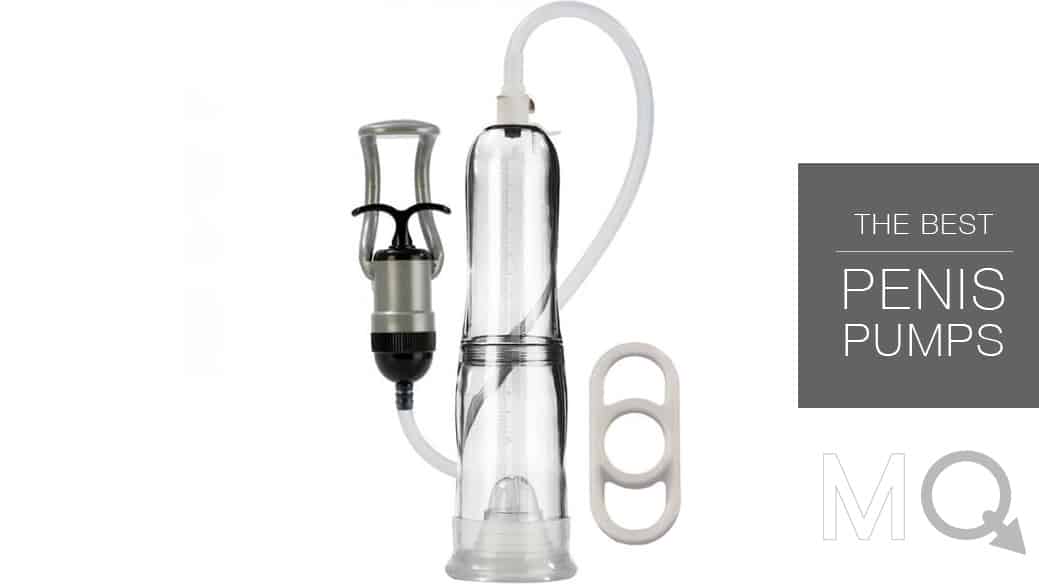 For anyone looking for a pump that is discrete, compact, and travel friendly, the travel pump is the best penis pump option.  The collapsible tube and pump can be disassembled four separate pieces, making it easy to stow in its included travel bag.
This is ideal for people who want to use their pump on a regular basis, but need something packable and travel friendly.  Despite's its collapsible design, the seal remains tight even after many uses.   This makes the Travel Pump one of the best penis pumps for travelers or people who want a penis pump that can stay discrete.
MQ Reader Review:
"This is the first pump I have tried and I was certainly not disappointed. The pump comes in a nice black travel bag and goes together very easily. When getting ready to use it make sure the quick release is closed. I made the mistake once of leaving it open and could not figure out why I was not getting any suction, it breaks down and cleans easily. Also great suction. Quick release suction hose is great for extended ware.. Very happy with product. This pump works very well I'd recomend it to anyone who is looking for a pump that performs up to expectations , suction is very good !!"

---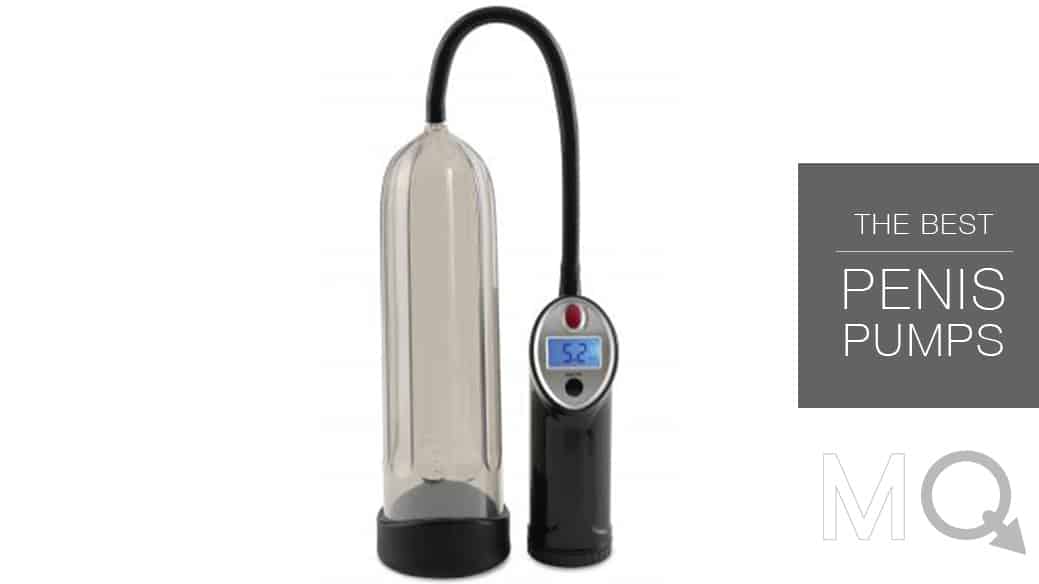 The Pump Work is a penis pump on a whole different level.  With a built-in electric pump and digital controls, it is about as high tech as penis pumps get.
The build quality is also top notch, and the Auto Vac Pump system gives suction beyond when most manual pumps can provide.  For anyone looking for a penis pump with extra durability and performance, this is one of the best penis pumps you can buy.
MQ Reader Review:
"This product did exactly what it said it would do. The electric motor has plenty of power and works great! Highly recommended."

---
For anyone looking for a high end penis pump which offers something a bit different from the pack, the Hydromax is a must have.  What sets this pump apart is that instead of creating suction with air, the pump is actually meant to be filled with water.
Not only does using water feel way better, but the feeling of pressure is completely different than any other penis pump out there because it uses water as a natural lubricant.  It feels great to use and performs on a whole different level compared to other penis pumps. If you haven't used one before, Hydro-pumps are truly an experience to be had and another top pick for the best penis pumps you can buy.
MQ Reader Review:
"Hi. Ok, I bought one of these about a year ago. Yes, I saw it on Tosh, and I looked it up. I was interested enough that I ordered one. I have had an air pump, but didn't enjoy it. The Bathmate was actually quite nice, and pleasurable, too. I would recommend one if you are seriously looking to buy a water pump. Also, if you are above average in length or girth, then go with the biggest Bathmate model available; I had a slight problem as the ringed rubber base would rub the shaft of my penis. I should have bought the bigger model. All-in-all, I think it was a good purchase, and have not regretted it. Thanks, and good pumping! :)"
These are our picks for the best penis pumps you can buy right now.  Do you have any favorites?  Let us know in the comments below.