Best Penis Pumps of 2023 – Combat Erectile Dysfunction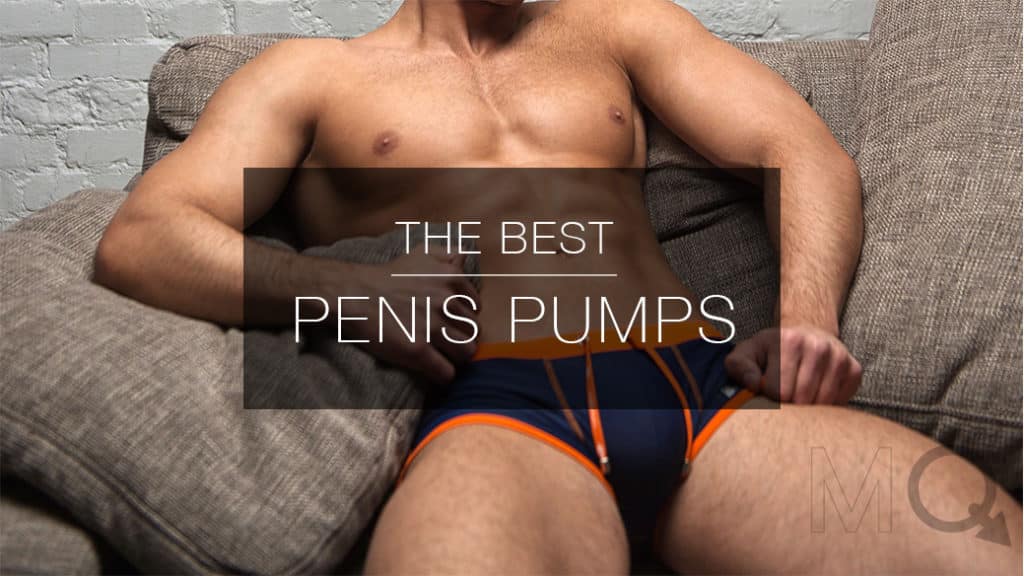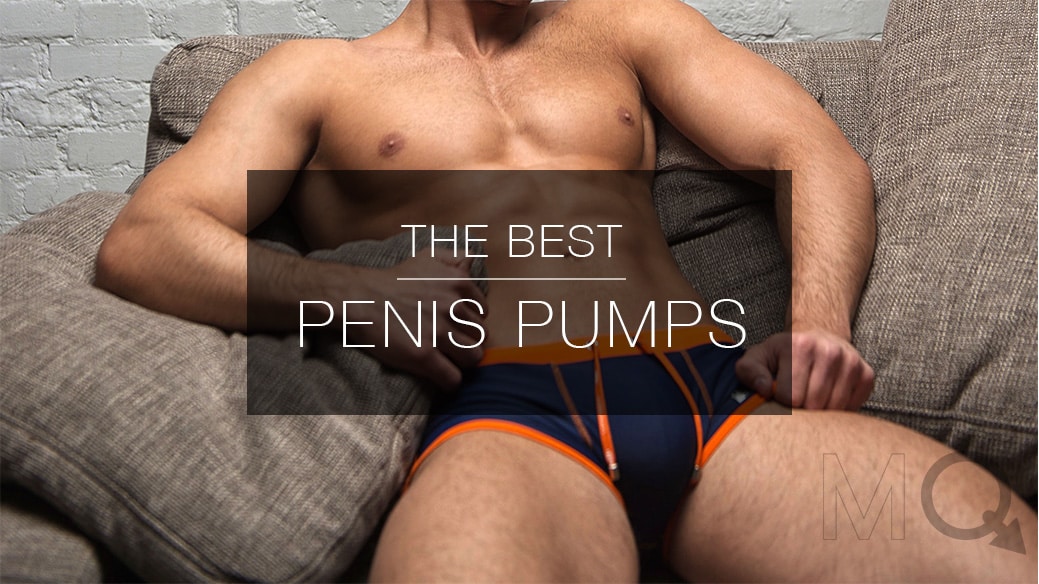 Penis pumps are great for people who want to maximize their natural size. A quality pump can help you achieve a harder erection, or help combat the side-effects of ED. Ready to take your erections to a whole new level? These are our picks of the best penis pumps you can buy today.

How Do I Choose a Penis Pump?
Choosing a penis pump can be a daunting task as there are many options available in the market. It is important to first consider your needs and expectations when choosing a penis pump. Penis pumps come in a variety of sizes, prices and feature sets that can make choosing the best penis pump extra difficult.
First, choose your budget. Pumps typically range from $40 on the budget end, all the way up to $200. For most people, a pump priced in the middle will offer a good balance of quality, price and features.
The next big decision you will need to make is to choose from a manual or electric penis pump. Manual pumps are a more classic design which usually cost less, but can cause strain on your hands from pumping.
Electric pumps are more feature rich and convenient to use, but come at a premium. In the end, choosing the right penis pump ultimately comes down to your needs and budget. Look for a pump with a pressure gauge or control to ensure that you can monitor the pressure and prevent over-pumping. Over-pumping can cause discomfort, pain, or even injury.
Best Penis Pumps
Penis pumps sometimes get a bad rep, but that is because they are a bit misunderstood. Contrary to popular belief, penis pumps will not make your penis bigger.

What a penis pump WILL do is improve the hardness and intensity of your erections which in turn can maximize the appearance of your penis's natural size. The best penis pumps create a vacuum to increase blood flow and achieve harder longer, fuller-sized erections.
Electric Penis Pumps


Electric penis pumps are a high-tech solution to help you improve your erections. These battery-powered pumps work by pulling air from the tube and often create more instant results. The best penis pumps will also include features like a vibration motor that stimulates while pumping.
Adam's Rechargeable Penis Pump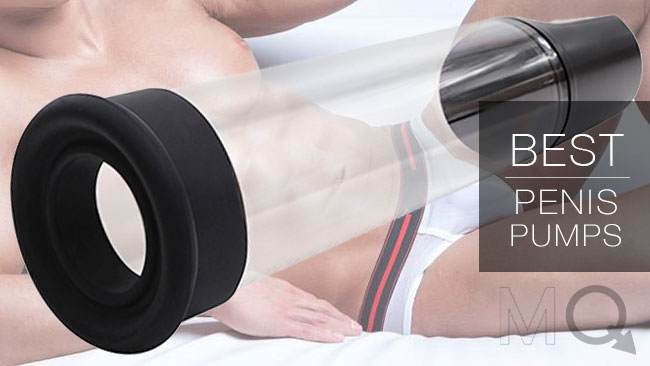 Adam's is the best penis pump we have tested this year. With the right balance of simplicity and high-tech features, this automatic penis pump is not only easy to use – it is one of the most effective pumps to give you the best results.
The Vaccum motor is quiet yet strong, and the sealed base helps you achieve maximum suction. The interior is spacious, to help you grow up to 8.25 inches. With 5 different modes and pressure presets, you can easily adjust the power and feel for a more personal experience. If you are looking for the best electric pump money can buy, go with Adam.
Digital Display Controls
USB Rechargeable
5 Different Pressure Presets
8.25-inch (21 cm) Insertion
3.08 In. (7.2 cm) Wide
PDX Elite Tip Teazer Power Pump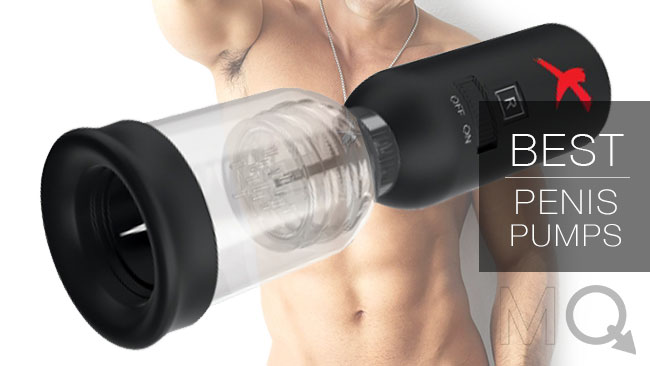 PDX is the name of the game for high-tech sex toys. Just from the design, you can instantly see that this penis pump is not like the others. The "Tip Teazer" Power Pump not only sucks but stimulates the head of the penis.
The back and forth motion paired with the vacuum pump suction is meant to simulate the feeling of a real blowjob. This pump comes as a starter kit and also includes 3 cock rings, lube, and toy cleaner to get you started.
Vacuum-Tight Blow-Job Pump
Dual Vibration Suction Moror
Suction Quick-Release Button
2 AA Batteries
Premium Electric Pumps
Overall, the Renegade offered the strongest suction and the most intelligent automatic pump system. This paired with the strong seal at the base gave the most suction and overall best growth compared to other pumps we tested.
Renegade Powerhouse Penis Pump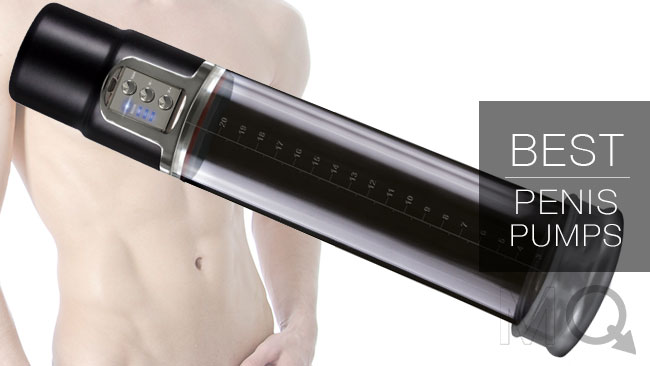 The Renegade is truly a "Powerhouse" of penis pumps. In terms of high-end, electric pumps, this baby is on a whole different level. With a built-in electric pump and digital controls, it is about as high-tech as penis pumps get.
The build quality is also top-notch, and the Auto Vac Pump system gives suction beyond when most manual pumps can provide. For anyone looking for a penis pump with extra durability and performance, this is one of the best penis pumps you can buy.
MQ Reader Review:
"This product did exactly what it said it would do. The electric motor has plenty of power and works great! Highly recommended."
USB Rechargeable
Digital Display Controls
Quiet Variable Vacuum Motor
Insertable Length: 8 in. (20.5 cm)
Diameter: 3 in. (7.6cm)
Vacuum Tight TPE Ring Base
Automatic Digital Penis Pump With Easy Grip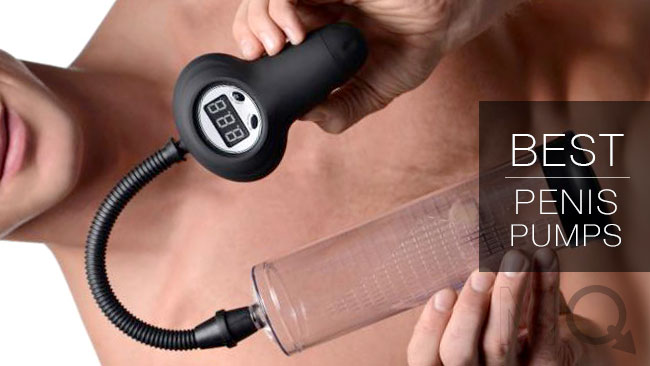 Although you miss out on some higher-quality features like a rechargeable battery or variable suction, the Automatic Penis Pump is meant to be a no-frills, high-end electric pump that takes care of all the complications. No need to mess with settings, or get lost in a sea of buttons. This Pump is a one-touch solution meant to do its job – simple and straightforward.
Digital Dump and Pressure Gauge
Firm-Grip Textured Tube
4 AAA batteries (Not Included)
Tube Length: 8.5 in. (21.6 cm)
Diameter: 2.25 in. (5.7 cm)
Premium Manual Pumps
If you have the means, and the money, then a premium penis pump can give you result on a whole new level. These are some of the best penis pumps money can buy with the best build, materials, and features available. These penis pumps offer better suction, and therefore even more reliable results.
PDX Suck N Pump Masturbator Vibe Starter Kit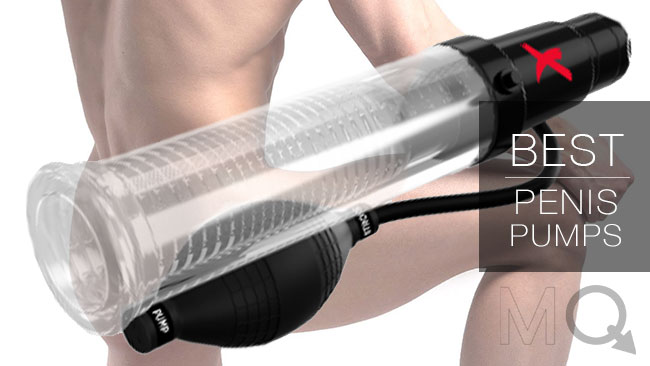 Is it a penis pump? Is it a male masturbator? It's both! The PDX Suck N Pump does exactly that – it sucks your dick while it pumps! This PDX masturbation sleeve is paired with one of the best penis pumps – oh, and it has a built-in vibrator too!
Simply apply some lube inside, turn on the vibration motor and pump away. In terms of features and innovation, this is one of the best penis pumps we have tested all year.
Dual Mode Penis Pump Masturbator
Twist-Dial Multi-Speed Vibrator
Includes: Lube, Toy Cleaner, & 3 Cock Rings
Insertable Length: 6.5 in. (16.5 cm)
Width: 2 in. (5 cm)

Performance VX2 Penis Pump With Pressure Gauge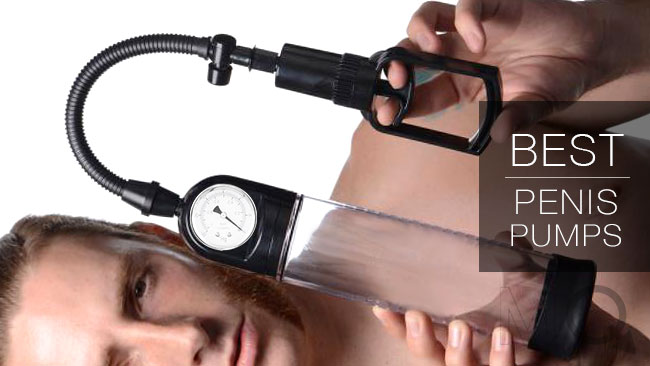 Ready for a heavy-duty pump built for a professional? The Trigger Pump has a built-in analog pressure gauge. Watch as the needle goes up and your dick grows, thanks to its transparent body. The trigger pump is ergonomic and pulls air with a flick of the finger.
This pump provides powerful suction, but can easily be adjusted thanks to its quick-release valve. All-in-all The Trigger Pump is one of the best penis pumps for the pro user.
Trigger Handle Pump
Built-in Pressure Gauge
Air-Release Control Valve
Insertable Length: 8 in.
Diameter: 2.35 in.
Hydromax Water Pump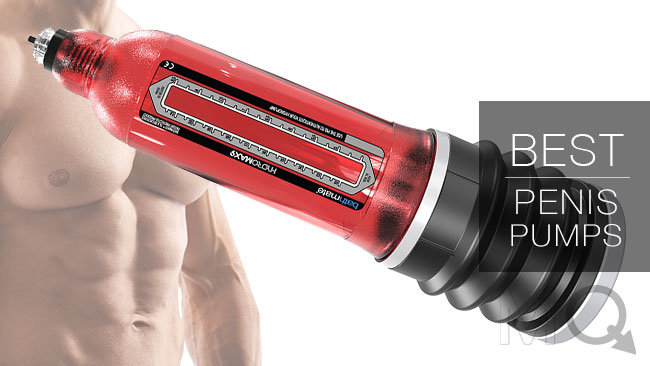 For anyone looking for a high-end penis pump that offers something a bit different from the pack, the Hydromax is a must-have. What sets this pump apart is that instead of creating suction with air, the pump is actually meant to be filled with water. Not only does using water feel way better, but the feeling of pressure is completely different than any other penis pump out there because it uses water as a natural lubricant.
It feels great to use and performs on a whole different level compared to other penis pumps. If you haven't used one before, Hydro-pumps are truly an experience to be had and another top pick for the best penis pumps you can buy.
MQ Reader Review:
"Hi. Ok, I bought one of these about a year ago. Yes, I saw it on Tosh, and I looked it up. I was interested enough that I ordered one. I have had an air pump, but didn't enjoy it. The Bathmate was actually quite nice, and pleasurable, too. I would recommend one if you are seriously looking to buy a water pump. All-in-all, I think it was a good purchase, and have not regretted it. Thanks, and good pumping! :)"
Water Pump Design with 35% more Suction
Water-Flow Control Valve
Flexible Suction Base
5, 7, and 9 Inch Options

Classic Penis Pumps
If you are new to the world of sex toys, using a penis pump for the first time can be a bit intimidating. For most people, starting with a basic pump that covers the essentials should allow you to achieve results. The best penis pumps for beginners are simple in design, easy to use, and give you the results you are looking for.
Classix Pleasure Penis Pump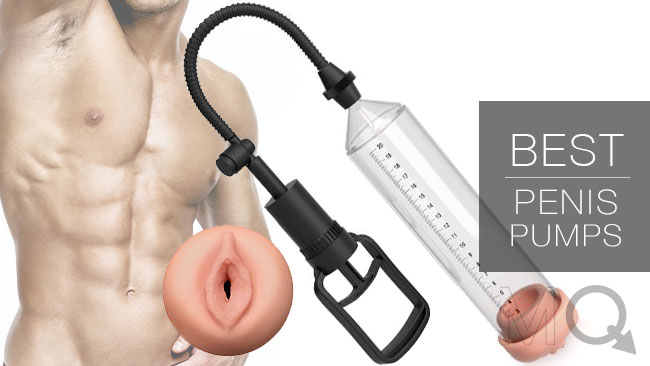 This Classic Penis Pump has a surprise – a built-in pussy. The Classix Pleasure pump not only is a fantastic beginner penis pump on its own, but the added pussy sleeve adds a new level of realism and excitement. The trigger pump handle is easy to use, and the padded base is comfortable and vacuums tight. The Classix is one of the best penis pumps for beginners, but with some extra realism thrown in too.
Fanta Flesh Pussy Sleeve
EZ Grip Pump Trigger
Vacuum Quick-Release Button
Length: 7.8 in. (20 cm)
2 Free Cock Rings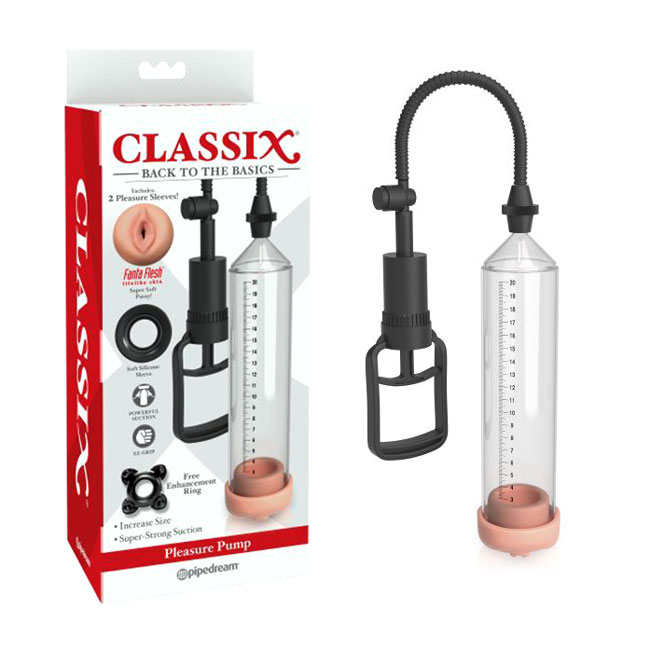 Quick Draw Vacuum Pump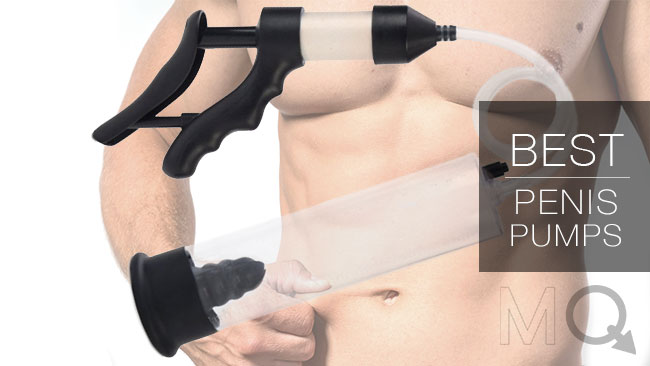 The Quick Draw is a premium feeling penis pump with an extra layer of customization. The two included sleeves let you adjust the internal size, feel and suction strength, and the 8.75 in the tube can accommodate even the most sizable cocks. The hand pump valve is also extra fast-acting, only taking a few squeezes to get things working.
MQ Reader Review:
"This one works very well, and the longer ribbed sleeve worked better for me but I'm not small to begin with so they are trying to cover all the bases I think. The ribbed one is easily cut to whatever size you want and once you dial it in, it only takes about 10 pumps and your dong is fully hard and swelled up and ready to go!."
Pistol Grip Pump
Length: 9 in. (22.85cm) Width: 2 in. (5.1 cm)
Push-Button Safety Release Valve
Includes Erection Enhancer Penis Ring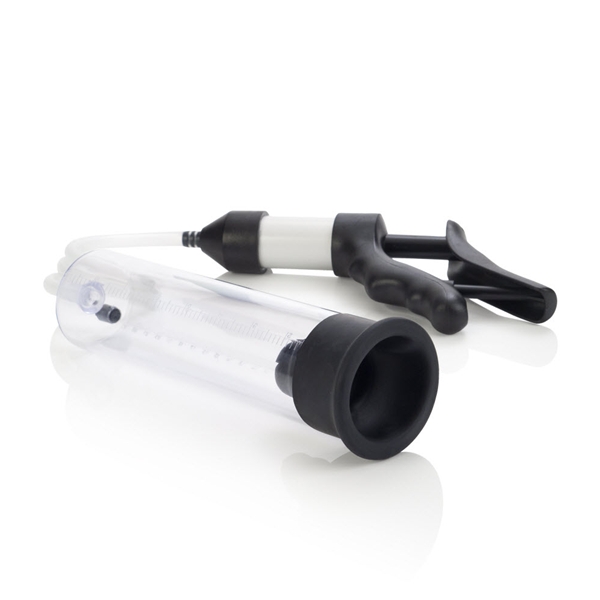 Enhance Travel Pump System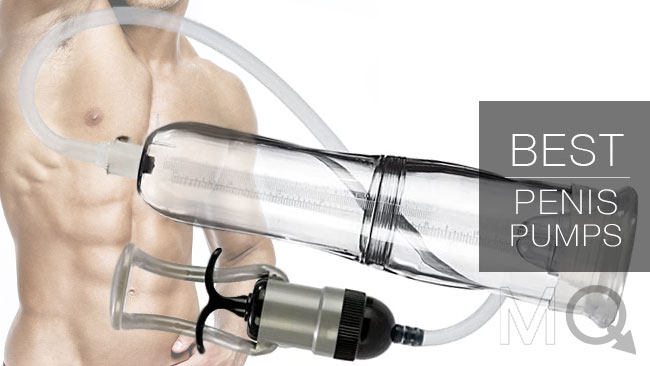 For anyone looking for a pump that is discrete, compact, and travel-friendly, the travel pump is the best penis pump option. The collapsible tube and pump can be disassembled in four separate pieces, making it easy to stow in its included travel bag.
This is ideal for people who want to use their pump on a regular basis, but need something packable and travel-friendly. Despite's its collapsible design, the seal remains tight even after many uses. This makes the Travel Pump one of the best penis pumps for travelers or people who want a penis pump that can stay discrete.
MQ Reader Review:
"This is the first pump I have tried and I was certainly not disappointed. The pump comes in a nice black travel bag and goes together very easily. When getting ready to use it make sure the quick release is closed. I made the mistake once of leaving it open and could not figure out why I was not getting any suction, it breaks down and cleans easily. Also great suction. Quick release suction hose is great for extended ware.. Very happy with product. This pump works very well I'd recommend it to anyone who is looking for a pump that performs up to expectations , suction is very good !!"

Easy Finger Grip Handle
Travel-Friendly Collapsable Design
Tube Length: 9.5 in.
Width: 2.5 in.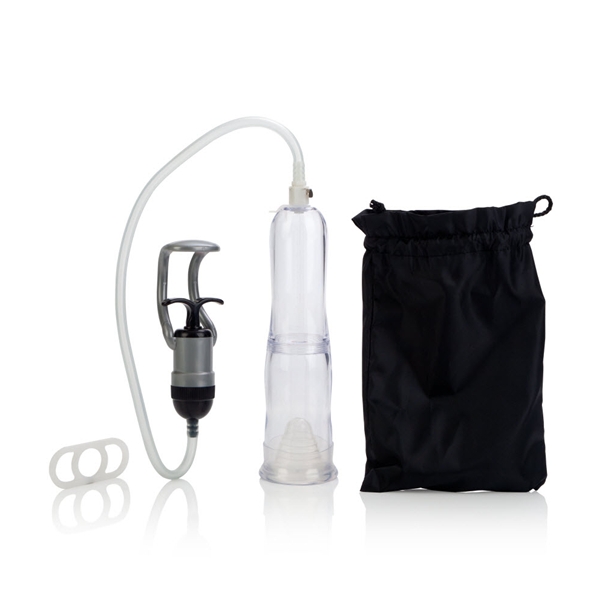 Best Budget Penis Pumps
You don't need to spend a fortune to get a quality penis pump. In fact, some of the best penis pumps are actually in this budget category. These pumps may lack some of the more premium features like an electric motor or more expensive designs, but still, cover the basics of a quality pump.
Performance VX101 Penis Pump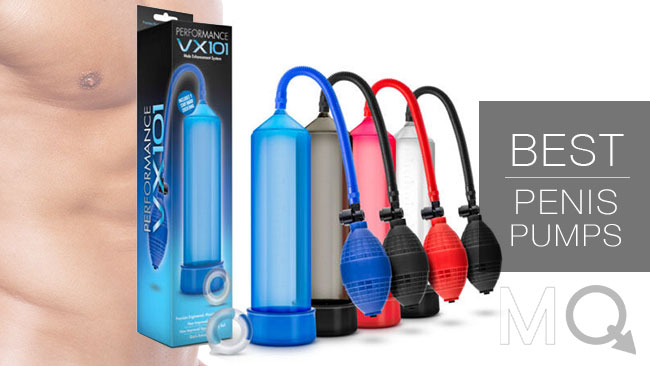 If you are just looking for a quality pump to cover the basics, then the VX101 is perfect. What you get is a simple, durable design that is easy-to-use and beginner freindly. The VX101 comes in 4 different color options and definitely has a more fun feel about it.
Even better, this pump comes with a free penis ring, if it wasn't already a great value on its own. If you are looking to stick to a budget and experiment with a penis pump, then the VX101 is your match. At this price point, this is one of the best penis pumps for beginners.
Tube Length: 8 In. (20.3 cm)
Width: 2.25 in. (5.7 cm)
Vacuum Seal Base
Quick-release Pressure Valve
Includes a Free Cock Ring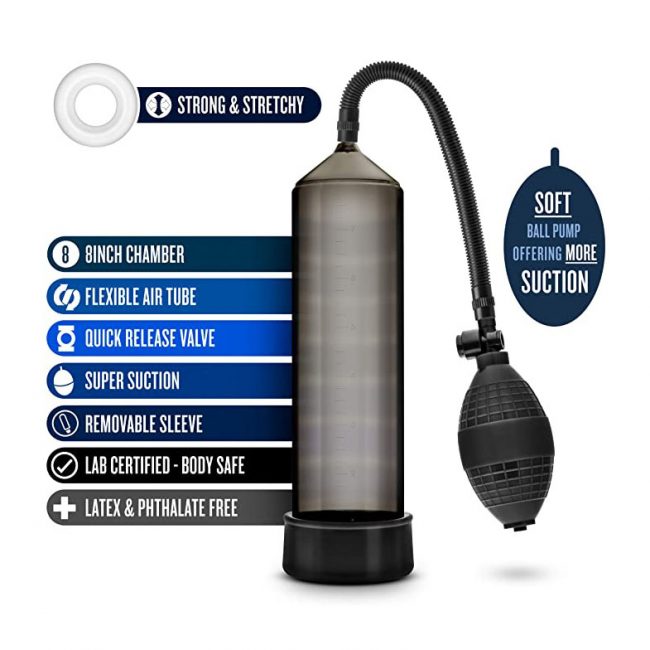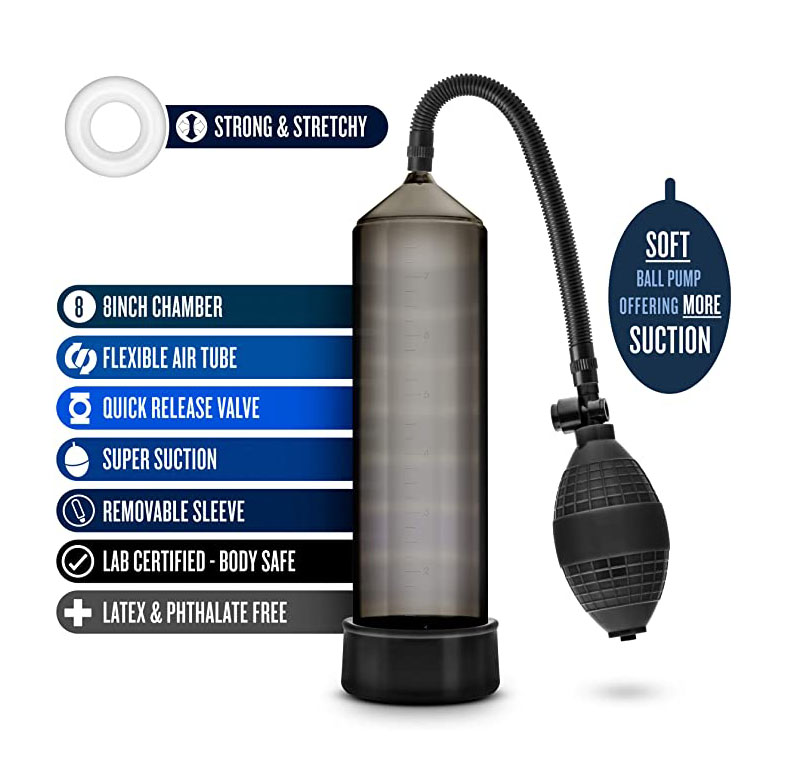 View on: MQ Store

Pumped Comfort Beginner Penis Pump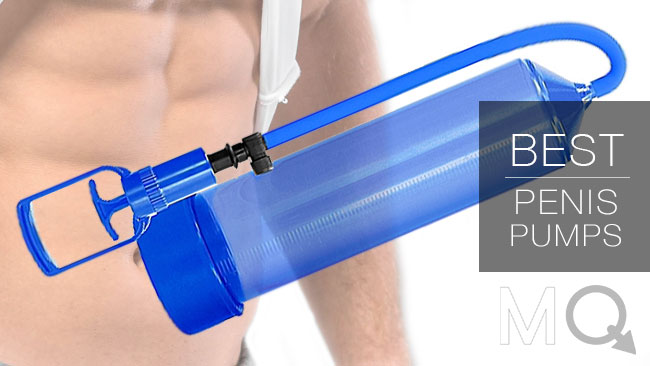 The Pumped Comfort is the best penis pump for most people and is designed for beginners in mind. This 9-inch pump is a simple, classic, yet effective design that gives a strong amount of suction. The pull trigger pump design is ergonomic and easy to pull, with a 10-inch hose with plenty of slack. The base of the tube seals snuggly against the base of your cock to help you get a rock-hard erection.
Pull-Trigger Pump
Vacuum Seal Base
Includes: Free Cock Ring
Tube Length: 9 in. (22.85 cm)
Diameter: 2.35 in. (6 cm)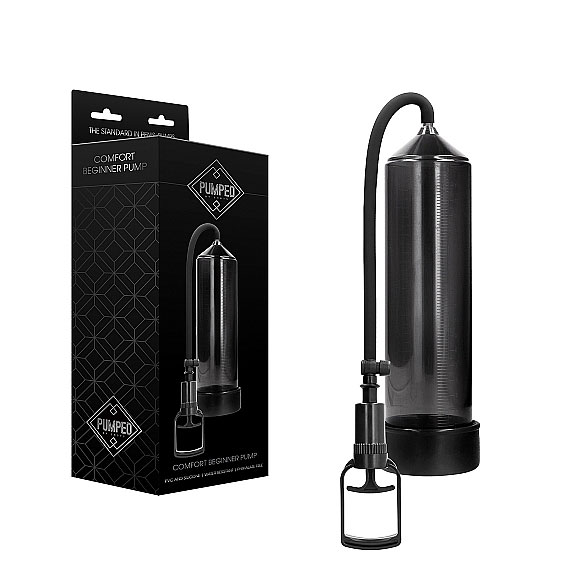 Classix Power Pump Vibrating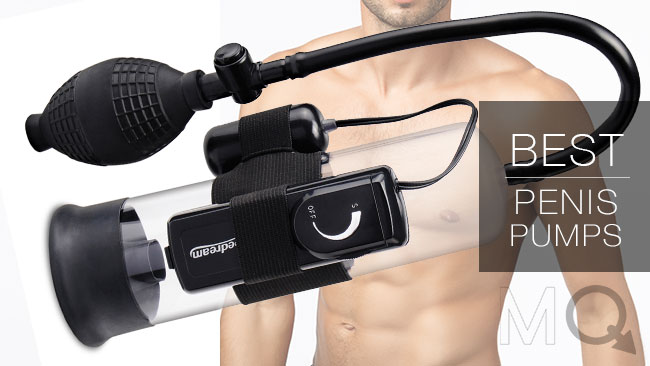 The Classix Penis Pump is a time-tested design with some extra buzz. Combining one of the best penis pumps with a vibration motor, this innovative pairing delivers stimulating results. Easily adjust vibration speed and intensity with the control dial. The pump and hose are extra durable and do a fantastic job of suction. With the added vibration stimulation you can take your penis to longer, harder erections.
Multi-Speed Dial
Medical-Style Pump Ball
Quick-Release Pressure Valve
Tube Length: 7.5 in. (19 cm)
Width: 3 in. (7.6 cm)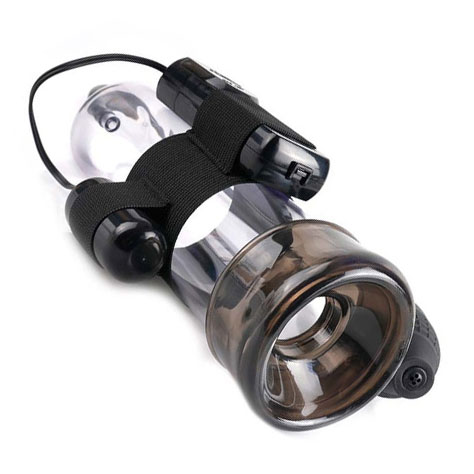 View on: MQ Store

Rock Hard Penis Pump Kit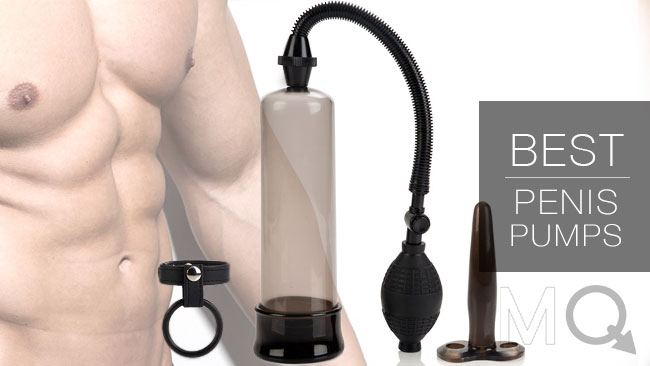 As the best value for a penis pump, the Rock Hard is well built, gives a great amount of suction, and is big enough to fit most users. Best of all, the penis pump kit comes with a double-cock ring to tighten up around your cock base and balls which helps to make your dick firmer and stay hard longer.
The kit also comes with a butt plug for those looking for some extra adventure. All these together make the Rock Hard Kit tone of the best penis pumps in terms of value and our highest recommendation to first-timers.
MQ Reader Review:
"Great lil pump. Went from a pony to a stallion. My cock is stronger, wider and longer! Definitely would recommend this pump. Great buy for the price."
Tube Length: 7.5 in. (19 cm)
Width: 2 in. (5.1 cm)
Easy-Squeeze Bulb
Includes: Cock Ring, Butt Plug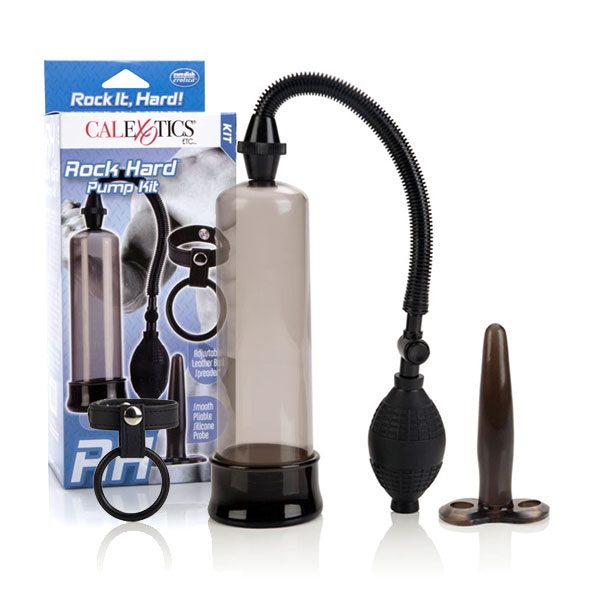 View on: MQ Store

How to Use Your Penis Pump
If you are interested in using a penis pump, it is important to note that these devices can have potential risks and side effects. It is recommended that you consult with a healthcare professional before using one. Here is a general guide on how to use a penis pump:
Choose the right size: Penis pumps come in different sizes, so it's important to choose the right size that fits your penis comfortably. Using the wrong size can cause discomfort or even injury.
Apply lubricant: Before inserting your penis into the pump, apply some water-based lubricant to the base of your penis and around the opening of the pump. This helps create a better seal and prevent discomfort.
Insert your penis: Gently insert your penis into the pump and make sure the opening of the pump is snugly against your body.
Create a vacuum: Pump the device to create a vacuum around your penis. This will cause blood to flow into the penis and create an erection. Be careful not to over-pump as this can cause discomfort or injury.
Maintain the vacuum while pumping: Once you have achieved an erection, maintain the vacuum for 10-15 minutes. It is important not to keep the vacuum for longer than this as it can cause damage to the penis.
Release the vacuum gradually: After 10-15 minutes, release the vacuum by pressing the release button or valve. This will allow the blood to flow back out of the penis and the erection will subside.
Clean the device: Clean the pump after each use according to the manufacturer's instructions. This helps to prevent the growth of bacteria and prolongs the life of the device.
It is important to note that using a penis pump does not treat the underlying causes of erectile dysfunction and should not be used as a long-term solution. It is recommended to speak with a healthcare professional for appropriate treatment options.
How to Get Harder Erections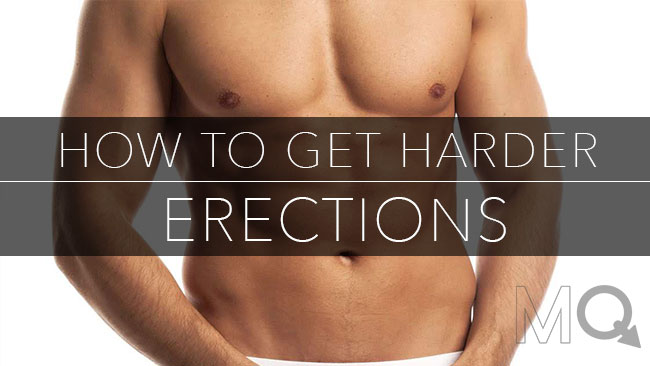 The secret to harder erections is a healthy lifestyle. Things like proper diet and exercise can do wonders for your sexual health and lead to rock solid erections. These steps in pair with a penis pump can help you to combat the effects of Erectile Dysfunction and ED to lead to a better, more satisfying sex life.
These are our picks for the best penis pumps you can buy right now. Do you have any favorites? Let us know in the comments below.
Read More MQ Sex Toy Buyer's Guides