Best Cheap Lubes for Great Sex (2023 Update)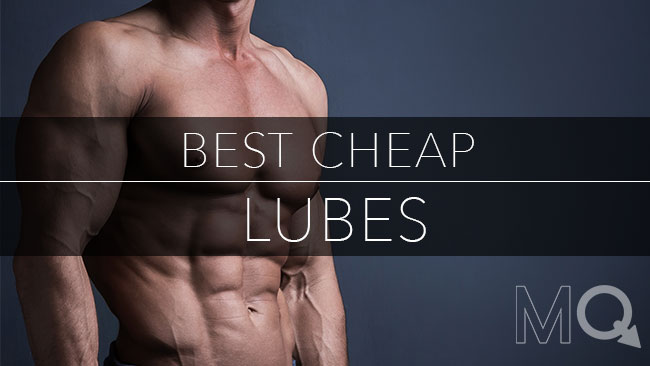 Just because lube is cheap, doesn't mean you need to sacrifice quality and performance.   From a combination of our own personal favorites, best sellers on the MQ store, and recommendations from long-time MQ readers, here are this year's picks for the best cheap lubes of 2023.

How to Choose the Right Lube for Your Needs
When purchasing a personal lubricant, there are several factors to consider. Firstly, the base of the lubricant. There are 3 major lube bases – Water, Silicone, and Oil, each with its own pros and cons. Water-based lubricants are versatile and closest to your body's natural lubrication, while silicone-based lubricants are longer-lasting and better for water activities. Oil-based lubricants are the most durable and long-lasting but should be avoided during intercourse as they can break down condoms and increase the risk of bacterial infections.
The purpose of the lubricant should also be considered, as different lubricants may be more suitable for vaginal or anal intercourse. Finally, choose the right texture of the lubricant as each formula has a unique feel and function. Choosing a reputable brand that uses high-quality ingredients and has a good reputation for safety and effectiveness is crucial.
Best Cheap Lubes
To narrow down the best cheap lubes we compare a number of variables including lubes feel, performance, and most importantly, price per ounce of lube. We will walk you through different lube types and brands to help you choose.
Cheapest Water-Based Lubes


Some of the best cheap lubes you can buy are water-based lubes. They are slick and feel most similar to your body's natural lubrication. They are also much cheaper than similar silicone alternatives.
Smooth and Slick Lube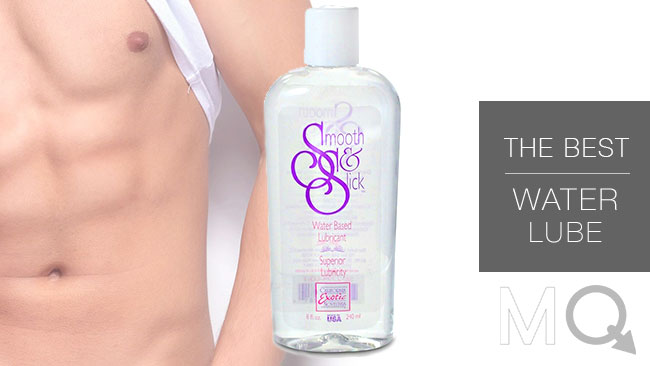 Smooth and Slick is the best cheap lube for one simple reason.  In terms of dollar per ounce, there is absolutely no lube on the market which offers this level of feel and longevity for the price. Smooth and Slick the most bang for your buck, and as it stands on its own, it is a high-performing lubricant overall.
MQ Reader Review:
Nice Lubricant – "This is one of the best water-based lubricants I have used. It's not expensive which is nice and this size will last someone a while. I have not had any problems with it drying out too fast or being sticky after drying. If you add a little water when the lube starts drying it gets wet again also. Best water-based lubricant I have used and prefer water-based over silicone. Enjoy!"
Unlike most cheap water lubes which feel grippy and tacky, Smooth and Slick is just as the name says – smooth and slick.  Best of all, because it is an all-water-based product it is extra versatile for sex, toys, or play-alone fun.
View on: MQ Store

KY Jelly Personal Lubricant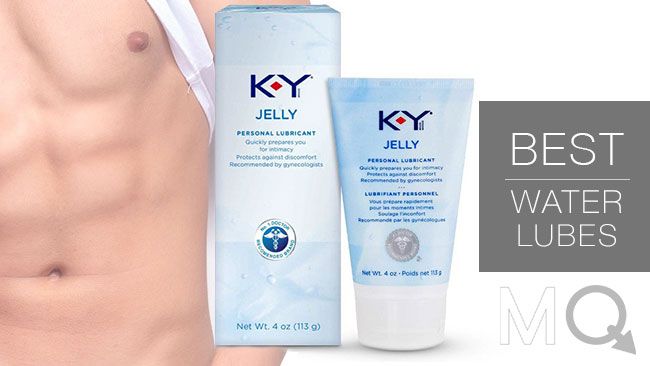 KY Jelly is maybe the most famous lubricant on the market. With a decades-proven formula it not only performs well as a high-quality lube, it is also one of the cheapest lubes you can buy.
The standard tube comes in at 4oz. This, with its low price, makes for one of the best-valued, top-rated lubes you can buy.
View on: MQ Store

ID Glide Water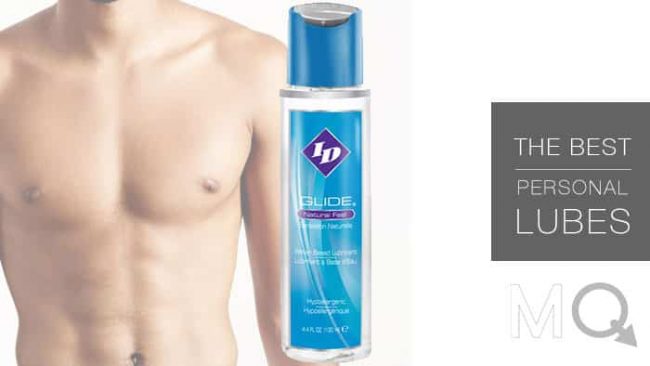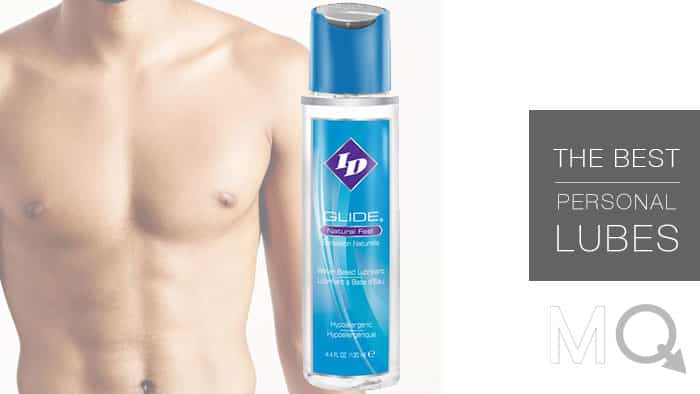 ID Glide is our favorite lubes for jacking off and masturbation. And did we mention, it is also cheap. This is not only a top-performing water-based lube on its own, it is also one of the best cheap lubes on the market.   Ounce for ounce you get a great bang for your buck, with the cheapest, smallest bottle coming in at around $10.
View on: MQ Store

ID Glide Sensations Tingling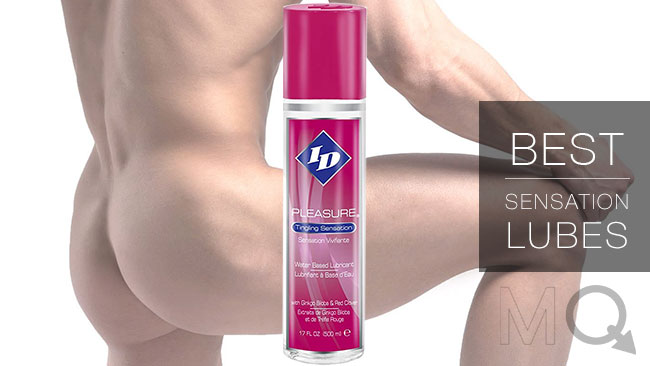 ID Glide Sensations Tingling is easily a top pick in this category thanks to its innovative design and extra sensation. Made from the same water-based formula, this variety adds a layer of tingling sensations that really enhance your sex in a positive way. It is a great way to mix things up and try something new for both you and your partner.
View on: MQ Store

ID sensations also comes in a warming variety which adds a nice level of sensation and stimulation which enhances your orgasm and climax.
Water Based
Warming Stimulating Formula
Made for Solo and Couple's Play
View on: MQ Store

Gun Oil H2O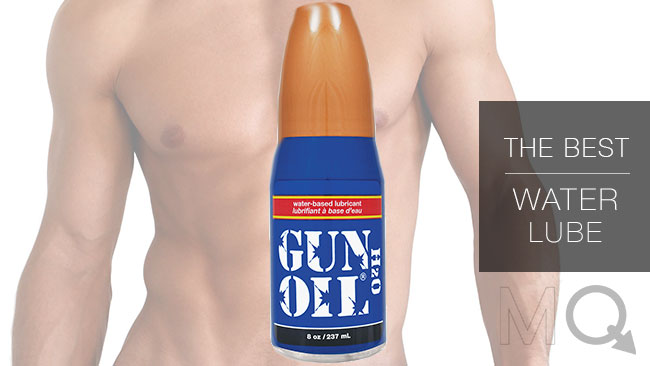 One of the biggest trade-offs you get between silicone and water lubes is longevity. Gun Oil silicone is one of my favorite lubes, but the silicone base makes it more expensive in terms of dollar to volume.
MQ Reader Review:
My Military Guy Loves this! – "My boyfriend is in the Air Force and laughed his ass off when I brought this home. We tried it out, and we both absolutely love it. It stays slippery–doesn't get sticky or gooey at all. Clean-up was a breeze also, and it didn't leave the weird stain marks on our sheets that other lubes did. I have sensitive skin and wasn't irritated by it at all, either. Awesome buy for both of us! We'll definitely be stocking up."
With Gun oil H2O you get a very similar performance as its silicone counterpart but in a much more affordable package.  Now, you do lose some of the slipperiness and durability of the original, but the difference in terms of ease of clean up, and price make it a great alternative making it another of our top picks for the best cheap lubes.
View on MQ Store

Silicone Cheap Lubes
Silicone lubes are all around the best kind of lube you can buy.  They are slippery, long-lasting, and safe to use with condoms and most toys. Best of all, they are much more heavy-duty meaning they will not dry out, and you use much less than other types to get the same amount of lubrication.
Although silicone lubes often come in smaller quantities, you are going to get a lot more bang for your buck in terms of usage making them some of the best cheap lubes to choose from.
Mood Silicone Lube 4 oz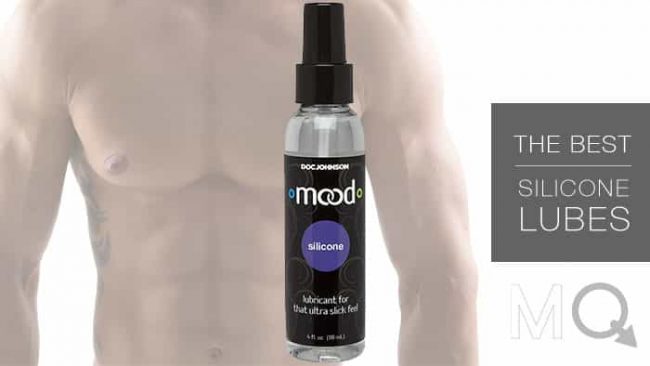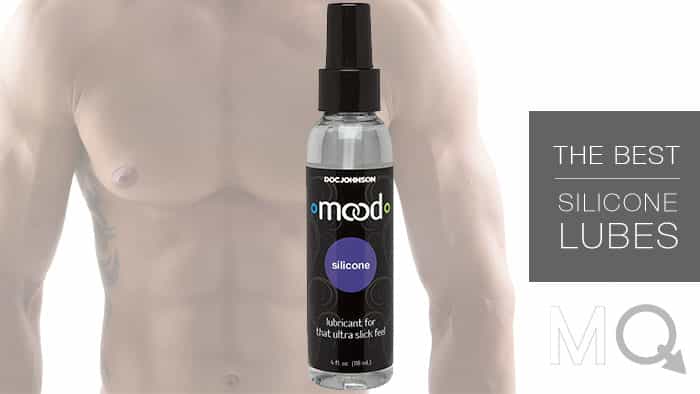 Mood is our second-best pick for the best cheap lubes in silicone because although it is a silicone-water hybrid, it is a bit more than Gun Oil, but you get twice as much lube!
Silicone makes for a much more premium feel, and the fact that Mood was able to make a product at this low of a price point is pretty impressive.
If you have ever used some of the more expensive alternatives such as Swiss Navy then you are in for a very similar experience.
The lube is much more like a gel, and although does dry out over time, will give you super slick, friction-free sex.
View on: MQ Store

Gun Oil Silicone 2oz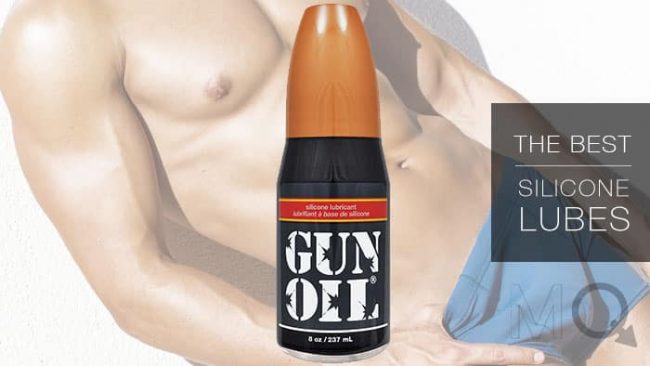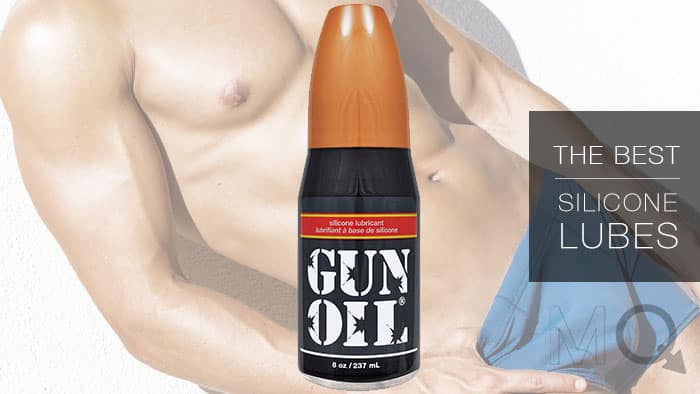 Besides being one of my favorite all-around lubes to begin with, Gun Oil in its smallest bottle is super affordable.  It is not the cheapest on the list, and barely squeezes into the bunch, but at $15 you will be hard to find anything else that comes close in terms of quality and performance.
MQ Reader Review:
Very slidey…NOT sticky – The wife and I love the product. We have tried many others but this lube is the BESTEST.
Gun Oil is also the only PURE silicone lube that falls into this price category, which if you have never used it before, is an absolute dream to use.  There is no drag or friction whatsoever, and using it with sex, toys, or personal play is the smoothest I have yet to come across making it the best cheap lube in this category.
View on: MQ Store

Anal Lubes
Anal lubes are designed with anal sex in mind. These lubes are made to last longer, be extra slippery, and often come with an anal relaxant. These extra features make them some of the highest performing, and some of the best cheap lubes around.
Moist Anal Lube 4oz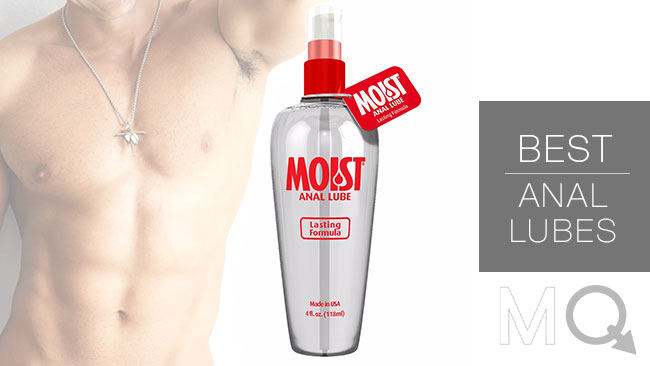 Moist is already one of the best-selling lubes on the MQ Store, and for good reason. Its high-quality feel and extra slickness make it ideal for anal play and combined with a super low price for the smallest bottle, it is easily the best anal lube, and the best cheap lubes for anyone on a budget.
MQ Reader Review:
Amazing Stuff! – "I used to use a different kind of anal lube but it didn't work so well and after reading the reviews on this product I decided to try it out. My Husband and I LOVE THIS STUFF… It is so slippery and doesn't make a whole lot of mess… would never buy the old stuff again.. this stuff is great never thought it would make the whole experience 20 times better.."
If you are looking for a high performing, affordable anal lube, then moist is one of the best cheap lubes you can buy.
View on: MQ Store

Spunk Hybrid Anal Lube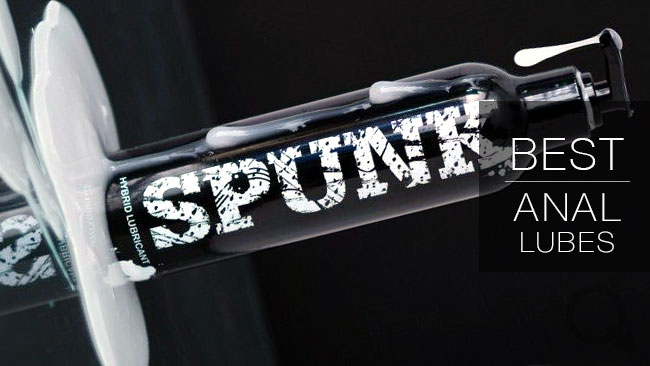 Our last lube on the list is Spunk Hybrid anal lube. What set this lube apart is the "realistic" look, feel, and texture of cum.  This is also a great alternative for anyone looking for one of the best cheap lubes you can buy.
The hybrid silicone-water formula gives you the best of both worlds, with lube that lasts long, but is wet and realistically matches your body's natural lubrication.
MQ Reader Review:
Nice Anal Lube! – "I really enjoy this lube, it's not sticky and it doesn't seem to dry up fast although I use it with a butt plug so there's not too much friction. I have also noticed that not much is needed to get the job done. The pop top is nice and convenient. The price is not bad for the size of the bottle. Clean-up is extremely easy since the lube is not sticky. I give this lube 5 stars!"
View on MQ Store

So there we have it! These are our personal picks for the best cheap lubes. Did we leave anything out? Are there any good cheap lubes that you personally recommend? Let us know in the comments below.
Be sure to also check out our in-depth buyer's guides. We go into all categories of toys, lubes, and accessories to help you choose the right toy for your needs. For questions about any products in the store, you can e-mail us. We are happy to help!
If you have any questions or would rather ask us directly feel free to email us or follow us on YouTube and Facebook or write them down in the comments below!