Description
Improved formula. Warming or Tingling Lubricant! Wild Warmth! ID Sensation Warming Liquid warms on contact, providing increased excitement and enhanced intimacy. The perfect product to heat up your love life. Water based, water soluble and latex condom compatible.
ID Sensations Lubricant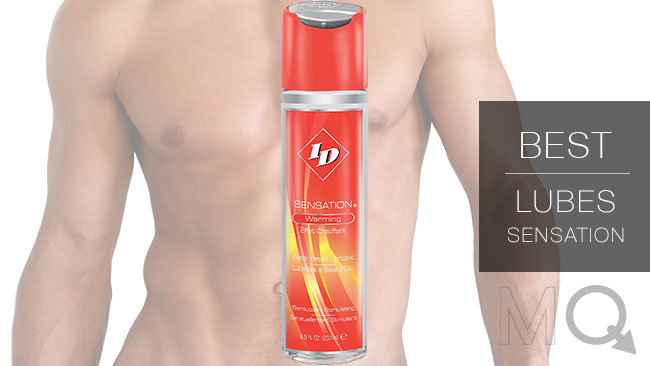 ID Sensations Water-Based Lubricant is designed to Elevate Pleasure to New Heights. Experience the ultimate in enhanced stimulation and added pleasure with ID Sensations Water-Based Lubricant. This exceptional lubricant is here for those who seek the quality of ID Glide with an extra touch of excitement. Get ready to embark on a journey of intensified pleasure with ID Pleasure! ID Pleasure takes the trusted formula of ID Glide and enhances it with the power of natural botanical extracts.
Infused with gingko biloba and red clover, this lubricant increases local blood circulation and stimulation to the applied area, intensifying your pleasure like never before. Prepare for unforgettable sensations and heightened experiences that will leave you craving more. Whether you choose the tingling or warming formula, ID Sensations Water-Based Lubricant is designed to provide enhanced stimulation and added pleasure. Allow the tingling formula to awaken your senses with a delightful tingle, or opt for the warming formula to experience a gentle, arousing warmth. Whichever you choose, you're in for a truly sensational experience.
ID Pleasure is the perfect companion for those extra frisky moments, keeping you fully prepared for intense pleasure and adventure. Whether you're exploring with a partner or enjoying solo play, this water-based lubricant is latex condom compatible and sex toy safe, ensuring you can fully embrace your desires with peace of mind. Not only does ID Pleasure enhance your pleasure during intimate encounters, but it also enhances masturbation, elevating your self-pleasure to new heights. Its non-staining formula ensures that your sheets and fabrics remain pristine, allowing you to fully indulge in the moment without any worries.
ID Sensations Water-Based Lubricant is also safe to use with silicone toys, expanding your possibilities for pleasure and ensuring a seamless and satisfying experience every time. Elevate your pleasure and increase stimulation with ID Sensations Water-Based Lubricant. Let the natural botanical extracts of gingko biloba and red clover work their magic, creating a world of intensified sensations and enhanced pleasure. Elevate your intimate encounters, unleash your desires, and indulge in the ultimate pleasure with ID Pleasure.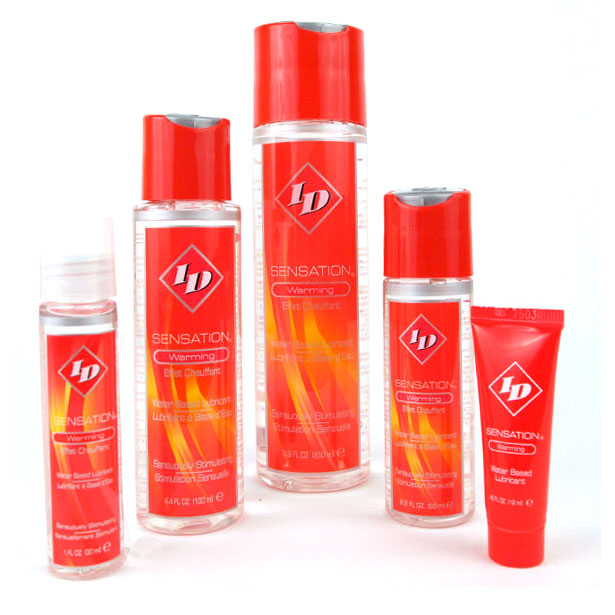 Ingredients: Water/Aqua/Eau, Glycerin, Propylene Glycol, Caffeine, Menthoxypropanediol, Niacin, Paullinia Cupana (Guarana) Leaf Extract, Vanillyl Butyl Ether, Carbomer, EDTA, Hydroxyethylcellulose, PEG-45M, Tetrahydroxypropyl Ethylenediamine, Methylparaben, Sodium Benzoate, Flavor.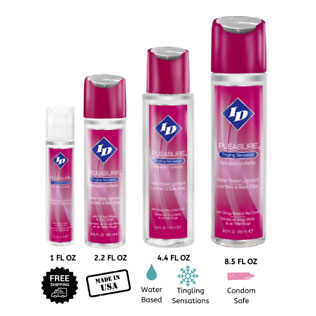 ID Sensation Warming Lubricant 8.5 ounce from Westridge Laboratories. Based in Orange County, California, Westridge Laboratories, Inc. is the company that formulates, manufactures and distributes ID Lubricants. ID Lubricants: Since 1993, helping couples out of tight situations!