Best Lubes for Masturbation and Jacking Off in 2023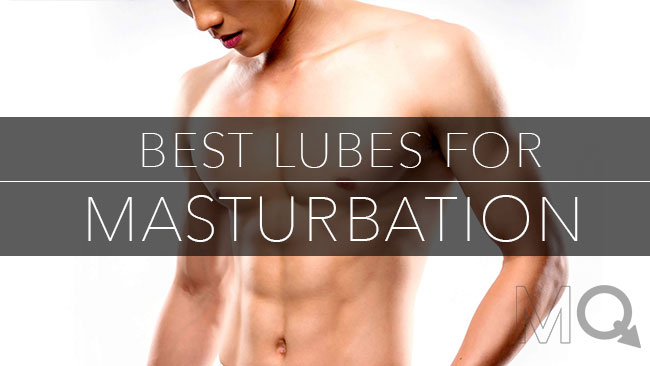 Masturbation, jacking off, wacking the rooster, or whatever you want to call it – if you want to have the best experience then you need to have a good lube. After some testing and hard work (well, kinda), we made up a list of the best lubes for masturbation.

Best Lubes For Masturbation
Masturbation not only feels great but is also good for your health! If you are looking to jack off, then you want a lube that feels good, is easy to clean up, and isn't going to cost you much money. Considering the price, feel, and quality, these are our picks of the best lubes for masturbation to improve your sex life.
Added Sensation Lubes
Arguably the most important feature in choosing a lube for masturbation is its feel. Therefore, when it comes down to it, almost all lubes offer a similar feeling in terms of lubrication. What sets these lubes apart is the included sensations that can bring masturbation to a completely new level. This makes added sensation lubes some of the best lubes for masturbation you can buy – period.
Wicked Aqua Heat Warming Lube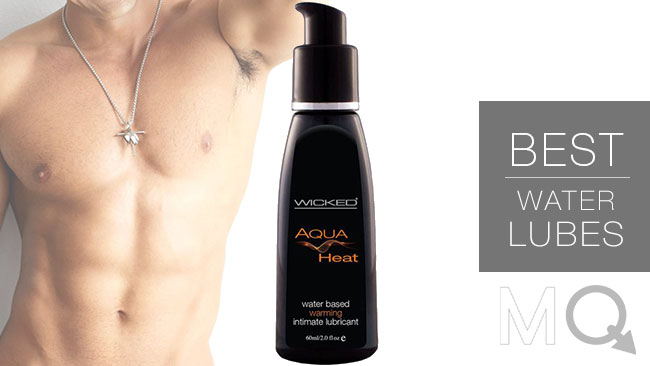 If you jack off a lot then you probably know that masturbating can sometimes get a bit… boring. That is why I am a big fan of sensitizing lubes.
MQ Reader Review:
Love It – "The whole time it was a cooling sensation and when I climaxed, it was like an explosion in my body coming out my penis! Wow. I took a chance on this product not knowing what it was like, but now, I would not even think of getting anything else." – Dave
Wicked is easily my top pick in this category because it will give you a warming sensation that will make you cum extra hard.
Wicked Chill Cooling Lube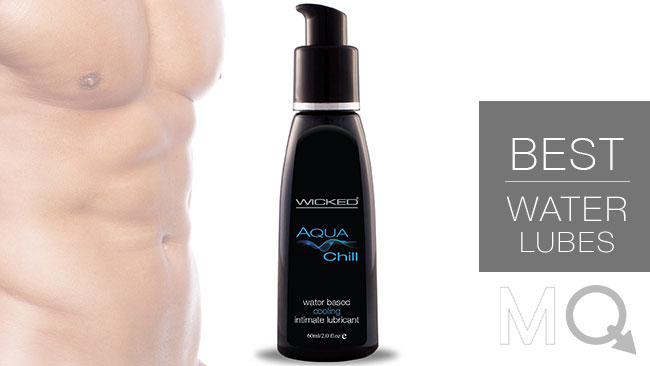 The small red bubbles will actually "burst" as you use them giving you a tingling sensation that isn't too overpowering but really adds to the fun. If you are looking to change things up, and want a little more feeling, then Wicked Cooling is really worth the buy.
Elbow Grease H2O Hot Gel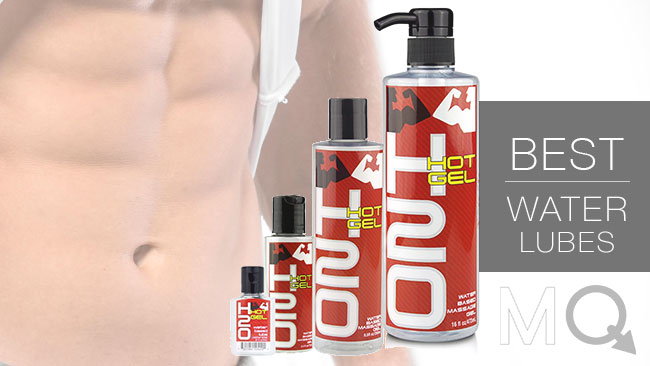 When it comes to quality Lubes, Elbow Grease is the name of the game. The base water formula is already one of the best lubes we have ever tested, but when paired with a warming formula makes for the best lube for masturbation. Not to mention Elbow Grease Hot Gel was the first warming water-based lubricant on the market! The lubes itself is thick and long-lasting while the added sensation is well-balanced and feels absolutely great to use.
Mood Warming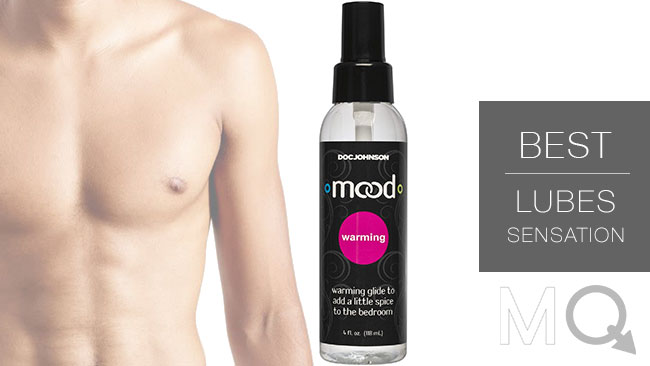 Mood Warming is our next top pick for sensitizing lubes and is a bit different from Elbow Grease – but in a very good way.
Like other lubes, Mood has a warming feeling that takes effect pretty quickly after you start using it, but is a bit stronger and more intense. A single bottle is relatively inexpensive for 4 oz especially if you are looking to experiment.
Mood also comes in a Tingling variation which is a completely new and unique sensation that can push you over the edge.
Mood 5 Pack Sampler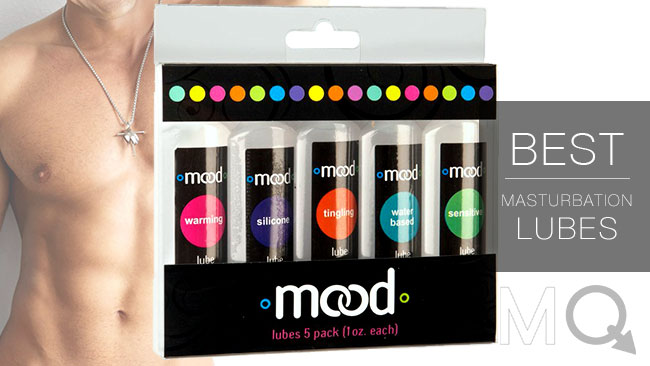 Again, it isn't overpowering, but if you have built up some stamina, or are usually slow to cum, this will probably push you over the edge pretty fast.
MQ Reader Review:
Feels Awesome – "This lube is great while masturbating for a little extra sensation. The warming feeling is a nice change and really mixes things up. I highly recommend it!" – Tim
Mood also comes in a 5 pack of different sensations:
Warming Sensation
Cooling Sensation
Extra-Sensitive
Silicone Based
Water Based
All of these give vastly different solo experiences. It is a collection of the 5 Best Lubes for Masturbation.
ID Sensation Warming Series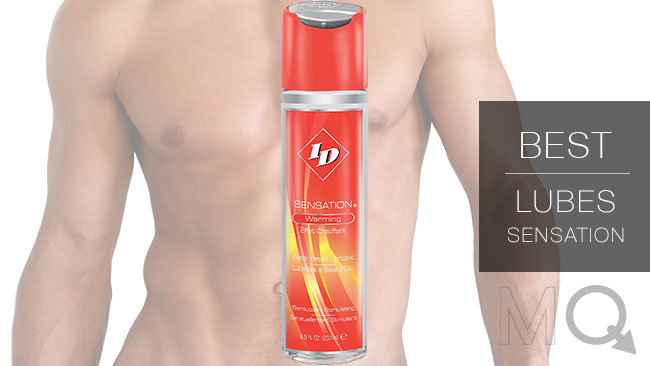 ID lubes are some of the most popular lubes. I have always been a fan of their classic water formula, but if you are looking to masturbate, then the Sensation line offers the same quality lubrication but with extra feeling and stimulation.
Water Based
Warming Stimulating Formula
Made for Solo and Couple's Play
View on: MQ Store

ID Sensation Tingling Lube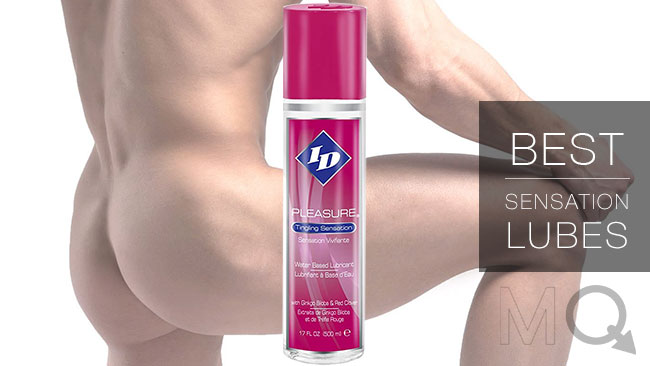 ID Sensation comes in 2 variants: Warming and Tingling. Both provide a unique feel and a surprising amount of added sensation and are some of the best lubes for masturbation.
View on: MQ Store

Best Water Lubes for Masturbation
Water-based lubes are some of the best lubes for masturbation because they are closest to our body's natural lubrication. Water lubes often come in large quantities, are inexpensive, and are the closest feeling to the "real" thing. So if you want the best lube for jacking off, then water lubes are really the way to go. This means they feel the most realistic and will give you the most stimulation. Not to mention they are more affordable and clean up easily with soap and water.
Stroke 29 Masturbation Cream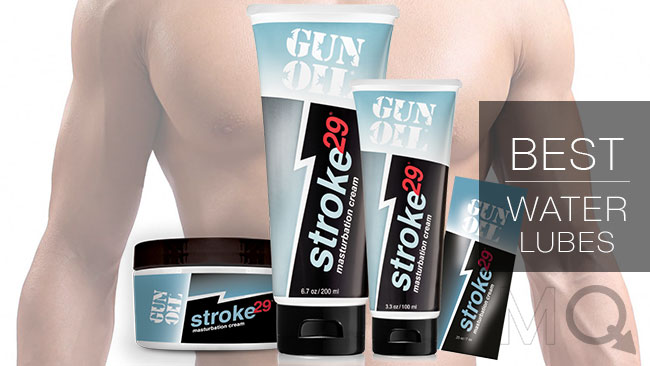 Stroke 29 is a water lube designed specifically for masturbation – and has one feature that sets it apart from the rest. As the name states, this lubricant transforms from a typical water lube to a durable, clear, ultra-slick fluid on the 29th Stroke. It is a sensation that evolves over time as you use it that is a true one-of-a-kind masturbation experience.
Water-Based fortified with natural oils.
Vitamin E and Aloe Vera Infused
Transformative Energy Absorption Formula
View on: MQ Store

Tenga Hole Masturbator Lubricant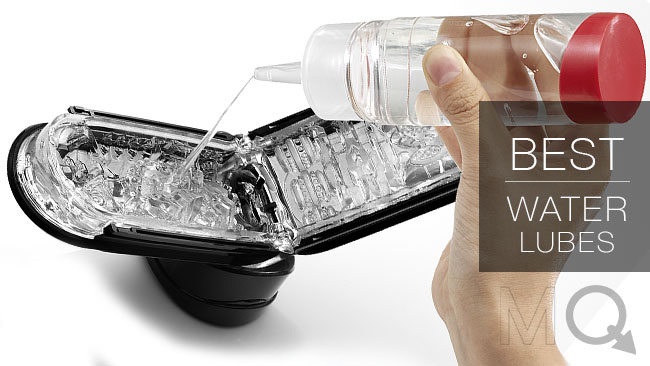 Do you already have a fleshlight or masturbator but are looking for the perfect lube to pair it with? Tenga is a world-famous Japanese sex toy company, most renowned for its high-quality masturbators – most notably the Tenga Egg.
The Tenga Hole Masturbation Lube series is designed specifically to be used with your favorite toy, and comes in 4 variations, all with a different level of thickness, texture, and feel. Our favorite is solid, thanks to its thick, durable, long-lasting recipe that is a pleasure to use.
Water-Based
5.75 oz (170ml)
Targeted Toy Application Nozzle
4 Unique Thickness
Elbow Grease Original Lubricant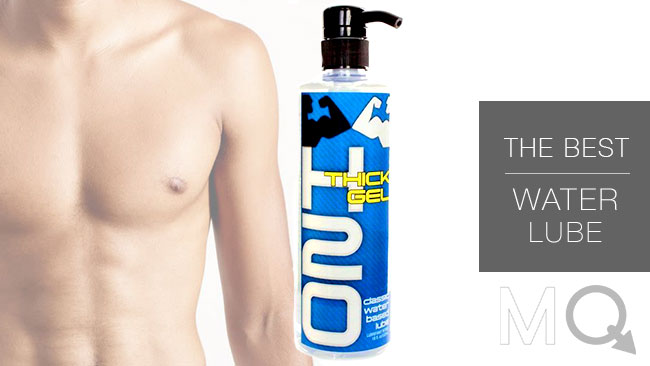 Compared to similar silicone lube pros and cons, Elbow Grease H2O holds up surprisingly well. It is a durable water-based lube that is absolutely ideal for masturbation. Everything from the consistency and thickness feels just right.
View on: MQ Store

Gun Oil H2O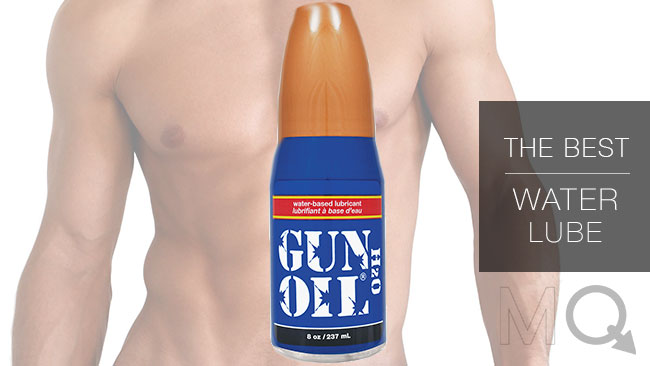 I have been a long-time fan of Gun Oil because it is one of the most durable, heavy-duty and long-lasting lubes you can buy. This means that for masturbation, Gun Oil H2O is the best water lube I have ever used for jacking off and one of the best lubes for masturbation.

It has a smooth consistency literally glides over the skin. Gun Oil is a bit more than some other brands, but the slight increase in cost is well worth what you get for quality.
MQ Reader Review:
Love This Product – "It stays very slick for a long period of time for a water base. The fact that it comes in such a large size makes it convenient so I'm not ordering lube every couple of weeks. I also love the name. " – Eric
Gun Oil H2O also comes in pretty big bottles up to 32 oz meaning that it will last you for a very long time. If you want something even more slick and heavy-duty, then I recommend looking at Gun Oil Silicone which is even more slippery and does not dry out… ever… So, if you don't mind the extra hassle of cleanup, is well worth a look.
Smooth and Slick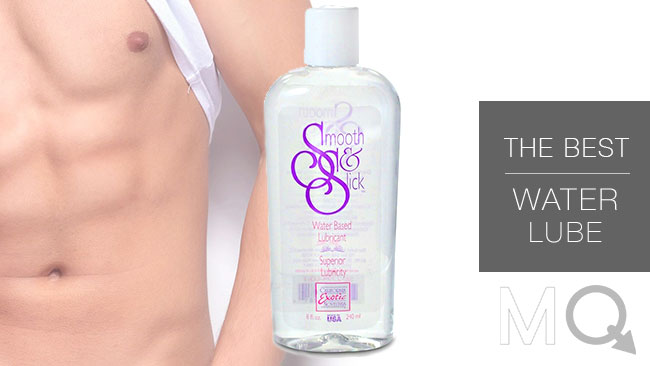 Smooth and Slick has always been my go-to cheap lube because it is slippery, slick, and is one of the cheapest, quality, lubes out there. Its low price means that you won't be afraid to use it in big quantities and its feel and consistency make it perfect for masturbation and solo fun.
MQ Reader Review:
Great Lubricant! – "This is one of the best water-based lubricants I have used. It's not expensive which is nice and this size will last someone a while. I have not had any problems with it drying out too fast or being sticky after drying. If you add a little water when the lube starts drying it gets wet again also. Best water-based lubricant I have used and prefer water-based over silicone. Enjoy" – Kevin
If you are looking for the best cheap lube for jacking off and aren't looking to drop a lot of money, then Smooth and Slick is your best bet.
Silicone Lubes for Masturbation
Silicone lubes are known for being some of the most durable, long-lasting, and durable lubricants. Because of this, they are also some of the most expensive lubes as well. If though you are looking for the absolute top performers in terms of sheer lubrication and endurance, then silicone lubes are by far the best lubes for masturbation you can choose from.
Pjur Body Glide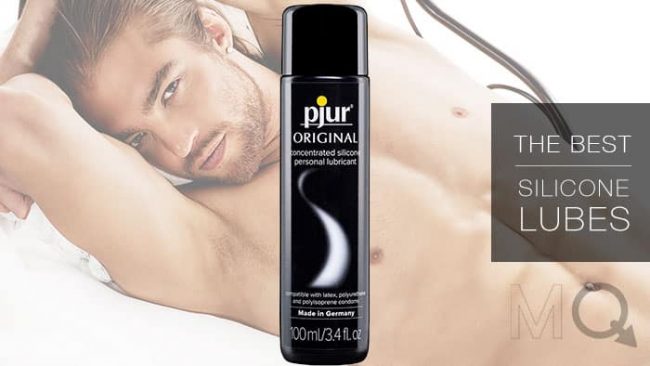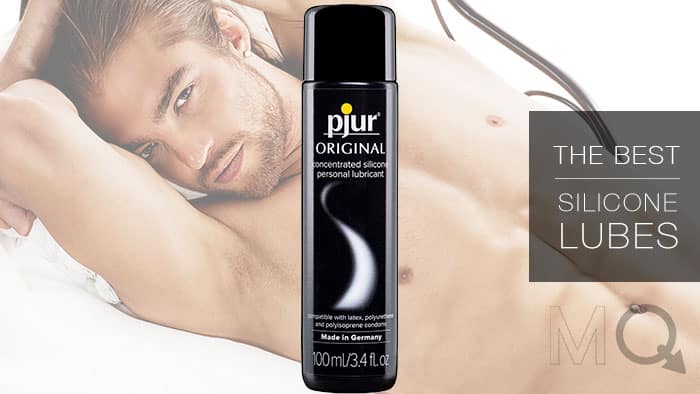 Pjur is the best silicone lube I have ever used – period. It is thick, virtually friction-free, and feels amazing to use.
The silicone base means it will not dry out, even after you use it for an extended period of time or expose it to air, so if you are looking for something heavy-duty and can take a pounding then this is the way to go.
On the other hand, the thickness and durability mean that it can be more difficult to clean up. But if you want a lube that will last and last and be as slippery as possible, then it doesn't get any better than Pjur Body Glide.
MQ Reader Review:
Worked Fantastic! – "A little goes a long way and it feels great. I use it to jack off with and one application does the trick!"
Swiss Navy Silicone
Swiss Navy is one of our favorite silicone lubes, and as much, easily one of our favorite lubes for masturbation. This lube has ranked as one of the best lubes on the MQ Store for over 5 years now and is one of the top-selling, high-quality lubes we can't help but recommend.
The convenient pump is great for one-handed use and easily locks to store in a bag or travel with. The formula is long-lasting, smooth, and feels absolutely great to use. It is easily one of the best lubes for masturbation, especially for those on the go.
View on MQ Store

Oil Lubes for Masturbation
Oil-based lubes are by far the most durable and long-lasting lube types – period. Thanks to the fact that oil can neither evaporate nor can be absorbed by the skin, these lubes keep on going for as long as you can. One caveat is that they are not condom-safe and are a bit more work to clean up. But if you want a lube that can last as long as you can definitely opt for an oil-based one.
Swiss Navy Masturbation Cream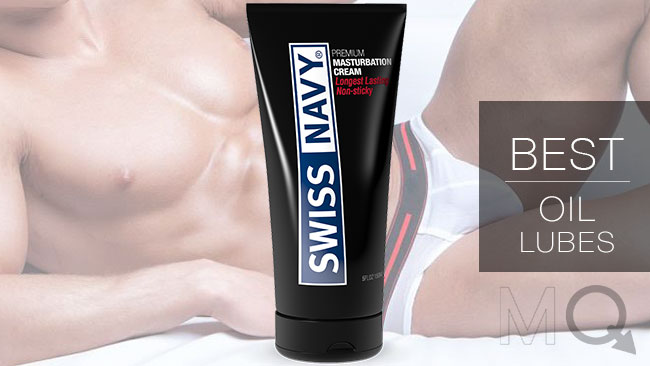 Just like its water-based brother, swiss navy masturbation cream is a lube designed specifically for jacking off. The long-lasting, non-sticky formula is silky smooth and only gets slicker the longer you use it.
View on MQ Store

Elbow Grease Hot Cream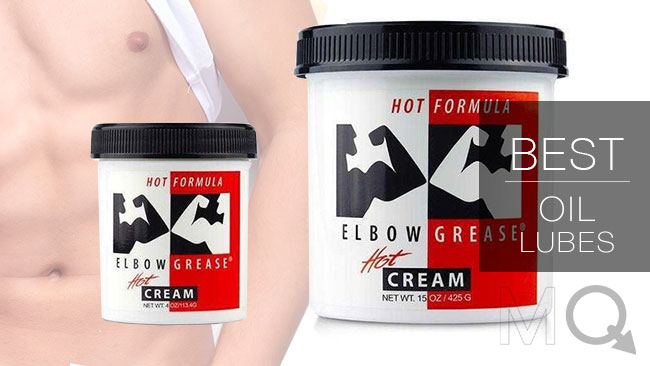 Elbow Grease is already one of our favorite overall water-based lubes, but luckily enough – it also comes in an oil-based formula. This thick cream comes in two variants, heating, and cooling. The added sensation paired with a long-lasting formula makes Elbow Grease Cream the best lube for masturbation that both warms and comes in an oil base.
OIl-Based Cream
Custom Warming Formula
Long-Lasting
Elbow Grease Cool Cream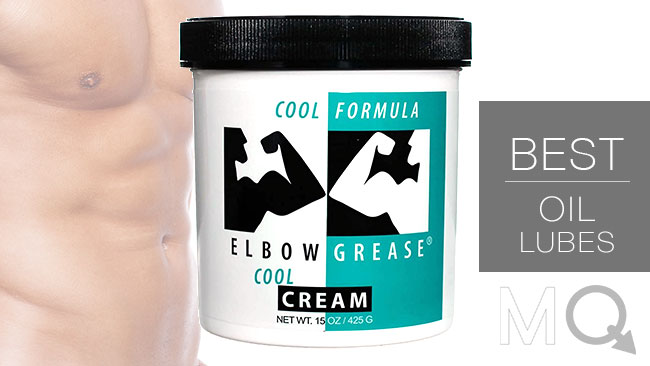 Just like its close sibling, elbow grease cooling packs a similar punch but with a cooling sensation. Elbow Grease cooling cream is made with a hint of menthol for stimulation and heightened sensation. Choose anywhere from 2 oz all the way up to 15 oz.
We cover all types of lubes and variants in more detail below.
For more info on choosing the best lubes and sex toys, be sure to check our in-depth buyer's guides. We go into detail about different lubes and toys by type and category to help you choose the right item for your needs.
There you have it, our top picks of the best lubes for masturbation. What are your thoughts? Do you have a favorite lube for masturbating? Are there any lubes that we forgot to mention? Let us know in the comments below.