Best Water Based Lube of 2023 for Super Slick Sex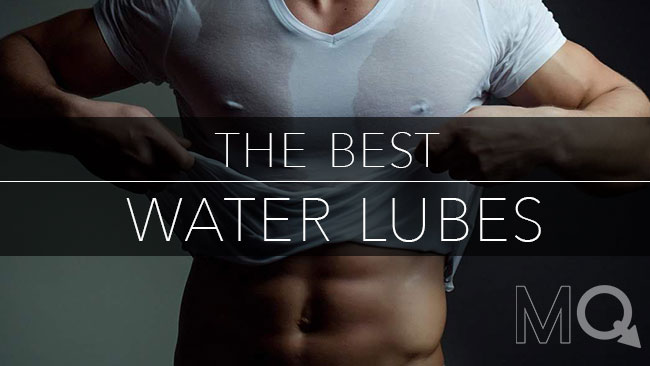 We have tested a lot of water-based lubes (and I mean a lot) and these are our final picks.  Here is our list of reader picks, MQ Store top sellers, and our own favorites for the best water based lube.
What are Water-Based Lubes?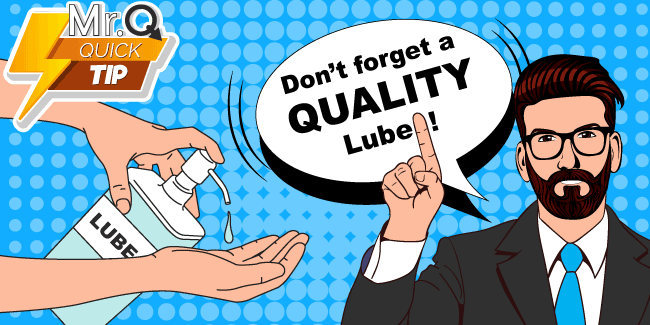 Water-based lubes are also free of oils and silicone additives making them easy to clean and stain-free for clothes and bedding. This makes them a reliable, convenient, and discreet option. Best of all, water-based lubes are some of the most affordable lubes you can buy.
The best water based lubes offer a variety of benefits which make them ideal when compared to Silicone or Oil-based competitors. For one, water-based lubes most closely mimic the feel and consistency of your body's natural lubrication. This makes them the most realistic and overall best feeling based on what we are naturally programmed to respond to.
Overall, water-based lubricants are a safe, effective, and versatile option for sexual activities and masturbation. However, it is important to note that not all water-based lubricants are created equal, and it is important to choose a high-quality lubricant that is free from harmful ingredients and additives.
Best Water Based Lube

After testing countless lubes we have chosen the best water based lubes based on a balance of price, feeling, consistency, and overall quality. These lubes offer the most value and the highest quality of any lubes out there.
Swiss Navy Water Based Lube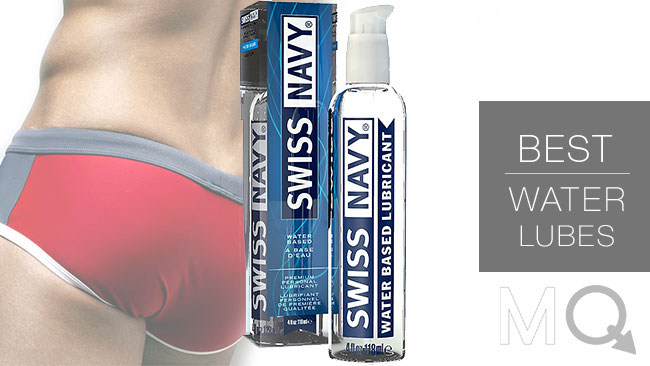 I first discovered Swiss Navy from a number of readers who personally recommend it to me, which is the main reason why I initially tested it out.
Aside from the fact that Swiss Navy has remained among the 3 top-selling lubes on the MQ Store for the past two years, after trying it for myself it quickly became clear why.
As a pure, odorless, smooth gel Swiss Navy is one of the best feeling water lubes I have ever tried. It also is comparatively durable and lasts longer than other water-based products.
I have to tip my hat to the bottle design as the pump cap means easy application with one hand and no need to fiddle with a top. If you are looking for a high-quality product with a good balance of performance and price then give Swiss Navy a go.
MQ Reader Review:
Smooth: "When I tried this lube not only did it feel excellent, but it didn't leave a sticky feeling afterward. It felt wonderful during sex. A little goes a long way and I will happily go back and pay for another bottle." – Ron
View on MQ Store

Pjur Original Aqua Body Glide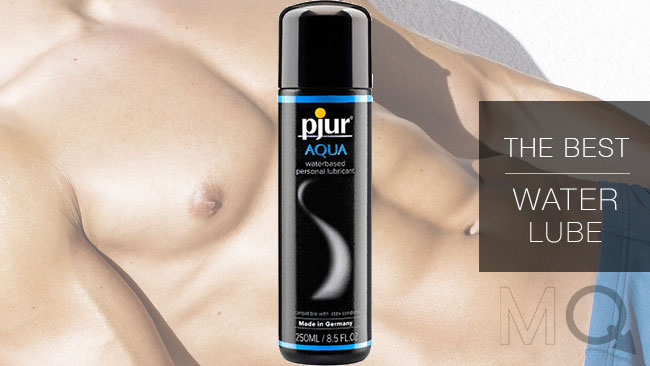 I have been a long-time fan of Pjur and have tested almost every variant of the brand. In nearly every case I have been very satisfied, and here is no different.
My one complaint funny enough, speaks to the slipperiness on my hands when trying to take the cap on and off. In terms of feel, performance, and longevity, Pjur is the best water based lube you can buy now.
Generally, when using other water-based lubes the biggest issue for me is the sub-par consistency and lubrication when compared to silicone counterparts.
MQ Reader Review:
Must have for everyone! – "This is hands down the best lube ever! It has no messy stickiness, no smell, and best of all no taste….so if you go from having sex to giving head there is no nasty flavor to deal with."
Here, Pjur has done a great job designing a water lube that FEELS like a silicone one and that's a good thing! In all categories, feeling, lubrication, and overall quality, this is by far the best water based lube out there.
View on: MQ Store

Elbow Grease H2O Thick Gel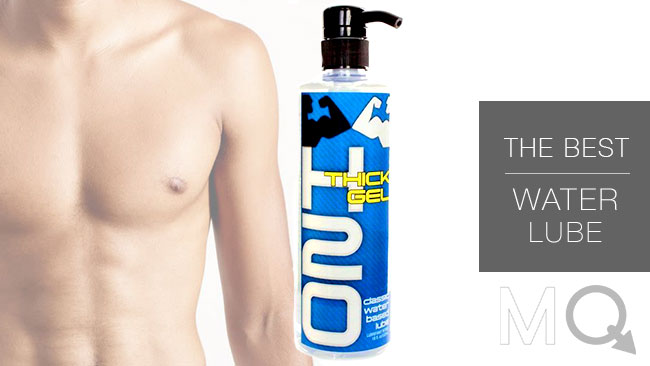 If you are looking for a heavy-duty, high-performance, and long-lasting lube then you have found it.
I have H2O featured as my number one pick on my list of Longest Lasting Lubes because, in terms of sheer longevity and endurance, Elbow Grease H2O simply lasts the longest without the need to re-apply making it another best water based lube on our list.
Outside of sex, Elbow Grease H2O is also an ideal pick for toys, especially if you and to go a bit bigger or to cut down on friction.
MQ Reader Review:
Great for anal play! – "I really like the thickness of this lube. It stays where you put it and isn't runny like most lubes. It worked really well for anal play too!"
Elbow Grease is also a breeze to clean up and washes away quickly without leaving any residue behind, despite the fact that this is one of the purest, thickest water lubes I have ever tested. All around a fantastic product.
View on: MQ Store

Best Budget Water Based Lubes
These are the best water based lubes that not only perform well but give you the most bang for your buck. We rated these lubes based on how much lube you get in volume for the price to give you the absolute best value water-based lube.
Smooth and Slick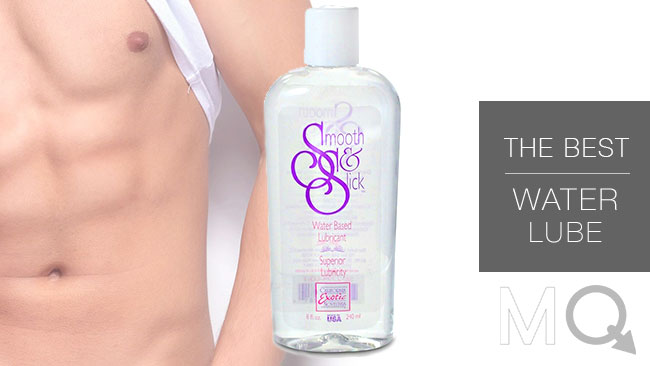 First off, despite being listed as a "Value Lube" Smooth and Slick feels great. Yes, it doesn't have the amount of polish and premium ingredients as some of the other products on this list. But what you do get is above average performance for an affordable lube.
MQ Reader Review:
Just Right Smooth & Slick Lubricant – "Wife loves this lubricant. Just the right amount of slick. Not too much, not too little. In addition, a great price."
Above all, Smooth and Slick actually performs well! I keep this as a backup lube because I know I can use as much as a want without having to feel guilty.
In terms of price and value, it is the best water based lube in its category.
KY Jelly Personal Lubricant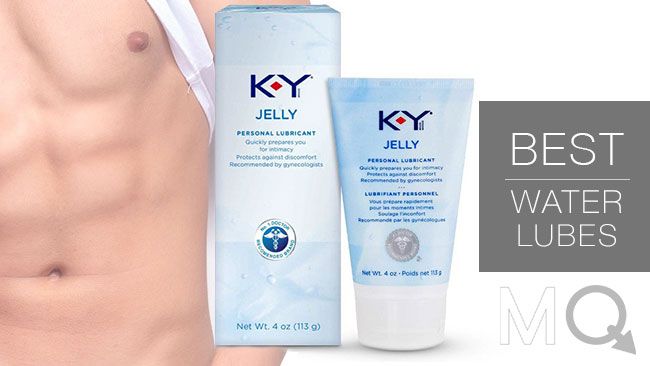 KY Jelly is an absolute classic water-based lube. With years, (or should we say decades) of experience, it is one of the top-selling, best water-based lube for condoms of all time. Thanks to its proven formula, KY lasts long and is extra slick.
Not to mention that KY is one of the most affordable options in terms of lube you get per ounce. KY is a true winner and a great choice as a quality water-based lubricant.
View on: MQ Store

Added Sensation Lubes
Sensation lubes add an extra layer to sex. These water lubes come in a variety of feelings like warming, cooling, tingling, and sensitive. Stimulating lubes are ideal for masturbation, handjobs, and sex. These are the best water lubes with added sensations and stimulation.
ID Tingling Sensations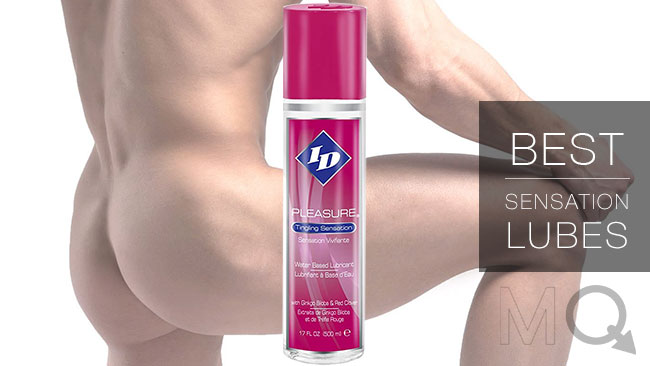 For a water-based lube with a bit more of a kick, ID Pleasure is the best for an added sensation. The main variant comes with an added stimulating formula which adds a tingling sensation. Compared to bog standard lubes this makes using ID an adventure.
View on: MQ Store

ID also comes in a warming variant to give even more sensations to try. If you are tired of the same-old plain lube and are looking to mix things up, these lubes really do help to make sex more interesting.
Water Based
Warming Stimulating Formula
Made for Solo and Couple's Play
View on: MQ Store

Wicked Sensations Warming & Cooling Lube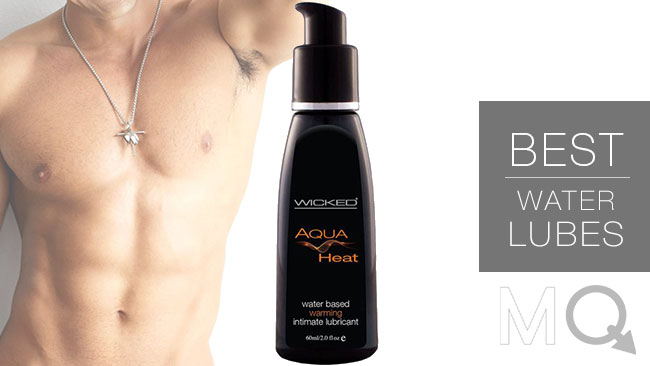 Looking for something a bit more refined and well-tuned? Wicked Sensations is the more developed, more mature stimulating water lube, and it shows. From the sleek packaging to the overall feeling, for a bit more money, this is one of the best water lubes that also stimulates. Wicked comes in multiple sensations, with the most popular being its warming formula.
For a more cool and chilled out formulation, Wicked also comes in a cooling variant which we also highly recommend.
Glycerin-Free & Organic Water Based Lubes
Glycerin is a common additive in water based lubricants as it helps to improve the durability and feel of the lubes. For some, Glycerin can cause skin irritation or other alergic reactions. For those with extra sensitive skin, and looking for an all natural formula, these are our picks for the best water based lubes without glycerin.
Sliquid Organics Natural Lubricant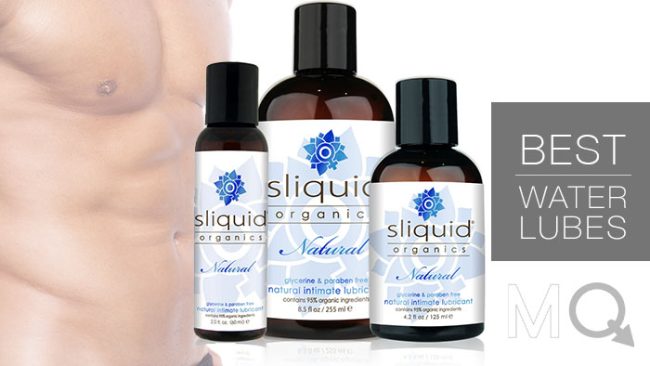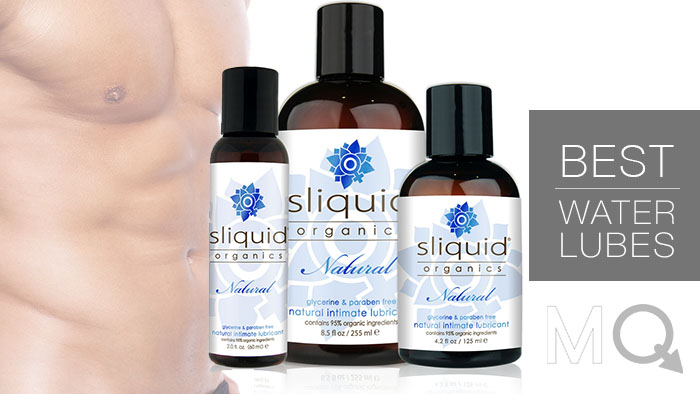 Sliquid is known for its high-quality, all natural lubricants made from organic ingredients. In a sea of lubes, Sliquid stands out as the best water based lube without glycerin. This is especially helpful for those with skin allergies or extra sensitive skin. Best of all, it is just as long-lasting and slippery as any other lubes on the market. This makes Sliquid our pick of the best water-based lube without glycerin.
Certified Organic Ingredients
Glycerin and Paraben Free
Aloe Vera and Alfalfa Infused
Made for Sensitive Skin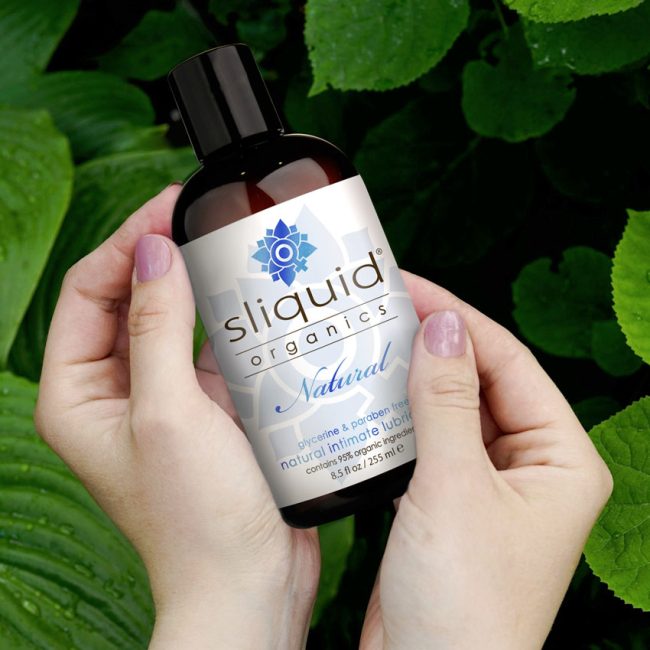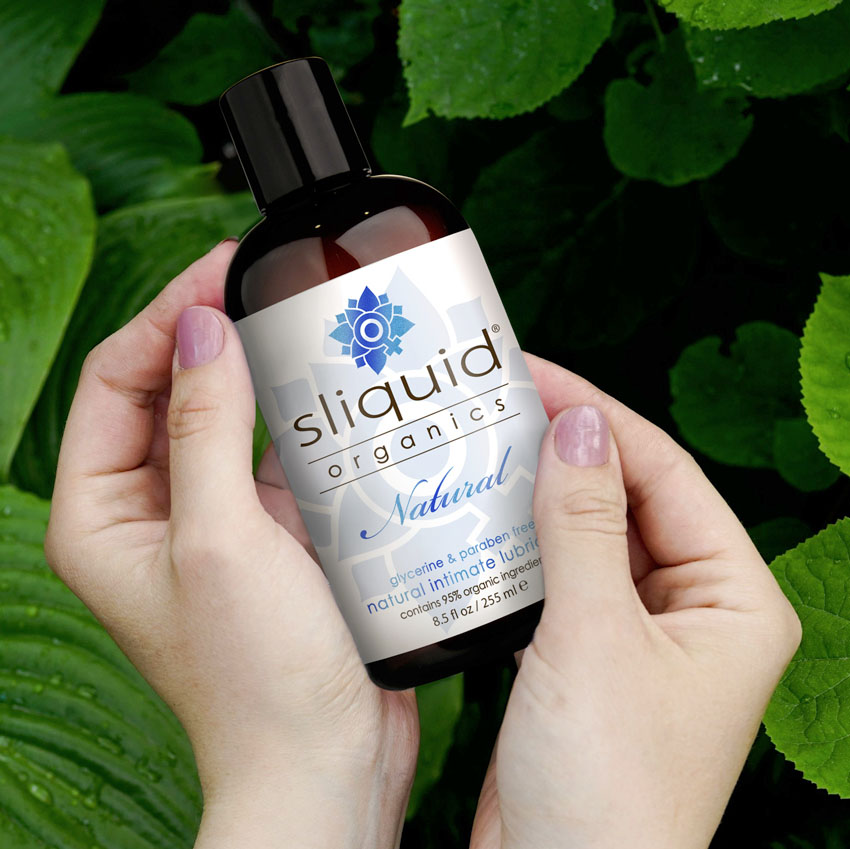 Anal Water Lubes
Water-based anal lubes are designed specifically for more comfortable anal sex. Generally, these lubes are made to be extra slick and durable. The best water lubes for anal sex also come with an anal relaxant or desensitizer built-in. Below are our favorite water-based lubes for anal sex.
Pjur Analyse Me Water Comfort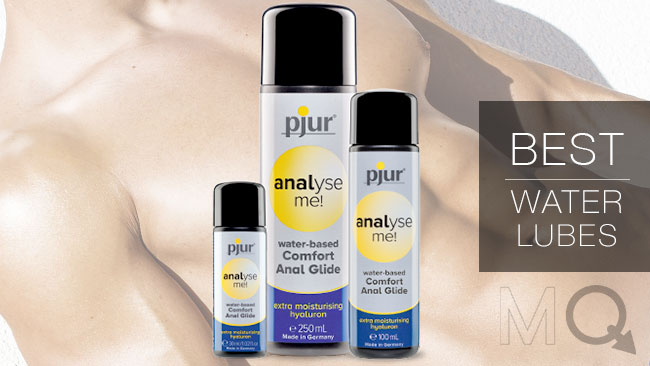 At it again, Pjur makes the list with our favorite water based anal lube. Derived from Pjur's top-selling Anal lube, Pjur Analyse Me Comfort is made from the same water formula, but also comes with a mild anal relaxant.
Pjur is our pick for the best water based lubes for anal sex thanks to its longevity, smooth feel, and overall performance. For more comfortable anal sex, you need to try this lube.
Relaxing Ingredient: Jojoba Extract
Relaxant Strength: Mild
Lube Thickness: 3/5
Water-Based
Toy Compatible
View on MQ Store

Relax Desensitizing Anal Water Lube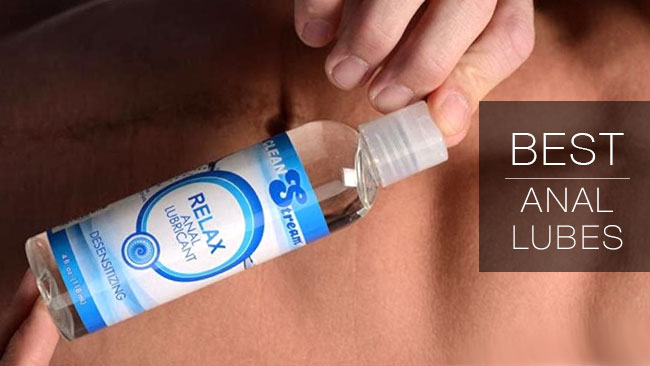 As the name suggests, Relax is a water lube with an integrated anal relaxant, to help anal sex be more comfortable. The pure-water base is smooth and doesn't get sticky after long use. The anal relaxant is also well balanced and not overpowering.
Active Relaxant: Lidocaine
Base: Water
Size: 4 oz. or 17 oz.
Relaxant Strength: ⭐⭐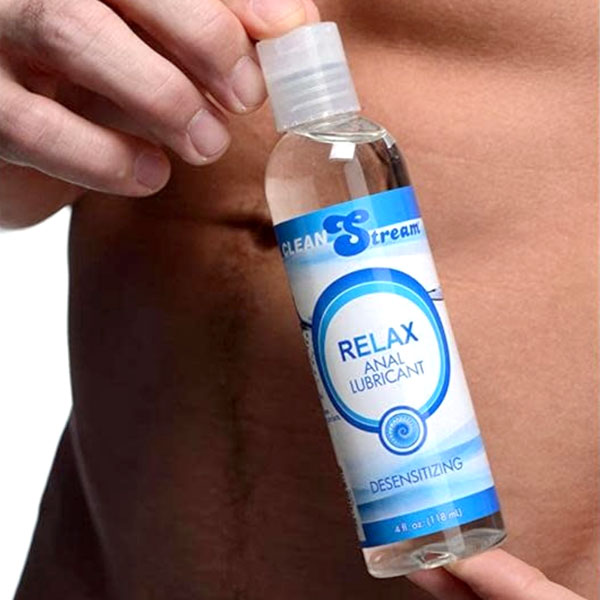 View on MQ Store

In terms of value, Relax is one of the best water lube picks coming in up to a 17.5oz bottle. That is over 4x the lube as most other brands.
View on MQ Store

Ass Relax Anal Desensitizing Water Lube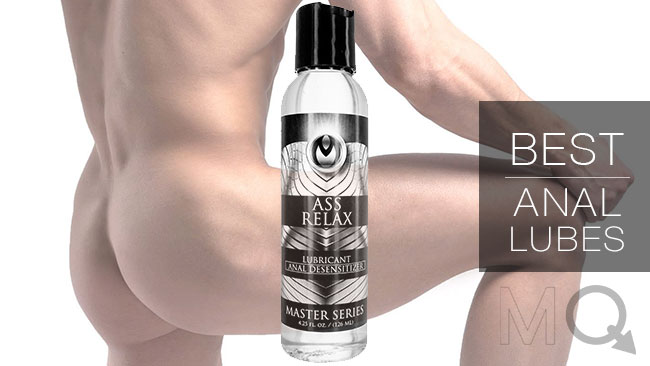 Ass Relax comes within with an even stronger anal relaxant and is ideal for anyone who has struggled with pain in the past. The relaxant also doubles as a stamina extender by slightly reducing sensitivity on the penis. If you plan on long-extended sessions of sex and want to prolong your play, Ass Relax is fantastic.
Size: 4.25 oz. (126 ml)
Type: Lube-Relaxant Hybrid
Base: Water
Active Relaxant: Lidocaine
Relaxant Strength: ⭐⭐⭐
Overall, Ass Relax performs excellent as a lube on its own making it our final pick for the best water lubes you can buy right now.
View on MQ Store

This is a list of the overall best water-based lube per category in terms of performance and versatility. We cover all types of lubes and variants in more detail below.
These are MQ's picks for the best water based lube. Have you personally tried any of these yourself? Do you have a personal favorite? Let us know in the comments below and follow us on YouTube, Twitter and Facebook!