Top 10 Weirdest Sex Toys: The Strangest Dildos, Dolls and More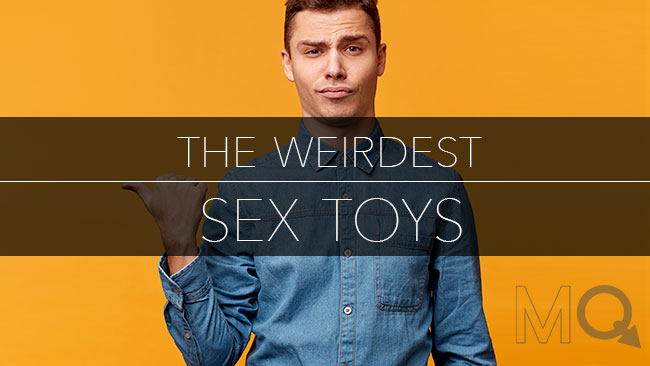 In the world of adult toys, sometimes a company will come out with some of the weirdest sex toys that make you wonder: "Do people really use these?" Today, we are breaking down the ins and outs of these freaky products, explain how they function and just have a good time.

What Are The Weirdest Sex Toys?
MQ is a safe pace for all of our readers out there, these are the 10 weirdest sex toys that you can actually get your hands on. If you find something that floats your boats, awesome, go ahead and add them to your cart! If not, just check out these ridiculously weird sex toys and get a kick out of them with us.
The Weirdest Dildos


The Realm Lycan Lock-on Werewolf Dildo Red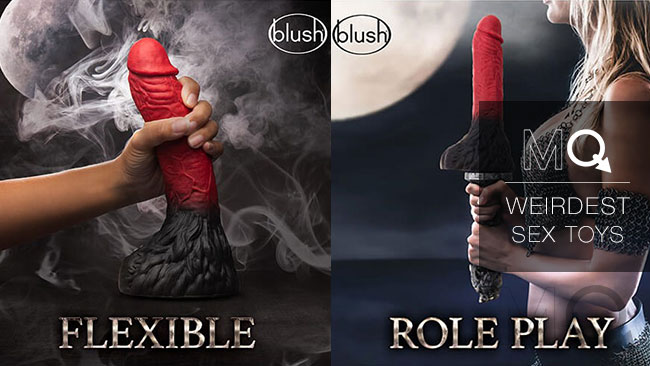 First on our "weirdest sexy toys" list, we've got just the right product to fulfill your fantasy! If you are a big fan of movies or series like "Twilight" and having wet dreams about getting fucked by the magical creatures that only exist in books, well, this is for you!
This werewolf dildo not only looks extremely tasty but also makes my eager hoes weak just by looking at it. Unleash your inner beast with The Realm Lycan Lock-on Werewolf Dildo, with a delicious 8" insertable length and textured ridges, this dominant alpha is going to make you howl at the full moon.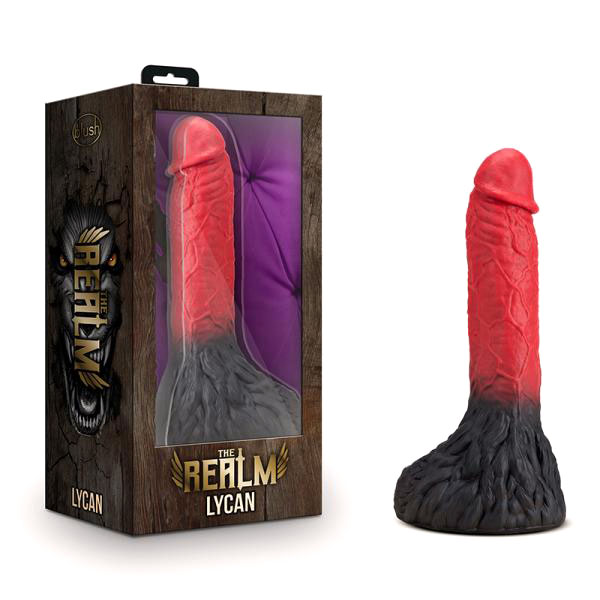 View on: MQ Store

The Realm Draken Lock On Dildo Blue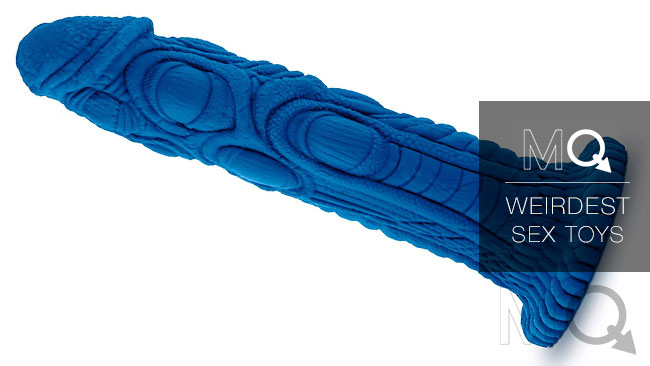 Though the ending of Game of Thrones sucked, it doesn't make us stop fantasizing about the dragons that were in the show. The fact that I went out of my ways to find the weirdest sex toys kind of makes me the odd one here. Well, the Draken Lock-On Dildo is worth being called a weirdo.
Behold! The majestic dragon is awake with flared nostrils and piercing eyes. The dildo is made out of the best quality and the dragon skin texture gives incredible stimulation.
They say the dragons are creatures of lust, take a look at their magnificent cocks, I will be damned if I am not lustful like them.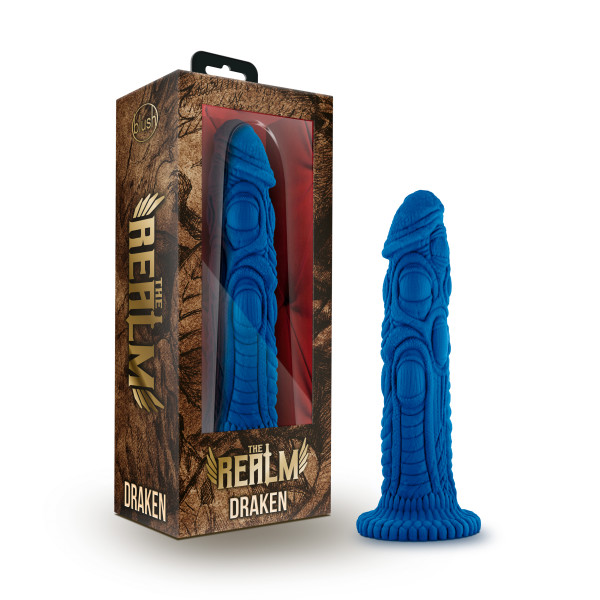 View on: MQ Store

The Realm Drago Dragon Sword Handle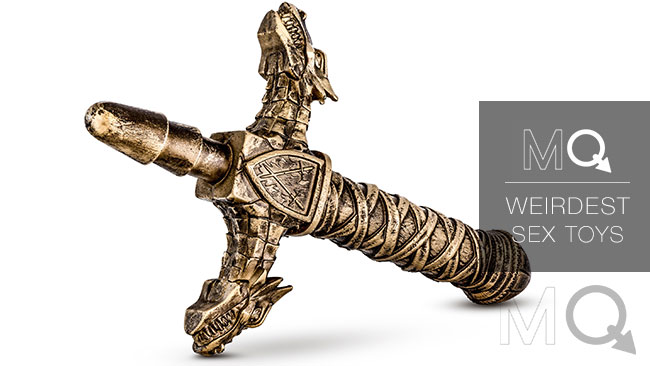 To bring your fantasy to the next level, you can also pair the dildos mentioned above with the Gradon Sword handle.
The lock-on design attaches to the dildo at the base and makes a fun and exciting grip handle. This pair makes the full fantasy package come to life.
View on: MQ Store

Glas Glass Naturals Chili Pepper Dildo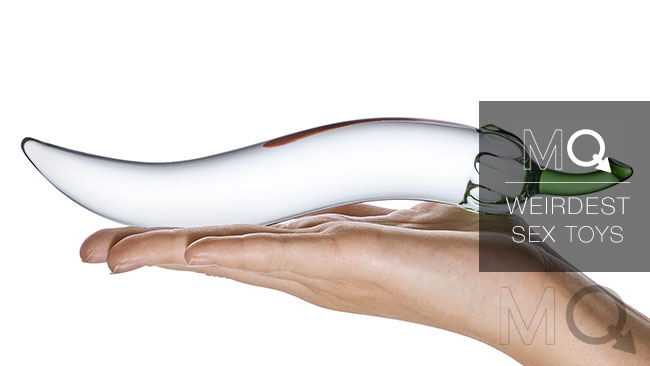 Instead of calling this adult toy one of the weirdest sex toys out there, I'd much rather call it a piece of art. Most of the glass toys are incredibly beautiful, you could put them on display and no one would think it's made for your sexy bedtime adventures.
Now, I hope you can take something spicy in because this unique glass dildo is literally the shape of a chili pepper. Chili is the new eggplant, I said it first here. The erotic shape of this sexy vegetable allows you to strategically ease it inside you and help reach that sweet spot. The smooth glass does not break easily so it's 100% body-safe.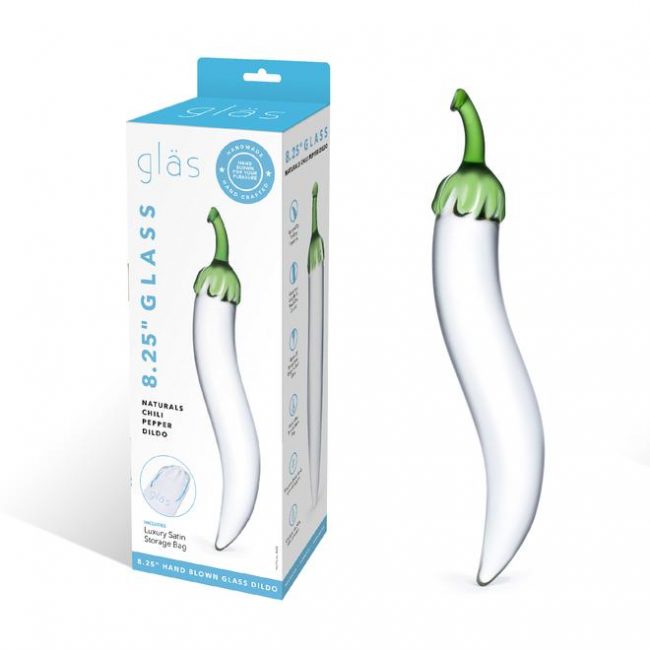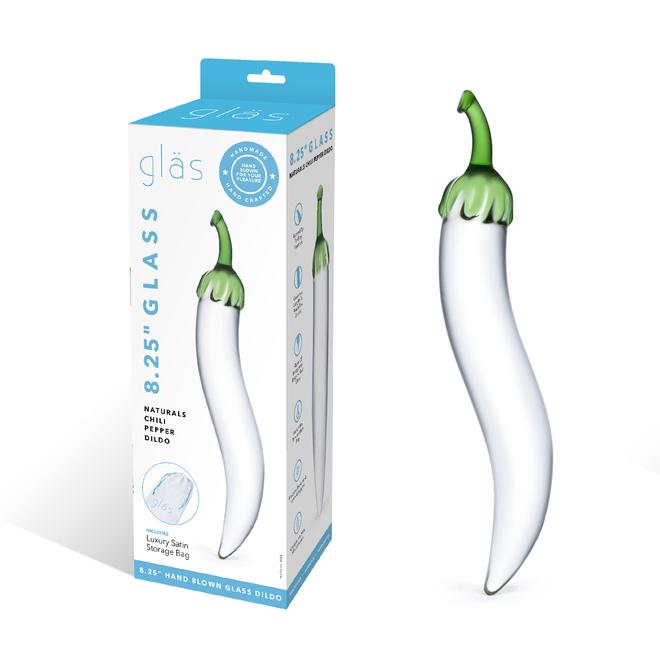 View on: MQ Store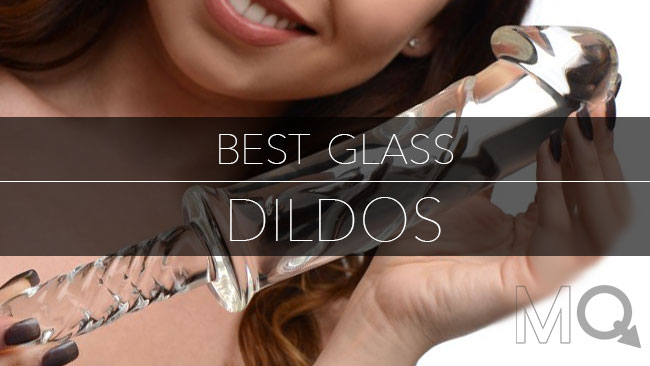 Want to know more about our best glass dildos? Click here.
Weirdest Sex Dolls
Sex dolls comes in a huge variety of styles. And let's face it – a silicone body can be a bit strange to start with. Below are a collection of the wierdest sex dolls that are a mix of gag gifts and real sex toys!
F#ck A Duck Inflatable Bath Toy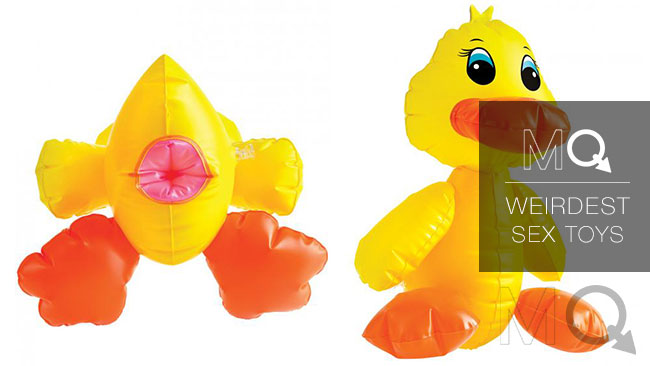 Taking a nice warm bath is absolutely my favorite thing to do in the world, however, the F#ck A Duck Inflatable Bath Toy is not the same rubber duck you grew up with anymore. It's on our weirdest sex toys list for making your innocent bath time into something quirky, exciting, or just a good gag gift. This duck loves to play dirty, especially in an activity that requires you to be wet. Just get some air inside the duck, and your bath time is going to be much freakier! Take a bath to release some steam now with the fuckable bath duck!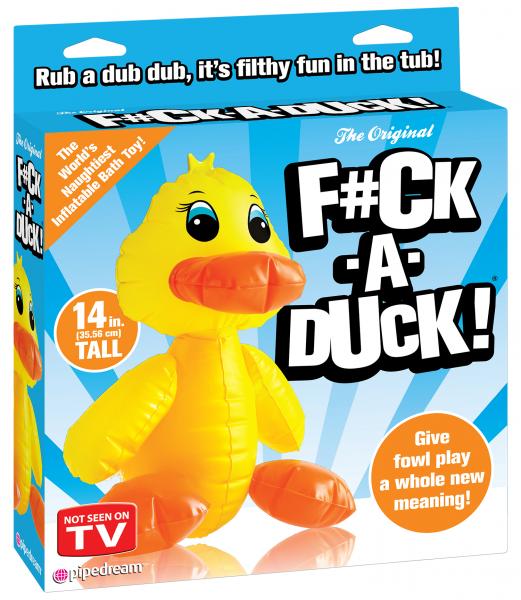 View on: MQ Store

Tranny Terri Shemale Love Doll Beige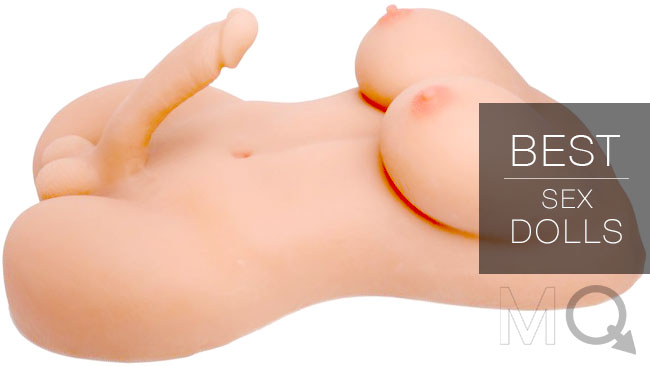 As Hannah Montana once said:" The best of both worlds." This should be the tagline for the Tranny Terri Shemale Love Doll. To some people, it might be one of the weirdest sex toys you have ever seen, but to others, they see pure pleasure and desire.
A dream combination of a hard shaft on the perfect female body with luscious breasts and texturized hole. Do whatever you want with them, hop on them and go to town; shove your dick in and grab a handful of their titties. He/She will please the fuck out of you.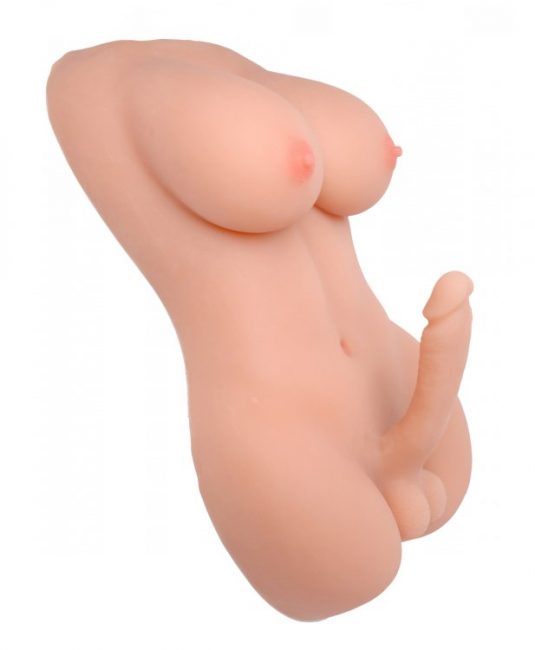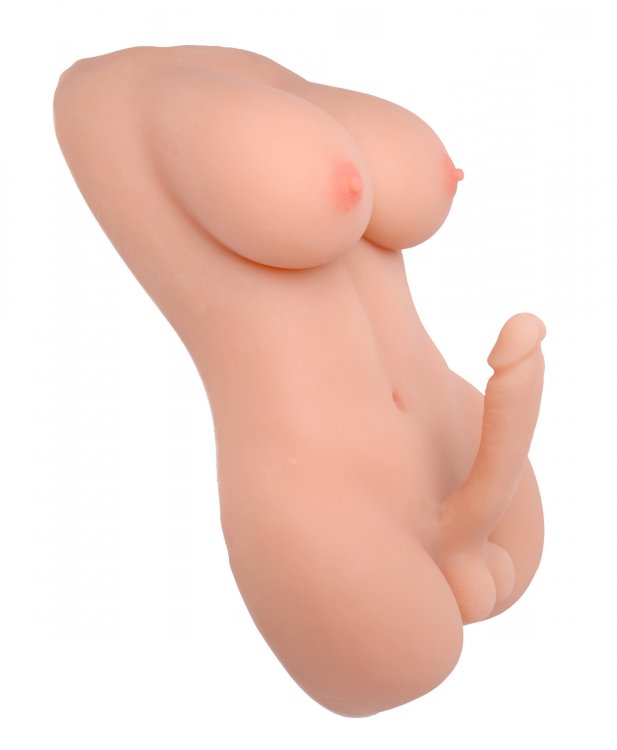 View on: MQ Store

Weirdest BDSM Gear
If you fave never tried BDSM before, it might feel a bit strange to begin with. When it comes to bondage and domination, there are really no limits. That means things can get weird on a whole different level.
Face Fuk Strap On Mouth Gag Black
Do you want to know what are the weirdest sex toys? Just take a look at the Face Fuk Strap On. The concepts behind this product are all in good fun, and for an extreme player like me, I might just purchase it and try it out.
There are two ways you can use it. It's a gag that can nicely cover your (or your partner's) mouth and chin, for all the masters out there this is a must-have! Or you can leave the tongue free, while the stiff and lifelike dildo is thrusting, the tongue can roam around the hoes to make it even more exciting. Either way, it sounds like you are in for a treat with this Strap On Mouth Gag.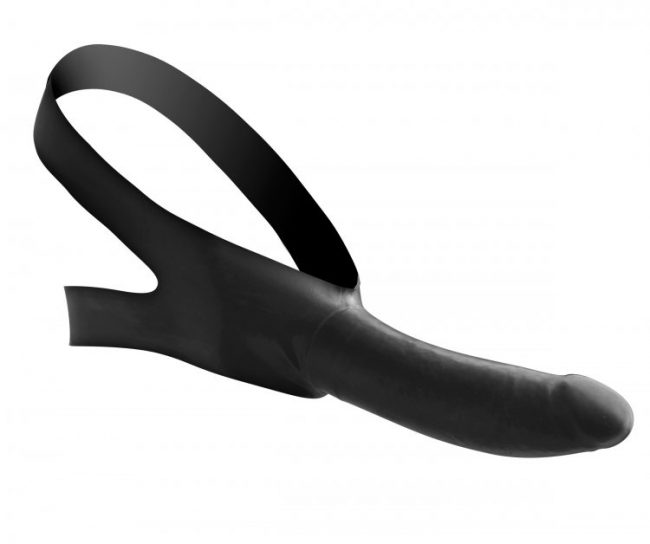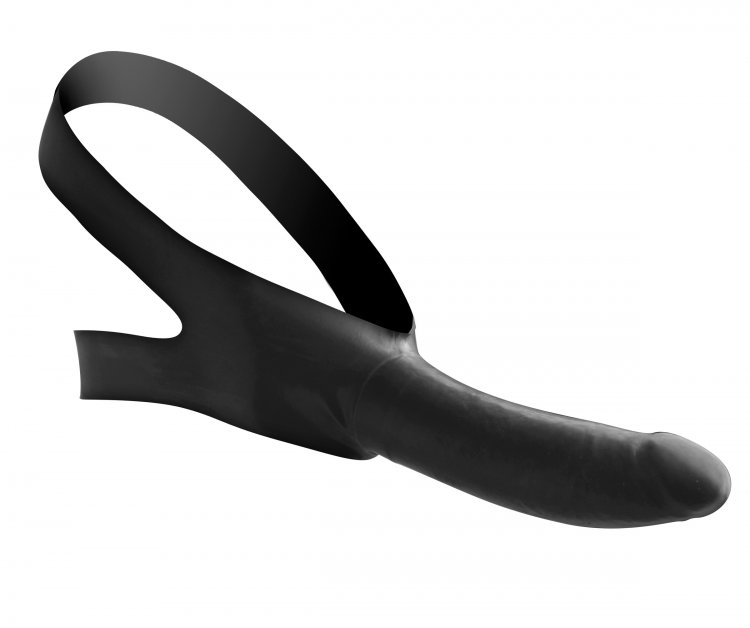 View on: MQ Store

Woof XL Silicone Puppy Tail Butt Plug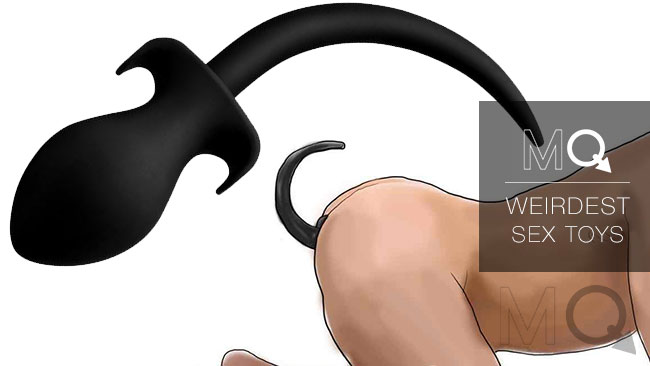 Are you a dog person? Me too! I have just successfully taught my puppy a new trick. With the help of Woof XL Silicone Puppy Tail Butt Plug, you're able to transform your partners and submissives into loyal puppies.
The tapered butt plug is specifically designed to fill your pet's hoe, comfortable and firmly secured. Made out of high-grade silicone, because your puppy deserves the best care. No better sight than seeing your puppy wave his tails between his ass chicks and he runs towards you. One of our weirdest sex toys, but for a great reason.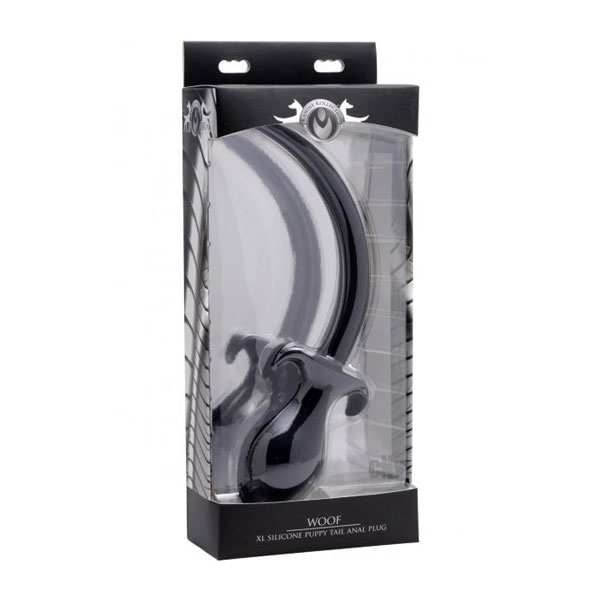 View on: MQ Store

Tailz Fox Tail Anal Plug And Ears Set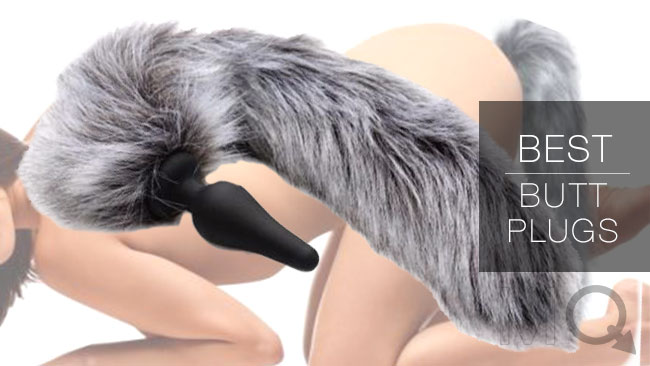 Role-playing as a fox is not unheard of, however, the idea of dressing up like a fox is still quite rare. Therefore, the Tailz Fox Tail Anal Plug And Ears Set is on our "weirdest sex toys" list. Who knows, you can't say you don't like it until you've used it.
The tails are made out of extremely soft faux fur, this feature alone is irresistible. Comfortable butt plug for smooth insertion. A perfect way to spice things up in the bedroom, go ahead and surprise your partner. Doesn't matter who wears the tail, as long as there's a hunter then the game is on!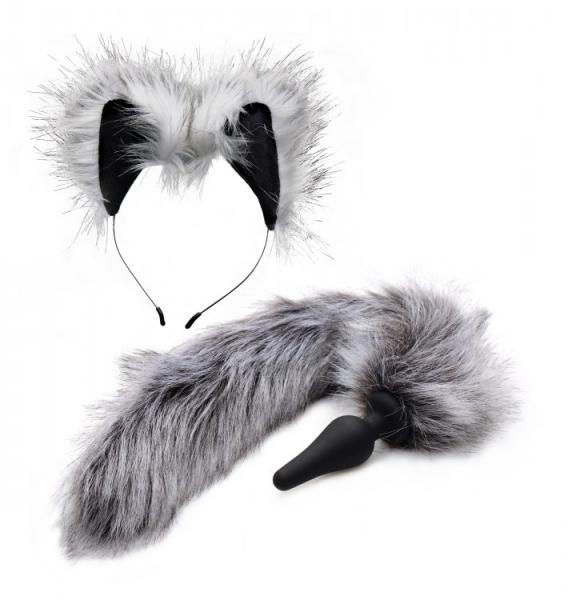 View on: MQ Store

Fantasy C-Ringz Extreme Cock Blocker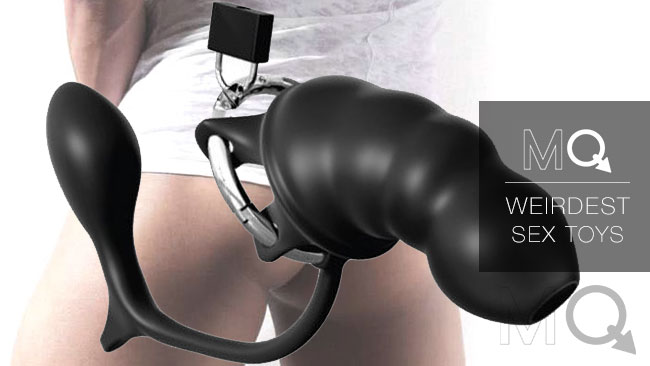 Speaking of fantasy, here's an interesting gadget with a lot of historical facts behind them. Yes, you guessed it, it's a cock cage! This is definitely one of the weirdest sex toys we have, but surely still in popular demand.
The concept came from the chastity belt, a device that was worn by women in the Middle Ages to prevent sexual intercourse. Sounds awful, right? We all know men are the ones that need to keep their junks in check. This Cock Blocker makes sure your man is not going to be up to no good when you are not around. Lock it up, hide the keys, and you're the only one who can touch that dick!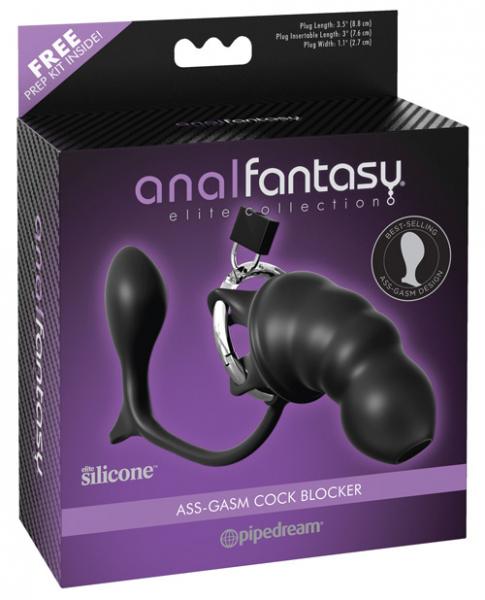 View on: MQ Store

Kink Fist F*Cker Silicone Hand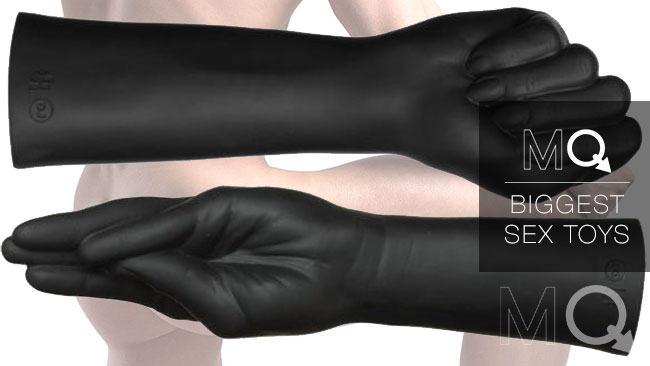 No, this is not one of those hand models that you store your rings and bracelets. Don't mistake one of our weirdest sex toys for something so mundane. The Kink Fist F*Cker Silicone Hand is your biggest tool to expand your bottomless desire.
For our extremists out there, this bad boy is for you. Comes in two types, the open hand for easier entry; the closed fist for the thrill-seekers. Made out of the highest quality and realistic design, this entire forearm to its fingertips are all yours to take. That said, can you take it?
View on: MQ Store

Besides the Closed Fist, there is an even longer Open Hand version.
View on: MQ Store

These are our picks for the weirdest sex toys. Are there any toys that shocked you the most? Let us know in the comments below!
More Great Sex Toys to Try