Is Same-sex Marriage Possible in Taiwan?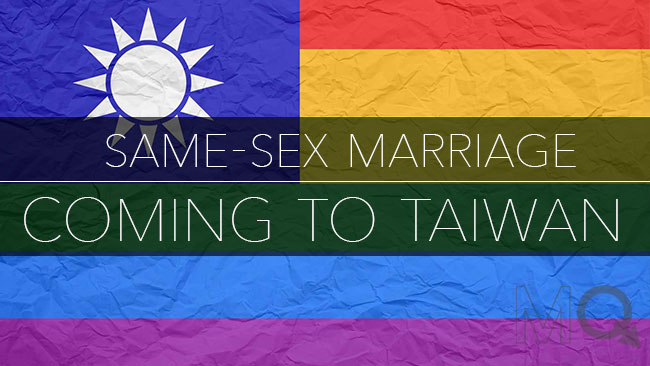 In terms of LGBT rights, Taiwan is considered as one of the most progressive nations in Asia. The annual pride parade in Taipei is the biggest in Asia, and as the number of out and open LGBT Taiwanese people continues to grow, hence the possibility of same-sex marriage has been brought up for discussion. This has got people asking:
Will Taiwan be the first Asian country to legalize same-sex marriage?
This topic has been in the public eye ever since the 2000s, yet Taiwanese society still hasn't completely accepted LGBT members.
The movement is picking up steam though as the battle for same-sex marriage in Taiwan has drawn international attention. This in addition to the growing number of countries who have started to recognize marriage equality elsewhere.
In 2012, the Taiwanese government even introduced a marriage bill and it has caused a political discussion among Taiwanese citizens. Just 15 years ago, back in 2001, research by The Development and Evaluation Commission, conducted by Executive Yuan released a poll showing that only 23.1% agreed on Same-sex marriage.
A more recent 2014 poll by Shih Hsin University showed that 54% of respondents support legalizing gay Same-sex marriage.
In the 20 to 29 age range? A staggering 84% of people supported it.
This research shows an increase, especially among the younger generation which tends to have a less religious affiliation and higher education which could partially explain their more progressive stance towards LGBT rights and same-sex marriage.
As public policy moves in favor of Same-sex couples' protections, the country has more support than before, with an even more recent 2015 online poll by The Ministry of Justice showing 88% of respondents agreed to legislate Same-sex marriage laws. This can be taken with a grain of salt, as online polls are volunteer and generally skewed towards the younger generation, but the speed and progress is very promising.
But Taiwan is making real progress. Just last year in 2015, the nation's second-largest city, Kaohsiung, announced its plan to let same-sex couples register in civil partnerships. Following this, more and more cities across the country including the capital, Taipei, have begun to offer the same benefits. It is important to know though that these registrations are not the same as actual marriages, and the rights that registered same-sex couples receive are still limited.
This has led some to believe that now, more than ever, full marriage legalization may be on the horizon. As of 2016, Taiwan's newly elected president, Tsai Ing-wen (蔡英文) was even Asia's first president to openly support marriage equality for sexual minorities.
Although many the groups in Taiwan that support the LGBT community have contributed and fought for their own rights and justice, the movement still faces opposition. This is especially true within several local Christian and anti-marriage groups, which see the movement as a destruction of public morality.
So is it possible for Taiwan become the first country in Asia to legalize Same-sex marriage?
Those who are optimistic see legalization by the end of the president Tsai's term in office. And as more and more of the support among the younger generation continues to grow, and new members of the LGBT community come out in vocal support for equality and diversity, then perhaps the day is not so far away.
[ Original source: CNN, Research from Wikipedia ]
Read More Male Q Guides