Biggest Vibrators of 2022 – Top 10 Huge Vibrating Sex Toys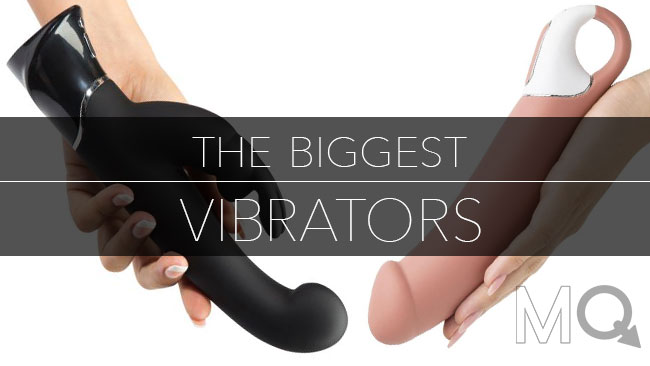 There's an odd satisfaction that comes from lying down and instantly gaining pleasure without doing anything. Makes you feel powerful and in control. Using a plain dildo is fun and all, but what if you could have the biggest vibrators reach your sweet spot, and massage it until you cum, all with a simple button?
The Biggest Vibrators

We have listed the 10 biggest vibrators that are not just deliciously huge but also easy to use. Do you prefer a realistic throbbing cock or modern-looking vibrators that please you in your command? Check out what we are offering and you might just find yourself a brand new toy to play with!
Real Feel Deluxe 12 Inch Vibrating Dildo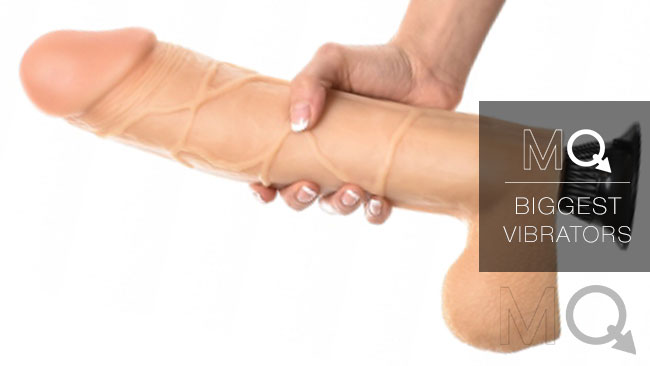 If you want a lifelike, ultra-realistic, and on top of everything, magnificent cock, this is the right product for you. Pipedream doesn't just make the biggest vibrators, they also make one of the most realistic dildos out there. Take a closer look at this vibrating dildo, practically a real one!
The suction base can stick to most flat surfaces as well as harness-compatible, most importantly, this bad boy is waterproof. Now, you can enjoy this tasty hot staff in your playful bathtime or a steamy hot shower. Put in the right 2 AA batteries and screw the base till it's completely tight, the vibe will instantly be turned on, unscrew the cap to turn off. The powerful vibration will give you the wildest orgasm you've ever experienced before.
View on: MQ Store

$68.74 – $159.87Select options
Onslaught XXL Vibrating Giant Dildo Thruster Beige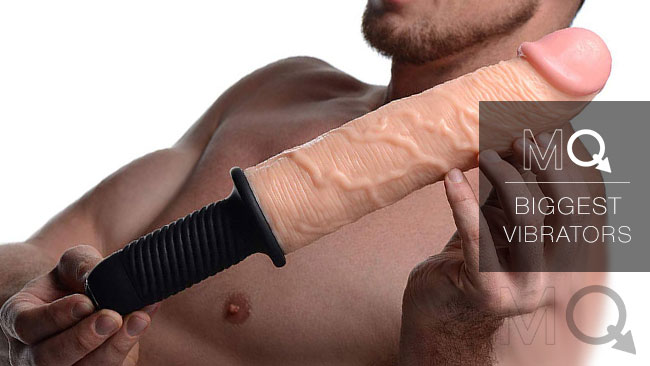 Size does matter as we have proven times and times again on our website, now we present you with one of the biggest vibrators that we have to offer. The Onslaught XXL Vibrating Giant Dildo Thruster is huge in girth, long in length, and absolutely the sexiest toy I have ever seen.
Welcome this giant man meat into your hole, the only question is, how much of it can you take? The detailed vein design and the bulging head cannot look more delicious. The vibrating dildo comes with an easy-to-grip handle and 10 types of different pulsation, all there's left to do is to aim it right at your hole and let the thruster take you to cloud nine!
View on: MQ Store

Jeff Stryker 10 Inch UltraSKYN Vibrating Dildo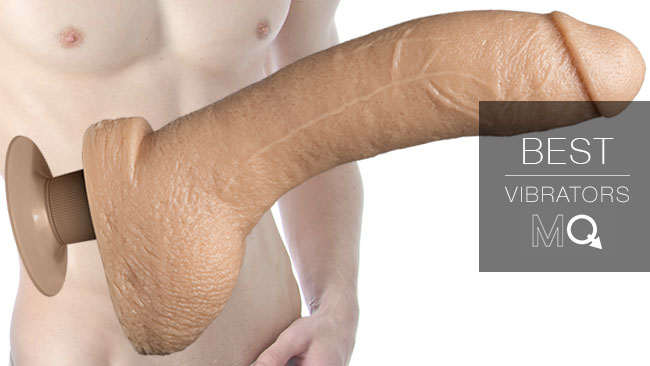 If you're a big fan of the 80's adult film, then you can't pass down the chance of getting this one-of-a-kind dildo! Jeff Stryker, currently a 58-year-old man was a hot stud in the adult film industry back in the days, his figurines are now still some of the hottest merchandise in the market.
More importantly, this vibrating dildo is molded straight from the porn legend, Jeff Stryker himself. This masterpiece has everything that can make you live that moment of getting fucked by the sexy hot military man in prison. All the veins, the colors, and every detail are handcrafted to perfection. Definitely one of the biggest vibrators that deserve to be a collector item.
View on: MQ Store

Natural Realskin Hot Cock Rotating Thruster Flesh
I know Spring is coming, but when is Summer going to show up? The cold season just made me want to be filled up with something hot and sexy that will turn my lonely night into a rave party. Natural Realskin Hot Cock Rotating Thruster is not just one of the biggest vibrators we have, but also the hottest. Pun intended.
This steaming sexy device can heat up to 45 degrees Celsius, and with their premium material that's better than the real skin feeling, you're being promised the best fuck of your life! The textured design provides awesome stimulation, 12 different functions so you can for sure find the perfect rhythm that gets you off!
View on: MQ Store

Modern Large Vibrators
Smooth, sleek, and modern – these massive vibrators all have an ergonomic design and are sculpted for pure pleasure. These modern vibrators pulse, buzz, and vibrate. Paired with high-tech features like multi-speed pulse and customizable stimulation these are by far some of the best and biggest vibrators you can buy.
Fifty Shades Desire Explodes G-spot Vibrator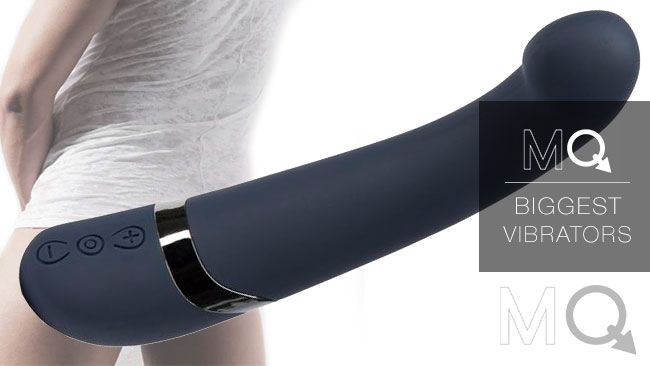 I understand most of us are not traveling anywhere at this moment, but when the world slowly goes back to normal, you will want to take this powerful yet discreet vibrator with you. This G-spot vibrator is designed to give you the most satisfaction possible, shaped to stimulate sensitive inner spots.
Embrace yourself for the dual motors that ensure the most powerful and continuous pleasure. Allow this one of the biggest vibrators to move through 12 speeds and 8 patterns, the decision is yours. It can gently take you to the highest point of ecstasy or wildly drive you complete release. Button lock feature so no more awkwardness of accidentally turning it on while traveling.
View on: MQ Store

Fifty Shades Greedy Girl G Spot Rabbit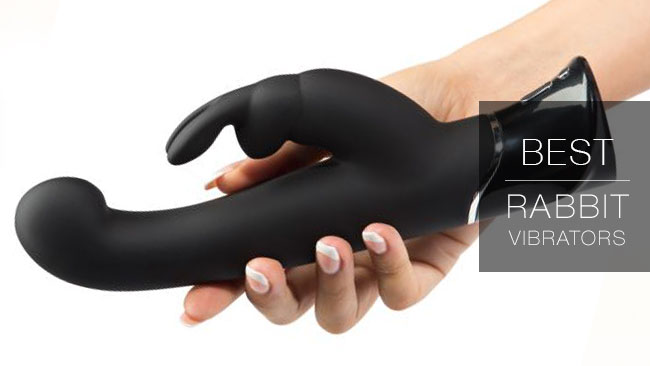 Speaking of having an orgasm in discreet, you have to check out the Greedy Girl G Spot Rabbit! Though it's in the list of "the biggest vibrators", it fits easily into the little toy bag, so you can experience a one-of-a-kind sensation anywhere you want.
Carry the instant pleasure tool around with you, made from premium super soft silicone that is completely body-safe and hygienic. The waterproof vibrator has 3 speeds and 2 patterns for you to explore and is perfect for a bit of me-time during water activities.
View on: MQ Store

Satisfyer Vibes Master XXL Vibrator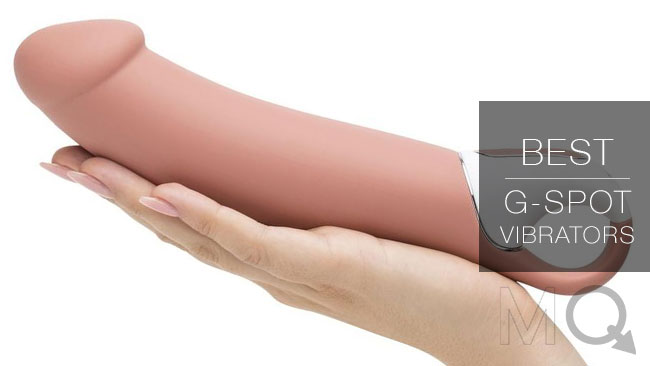 We cannot leave out the Satisfyer Vibes Master XXL Vibrator if we are talking about the biggest vibrators in the market. You need the right technology for the great desire that you have been longing for, the smooth surface makes it easy to use and the result is 100% satisfaction.
The impressive XXL size is just one of many great features this handy toy comes with, simple and elegant design suitable for my minimalists out there. 12 uniques vibration modes for you to explore your true desire within, all the pleasure you are seeking is just at the tip of your finger with their intuitive button. XXL size comes with XXL climax, I promise.
View on: MQ Store

Huge Thrusting Vibrators
They vibrate, they move, they thrust. Want to be fucked like the real thing? These vibratos move in and out to give you a real thrusting, augmented experience. Emulating the movements of real sex, these are some of the best, biggest vibrators that move!
Thunder Plugs Vibrating & Thrusting Plug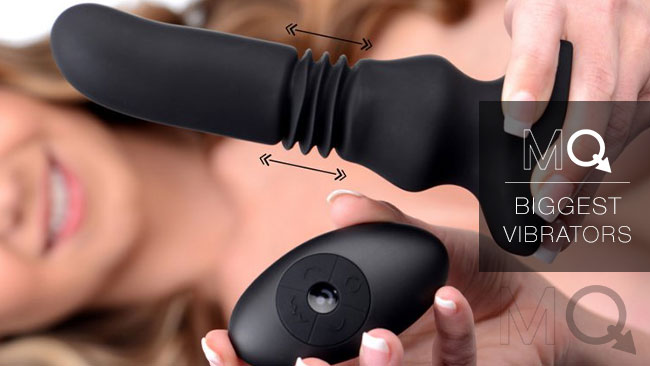 Butt plugs serve as tools to stretch your hoe before your passionate date with a huge cock. How about we spice up your warmups with some vibrating plugs? Introducing Thunder Plugs Vibrating, might not look like any of our biggest vibrators that we have mentioned before, but check this magic trick out!
The bold ripples in the middle can massage you whilst thrusting in and out of you, but they are also there for another major reason: they can elongate inside of you! How cool is that? Experience the sensation of 3 levels and 5 patterns of vibration, and 5 additional unique thrusting modes, this little gadget is not as little as you think when it expands inside of you!
View on: MQ Store

Anal Fantasy Elite Vibrating Ass Thruster Black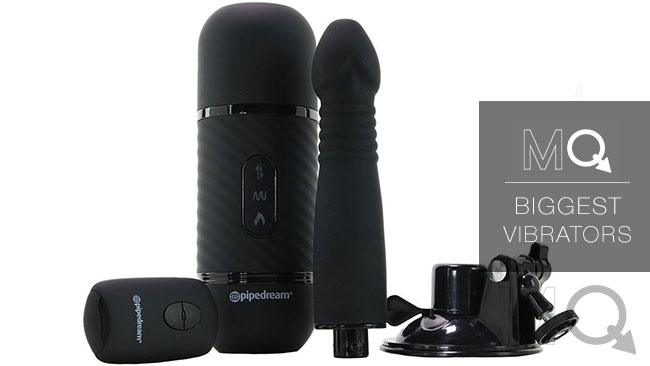 Ready to level up your anal play? Prepare yourself for this sleek thruster that is also one of our biggest vibrators out there. The Anal Fantasy Elite Vibrating Ass Thruster has so many amazing features, now you only need to worry about which way you want to reach that climax.
Made from ultra-hygienic elite silicone, only the top-notch material for your high-end anal and prostate play. With their handy wireless remote, you're in charge of how fast and how powerful it goes, 7 different vibes, and 7 thrusting modes. It warms up to a perfect temperature, just open your legs and prepare for the thrilling and explosive result.
View on: MQ Store

Biggest Butt Plug Vibrators
Giant vibrators aren't just long and phallic, they can also be amazing anal toys. Looking to stretch out and go bigger? These anal butt plugs are bigger and badder than almost anything around. Not only are they some of the biggest butt plugs, but also some of the biggest vibrators you can buy.
Screaming O My Secret Remote Vibrating XL Plug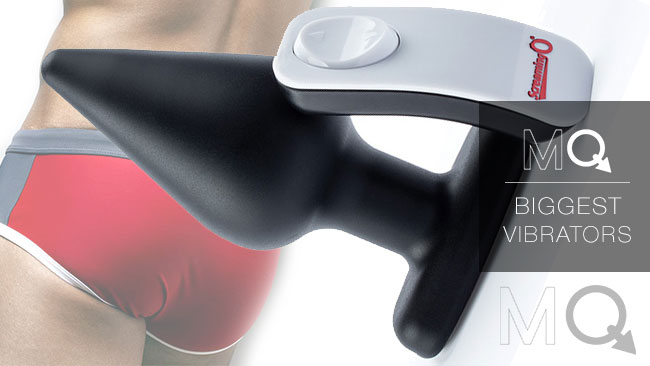 Never got to experience the rush of having an orgasm at an inappropriate time without getting caught? We have your back! The Screaming O My Secret Remote Vibrating Plug is the perfect way to enjoy your anal play in secret, and now with their extra-large size, it's up in our "biggest vibrators" list.
The wireless remote can work up to 40 feet away, put the plugin and hand the remote to your partner, enjoy a pleasant surprise once in a while from your partner. The vibrating plug can vibrate for 60 minutes straight on a single charge, and trust me, you won't last longer than that. Keep this ejaculation as a secret between you and your partner, don't kiss and tell.
View on: MQ Store

How to Clean your Vibrator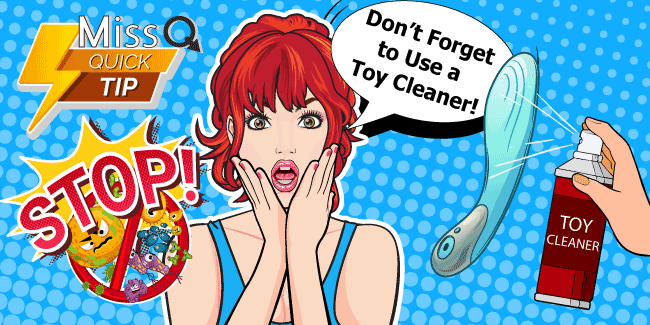 After using your new vibrator, it's important to keep it well cleaned and maintained. For waterproof vibrators, you can rinse your toy off with soap and water. For even better cleaning and disinfecting consider using an anti-bacterial toy cleaner.
Toy cleaner is a great way to keep your toy fresh, hygienic, and odor-free.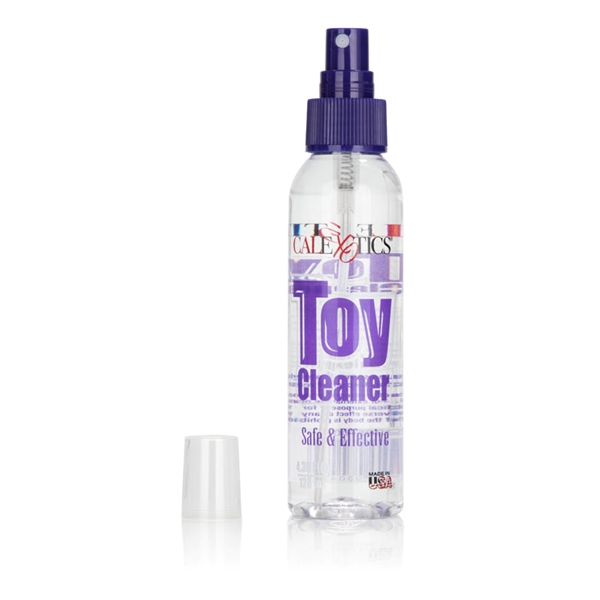 View on MQ Store

Lube up for Big Toys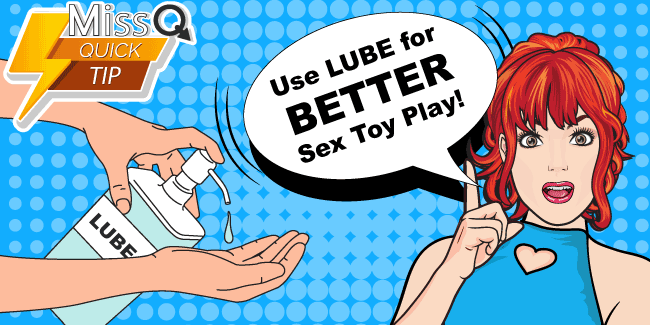 For using some of the biggest vibrators, you are going to need some of the best lubes. You can check our full list of sexual lubricants here. For most people, a thick, durable water based lube will give you maximum lubrication and play well with you vibrator.
MQ Reader Review:
Smooth: "When I tried this lube not only did it feel excellent, but it didn't leave a sticky feeling afterward. It felt wonderful during sex. A little goes a long way and I will happily go back and pay for another bottle." – Ron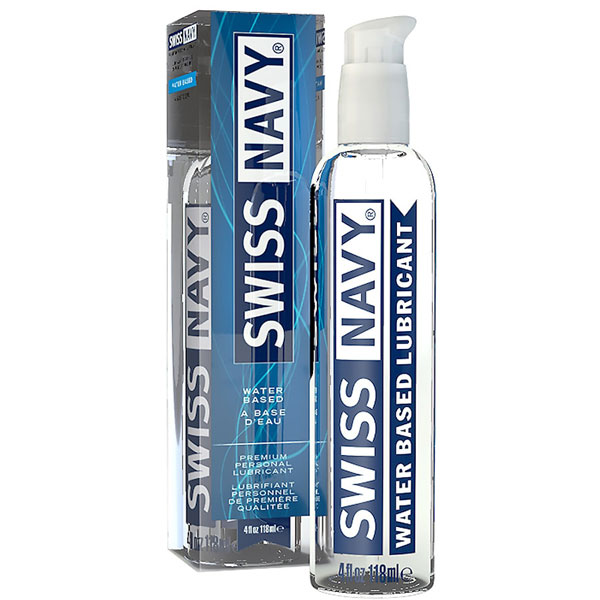 View on MQ Store

These are our picks for the biggest vibrators for this year. Do you have any favorites we forgot to mention? Let us know in the comments below!
Read More Female Sex Toy Buyer's Guides