Best Glass Dildos [Answered] – Top 12 Glass Sex Toys of 2023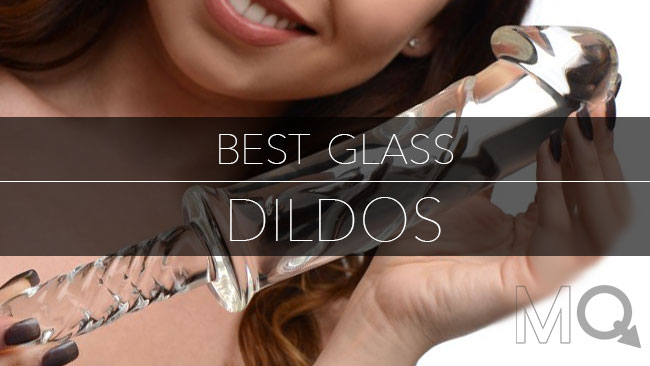 Have you ever wondered where you could find the best glass dildos? Look no more, Male Q presents you with the best glass dildos that you could own and play with during your sexy alone time. The delicate glass becomes hot and heavy when it's inside you, providing the best cooling and warming sensations that will send you to cloud nine.

What are the Benefits of Glass Sex Toys?
Dildos and other sex toys are often made of silicone and other synthetic materials because they are bendable and close to the texture of an actual cock. Glass dildos, however, give you more room to play with and explore different ways to make you reach that peak of euphoria. It's also elegant looking, easy to clean and glass dildos are great for some temperature play!
Glass also has the added benefit of being made from non-porous, non-toxic materials that are body safe, and easy to clean. This makes them overall a more natural, skin-safe alternative to synthetic sex toy materials.
Are Glass Dildos Safe to Use?

Glass sex toys are made from high-strength, shatter resistant tempered glass and are overall very safe to use as sex toys. As with any sex toy, you should always handle your glass dildo with care and take to the proper steps to ensure that your toy is free of any damage before using it. With proper maintenance, care, and cleaning, Glass dildos can be just as safe to use as any other sex toy material.
The Best Glass Dildos

The best glass dildos should be comfortable to use and shaped to smoothly contour the interior of your body. Most importantly, a quality glass dildo should also be durable and safe to use. All Glass Dildos mentioned below are made from High-Strength Tempered Glass and are made with safety in mind. As always, you should handle your sex toy with care – but with proper storage and handling should be strong, long-lasting, and body-safe.
Glas 6.5 inch Full Tip Glass Dildo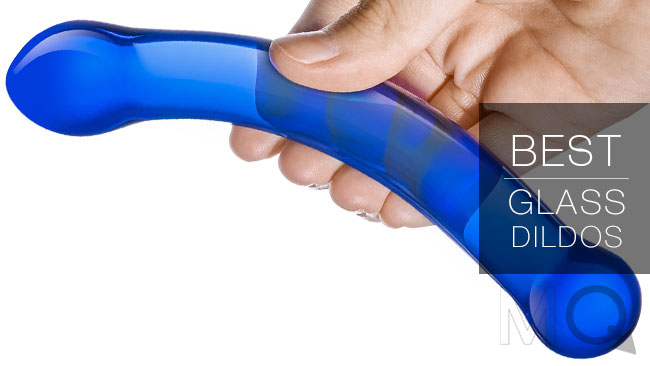 First time trying glass dildos? Don't worry, we have your back! Take a look at this Full Tip Textured Glass Dildo, it has everything that you need, and that is exactly why it's on our best glass dildos list. The graceful-looking blue-clear glass material is handcrafted by experts in the industry.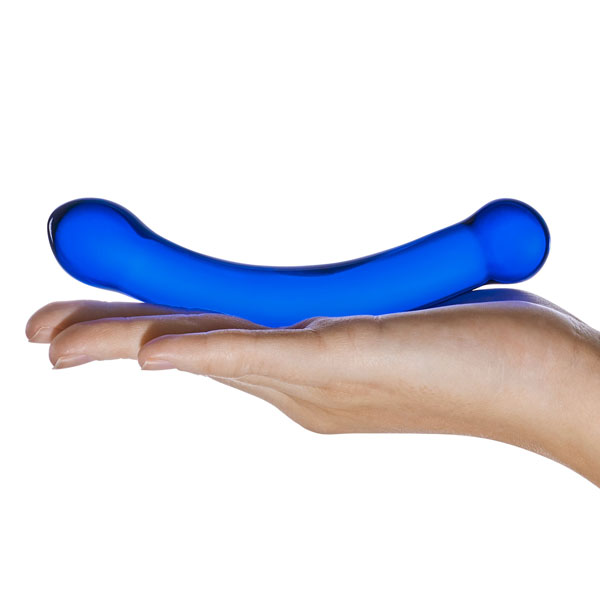 Featuring double-ended tips for different kinds of sensations; the textured design offers complete thrill and promises you a good time. The body-safe glass can be used in conjunction with any type of lubricant.
View on: MQ Store

Red Head Glass Double Dildo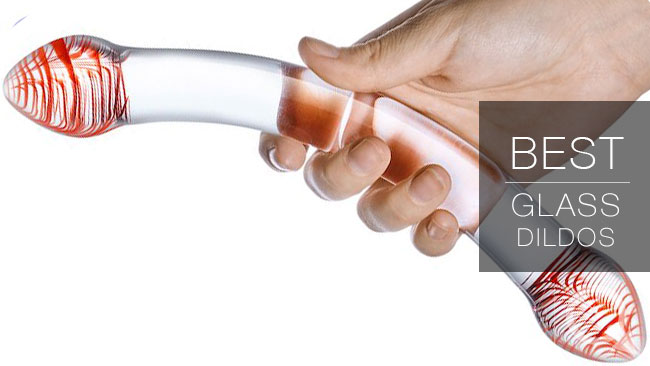 Who said, "Redhead has no soul."? This Glass Dildo has more than a soul, it's crafted to be a work of art, perfect for erotic play and our best glass dildos collector out there. Put it on display, you will want to show off this piece!
Vibrant spiraled red bulbous heads are what set this toy apart from all the others. It has all the best qualities of other glass dildos, and it's a remarkable piece of decoration that you don't want to hide in the closet. Bust out the double-headed dildo for some elegant yet raw fun, you won't regret it.
View on: MQ Store

Mr. Swirly 6.5 inch G-Spot Glass Dildo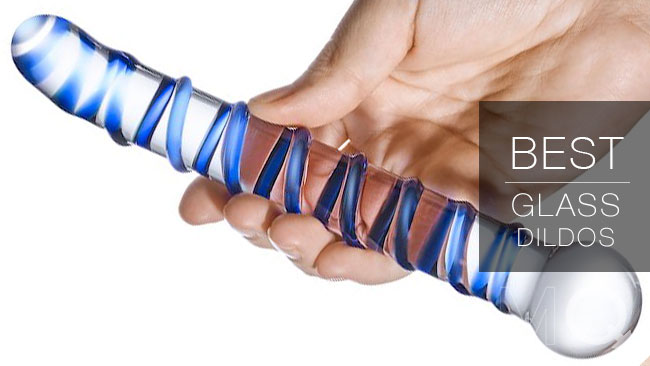 Don't let the cutesy name fool you! Mr. Swirly may look pretty on the outside, but its function will turn your lonely nights upside down. This 6.5" glass adult toy can easily be used for both anal and vaginal play, this double duty and made with premium borosilicate glass put it on our best glass dildos list. Strap in and let the sleek, sturdy and swirly dildo take the wheel. The material makes it the perfect choice to do some temperature play, either alone or with your partner. Just use appropriate temperature water to warm up or cool down the toy, and you'll feel this unique passion rise from the core of your pleasure.
View on: MQ Store

Purple Rain Ribbed Glass Dildo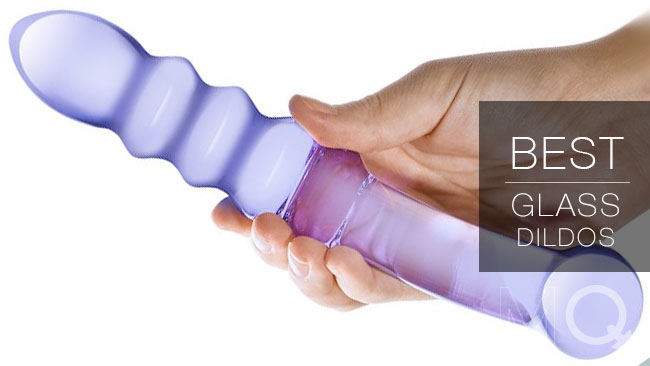 Tired of seeing clear glass dildos? How about we add some colors into the mix! Introducing the Purple Rain Ribbed Glass Dildo, one of the best glass dildos for its special color and design! This toy can simply be used with just one hand, a curved handle allows a firm grip and total control. You decide whether to go slowly or go full-speed ahead, the gripped design will add more textures and stimulations to the entire experience. Same with all the glass dildos, it can be easily cleaned and you're ready for round two!
View on: MQ Store

Realistic Glass Dildos
For those who want an all-natural body-safe glass dildo but with a realistic shape, well, these dildos are an absolute perfect match. Shaped and sculpted to look like a real penis, these are some of the best glass dildos you can buy. Who knew a glass dildo could look this much like a real dick?
Glas 7-Inch Realistic Curved G-Spot Glass Dildo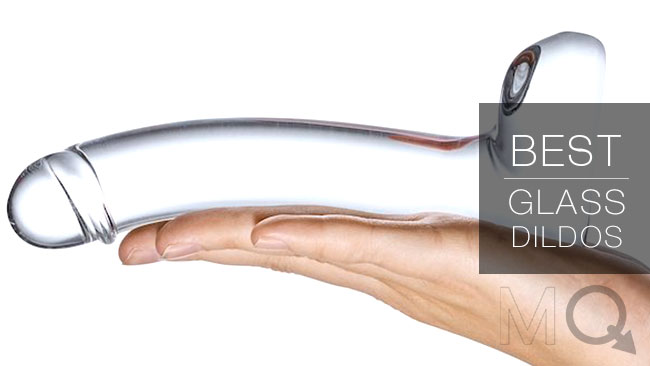 Most of our best glass dildos are designed more artistically for the collectors out there, however, this Glas 7 Inches Realistic Curved Glass Dildo is proof that we have all kinds of varieties here! Prepare yourself for this rock-hard glass shaft, trust me, it will give you the greatest orgasm that you are seeking! The strategic curvy shape makes reaching your G-spot an easy job, and the ribbed tip not only expands your hole nicely but it can also amplify the arousing sensation with each thrust. 7" length is going to satisfy those of you who think size does matter. This piece is a gorgeous addition to your toy selection.
View on: MQ Store

Icicles 5-Inch Textured Glass Dildo With Balls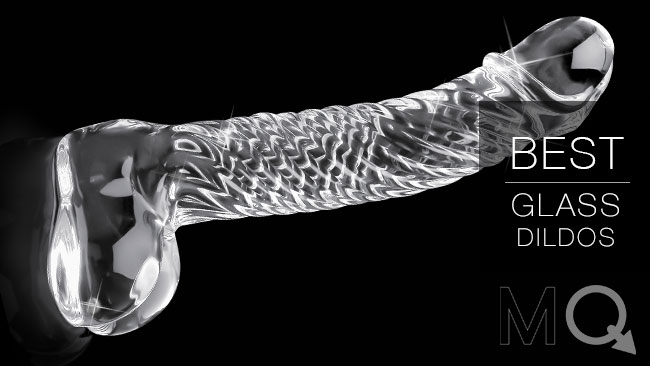 How about a glass dildo with balls? Hurry, the clock is about to strike 12. Leave your glass dildo for your prince, so he can find you in the end! Only true love can withstand one of our best dildos in town!
Try it on, fit it in! See if this magical glass dildo is truly your perfect companion. I assure you, once you slip it in just like Cinderella, you will feel like the true royalty. Who needs a prince's kiss to have a happy ending? With Icicles Textured Glass Dildo With Balls, you will cum happily ever after.
View on: MQ Store

Textured Glass Dildos
Glass can be rounded and smooth, but it can also be bumped, grooved, and textured. These added bumps and shapes help to increase stimulation and create an even more pleasure-filled experience. This makes textured glass toys some of the best glass dildos around.
Glas Double Trouble Glass Dildo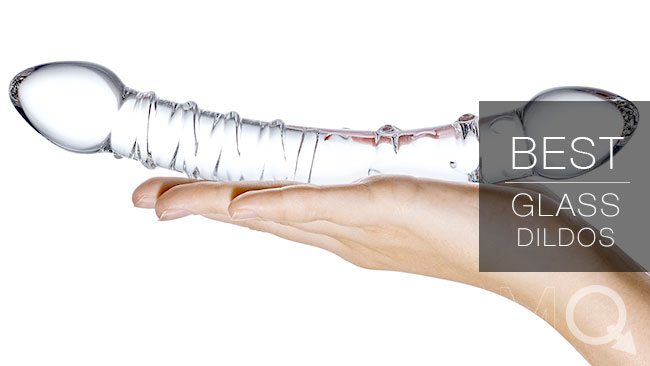 Share your intense pleasure with your partner, and bring them through the ride of highs and lows with our Double Trouble Glass Dildo! It's sleek, it's artistic, and it's for sharing! The clear appearance can let you see every single detail when you are fucking your partner with it, how exciting!
This exquisite glass dildo is artistically crafted to fulfill your needs, and more so, your partner's! Use it with or on your partner, spice things up in the bedroom. The glass is not as breakable as you think, the fracture-resistant material makes it one of our best glass dildos and the safest!
View on: MQ Store

Eve's Twisted Crystal Dildo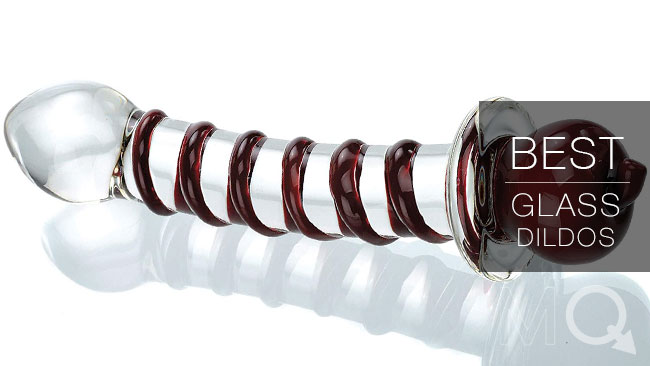 When Eve ate the apple, she discovered lust and free will. Let us rewrite the story, take one of our best glass dildos, the Eve's Twisted Crystal Dildo, and find out more things that Eve had been missing out on.
From the company Adam & Eve Toys, this dildo is made from glass with a swirl of red all around the shaft, decorative and remains practical when being used. The apple-shaped handle is my favorite touch of geniuses in this product. I'd say take the apple this time because this one is ripe and ready for you to take a bite!
View on: MQ Store

Icicles Glass Wand Massager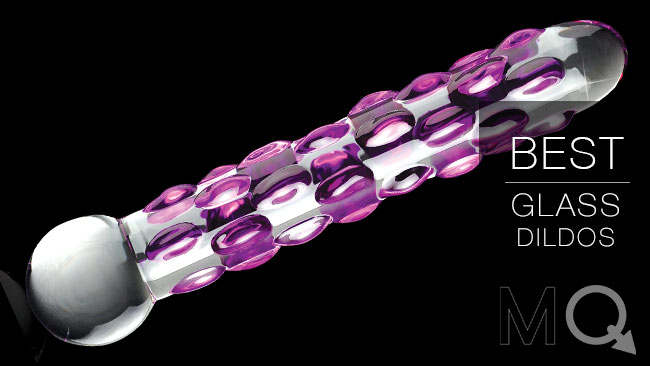 For our best glass dildos recommendation, you have to try out the No 7 Glass Wand Massager from The Icicles line. The nubs will definitely make you feel all kinds of amazing while you thrust this bad boy inside you.
The double-ended design allows you to pick the sensation that you desire the most. Want to start easy then use the contour shape side, and if you're more adventurous, flip it over and see how it expands you. Hope you are ready for some double exhilaration!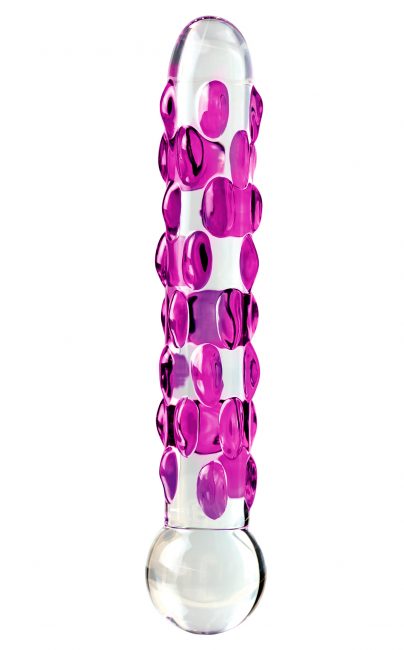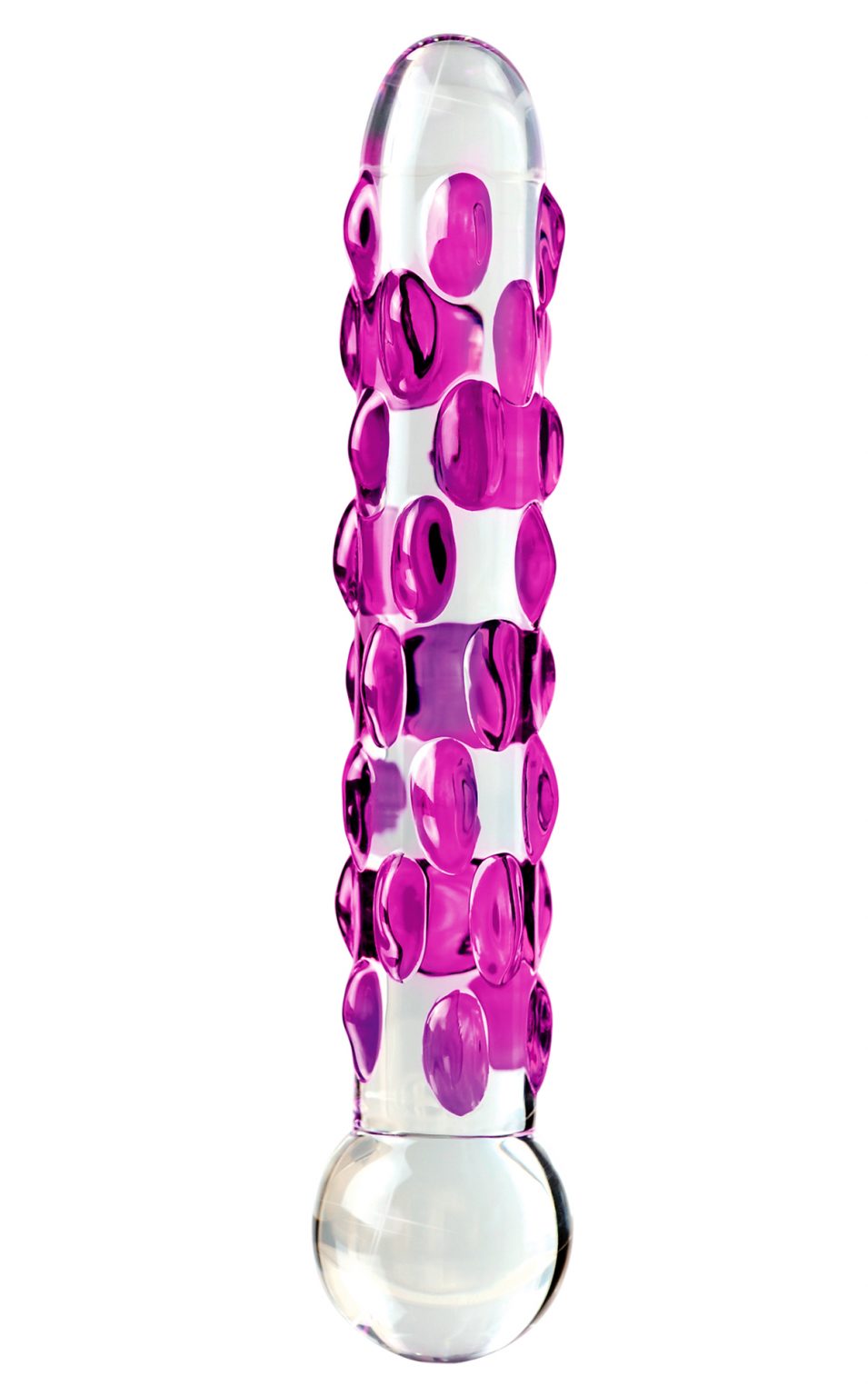 View on: MQ Store

The Ram Glass Dildo 12 Inch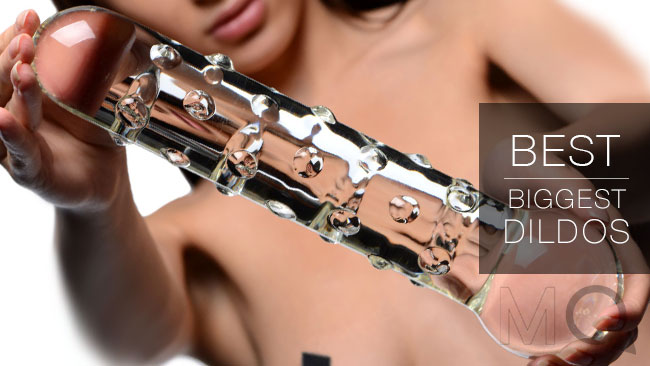 The Ram Glass Dildo not only is one of the best glass dildos we have, but also one of the biggest out there. Are you trying to test your limits? Get it inside of you and see how it goes! With an incredible 12" length, this dildo will reach deeply into the core of your pleasure, that is, if you have what it takes! The product is absolutely a collector item, it's heavy, luxurious, and it performs beyond your imagination.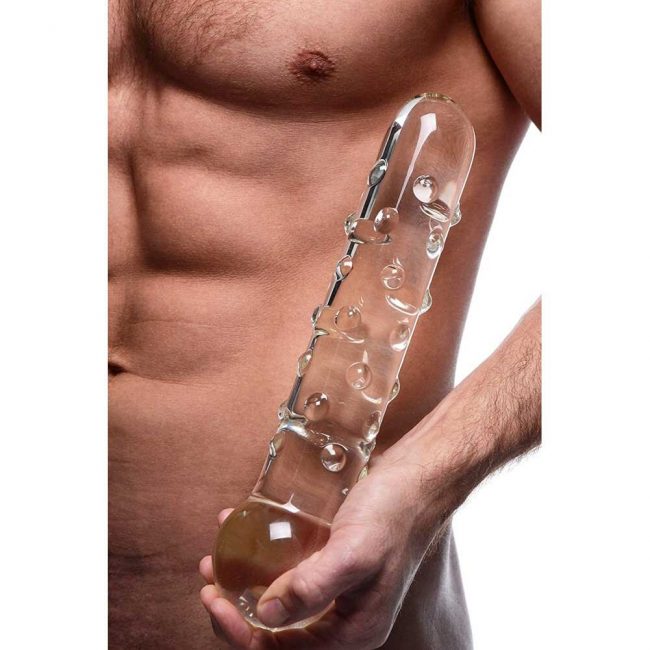 View on: MQ Store

Anal Glass Sex Toys
Aside from glass dildos, there are also some other great glass anal sex toys. These are made from high-strength tempered glass which is extra durable, smooth, non-porous, and easy to clean. These qualities make them some of the best glass sex toys out there.
Tempered Glass Anal Trainer Kit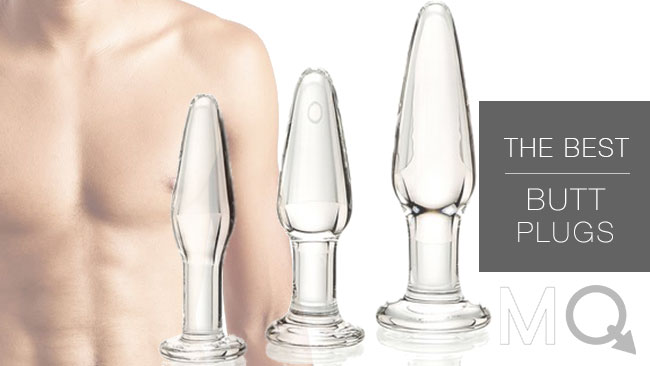 If you are just getting started with anal play, then an anal trainer kit is a great place to start. This includes 3 anal plugs which allow you to practice at your own pace, and slowly work up to larger sizes.
Thanks to its seamless, smooth surface, these plugs slide in and out easily and start at a beginner-friendly size. If you are looking for a glass sex toy to get started with anal, then look no further.
View on: MQ Store

Icicles Glass Anal Beads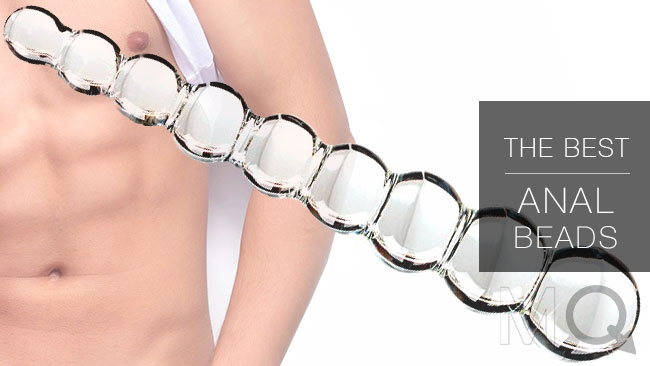 Glass Anal Beads are more straight and rigid, giving you more control and leverage. This set is tapered, and lets you start with a small ball and pop in bigger and bigger balls, one by one.
The Hand blown glass is the ideal hypoallergenic, body-safe, and extra strong to give you extra peace of mind. Best of all, the glass can be heated and cooled in water for even more stimulation.
High-Strength Tempered Glass
Length 8.5 in. (21.6 cm)
Width 1.5 in. (3.8 cm)
How to Clean Your Glass Dildo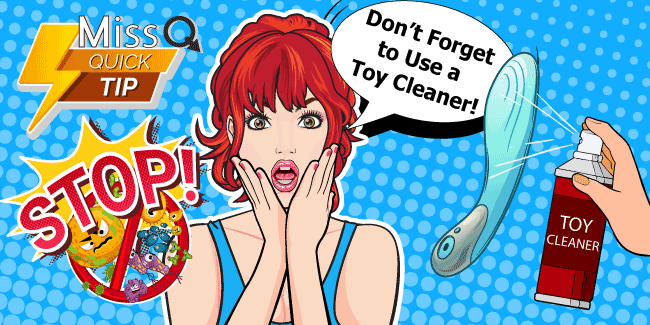 After using your toy, it is important to clean it properly. You can do this with soap and hot water – or even throw it in the dishwasher.
For an extra layer of protection, you can also opt to use an anti-bacterial toy cleaner. This will help to ward off any funny smell, and deep clean your toy for even better longevity.
Toy cleaner is a great way to keep your toy fresh, hygienic, and odor-free.
View on MQ Store

Use a Quality Lube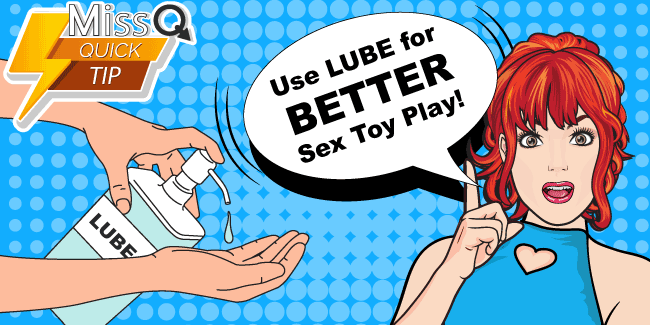 Choosing a quality lube can make using your toy much more enjoyable. We recommend pairing your glass dildo with a water-based lube. These are smooth, realistic feeling, and a breeze to clean up.
MQ Reader Review:
Smooth: "When I tried this lube not only did it feel excellent, but it didn't leave a sticky feeling afterward. It felt wonderful during sex. A little goes a long way and I will happily go back and pay for another bottle." – Ron
View on MQ Store

These are our picks of the best glass dildos for this year. Do you have any favorite glass sex toys of your own? Let us know in the comments below!
Read More Female Sex Toy Buyer's Guides