Top 12 Best Strap On Hollow Dildos for Men in 2023 [Updated]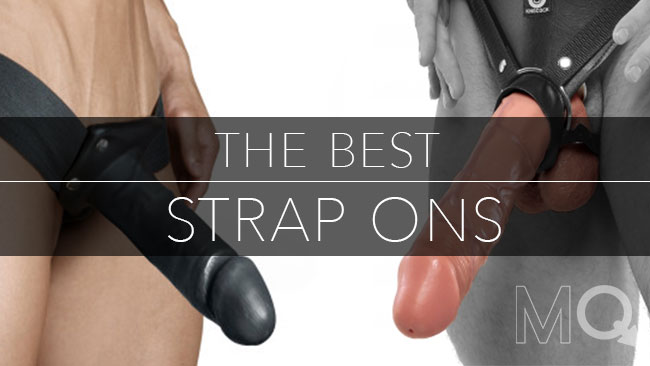 Do you want to add length, girth, or even a buzz to your sex life? These are the best strap ons for men recommended by MQ readers and writers to give you the biggest and best strap-on experience
What is a Hollow Strapon Dildo?

As the name suggests, hollow strap-on dildos have an opening in the center, designed to slide your penis inside. Hollow Strap Ons are typically used by men looking to increase their natural length, and girth, or add new features like texture and vibration. The best strap-on dildos are comfortable to wear for extended periods of time and increase pleasure for the giver and receiver.
Best Strap On Dildos for Men


The best strap-on dildo is the Fetish Fantasy line because it has a size, shape, and style for almost any guy. The hollow design allows you to wear the strap-on like a penis sleeve.
Erection Assistant Hollow Strap-On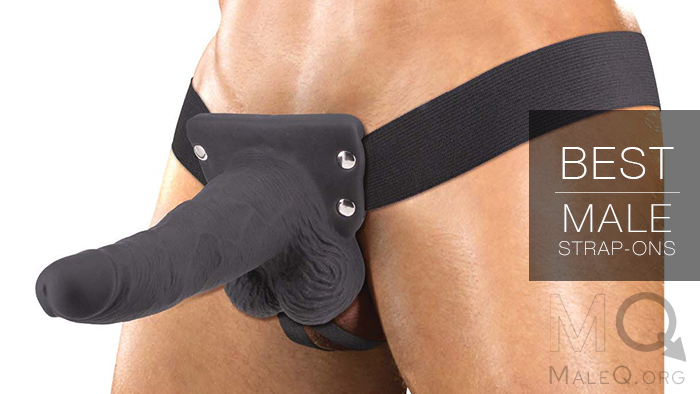 The Erection Assistant is a hollow strap on made with men in mind. As the name states, the hollow dildo is designed specifically to help augment and assist with problematic erections. Simply add some lube inside and slide it over your penis. The Industrial strap holds this hollow dong in place and is outfitted with metal buttons along its length.
The strap on itself comes in at 6, 8, 8.5, and 9.5 inches in length to choose from, with a long, straight shaft ideal for pegging and deep penetration. The 6-inch version is our favorite thanks to the added vibration and manageable size. Overall, the Erection Assistant is the best strap on for men looking to combat ED and improve sexual performance.
Length: 6 (Vibrating), 8, 8.5, or 9.5 in.
Waist Size: 29 in. to 59 in.
Material: Nylon Strap, Phthalate-free PVC Dong
View on: MQ Store

Dr Skin Hollow Strapon 7 Inch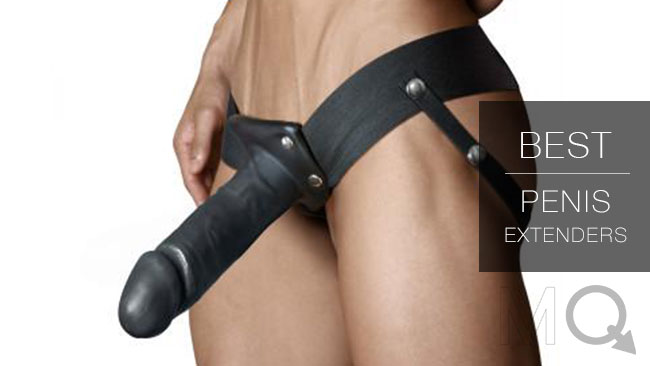 This impressive 7-inch strap on is Hollow with an extra heavy-duty strap. Even more, this massive 7 inches Elite Silicone dildo packs not only length but a boost in thickness too.
The included dong's tapered head makes for easy insertion, and the dual-layered design is made from super soft skin-like material on the outside, with a firm, hollow core.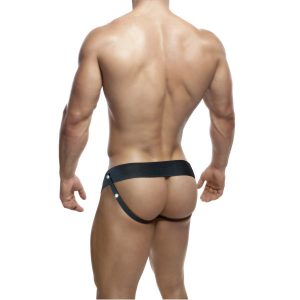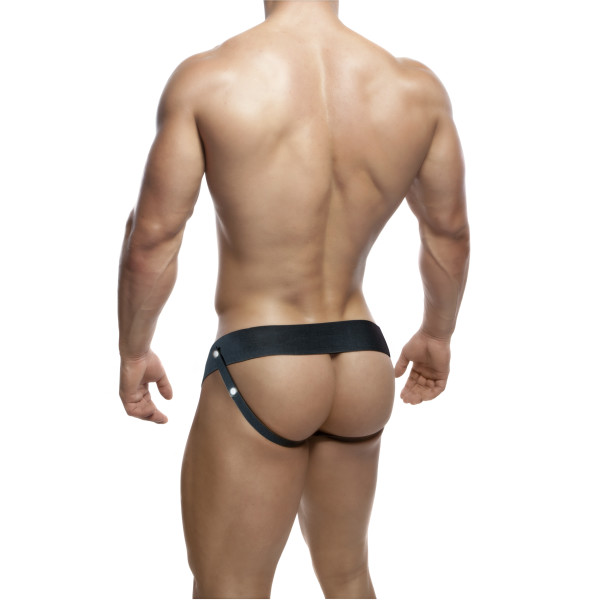 The hollow interior is a generous 1.6 inches wide fitting most sizes and the adjustable harness fits waists up to 50 inches. The versatility and grow-ability make it the best strap on in its size.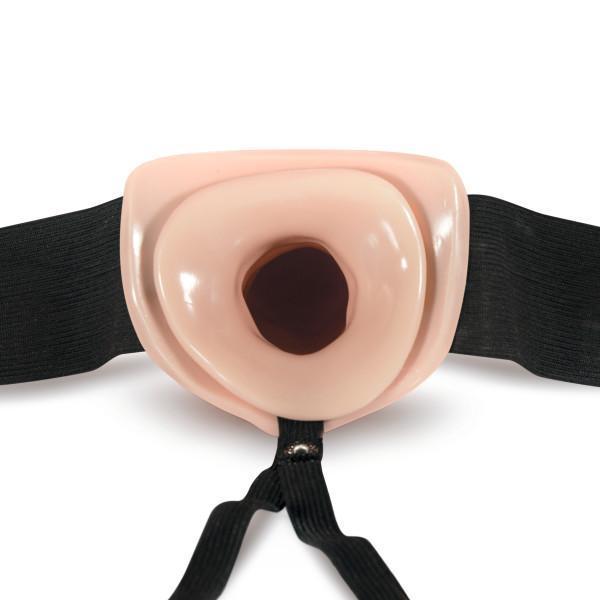 Harness Size: Up to 40 in. (100cm) waist
Material: Non-porous PVC
Length: 7 In (17.8cm)
Diameter: 1.75 In (4.45cm)
View on: MQ Store

Fetish Fantasy Hollow Strap On Series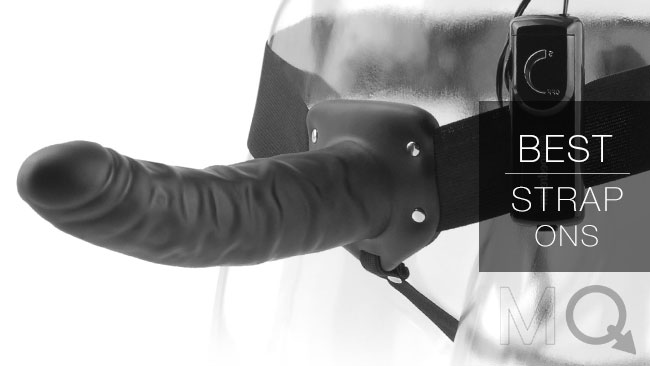 The strap on comes in 4 different lengths, including 7, 8, 10, and 12 inches, as well as a range of colors. It is realistic, sculpted, and a pleasure to use.
MQ Reader Review:
Thought my boyfriend and I would try something a Lil different, we chose a great one. It is easy to get off and on, it's powerful and we both enjoy it very much.
Each size also has an optional add-on vibrator, which allows for even more stimulation. These hollow dongs are ideal for pegging and partner play!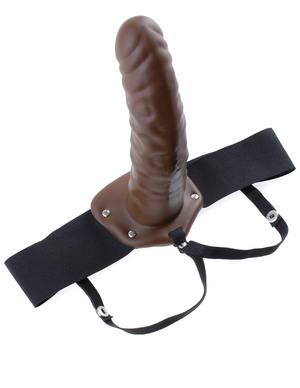 For any guy looking for some extra length, or a rock-hard, realistic extension, the Fetish Fantasy line is it. As an all-time best seller and editor's choice, it is our top pick for the best strap on dildo you can buy right now.
MQ Reader Review:
I have a problem with maintaining erections due to some medical problems. This product has brought joy back into our sex life. We have the other one without the vibrator and this just gives us an added experience. Thank you very much
Length: 7, 8, 10, or 12 inches
Fit Most Body Harness
Optional Vibration
Material: PVC
Colors: Beige, Brown, or Black

View on: MQ Store

Big Daddy Hollow Strap On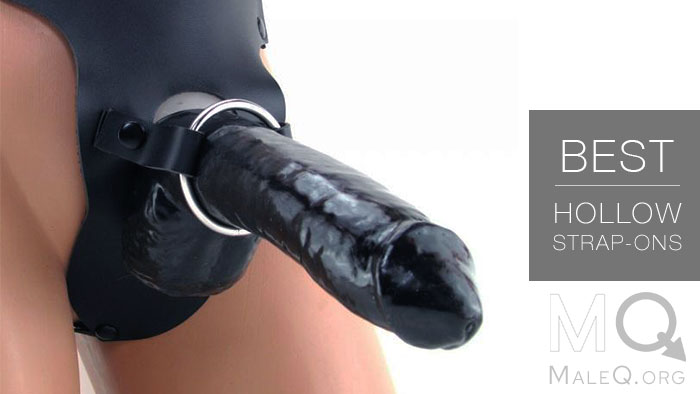 The Big Daddy goes bigger, thicker, and more hard-core than the competition. You don't really get a real feel for how BIG this strap on is until you see it in person (or in the video below for a better idea).
The extra-large strap on dong calls for a more heavy-duty harness which comes with thick elastic straps, and a leather holster.
The included Waist can stretch up to 48 inches with room to spare. The included Hollow dong measures 8.25 inches with an insertable length of 10.5 inches and a width of 2 inches. The hollow cavity measures 5.5 inches with an inner diameter of 1.25 inches.
The leather-like harness also includes a removable metal O-ring which allows you to use your other similarly sized dongs as well. This makes it our pick for the best strap on, extra-large dildo out there.
MQ Reader Review
Deep Dicking – Damn! This sucker is huge. I shocked my girlfriend last week. Big Daddy is ten inches and nearly two inches in width. I slid this sucker in her so deep she nearly creamed when I hit her cervix. She can't complain this fills her up and makes her happy.
Material: Metal Ring, PVC Dong
Total Length: 10.5 in. (26.6 cm)
Insertable Length: 8.25 in. (21 cm)
Width: 2 in. (5 cm)
Hollow Cavity: 5.5 in. (14 cm) by 1.25 in. (3.1 cm)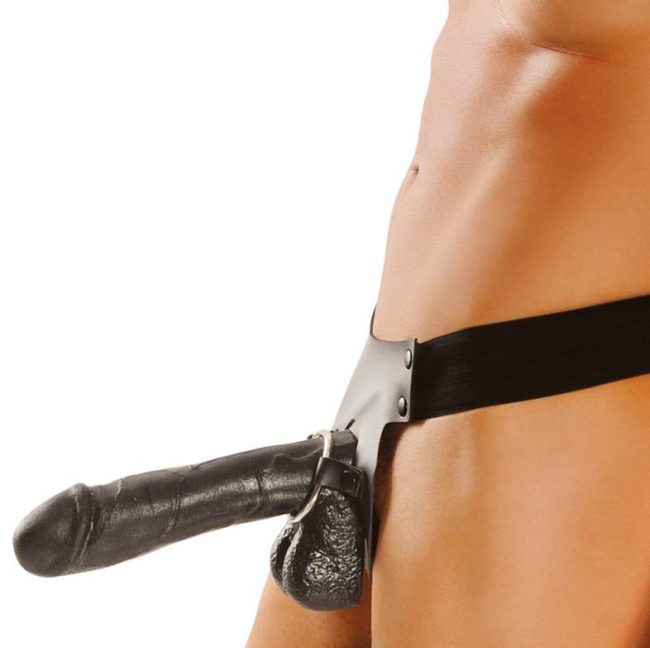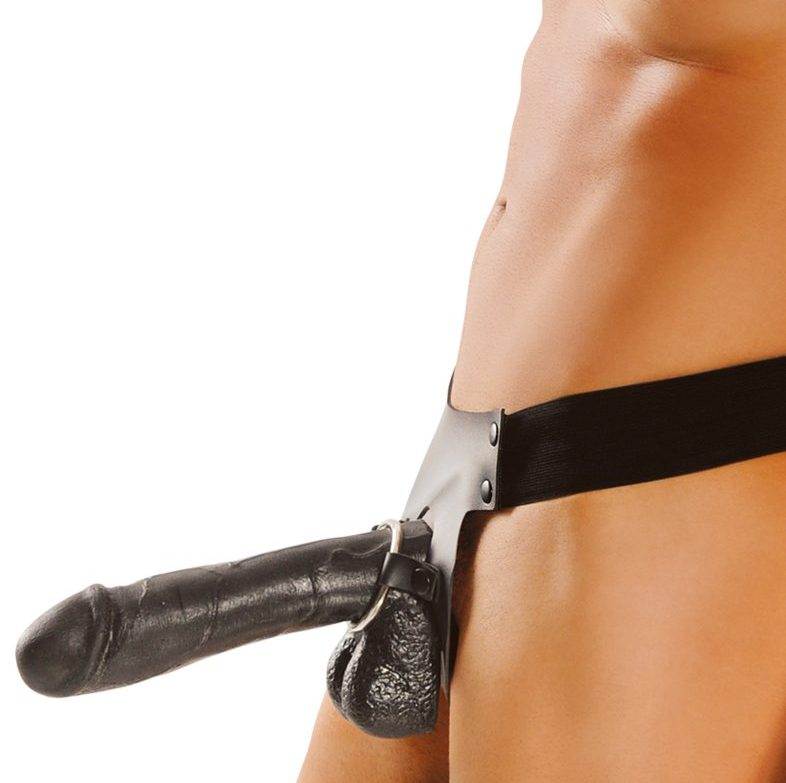 View on: MQ Store

King Cock Hollow Strap On Suspender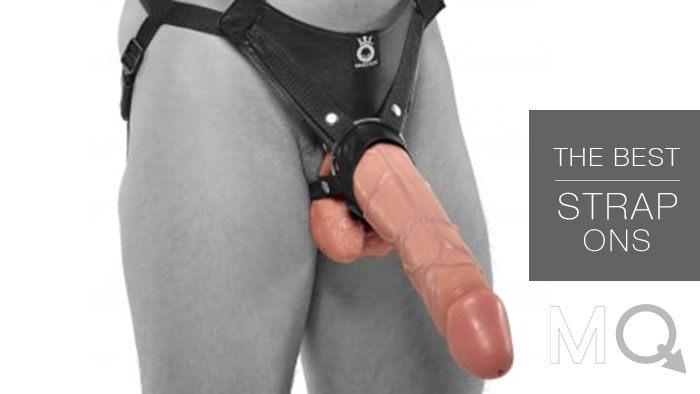 The King Cock Hollow Strap On Suspender System does even heavier than other harnesses on this list. The even larger dong has a full-body harness to support this absolutely huge dildo penis extension.
The unique strap on system features two heavy-duty, nylon shoulder straps that distribute the weight of this massive hollow dildo comfortably.
Like other harnesses, the metal o-ring system holds the dong in place. This might be the best strap on dong thanks to its realness and size. This massive dildo comes in both 10 and 12 inches making it one of the best strap ons we have tested.
MQ Reader Review:
When he got this for me it has added back an old flame in our sexual life. The first time I sat on it and had an orgasm, WOW. I felt like I needed to be scraped off the ceiling. We have now experimented with it in different positions and I know I love it, and I have seen that old smile on my hubby's face when I climax.
Full Body Suspender Harness
Material: Nylon Waist Strap, PVC Cock
Length: 10 in. (25.4 cm) or 12 in. (30.5 cm)
Width: 2 in. (5 cm)
Cavity Size: 6 in. (15.2 cm) by 1.5 in. (3.8 cm)

View on: MQ Store

Silicone Strap Ons
Most hollow stap-ons are made from hard PVC as it is an ideal material thanks to its rigidity and durability for the hollow design. Although, there are a few silicone options available. This is great if you are looking got a higher-quality, non-alergetic option, made form body safe materials.
Fetish Fantasy Extreme 7 Inch Silicone Hollow Strap On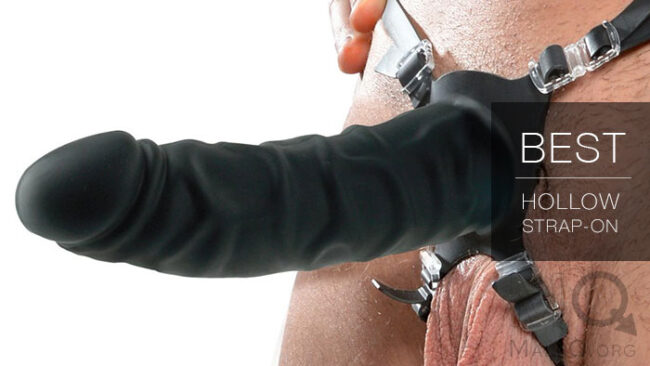 It's hard to describe just how realistic and veiny this cock really is. The Fetish Fantasy is perfectly shaped, sized, and down right sexy to look at. The hard silicone build is rigid and smooth. This cock also has a unique star on harness with adjustable bands that hold a very low profile.
However, the compact front means that it is less effective at distributing pressure, especially if you plan on intense, high thrust sessions (check our next option on the list). Overall though, it is one of the best traditional silicone male strap ons you can buy.
Length: 7 In.
Insertable Length: 6.75 In.
Inner Diameter: 1.4 In.
Width: 2 In.
Waist Size: Up to 56 in.
Rigid Shaft
Material: Silicone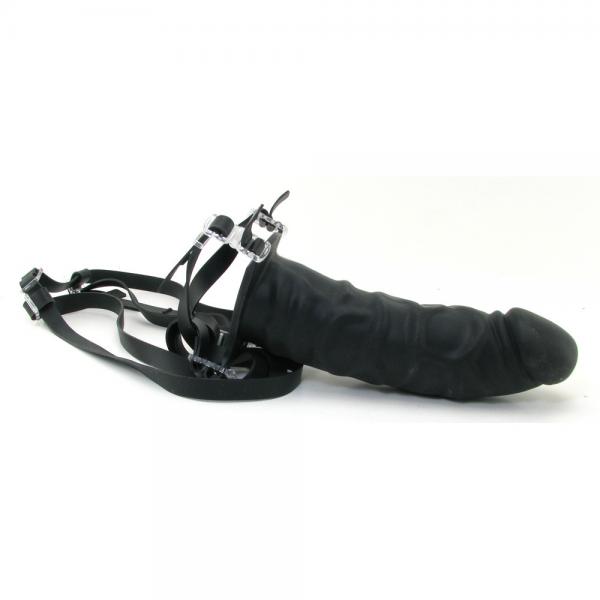 View on: MQ Store

Size Matters Hollow Silicone 6 Inch Strap On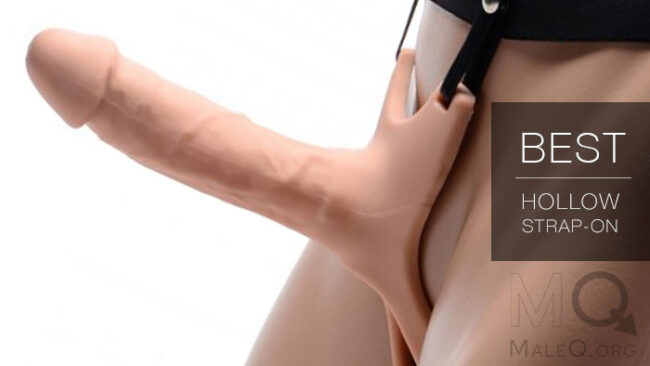 Coming in with a smoother, more manageable 6 inches, the size matters strap on is a high-quality, beginner friendly silicone strap-on that is ideal for most people. The ercomic harness sits comfortably around your waist and distributes each thrust around your pelvis letting you really get into the action.
The hollow ball holder at the bottom adds extra support, and the harness is comfortable to wear for long sessions. Overall, it is the most practical, comfortable and beginner friendly silicone strap on around.
Shaft insertion length: 6 in.
Hollow shaft depth: 4.5 in.
Shaft opening diameter: 1.6 in.
Ball harness inner diameter: 2.7 in.
Flexible Shaft
Material: Silicone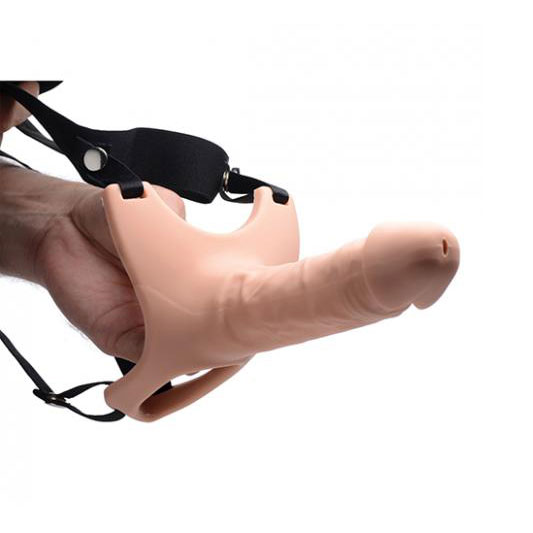 View on: MQ Store

Master Series Inflatable Silicone Hollow Strap On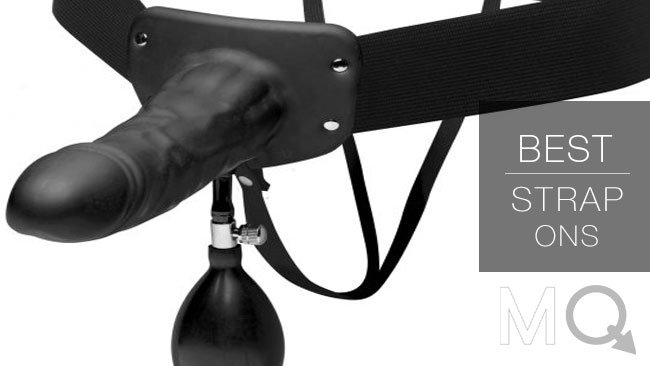 The Master Series is the best Hollow Strap on Dildo for people looking for versatility. The standard, uninflated size comes in at 7 inches in length, and 1.75 inches in diameter (the inner cavity is 1.25 inches).
What's more impressive is when fully Inflated it can grow to 7.2 inches in length and 2 inches in diameter. Just imagine this cock inside you as it slowly grows to fill you up inside. Sounds like heaven doesn't it?
Material: Silicone Dildo
Hand Pump Design
Uninflated: 7 in. (17.8 cm) by 1.75 in. (4.4 cm)
Inflated: 7.2 in. (18.3 cm) by 2 in. (5 cm)
View on: MQ Store

Harness Free Strap Ons
Harness-free strap ons perform like a penis extension. The added girth, length, and texture give your penis a new feel and a higher level of performance.
Master Series Mamba Cock Sheath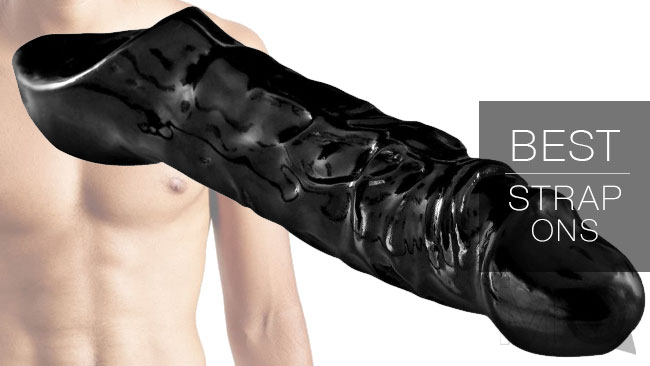 The Master Mamba Cock Sheath is a strap-less penis sleeve that slides over the cock and stays in place thanks to the dual-hole support for the cock and balls. The single strap design slides behind the balls and stays snuggly in place. The veiny exterior is textured and super realistic adding an extra level of stimulation.
Material: TPE
Length: 6.5 in.
Insertable Length: 6 in.
Diameter: 2 in.
Inner Hollow Diameter: 1.5 in.
Color: Black or Beige
View on: MQ Store

Performance Plus Silicone Penis Extender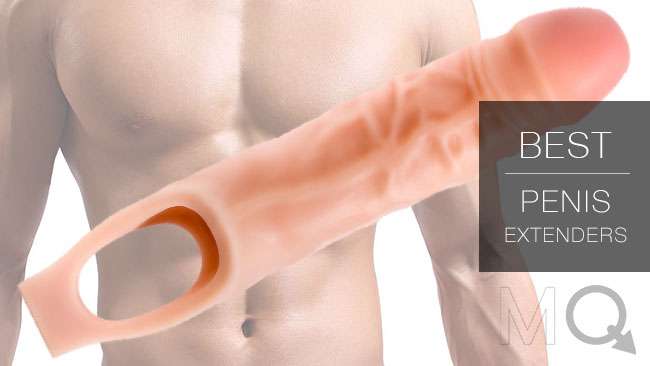 The Performance Plus is another great harness-free strap on. At an impressive 9 inches in length, it also increases your girth too. The hollow cavity inside is 6 inches in length and 2 inches wide. The inside of the penis sleeve also has ribbings to create extra suction and greater sensation for the user.
This strap on is held in place by an elastic ball strap that easily wraps behind the balls to stay in place. Overall, it is the best harness-free strap on in terms of price, size, material, and overall quality.
Features: Wrap-Around ball strap
Material: Platinum Cured Silicone
External Length: 9 in. (22.85cm)
Girth: 2in. (5.1cm)
Internal Length: 6 in. (15.25cm)
View on: MQ Store

Daddy Cock Sheath with Balls from Oxballs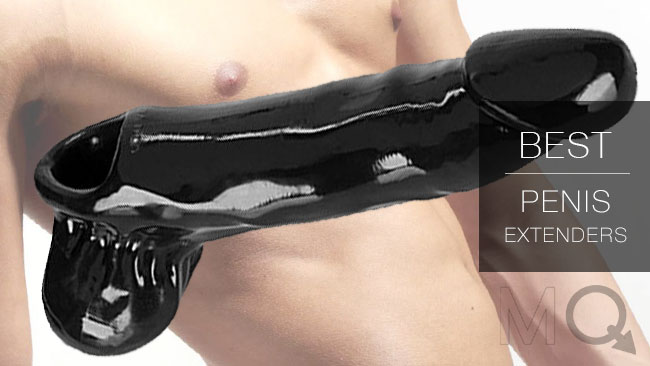 Daddy Cock Sheath with Balls from Oxballs is a thick, fleshy cock extension with a stand our feature – it's see-through. The super stretch material is soft yet strong and lets you see your real penis underneath.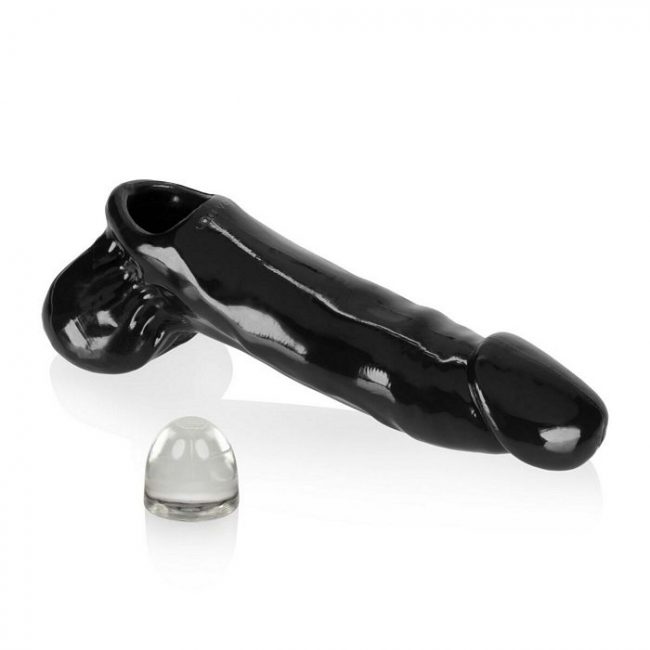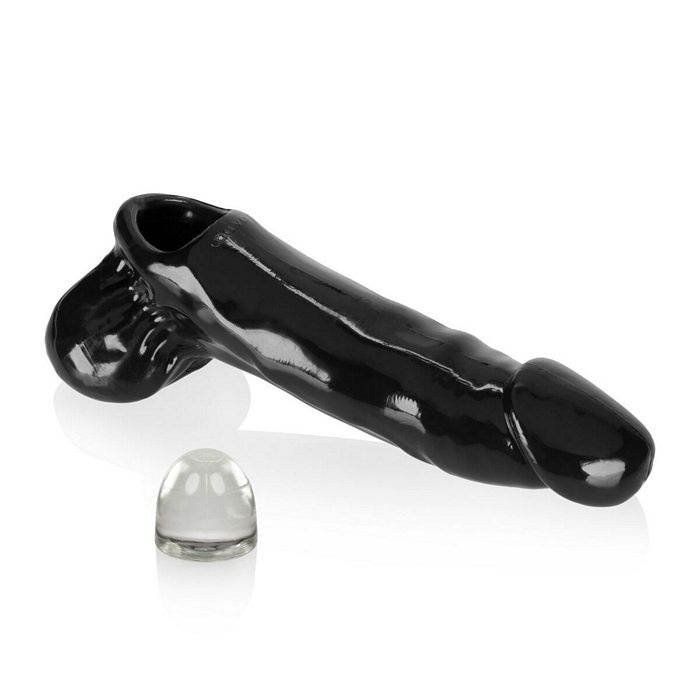 Putting the Oxballs on is simple. With a nice coating of lube on the inside your cock slides in easily. By pressing out excess air after, the vacuum-tight design molds naturally to your penis's shape.
The cock balls also has a silicone nub insert that lets you adjust the size of the insertable cavity making it more versatile and customization than the competition. This makes it the best strap on in this category.
Length: 10in (25.4cm)
Inner Length: 6.25 (15.88cm)
Features: Ball Cradle, Adjustable Stopper
Material: Phosphate-Free Flexi-TPR
View on: MQ Store

Size Matters Strapless Extender Penis Sleeve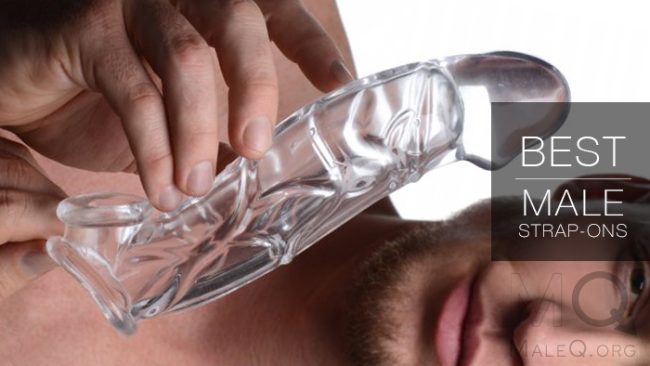 Size Matters is a realistic, hollow strap-less dildo designed to augment your natural size. The strapless design works with a vacuum seal that allows it to stay in place thanks to a power suction lock system. This seal is strong and begins from the base all the way up the shaft and is then held in place with the ball sling at the base.
You can choose from Beige and Clear as well as 2 size variations – a 2-inch and 3-inch extension which add additional length to the head of the penis. The veiny texture and realistic shape help to add even more realism making it one of our favorite strap ons.
Adds 2 in. (4.45 cm) length
0.3 in. (0.76 cm) extra girth
Suction Grip Lock Ball Sling
Color: Clear or Beige Color
Material: Phosphate-Free Rubber TPR
View on: MQ Store

For even more length you can opt for the 3 inch extension which also comes in beige or clear.
View on: MQ Store

Male Strap-On Accessories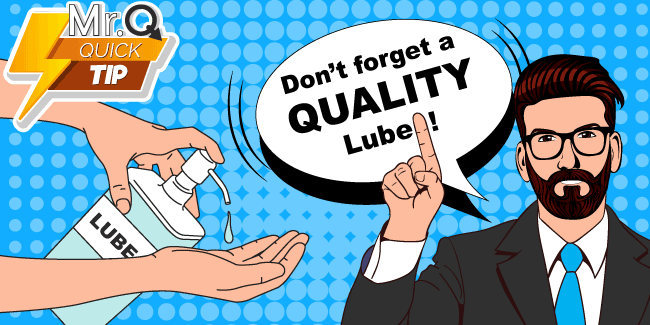 Lube is important for both the outside of your hollow strap on, but also the inside. Adding quality lube inside and out will increase stimulation for both people and add more to the realism of a nice, wet cock.
Our top-rated lube, again and again, is Swiss Navy thanks to its longevity, consistency, and overall slickness. It is made from a water base which is easy to clean up and plays nicely with all sex toys and materials.
MQ Reader Review:
Smooth: "When I tried this lube not only did it feel excellent, but it didn't leave a sticky feeling afterward. It felt wonderful during sex. A little goes a long way and I will happily go back and pay for another bottle." – Ron
View on MQ Store

How to Clean your Hollow Srap on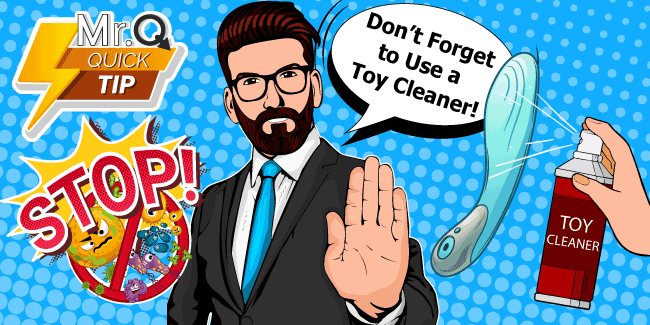 It is absolutely essential that you clean your strap on dildo after every use. This is to stop harmful bacteria and nasty smells from building up. Cleaning your sex toy will also increase its longevity and make sure it stays in good condition.
You can clean your strap on dildo with hot soap and water first. Then, simply spray and wipe it down with disinfecting toy cleaner. Toy cleaner formula is designed to clean, but not damage your toy.
Toy cleaner is a great way to keep your toy fresh, hygienic, and odor-free.
View on MQ Store

These are our picks for the best strap on dildos for this year. Have you used a strap on before? Have any advice for first-timers? Let us know in the comments below!
More Male Sex Toys