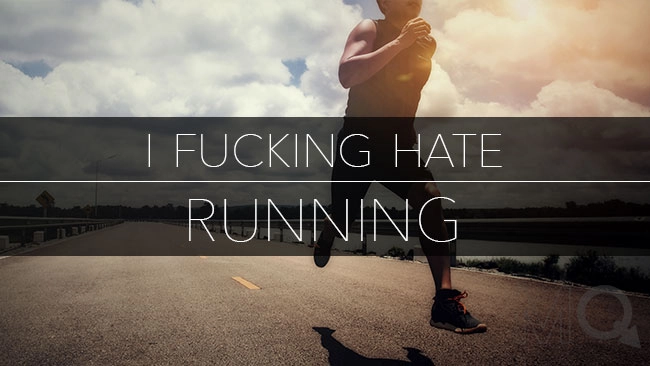 My legs are aching, my chest is burning, my heart feels like it wants to jump out of my body. I can swim, I can bike, I can lift weights, but for heaven's sake – don't make me run!
I Fucking HATE Running!
I can still remember the track team jocks boasting about the mythical "runner's high". That once you start running "you never want to stop!" Yeah, bullshit….
"But it burns fat! It is the best exercise for your whole body!" Yeah yeah yeah. Squawk all you want. I ain't buying it!
I don't care what your two-time marathoner lesbian aunt Susan says – running sucks and it's not for me!
Let's get one thing straight, I DO exercise. I have been going to the gym on and off for almost five years. I have sudden phases of motivation where I'll go 3-4 times a week for months on end – but then it happens, a break up in my routine, a semester ending, a change of cities, a sink in motivation.
Now that I am back in school I find myself in a "routine" again. The campus gym is right near my apartment so I am starting to get back into the swing of things, and I am going to the gym once again.
And this time, when I look around with a fresh set of eyes I notice something.
The guys with the nice bodies, the nice abs, and the chiseled butts – they all had one thing in common.  They are on the running machines.
Then there is me, and the people next to me, casually pedaling away on ellipticals – even if we put in the effort, sweat dripping down our faces, we all had one thing in common – none of us had the results to show for it.
"But I hate running", I tell myself. "It isn't fair! Some people are just born to love running and I am not one of them".
But then something compels me to get on the treadmill again, to give running another shot. Maybe it won't suck so badly this time.
Maybe I Just Need to Try Things Differently.
Stretching
I always thought stretching was pointless – but if anything, stretching is the most important thing about running! The shin-splints, the cramps, the chest pains almost all disappeared after I started to stretch properly. I now give myself 5-10 minutes before and another after I finish and I have never felt better.
Posture and Breathing
Another thing I have found to help avoid runners cramps and the overall "suckage" of running is to keep my shoulders back, tighten my abdominal muscles and hold good posture. This also lets me pay attention to your breathing, and if you feel stomach cramps or chest pains coming on, this will make them disappear quickly.
Pacing Myself
It is easy to be running on the track or in the gym and see the other people going faster and harder than you, but the fact is, they have probably been at it way longer!
I find that if I push myself too hard, I have a bad experience, and then I will not want to get back on the running track . The last thing you want your mind to say is,
"Fuck no! I am not doing that again!"
You want to leave with a,
"That actually wasn't half bad, I want to try it again!" mentality.
The speed and endurance will come in time, but you first want the experience to be enjoyable! That's how you will start to like it.
Push Through The Hard Parts
This is especially true for when you are starting out and your body isn't quite so used to the physical strain of running. It is very common to run into a "wall" about 4-5 minutes into a run, where your body is yelling at you to stop, and everything is just miserable. But don't stop!
If you get past this point (usually 2-3 minutes later) you will find that runners high. Your mind will be clear, you will feel suddenly happier and you will actually like running!
The more and more you run, the easier and easier it will become to get over this temporary discomfort, and the further you will be able to run! Eventually, you will find that you don't even want to stop!
Stick To It
After a few weeks, you will notice all of the baby steps you make will start to add up to something big. It is ok to start small, run less than a mile, but then you will find you can run one, then one and a half, and two, then three, then four, until the next thing you know you are a running king!
It takes persistence to make progress, but it is very easy to fall behind. But once you start to see the results both mentally and physically, it should be motivation enough.
No More Excuses!
I always had some reason to put off getting serious about working out. It was always something: I didn't have the right schedule, the right clothes, the right shoes, the right body. And yes, having good running shoes helps, or being a student gives me more freedom, the truth is – the biggest thing holding me back was myself.
I am making progress every day – I can run a little faster, and keep going a bit further, and now, I even find myself looking forward to running my heart out!
When I run, my mind is clear, I have no distractions, and I am at peace. All of the little things that build up inside, my day-to-day stresses that I would otherwise never take notice to get pushed out, and a wave of positive thinking comes over me.
All my problems don't seem so big anymore, and my perspective on life gets a little bit clearer. I can feel a smile coming across my face. Life is good.
~ I Fucking Love Running ~
Cover Image by Ryan Knapp Courtesy of Flickr Creative Commons
Read More Male Q Guides