Straight Journalist Baits Olympic Athletes with Gay Dating App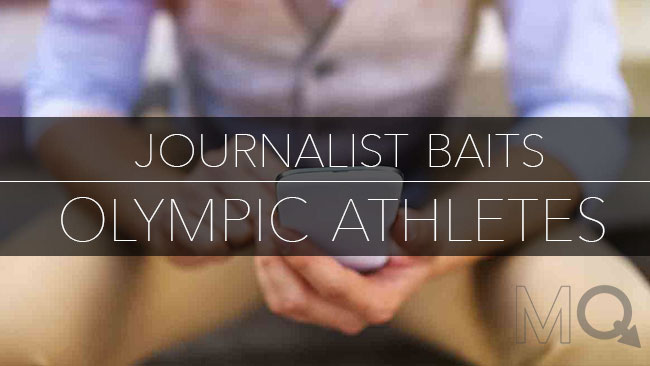 The Olympic games fascinate audiences and what happens inside the arena is discussed around the globe. However, what goes on outside of the games can also affect Olympians' safety.
Last week, the website The Daily Beast published an article, "The other Olympic sport in Rio, Swiping", which revealed the sexualities and personal information of several athletes, including personal details and the countries they came from. The editor from London, Niko Hines, said that he baited athletes using gay dating apps.
Niko Hines is a married, straight journalist with children, yet used this unethical method to get information to publish to the world. What he didn't expect was the rage he would later receive from social media and global criticism.
This is because by revealing each athlete's country, many of which homosexuality is still illegal and even punishable by death, he thereby endangered their safety.
Soon after, The Daily Beast reacted by removing the article and replaced it with "A Note From The Editors" .
In this article, they apologized for outing the athletes and the impact that they caused to the LGBT community and to the whole world.
It is crucial to follow the ethics of journalism, in which you need to respect the sources, subjects and minimize harm. Clearly, Niko Hines has failed all of these and was sent back home in the wake of the article.
Amini Fonua, an openly gay swimmer from Tonga went on to Instagram and called out Niko Hines and The Daily Beast by posting his half-naked butt photo.
He wrote,
"Yo @nicohines &@thedailybeast -if what you were looking for on Grindr was hot ass (and I don't see any other reason why you'd be on there) here you have mine in all its proud glory. Now, kiss it and fuck off."
Coming out is a choice, and more specifically, an incredibly difficult choice to make. It is only fair to do so when the person feels comfortable and most importantly, safe enough.
It is something ONLY they have the right to do for themselves. Outing someone else is not only disrespectful, it is unethical, not to mention putting the lives of innocent people at risks.
The Daily Beast later defended Niko Hines, saying: "The article was not intended to do harm or degrade members of the LGBT community, but intent doesn't matter, impact does." However, this kind of behavior is not something that people will tolerate and should never happen again.
Sources: MIC | Metro | Age of Queer
Read More Male Q Guides