Gay Body Art and Miss Liu Ling's Traveling Silk Dream – 劉綾 遊綾驚夢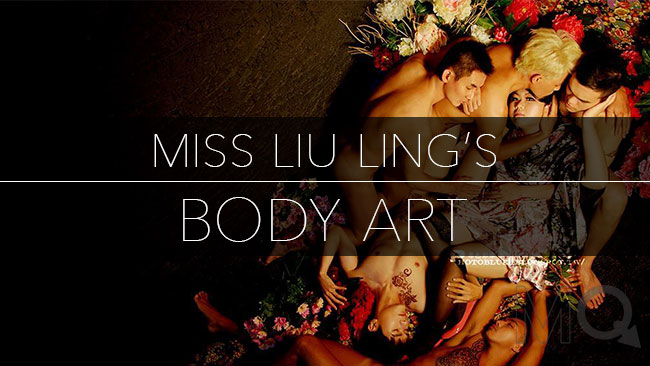 To continue this month's focus on local art and artists within the gay community, MaleQ chose this week to feature Miss Liu Ling, an artist from Taiwan who incorporates a beautiful mix of Indian Style body painting and male figure photography. Her work stands out with natural tones with a unique look and story behind each photo. I met Miss Liu after a Tarot reading where she told me a little bit about my future and herself. It was then that she introduced me to the amazing art and photography she has been doing for the past few years and I knew I had to share it with more people. Below is some more information about her work and her personal history as an artist and body painter. (Interview Translated from Chinese)
---
Can you first give a short introduction about yourself? What are your interests, including your location and past life/work experience?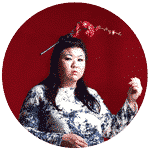 "Hi~ I am Ling Liou. A lot of people call me "Witchy" (because I also do Tarot readings.) Right now, I live in Taizhong City and have my own studio where I do Indian style paintings, Tarot Readings, and other naturalistic and artistic services. I am interested in cooking, body painting, bondage, cosplay, and my personal brand (called Witch Hunts). I like to meet new people and share my creativity with others, so in 2010 I began to participate local bazaars selling my own branded designs, along within a variety of other street events.

I have already studied Indian painting for 5 years. I began with painting hands (which traditionally is supposed to be painted on all four limbs), and later on I met a photographer who pushed me to do more large-scale body paintings, and was willing to help me shoot my work. It was after a great response from my friends that I really started my "body-painting journey". Since my previous "Witch Hunts" Facebook page was not allowed to have much nudity, I had to open up another one!"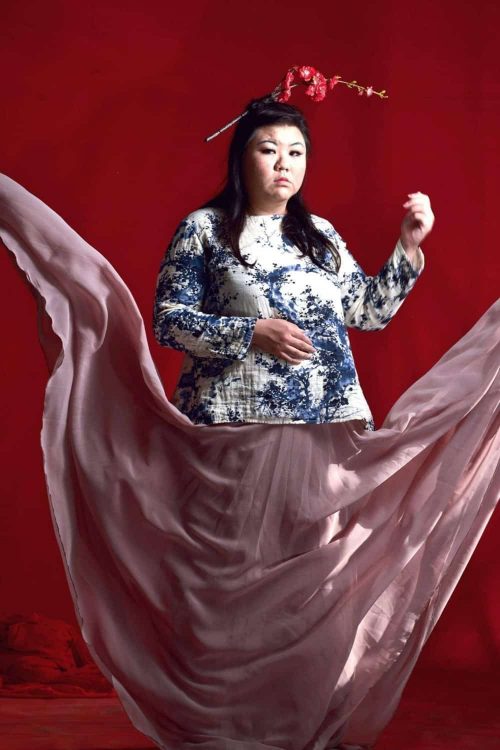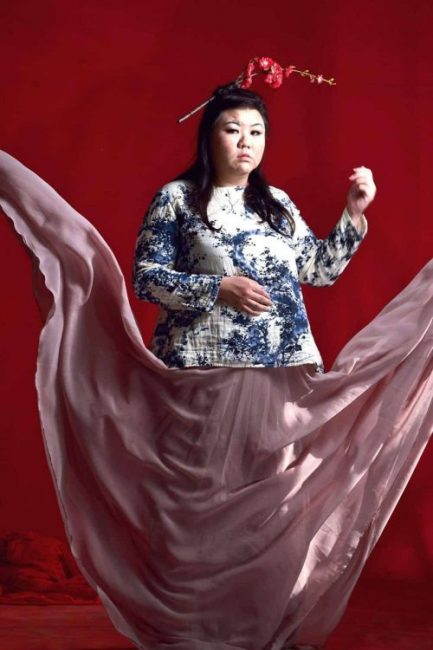 ---
How do you describe the theme/style for your artwork? Do you have any artist or themes that inspire your style?
"How do I describe my theme? I can't say that I have a certain theme or style. I mean, I would like to try different styles, and as for my artwork, I believe that I don't just paint on bodies, I paint a world of desire, expressing the restriction of different characters in society. And I let my models be the characters that I want to present. You can also probably see that I like to take photos of myself in my own work."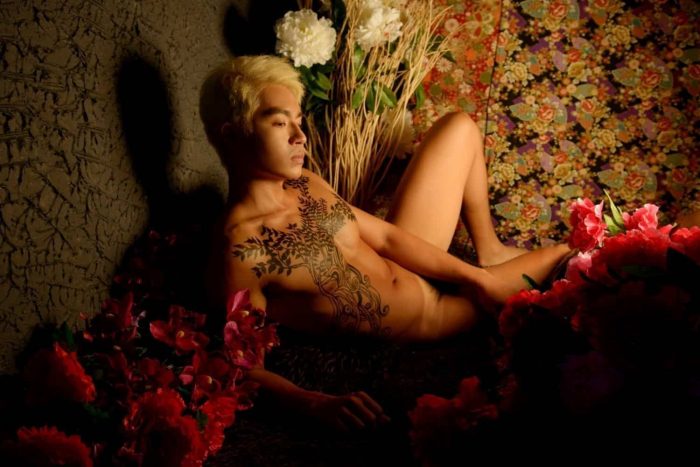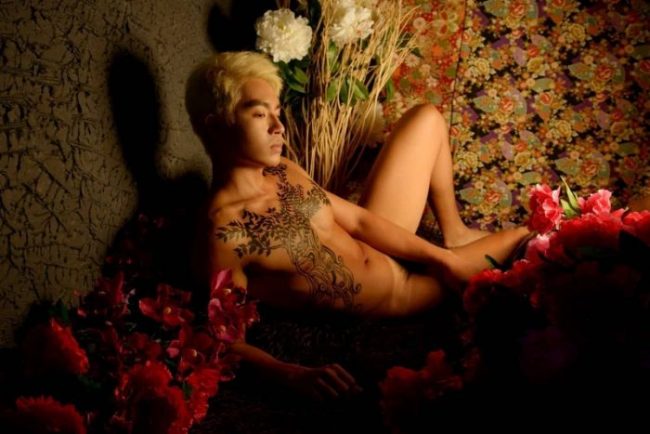 ---
When did you first become interested in body painting and photography?
"When I finished my first piece of artwork is when I began to appreciate the beauty of bodies and their structure. It was then that I realized my fascination towards the human body and sex. In my work, I try to use my model's bodies as my canvas to express the warmth and energy that each of them has brought to me. I combine my creativity with photography and it shows the diversity of each of my works of art. But sometimes I can get into a cycle that I can not get out of and produce work that I am not very satisfied with."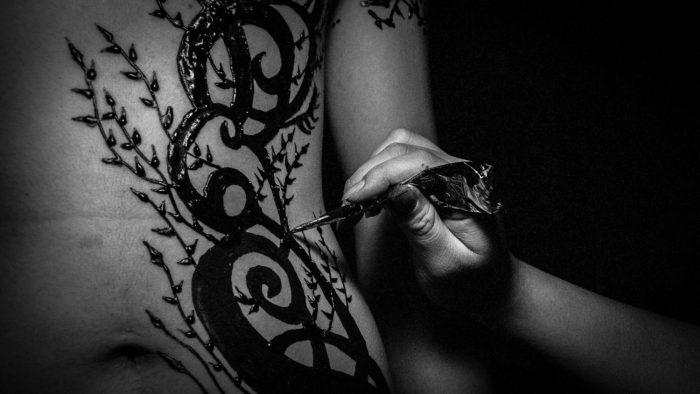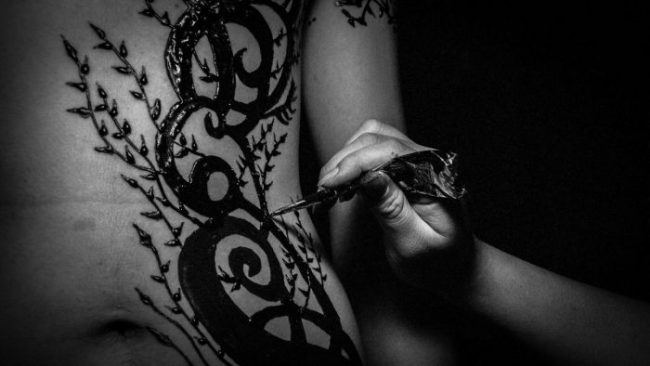 ---
What made you interested in photographing gay subjects?
"Oh~ I am not only interested in photographing gay guys, but instead all naked bodies. It just so happens that most straight guys are cocky, and think that my approach them is in order to date them or have sex with them.

I did a series of nude photographs with a male model a few years ago. I find that lots of straight guys are not nice to larger girls; they don't think that big girls should be showing their bodies. However, gay men are not afraid to be naked, and they understand it is for art. They tend to support me for what I do."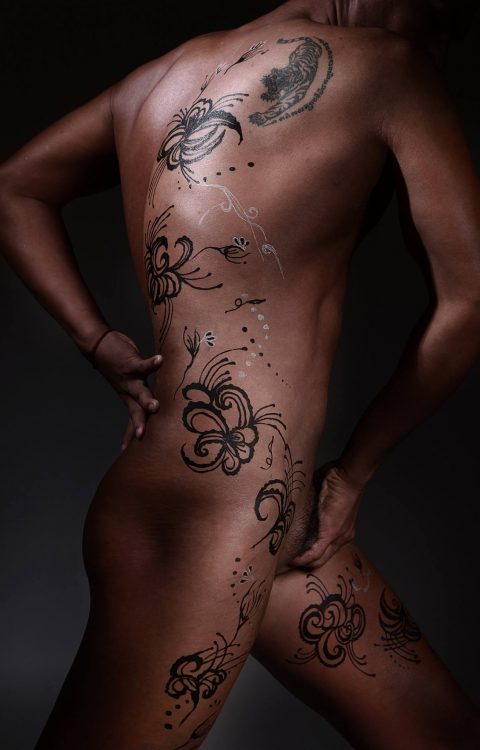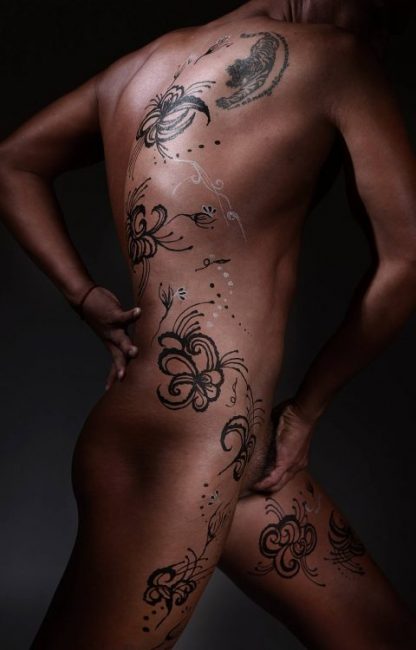 ---
How have people reacted to your work? Do you receive any criticism, good or bad?
"Some people can't tell the difference between art and erotica. They judge my work and think the reason that I am drawing on bodies is just to get attention. But as a straight girl, I am quite welcome in the LGBT community, yet that doesn't seem to save me from all the mean comments that people who disagree with my artwork give me."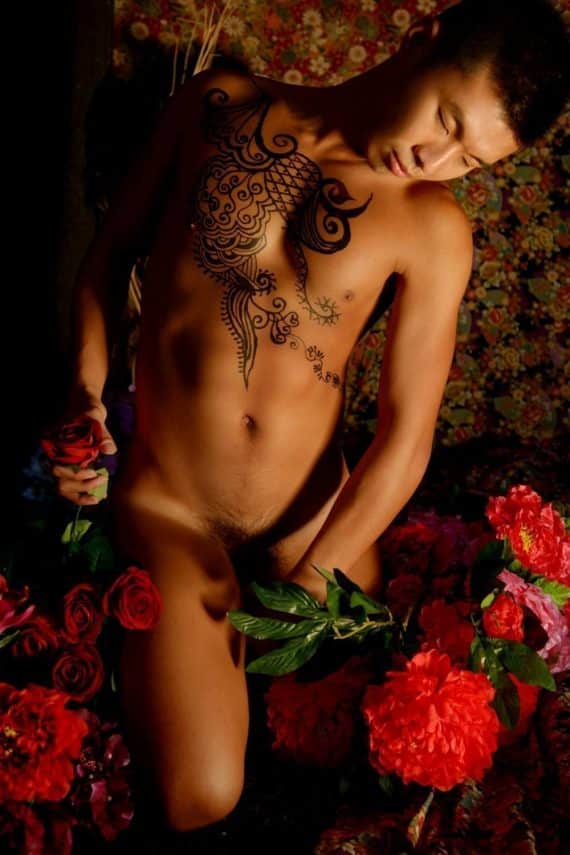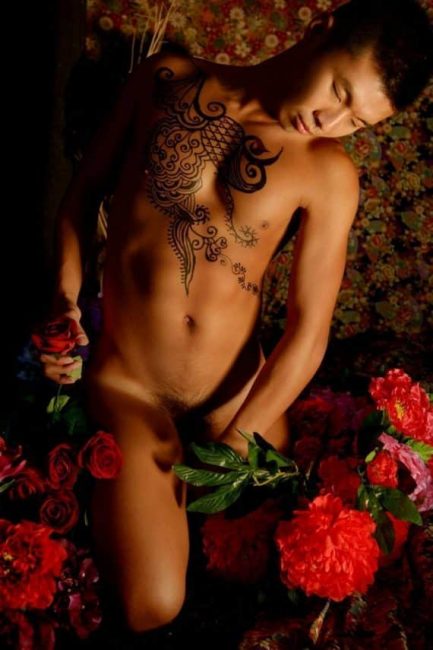 ---
How has your work evolved over time? Do you have any new inspirations or projects you want to work on?
"I don't even understand how everything turned out to how it is right now. Some photographers and models volunteered to be involved to my work. In the begining, my models all used to wear clothes, and now they don't. Later on, I learned a lot about BDSM and started my own "Bondage" series. I also learned how to do makeup last year, and my work has since been more different and interesting. I want to challenge myself with new ideas and people in the future."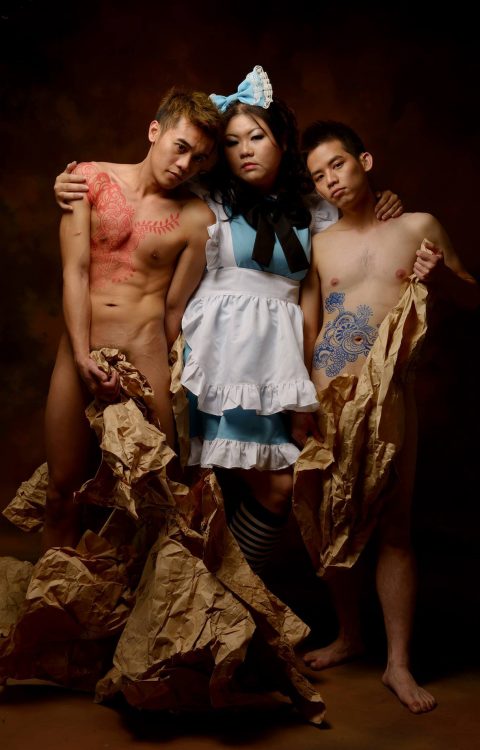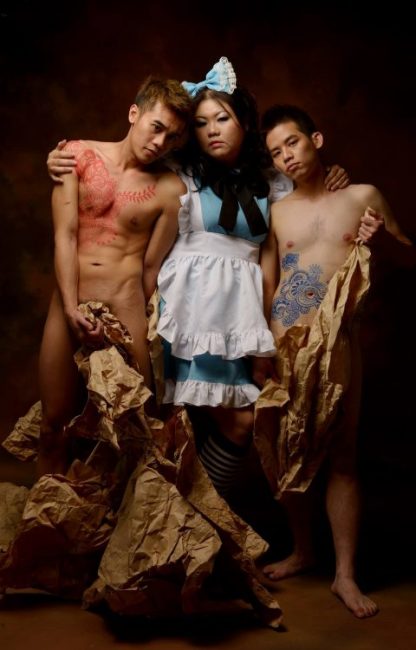 ---
What photograph are you most proud of?
"The photo of me and 5 male models encircle together, and all of them have my body paintings. (below)"
---
What/who do you want to photograph next?
"I want to do a Mermaid series. I have already chosen the models, and have also made a swimsuit that mimics the tail of a fish. I am interested in Chinese literature, and would like to try some of their themes like a focus on flowers, or "The Dream of the Red Chamber". Also, maybe some foreigner models would like to be a part of my shootings, I haven't had that experience yet."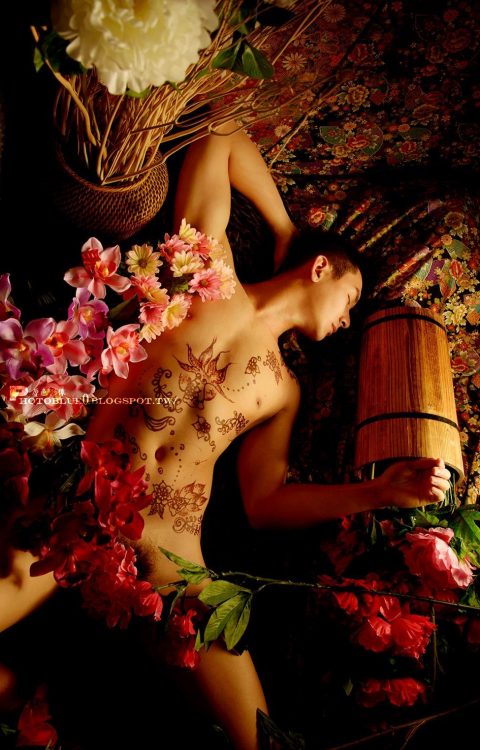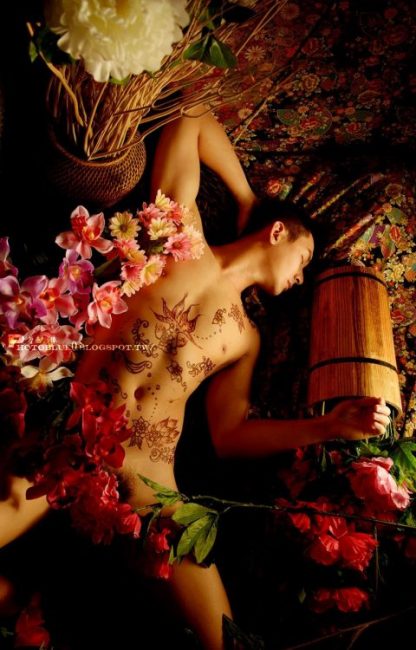 ---
Do you have any thoughts or comments you want to give to your audience?
"I am aware that my work is still not good enough, everything to me is still new and strange. I will keep striving to be better, and I want people to understand the difference between body art and pornography, and see that a large girl can take on different shooting challenges."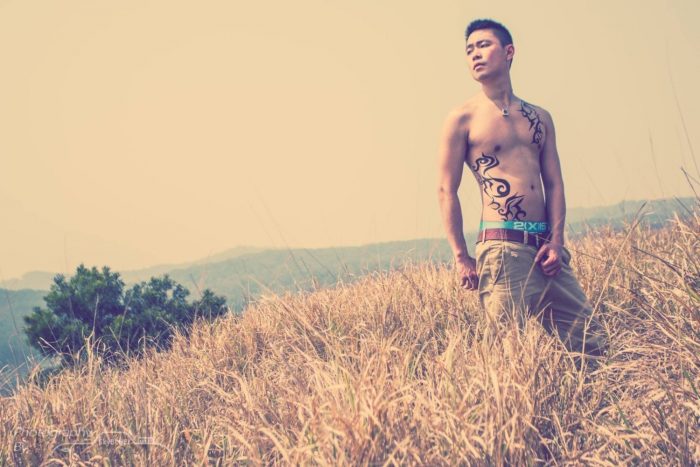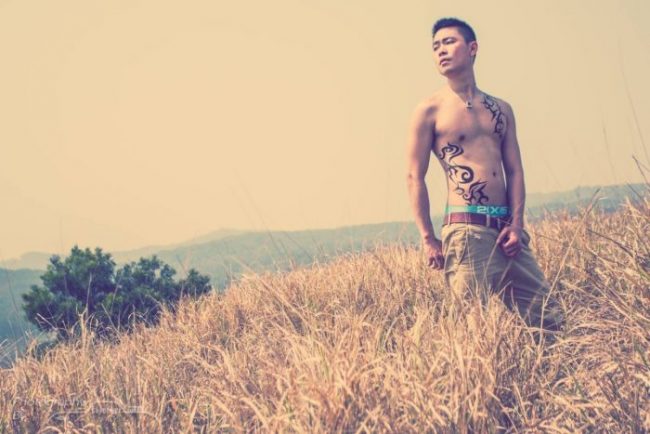 [ View Liu Ling's full Portfolio on Facebook ]
Read More Male Q Guides