Description
The Sta-Hard Desensitizing Lube is a popular product from Nasstoys of New York that has been a top seller for over 25 years. It is specially designed to prevent premature ejaculation and help men prolong and control their climax.
Sta-Hard Desensitizing Lube 1.5 Oz.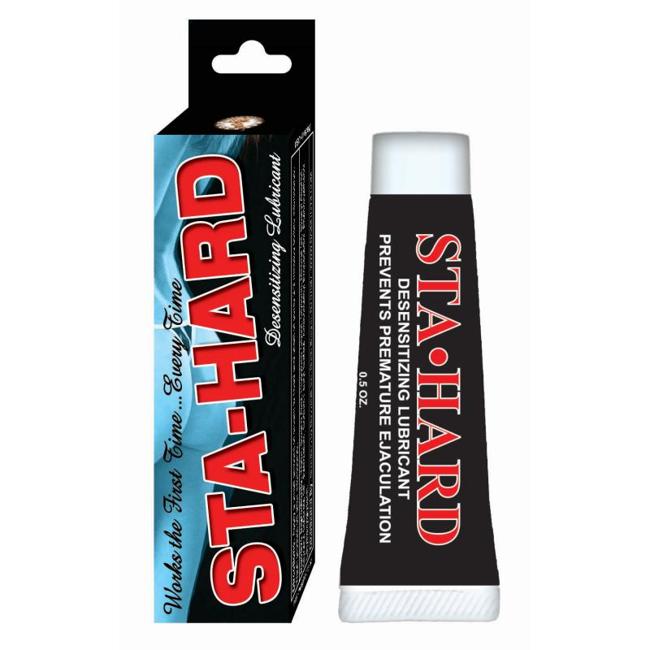 This lubricant comes in two sizes, 0.5 ounce and 1.5 ounces, and is packaged in a non-graphic home party box for discreet use. The product is designed for adults and is available for separate purchase.
The main active ingredient in this lubricant is Benzocaine at a concentration of 5%. Benzocaine is a local anesthetic that helps to reduce sensitivity and prolong sexual pleasure. The inactive ingredients include water, stearic acid, propylene glycol, mineral oil, stearyl alcohol, glycerin, glyceryl stearate, petrolatum, sodium lauryl sulfate, triethanolamine, methyl paraben, propyl paraben, and imidazolidinyl urea.
The lubricant comes in a tube with dimensions of 7 inches in length and 1.5 inches in width. The package dimensions are 4.5 inches in length and 1 inch in width, with a weight of 0.25 ounces.
The Sta-Hard Desensitizing Lube is classified under the categories of Erotic Body Lotions, Health and Beauty Aids, Lubricants, Desensitizing Lube, and Creams. It is designed to enhance pleasure and provide a longer-lasting experience.
Overall, this product is a trusted and well-known desensitizing lubricant that has been satisfying customers for many years.