Description
The PDX Shower Therapy Soothing Scrub Brown is a discreet and innovative male masturbator designed to resemble a regular shampoo bottle. It is crafted by Pipedream Products with your privacy in mind, allowing you to elevate your pleasure game without anyone suspecting a thing.
Pdx Shower Therapy Soothing Scrub Brown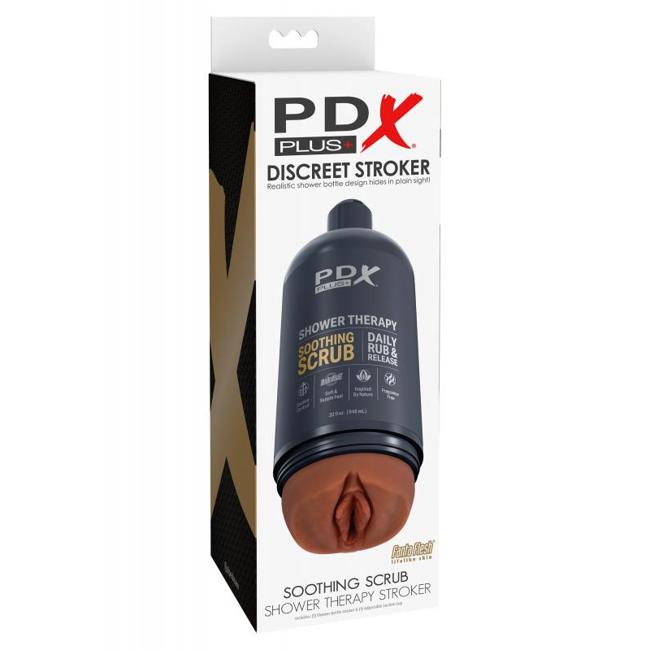 This stroker is perfect for discerning gentlemen who prioritize their self-care routine. Its exterior design seamlessly blends into any bathroom setting, leaving no trace of suspicion or prying eyes. You can conveniently hide it in plain sight, pack it in a suitcase, or take it with you wherever you go, without having to worry about uncomfortable situations or awkward encounters.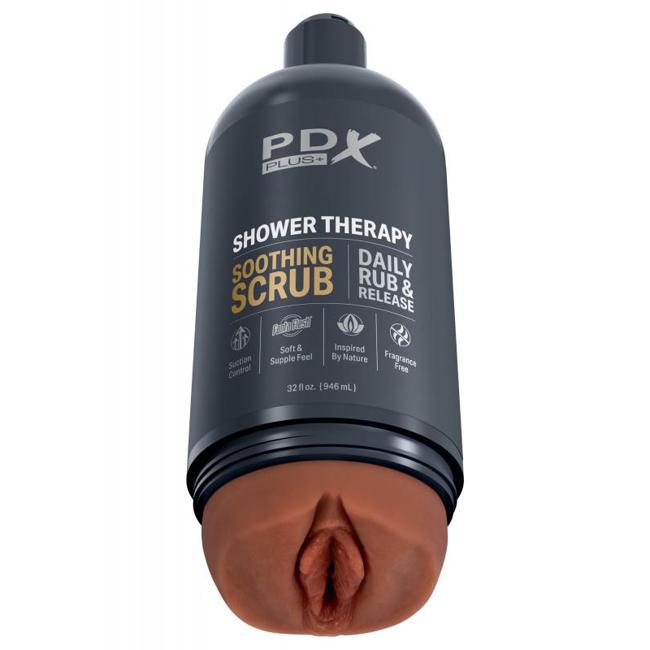 The interior sleeve of the Shower Therapy Soothing Scrub Brown features a super detailed skin texture that looks and feels incredibly realistic. It also boasts an intricate tunnel design lined with rows of pleasure nubs to enhance your experience and provide maximum pleasure.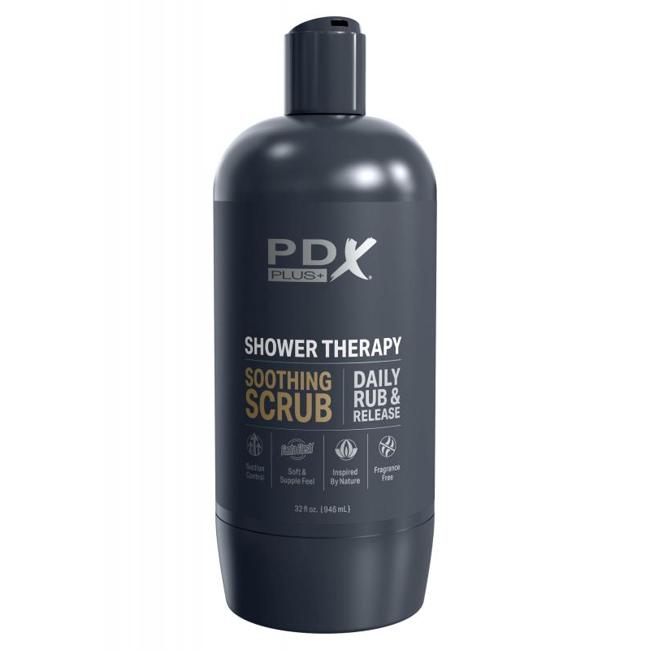 If you prefer a hands-free experience, the stroker comes with a powerful adjustable suction cup that can be easily attached to most flat surfaces. This allows you to enjoy the stimulation while keeping your hands free for other exploration.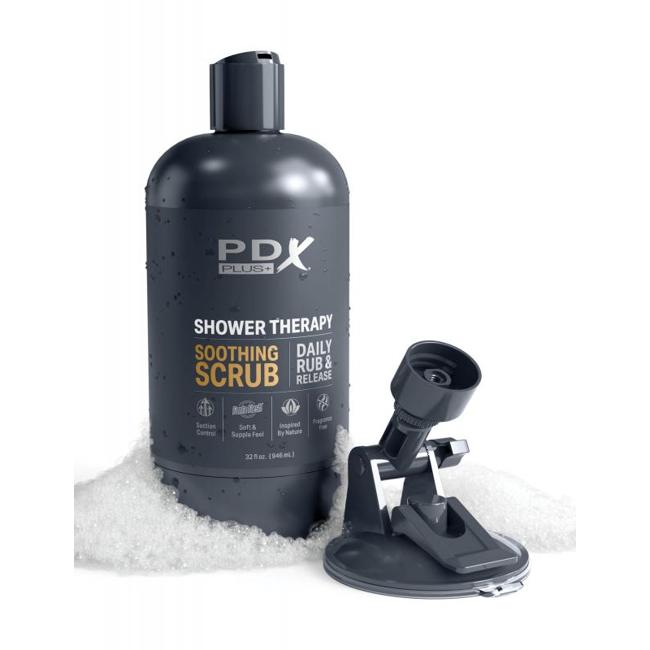 The stroker is made with Pipedream Products' signature Fanta Flesh material, which not only looks great but also feels incredibly lifelike. It is designed to mimic the texture and sensations of real skin, ensuring a pleasurable and immersive experience.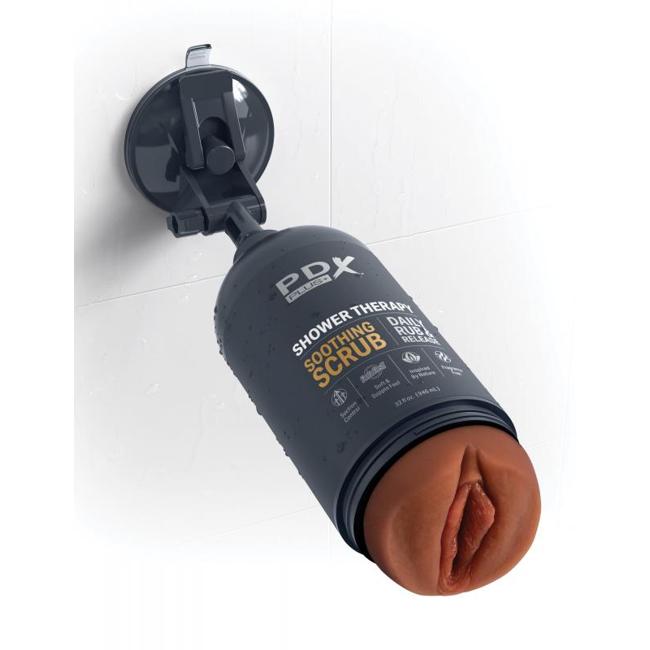 Cleaning the Shower Therapy Soothing Scrub Brown is a breeze. The sleeve easily detaches from the shower bottle, and both ends are open, allowing for easy cleaning with antibacterial cleaner and warm water. After cleaning, be sure to let the sleeve air dry before re-inserting it.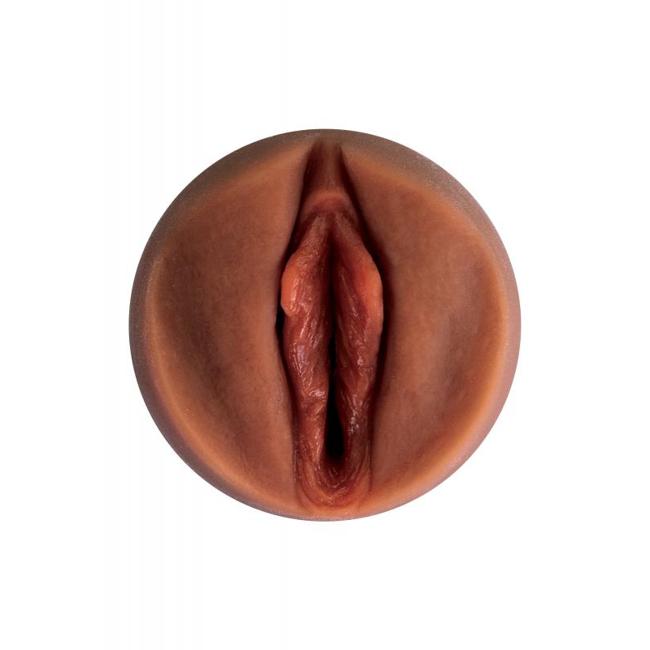 In addition, the sleeve features a hole on the bottom that is perfect for inserting a vibrating bullet if you desire added stimulation.
The package includes one Shower Bottle Stroker and one Adjustable Suction Cup. This product falls under the categories of Male Masturbators, Sex Toys for Men, Health and Beauty Aids, Solo Masturbators, and Pussy Strokers.
With the PDX Shower Therapy Soothing Scrub Brown, you can enjoy discreet and pleasurable self-care sessions without compromising on quality or privacy.