Description
The Lifeforms-9In Big Boy W/Balls And Suction Flesh is a realistic dildo toy from the Lifeforms All American Collection by Nasstoys of New York. This particular model is 9 inches in length and features a flesh-like, light beige color to mimic the appearance of real skin.
Lifeforms-9In Big Boy W/Balls And Suction Flesh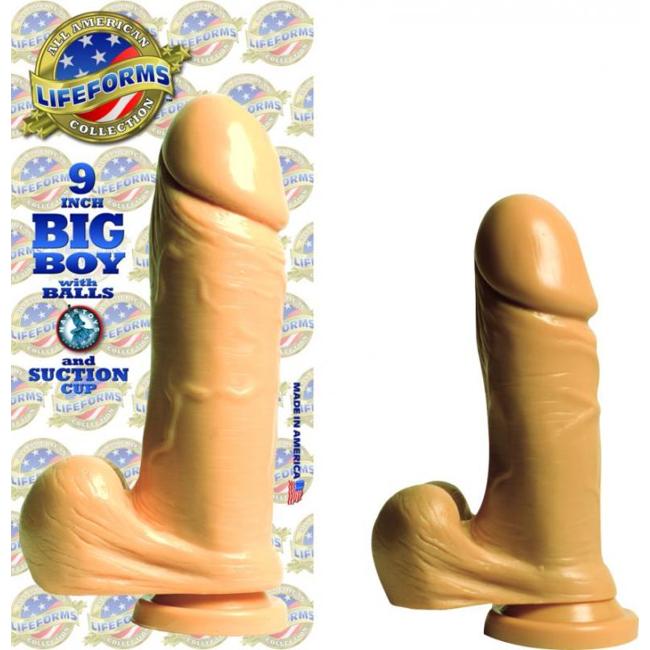 The dildo is crafted from a high-quality PVC material that is phthalate-free and non-toxic, ensuring safe and satisfying use. It is designed to feel like the real thing, offering a lifelike experience that enhances pleasure during solo play or couple's play.
One notable feature of this dildo is the suction cup base, which allows for hands-free enjoyment by securely attaching to any smooth, flat surface. It also makes the toy compatible with o-ring strap-ons, adding versatility for those who enjoy harness play.
It is important to note that only a stretchy ring should be used with this particular dildo. Additionally, it is recommended to use a water-based lubricant to ensure smooth and comfortable use. Before and after each use, it is essential to clean the toy thoroughly to maintain hygiene and prolong its lifespan.
The Lifeforms-9In Big Boy W/Balls And Suction Flesh is part of the larger Lifeforms range by Nasstoys, known for their high-quality adult products. This model is proudly made in the USA, guaranteeing quality and attention to detail.
This dildo falls under various categories, including Probes, Sticks, Rods, Adult Gags, Gifts and Novelties, as well as Birthday Dildos and Dongs and Realistic Large Dong categories. It is designed to provide a realistic and fulfilling experience for those seeking a larger size.