Description
The Jessi Pink Remote Mini Bullet is a powerful and compact vibrator designed for personal pleasure. Manufactured by Maia Toys, this vibrator features a remote control, adding convenience and versatility to its already powerful design.
Jessi Pink Remote Mini Bullet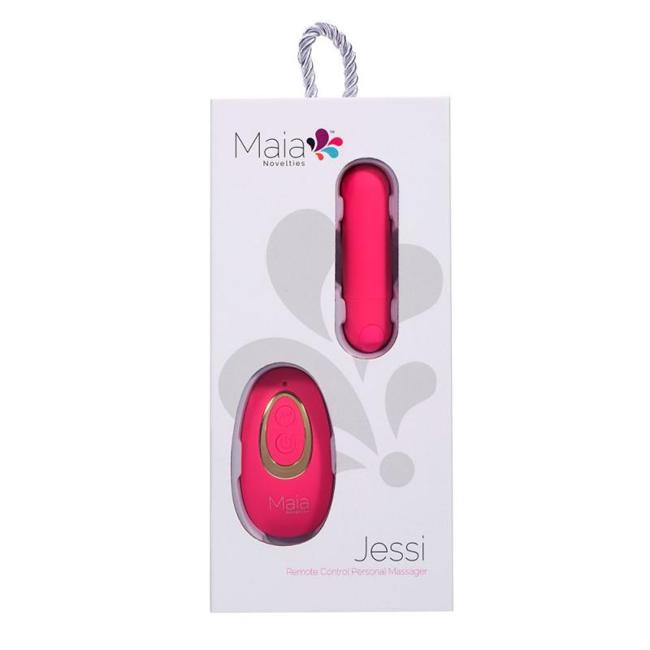 This mini bullet vibrator is made from high-quality, body-safe silicone, providing a soft and inviting texture for maximum comfort. The silicone coating is also 100% body-safe, ensuring a safe and enjoyable experience. Beneath the surface lies a powerful motor that delivers intense vibrations, making each session an electrifying experience.
The slender shape of the Jessi Remote Bullet Vibrator allows for easy handling and multiple uses. It measures approximately 3 inches in length and 0.75 inches in width, making it discreet and travel-friendly. The end position control button makes it simple to change the speed settings for personalized pleasure.
One of the standout features of this mini bullet vibrator is its 10 function supercharged motor. With a range of vibration patterns and intensities to explore, it offers a variety of sensations to suit different preferences. The remote control allows for easy operation and can be used at a distance of up to 20 feet.
Additionally, the Jessi Remote is fully submersible, making it suitable for wet play. Whether in the shower, bathtub, or pool, this vibrator can be enjoyed in water without any worries. The USB charging cable ensures convenient recharging, eliminating the need for batteries.
As a Maia Toys product, the Jessi Remote Mini Bullet comes with a 1-year replacement warranty, providing peace of mind and ensuring customer satisfaction. It falls into the categories of Vibrators, Bullets, Eggs, Sex Toys for Women, Rechargeable Vibrator, Vibrating Bullets, and Eggs.
Overall, the Jessi Pink Remote Mini Bullet from Maia Toys is a compact and versatile vibrator that offers powerful vibrations, easy controls, and a range of exciting features. Its discreet design, remote control functionality, and waterproof properties make it an ideal choice for both solo and couples' play.