Description
Say hello to the Cloud 9 Pro Sensual Comfort Cock Rings, the ultimate solution for enhanced sexual pleasure and maximum comfort. Made with soft and stretchy material, these cock rings are designed to fit snugly around the base of the penis, providing a pleasurable constriction that can increase stamina and prolong erections.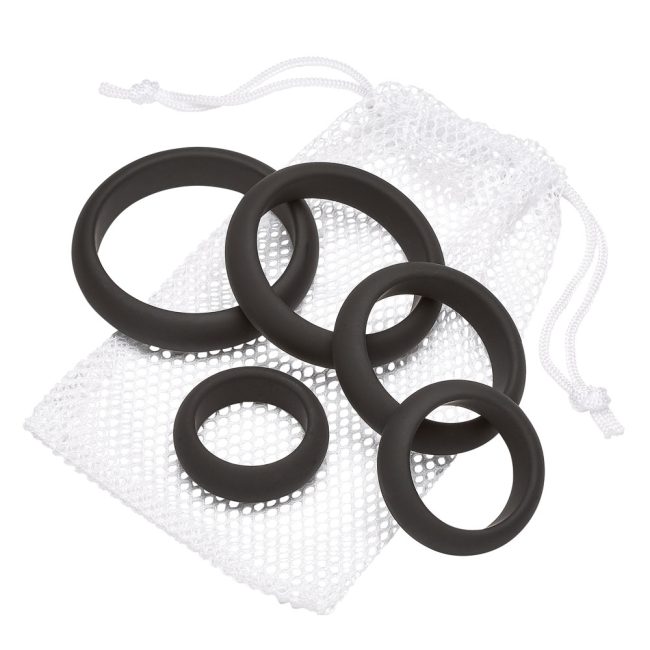 The extra-wide design ensures a comfortable fit, and the flat back prevents the rings from rolling or slipping out of place during use. With multiple sizes included in the set, users can choose the perfect fit to suit their needs and preferences.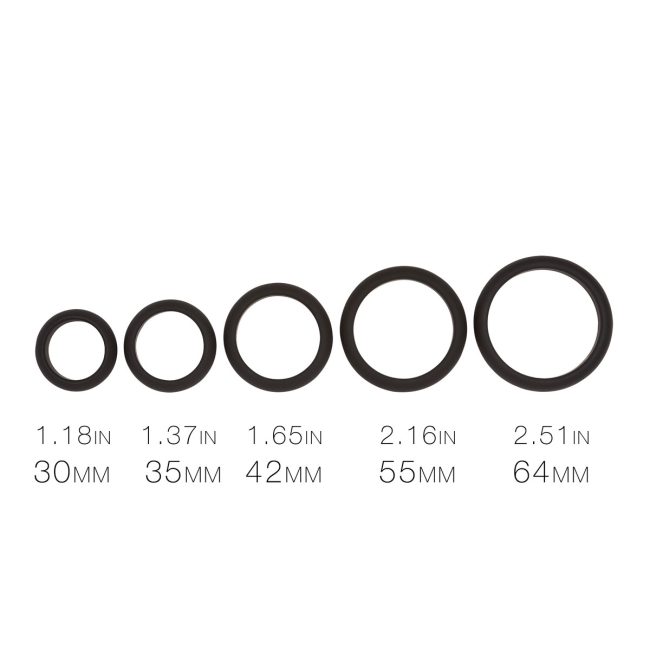 The set includes five different sizes, ranging from 1.18 inches to 2.51 inches, making it easy to find the ideal fit. The bonus mesh pouch is perfect for storage and keeps the rings clean and discreetly stored.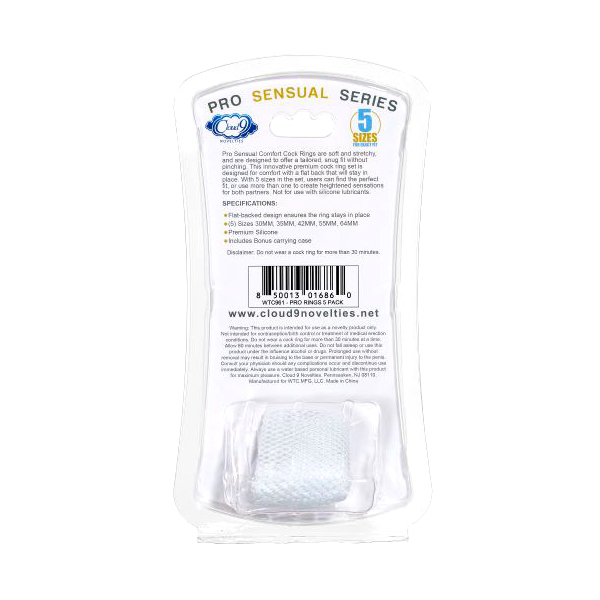 Experience heightened sensations and extended pleasure with Cloud 9 Pro Sensual Comfort Cock Rings. Whether you're looking to spice up your sex life or just want to enhance your solo play, these rings are the perfect addition to your collection. Try them out today and take your pleasure to the next level!
Cloud 9 Comfort Cock Rings with Flat Back 5 Pack Pro Sensual Line. SKU number WTC961 Cloud 9 Pro Sensual Comfort Cock Rings with Flat Back Design 5 different sizes Pack. UPC number: 850013016860. Cloud 9 Pro Sensual Comfort Cock Rings are soft and stretchy, featuring an extra wide design for maximum comfort and a flat back to keep them in place and prevent rolling. Multiple sizes allow users to find the perfect fit, and the set comes with a Bonus Mesh Pouch for storage.
Use only with water based lubricants.
Please note: cock rings should not be worn for longer than 30 minutes.
Dimensions: 30mm, 35mm, 42mm, 55mm, 64mm or approximately 1.18 inches, 1.37 inches, 1.65 inches, 2.16 inches, 2.51 inches.
Categories Comfort Cock Rings: Love Rings, Cock Rings, Sensual Kits, Men's Cock, Ball Gear. Restricted, Amazon Restricted. 2023.