Description
Introducing Wicked Toy Fever Gel 3.3 Oz, a premium warming lubricant developed specifically for erotic toys. This cutting edge gel is designed to take your toy play to the next level, providing a thrilling and pleasurable experience.
Wicked Toy Fever Gel 3.3 Oz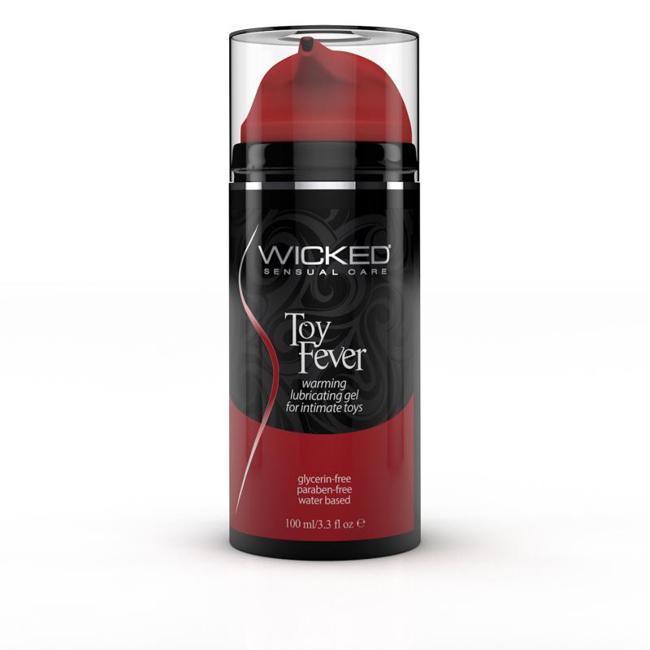 Unlike runny and messy lubricants, Wicked Toy Fever Gel stays in place, ensuring maximum comfort and enjoyment. The addition of Aloe leaves your skin feeling velvety soft, enhancing your overall sensory experience.
One of the standout features of Toy Fever is its warming effect. As you play, this gel promotes blood flow, creating a tingling and exciting sensation that heightens pleasure. Its unique blend of warming elements stimulates and excites your erogenous zones, building waves of warmth throughout your intimate moments.
Moreover, the super thick texture of Toy Fever Gel enhances the vibrations of your pleasure products, intensifying sensations and adding another layer of excitement to your playtime.
What sets Toy Fever apart is its safe and hygienic formula. It is glycerin-free and paraben-free, ensuring a gentle and non-irritating experience. Additionally, it is formulated with Olive Leaf Extract, a natural bio-static that helps prevent the spread of bacteria, fungus, or molds, keeping your toys clean and safe.
Wicked Toy Fever Gel is compatible with all sex toys and latex condoms, making it a versatile choice for various play scenarios. It comes in a convenient 3.3-fluid ounce pump bottle, allowing for easy application and storage.
To use, simply apply the gel to your toy or desired areas where lubrication is needed. It cleans away easily with water, making post-play cleanup a breeze.
The ingredients of Wicked Toy Fever Gel include DI Water, Propylene Glycol, Cellulose Gum, Aloe Barbadensis Leaf Juice, Olea Europaea Olive Leaf Extract, Vanillyl Butyl Ether, Polysorbate 20, Trifolium Pratense Clover Flower Extract, Cinnamomum Zeylanicum Bark Extract, Disodium EDTA, Hydroxyethylcellulose, Sodium Benzoate, Potassium Sorbate, and Citric Acid.
Experience the seductive pleasure and added warmth of Wicked Toy Fever Gel. Enhance your playtime with this water-based personal lubricant, known for its jelly-like texture that stays in place and provides a super slick glide. It is vegan-friendly, cruelty-free, and contains no animal by-products or testing. Upgrade your intimate moments with Wicked Toy Fever Gel 3.3 Oz and let the heat ignite your passion.