Description
The Pdx Shower Therapy Milk Me Honey Tan is a discreet stroker designed for men's self-care and pleasure. Inspired by nature, this unique product offers a new level of privacy and convenience.
Pdx Shower Therapy Milk Me Honey Tan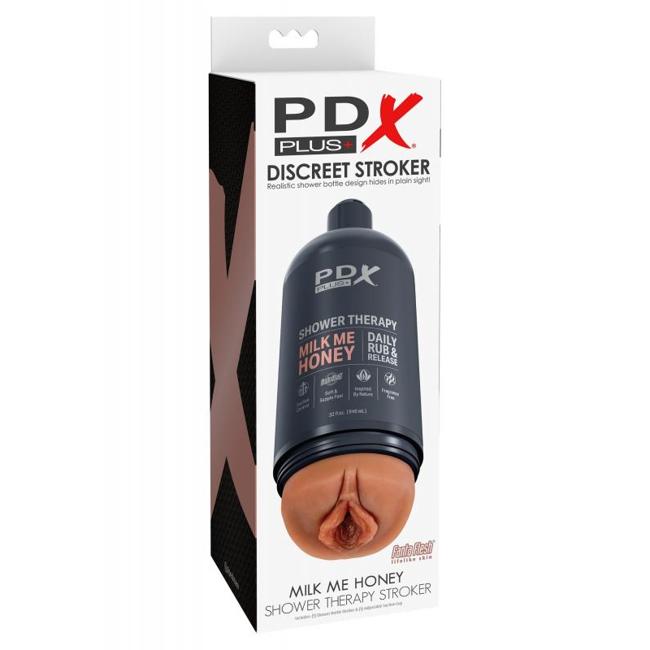 The stroker is cleverly disguised as a regular shampoo bottle, ensuring that it seamlessly blends into your bathroom setting without raising any suspicion. The exterior appearance is crafted to look like a typical bottle, making it perfect for those who value their privacy and want to avoid any awkward encounters.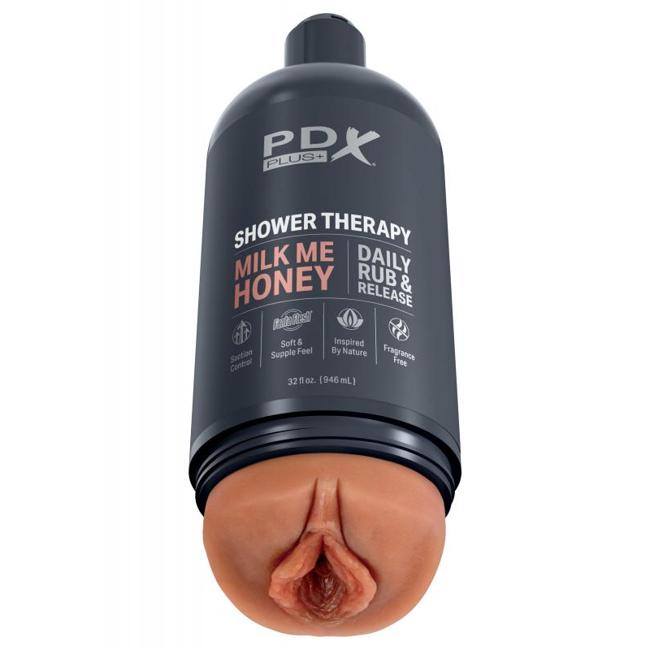 However, the real magic is on the inside. The interior sleeve of the stroker features a hyper-realistic skin texture and an intricate tunnel lined with pleasure nubs. This detailed design aims to provide maximum pleasure and stimulation for a truly immersive experience.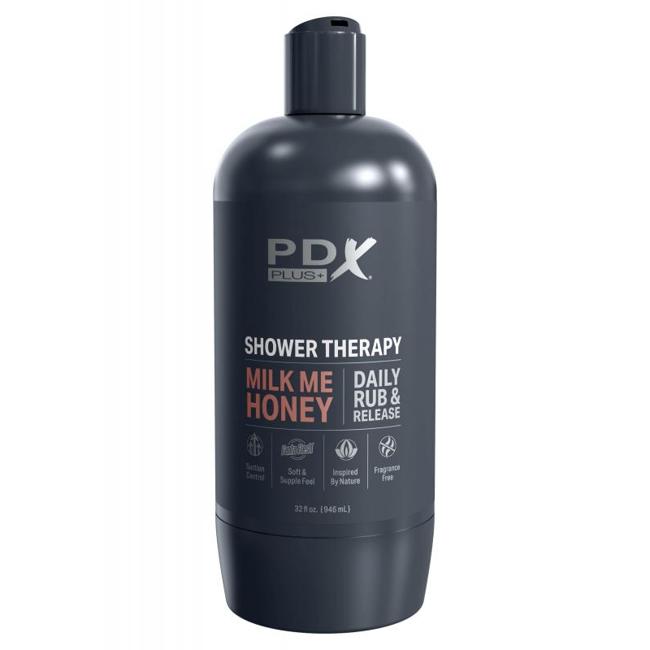 Made with Pipedream Products' signature Fanta Flesh material, the Shower Therapy stroker not only looks great but also feels incredibly lifelike. It is designed to mimic the sensation of real skin to enhance your pleasure and make it feel like the real thing.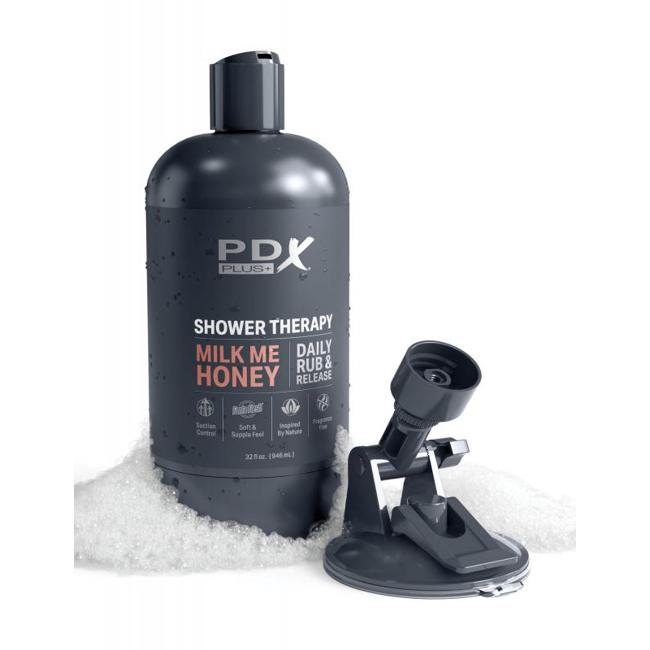 To go hands-free, the stroker comes with a powerful adjustable suction cup. This feature allows you to attach it to any flat surface, giving you the freedom to explore different positions and enjoy a more immersive experience.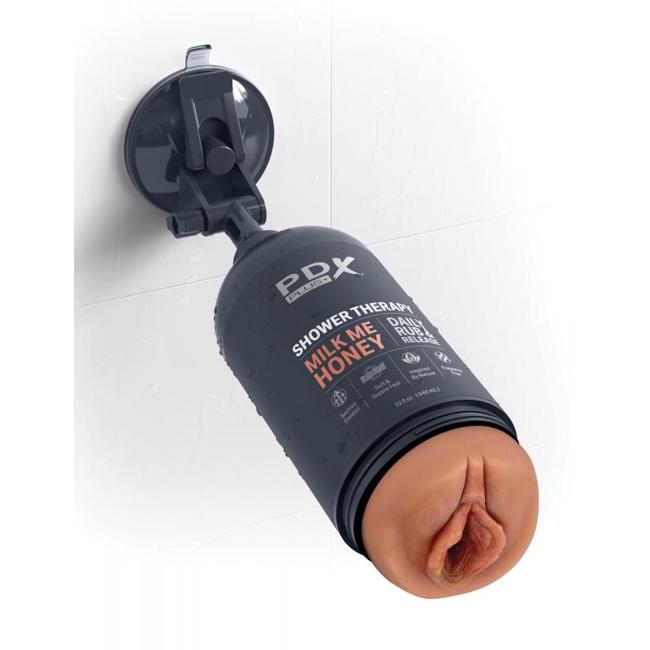 The discreet shower bottle design ensures that you can conveniently hide the stroker in plain sight or pack it with your belongings without worrying about awkward encounters or uncomfortable situations. It can be easily mistaken for a regular bottle, allowing you to keep your pleasure activities private.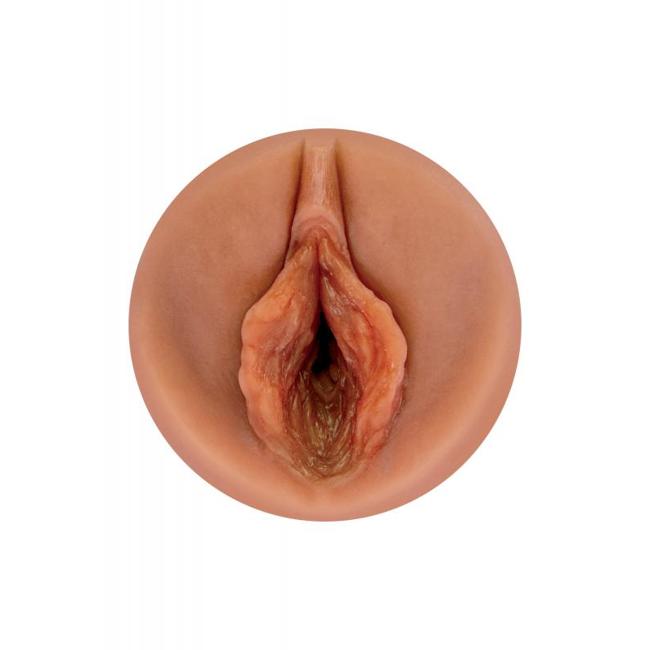 Cleaning up after use is a breeze with this stroker. The sleeve can be easily removed from the shower bottle and is open on both ends for easy cleaning. Simply use antibacterial cleaner and warm water to sanitize it, and let it air dry before re-inserting.
The Pdx Shower Therapy Milk Me Honey Tan is categorized as a male masturbator and falls under the sex toys for men section. It is also considered a health and beauty aid as it promotes self-care and relaxation. The stroker is designed specifically for solo use and falls under the category of vagina strokers and pussy strokers.
With its realistic sleeve, intricate tunnel design, adjustable suction cup, and discreet shower bottle appearance, the Pdx Shower Therapy Milk Me Honey Tan is a premium product that aims to elevate your pleasure game and provide you with a satisfying and convenient self-care experience.
Note: The product's release date is mentioned as 2023.