Description
Glas Bling Bling Glass Anal Training Kit of 3 by Electric / Hustler Lingerie in MQ featured Male Sex Toys and  Anal Sex Toys.
Glas Bling Bling Glass Anal Training Kit of 3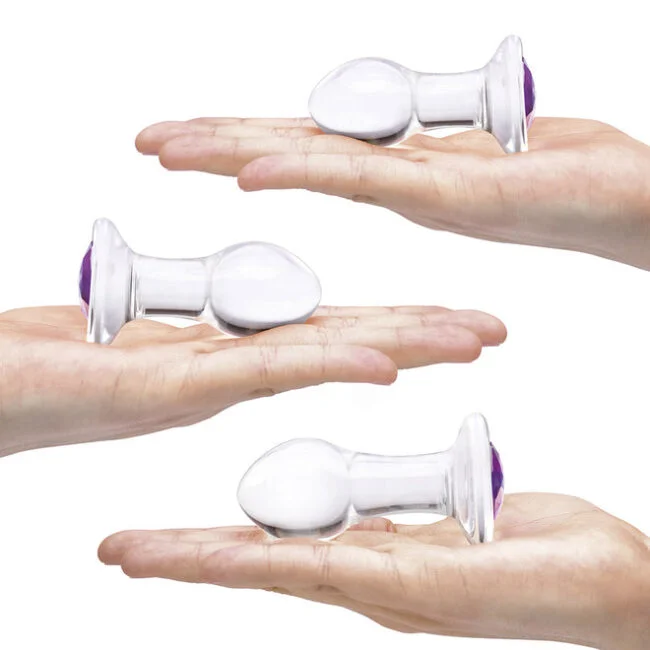 Introducing the glamorous and enticing Glas Bling Bling Glass Anal Training Kit of 3 from Electric Hustler, designed to enhance stimulation, sex appeal, and your anal pleasure. This exquisite kit includes three glass anal plugs, each sized at 3 inches, 3.5 inches, and 4 inches in length, making it perfect for anal training and elevating your glute game.
Prepare to experience three levels of hole stretching and deep-diving anal pleasure with this sleek and smooth glass training kit. Each plug is adorned with a blinding and bejeweled base, adding a touch of elegance and allure to your intimate moments. The graduated sizes allow you to progress comfortably and confidently to larger anal toys, making it ideal for both beginners and experienced users.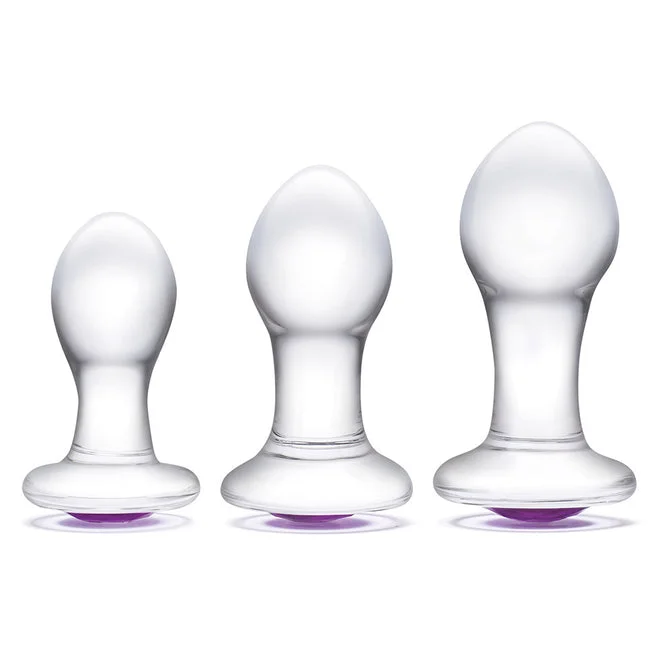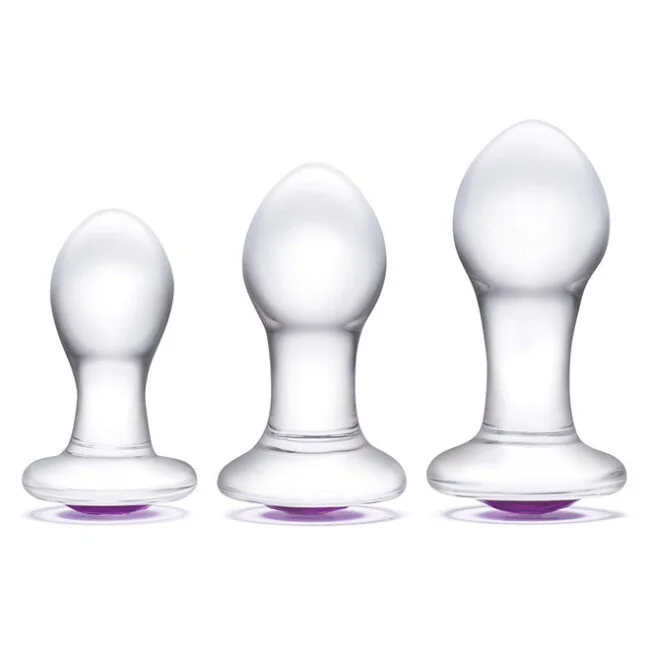 The tapered tip and flared base of each plug ensure safe and comfortable anal training. The bulbous head provides direct prostate stimulation for enhanced pleasure during use. Explore a variety of sensations by adding your favorite lube or experimenting with temperature play for a range of exhilarating keister climaxes.
Crafted from premium non-porous and hygienic glass, these butt plugs are fracture-resistant, hypo-allergenic, and compatible with all types of lubricants. The smooth shafts allow for easy insertion and removal, ensuring a satisfying and pleasurable experience every time.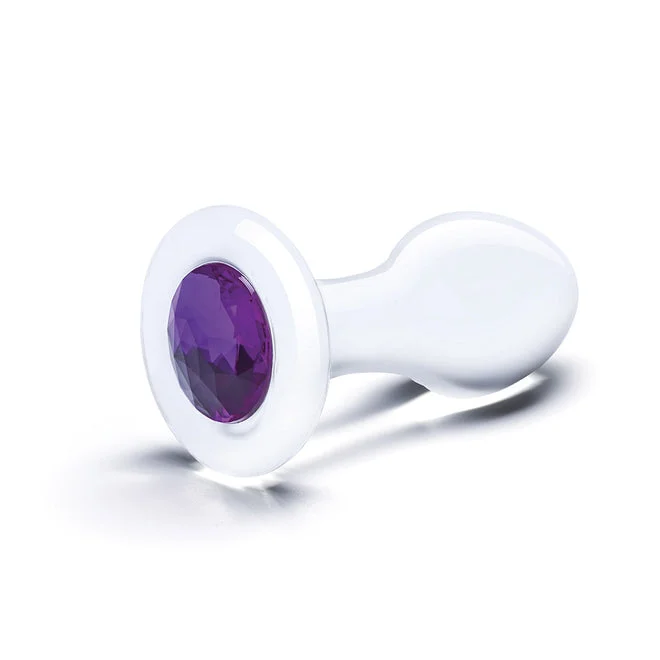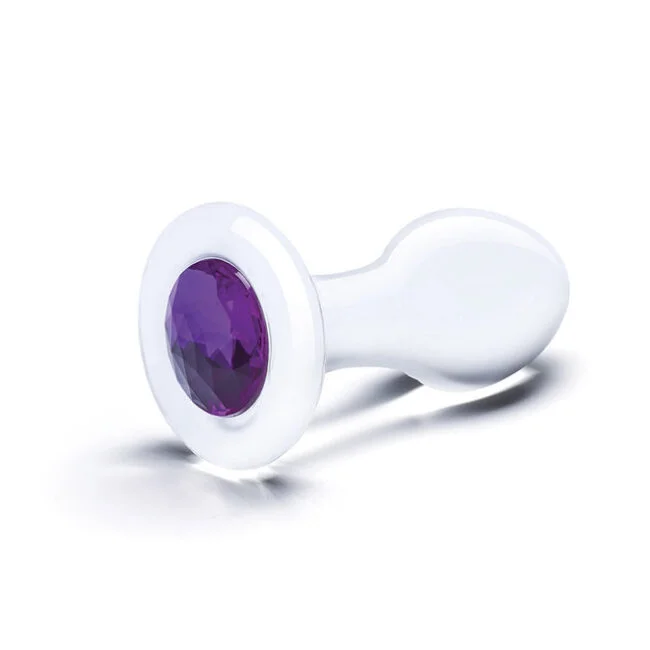 For added convenience and discreet storage, the kit includes a luxury satin storage bag, keeping your anal training set safe and ready for your next exploration.
Key Features:
Three graduated sizes for increasing pleasure levels
Blinging bejeweled bases for an elegant touch
Bulbous heads for full P-Spot activation
Smooth shafts for easy insertion and removal
Perfect for temperature play
Fracture-resistant and hypo-allergenic
Compatible with all lubricants
Hand-blown glass anal trainer set
Includes a luxury satin storage bag
Product Circumference: Small anal plug: 4.25 inches Medium anal plug: 4.25 inches Large anal plug: 4.25 inches
Indulge in the luxury and pleasure of the Glas Bling Bling Glass Anal Training Kit of 3. Elevate your anal play with this sophisticated and versatile set, and experience the delight of gradual training and exquisite sensations. Whether for solo exploration or partnered play, this kit is designed to make your intimate moments truly special.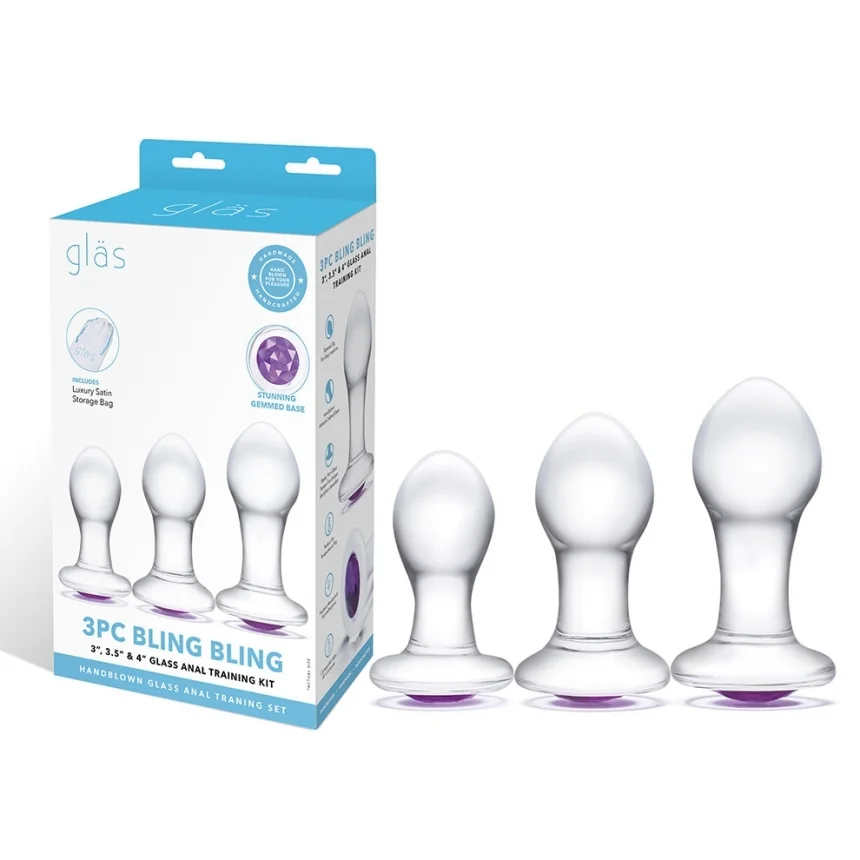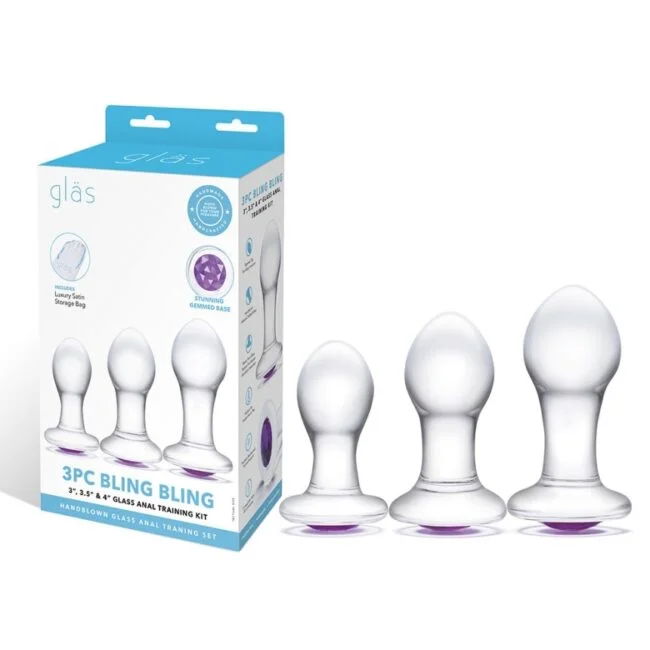 Categories: Anal Toys, Sextoys for Couples, Sensual Kits, Anal Trainer Kits.
Originally release 2022-03-08.
Dimensions (Inches): Height – 0  Length – 0 Width – 0
Weight: 1 pounds.
Color: Clear