Description
The Evolved Full Monty Dark is a realistic vibrating dildo from Evolved Novelties. This versatile toy offers a range of features for an enhanced pleasure experience.
Evolved Full Monty Dark
The dildo has a Dark skin tone and is designed to look and feel like the real thing. It features a textured shaft with a crown tip and textured balls, adding to the lifelike experience. The toy is made from creamy smooth silicone, ensuring a comfortable and pleasurable play.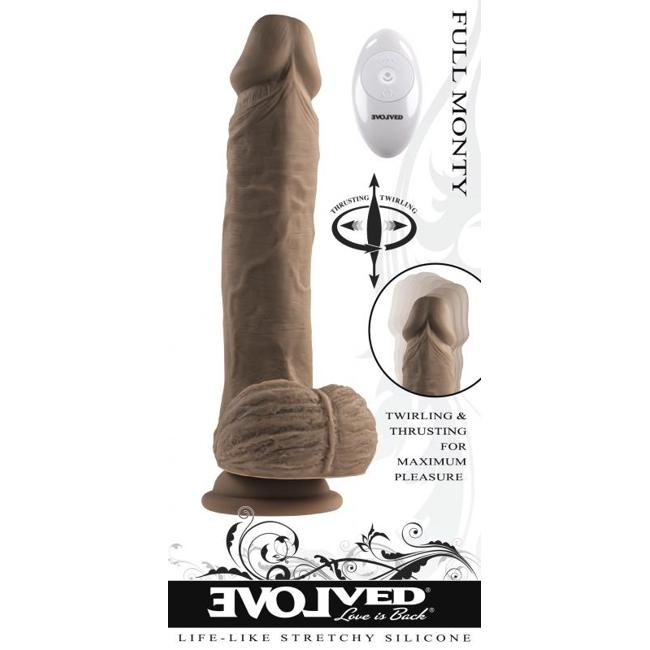 The Full Monty Dark is both robust and multi-functional. The top half of the shaft offers 7 speed twirling and twisting motions, while the entire length of the dildo delivers intense vibrations with 8 different speed and pattern options. This combination allows for a customized and satisfying experience.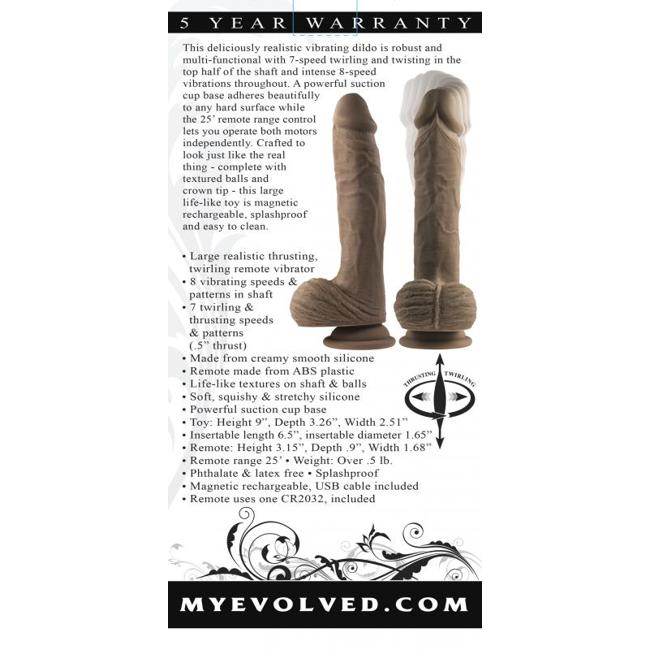 To maximize convenience, the Full Monty Dark comes with a powerful suction cup base that adheres securely to any hard surface. This allows for hands-free play and opens up a variety of possibilities for different positions. Additionally, the toy comes with a 25 feet range remote control, which enables independent operation of both motors.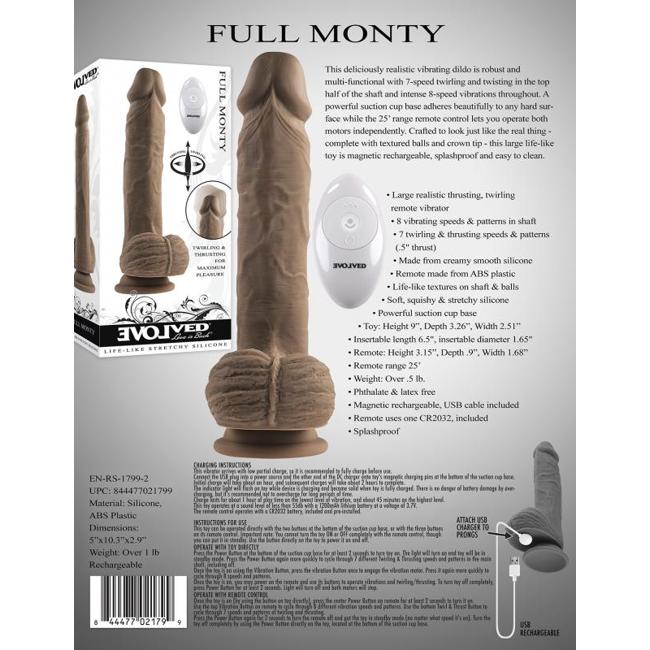 The Full Monty Dark is a large-sized dildo, with an insertable length of 6.5 inches and a diameter of 1.65 inches. The overall height, depth, and width of the toy are 9 inches, 3.26 inches, and 2.51 inches, respectively. The remote control is compact, with a height, depth, and width of 3.15 inches, 0.9 inches, and 1.68 inches. The remote control has a range of 25 feet.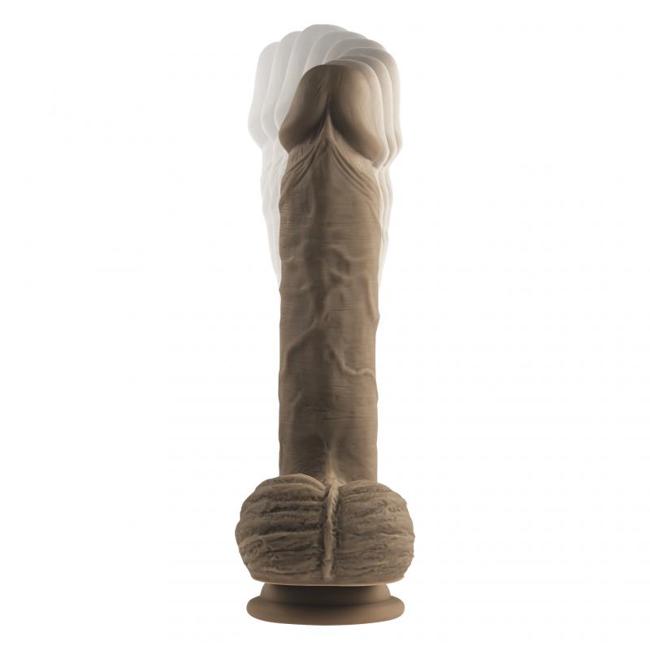 This dildo is magnetic rechargeable, making it easy to power up via a USB port. The necessary cable is included with the toy. The remote control uses one CR2032 battery, which is also included. The Full Monty Dark is splashproof, allowing for use in the shower, and it is easy to clean.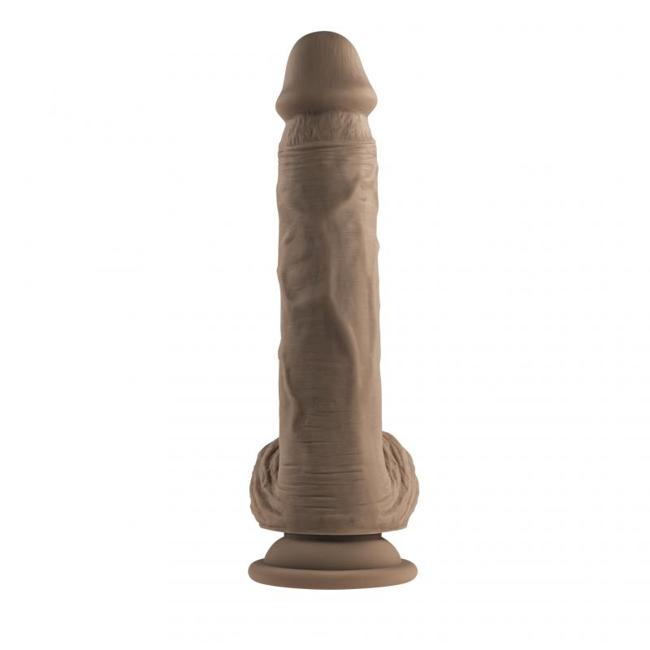 It is important to note that the Full Monty Dark is made from body-safe materials that are phthalate-free and latex-free, ensuring a safe and enjoyable experience.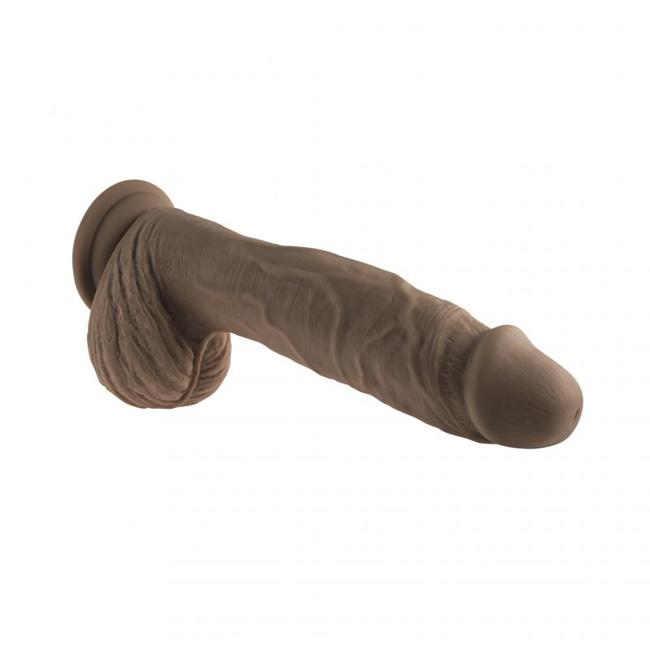 In summary, the Evolved Full Monty Dark is a realistic vibrating dildo that offers a combination of twirling, thrusting, and vibrating sensations. With its lifelike design, textured shaft, and powerful motors, this toy aims to provide a pleasurable experience for users looking for a larger, realistic dildo with versatile functions.