Description
Introducing the Creature Cocks Swamp Monster Green Scaly Silicone Dildo! From XR Brands, this unique and thrilling dildo is designed to take you on a deep dive into new and exciting fantasies. Crafted with meticulous attention to detail, its mysterious shaft features tiny bumps and scaly ridges that will send shivers of pleasure down your spine.
Creature Cocks Swamp Monster Green Scaly Silicone Dildo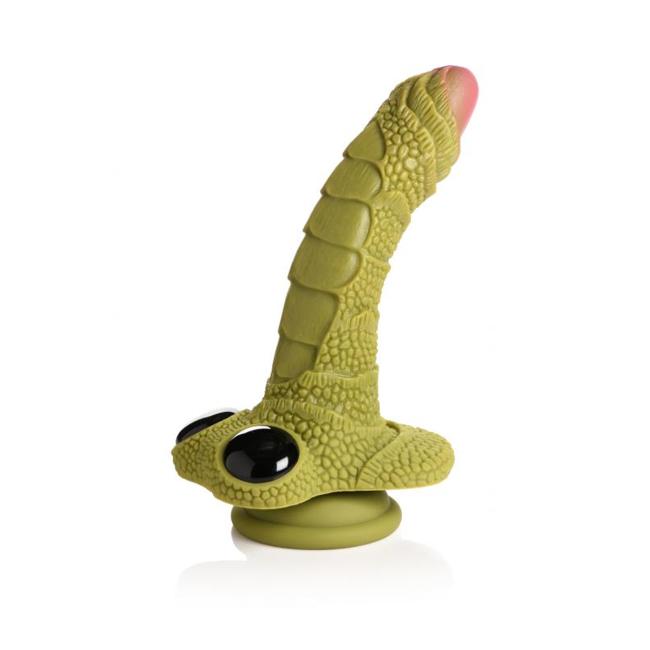 The long shaft of the Swamp Monster dildo has a gentle curve to it, ensuring maximum pleasure during penetration. At the end of the green stem-like shaft, you'll find a soft pink head that blossoms like a delicate bud, adding a touch of realism to your playtime.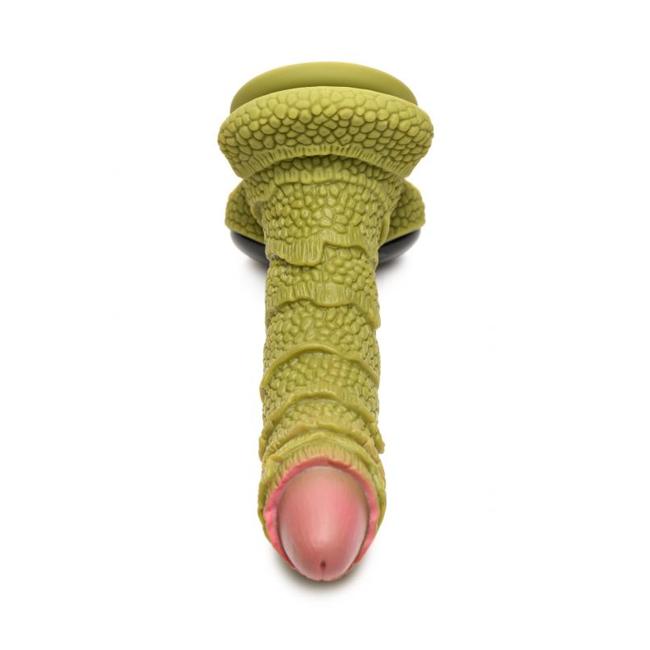 But the fantasy doesn't stop there. The base of the dildo is a wide, flat plateau that not only provides stability during use but also allows you to ride it comfortably. Adding to the allure, two shiny, black glass orbs adorn the base, seemingly staring up into your depths as you pleasure yourself.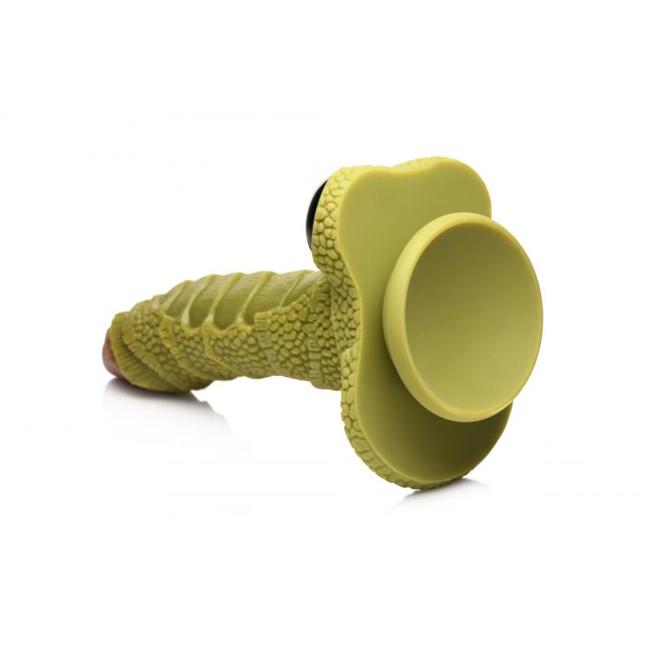 Made of premium silicone, this dildo offers a sweet and silky smooth texture that will glide effortlessly inside you. Plus, it's completely phthalate-free and body-safe, making it ideal for use with water-based personal lubricants.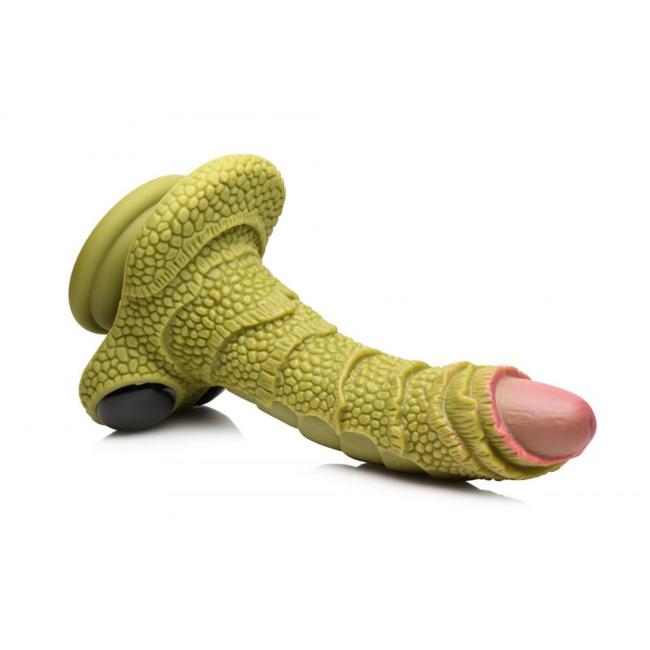 The base of the Creature Cocks Swamp Monster Green Scaly Silicone Dildo is also compatible with a strap-on harness, allowing you to share the fantasy with a partner and enjoy the thrill of pegging. Alternatively, you can enjoy the hands-free experience by using the strong suction cup base on any flat surface.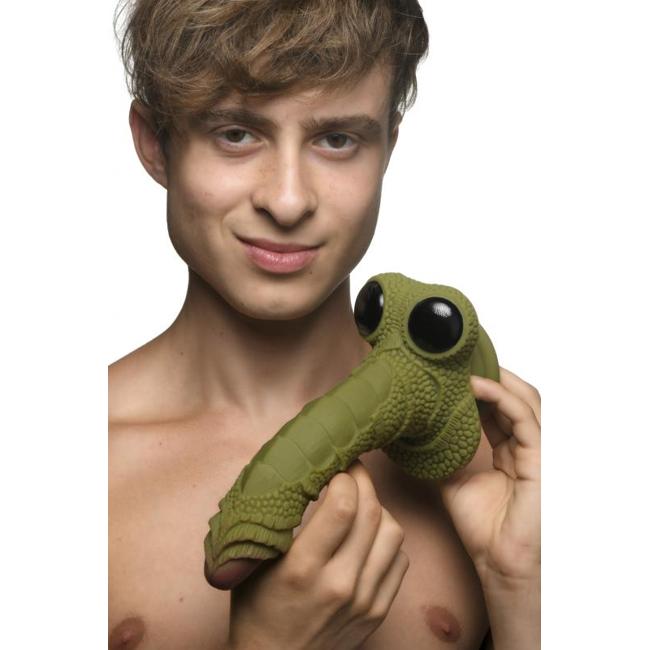 After playtime is over, cleaning the dildo is a breeze. Simply wash it with warm water and soap, and then use a toy cleaner to spray clean. Remember to wipe it dry and store it in a cool, dark place away from direct sunlight.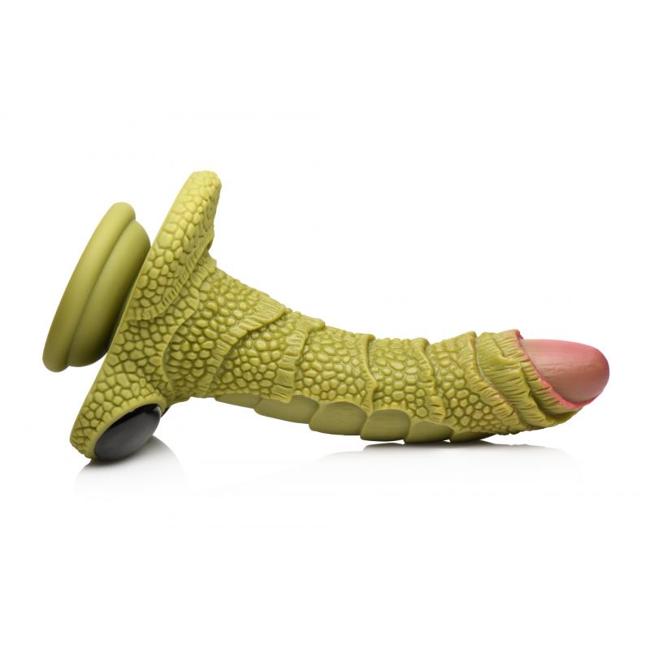 Imagine yourself on a hot, balmy day, exploring the vast and mysterious Everglades. Seeking some shade, you find yourself sitting at the edge of the swamp, surrounded by the soothing sounds of water. As you cool off by wading into the water, you suddenly feel a presence watching you. Your heart races, but curiosity overtakes fear as a scaly hand emerges and begins to stimulate you between your thighs.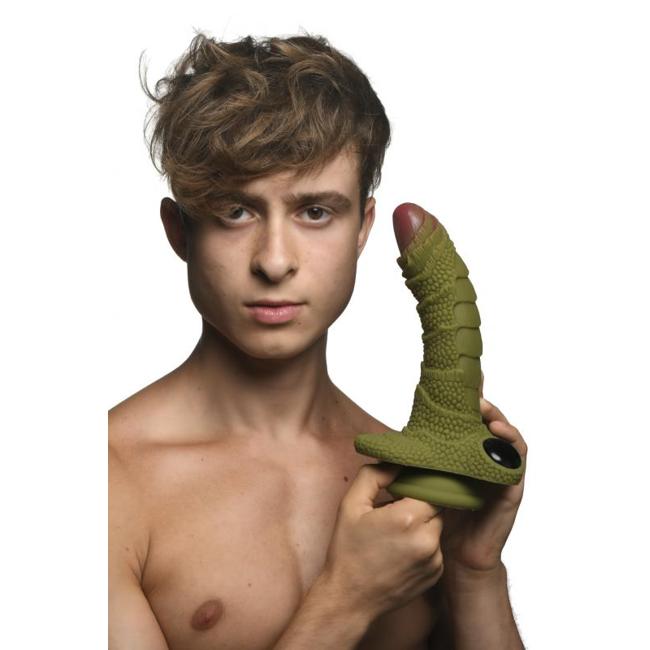 As you look down, the pink-tipped, scaly, green rod starts to emerge from the water. Two glassy black eyes lock with yours as strong hands pull you down onto the shaft and the pleasure intensifies. The wild waters drown out your moans of ecstasy as you surrender to the Monster's touch. Climaxing, you are released into a state of bliss, thick white slime trailing between your thighs.
With measurements of 9.4 inches in overall length and 7 inches in insertable length, the Creature Cocks Swamp Monster Green Scaly Silicone Dildo offers a thrilling size for those who crave deep, wet experiences. Its narrowest insertable diameter is 1.4 inches, while the widest reaches 2 inches, providing a satisfying stretch.
Crafted from premium silicone and featuring a unique design, this fantasy dildo is perfect for those who enjoy exploring otherworldly desires. Its suction cup base not only ensures stability but also opens up a world of hands-free pleasure. The flanged base is also compatible with strap-on harnesses, making it versatile for both solo and partnered play.
Unleash your wild fantasies with the Creature Cocks Swamp Monster Green Scaly Silicone Dildo and dive into the depths of pleasure like never before.