Description
Introducing the Creature Cocks Makara Glow In The Dark Silicone Snake Dildo from XR Brands! A truly mesmerizing and unique anal toy, this 16-inch silicone dildo is designed to resemble a mystical sea snake. Prepare to be captivated by its stunning beauty!
Creature Cocks Makara Glow In The Dark Silicone Snake Dildo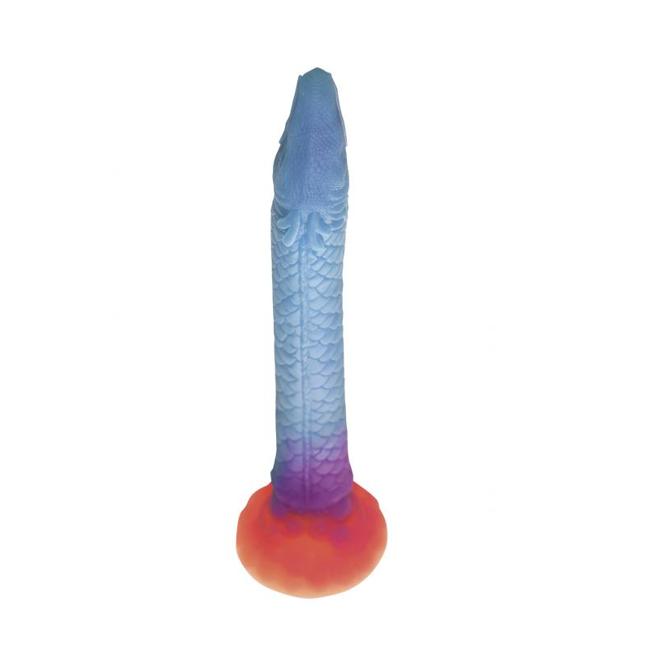 Featuring a base adorned with sunburst colors of yellow and orange, and a body that showcases shades of purple and blue, this dildo is a visual masterpiece. The intricate and detailed designs along the body, along with embedded glitter, enhance its allure and add an extra touch of magic to your play sessions.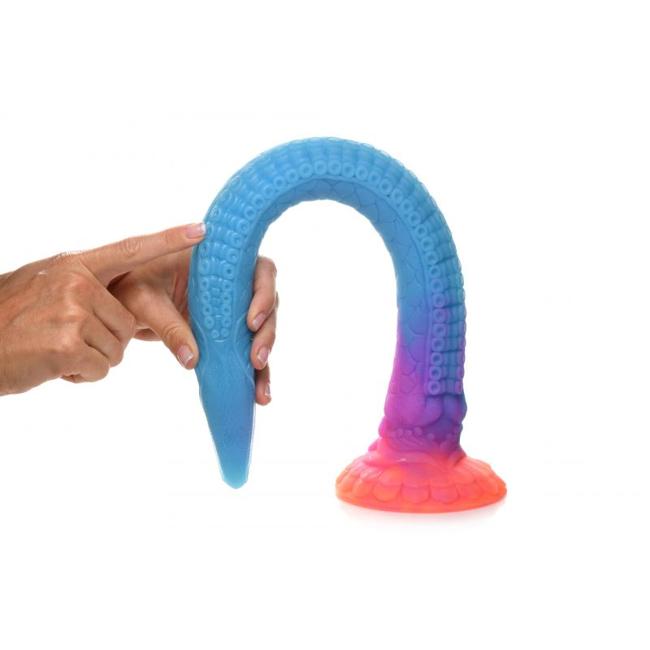 Crafted from premium phthalate-free silicone, this dildo offers both firmness and flexibility. Its silky-smooth texture ensures a comfortable and pleasurable experience. And here's the best part – when exposed to UV light or sunlight, it glows in the dark, creating an enchanting ambiance during your darker adventures!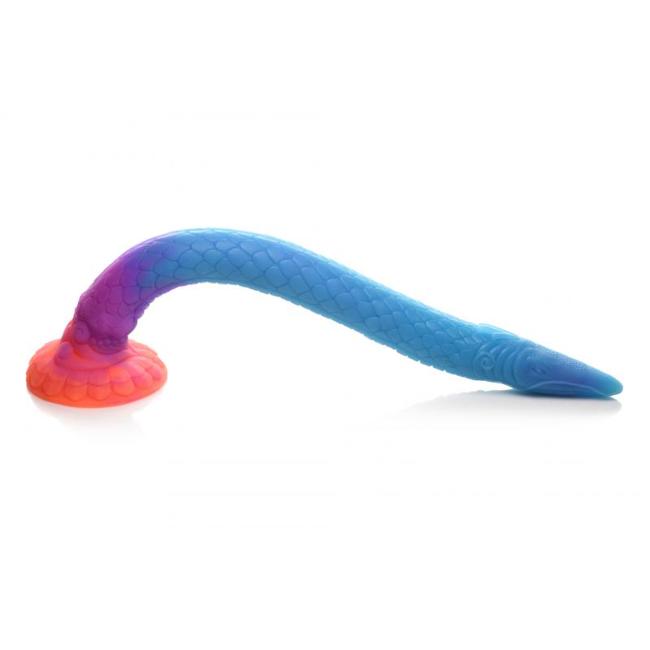 The wide suction cup base ensures stability, allowing you to enjoy hands-free fun. Alternatively, you can pair it with a compatible strap-on harness for delightful couple's play, fantasy role play, or exciting pegging experiences. The Makara Glow In The Dark Silicone Snake Dildo is a versatile toy that caters to various desires and fantasies.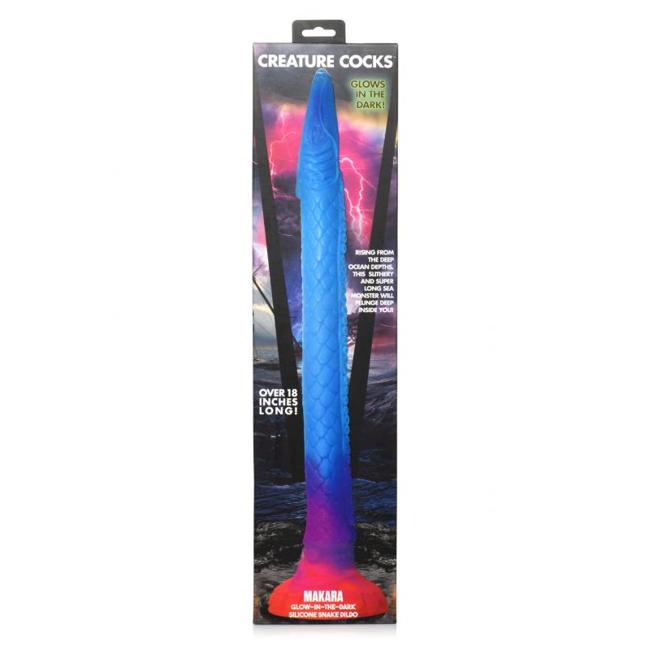 After your play session, cleaning is a breeze. Simply wash the dildo with warm water and soap, then use a toy cleaner for a thorough clean. Ensure it is completely dry before storing it in a cool, dark place away from direct sunlight.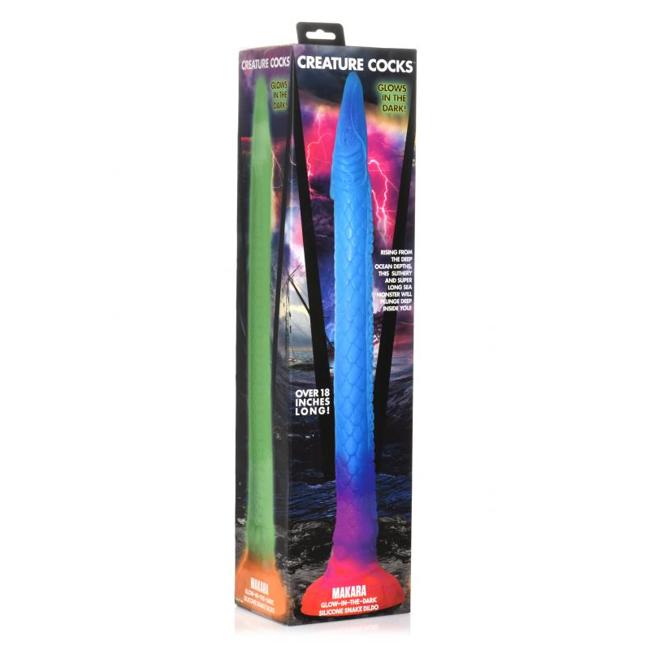 Imagine yourself swimming along the forbidden shores when a captivating sight catches your eye. More colorful than a tropical reef, it glows with a shimmering light in the depths of the ocean. As you approach, it moves swiftly and locks eyes with you. The intricate details of its mouth, head, and sinuous body become visible – a beautiful sea snake, a tiny dragon brimming with sensuality.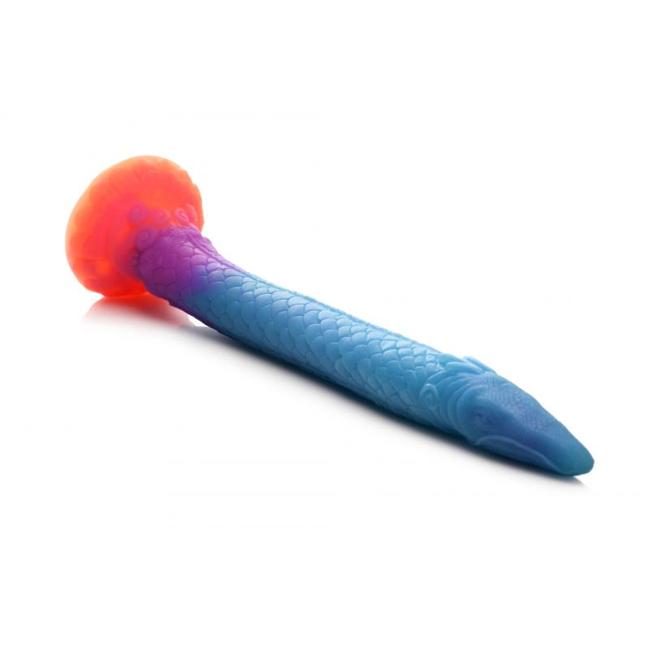 Before you know it, the snake has wrapped itself around your leg, spiraling up your thigh, slipping under your bathing suit, and penetrating you. A gasp escapes your lips as pleasure fills every inch of your being. In a state of ecstasy, you succumb to the unexpected pleasure that once seemed shocking, but now overwhelms you with delight.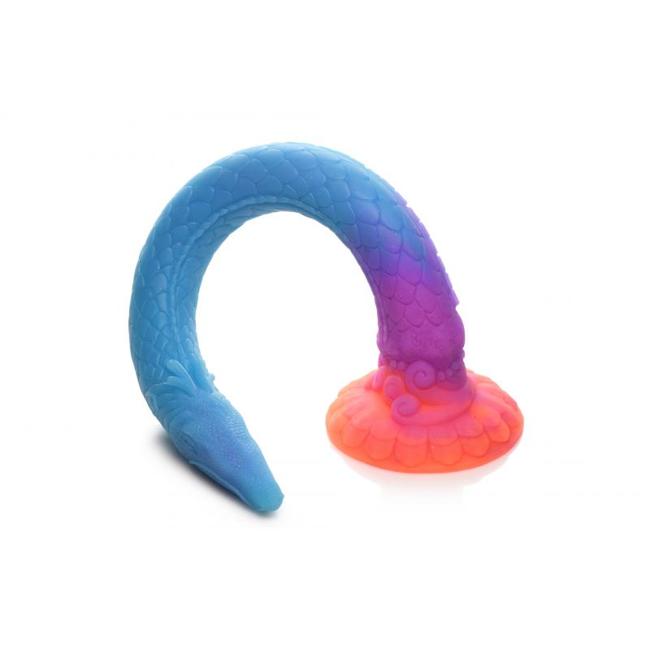 With measurements of 18.25 inches in overall length and an insertable length of 16.5 inches, this dildo is designed to provide deep and fulfilling sensations. Its narrowest insertable diameter measures 1.5 inches, while the widest insertable diameter is 2 inches, offering a pleasurable stretch for those seeking a more intense experience.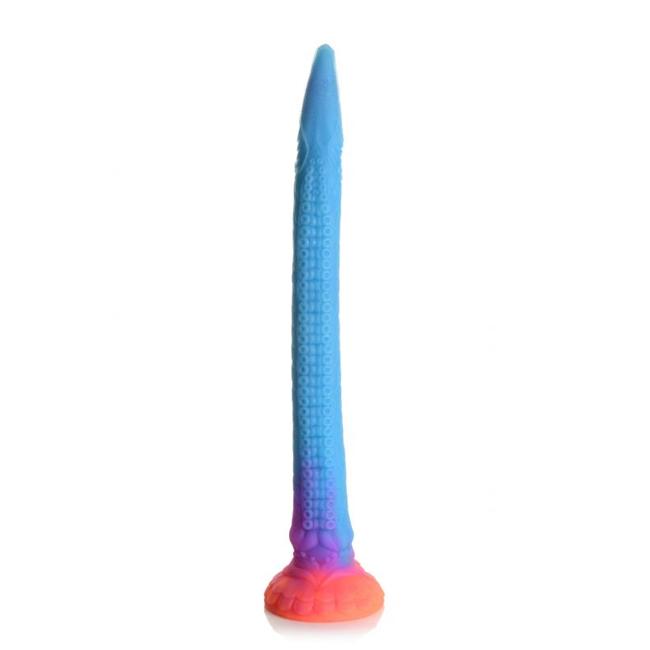 Please note that this dildo should only be used with water-based lubricants to ensure compatibility and to maintain its high-quality silicone material.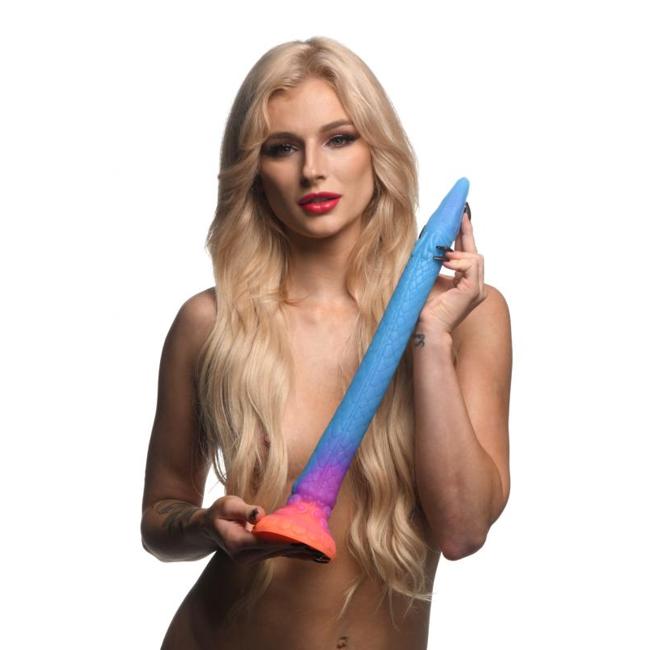 Experience the unique and captivating pleasure of the Creature Cocks Makara Glow In The Dark Silicone Snake Dildo. Dive into an ocean of pleasure and let your fantasies come alive with this exceptional toy. Explore the forbidden and indulge in unforgettable moments of pleasure. Add this one-of-a-kind anal dildo to your collection today! Available in orange, purple, blue, and glitter colors.
Categories: Dildos, Dongs, Unnatural Dildos and Dongs, Realistic Large Dildos.