Description
Booty Sparks Gem Anal Plug Set by Xr llc in MQ featured Male Sex Toys and Anal Sex Toys.
Booty Sparks Gem Anal Plug Set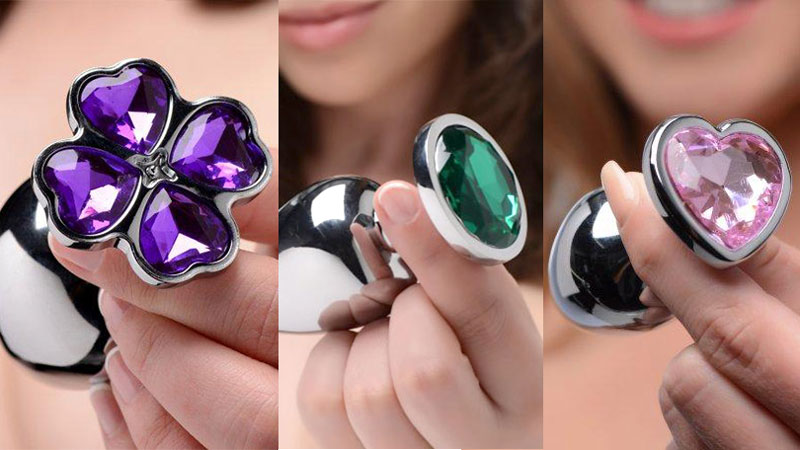 Introducing the Booty Sparks Red Heart Gem Anal Plug Set, a trio of captivating Ruby Anal Hearts designed to adorn and delight your derriere. These weighty and alluring metal plugs graduate in size from small to large, making them perfect for anal enthusiasts of all skill levels to indulge in exquisite pleasure.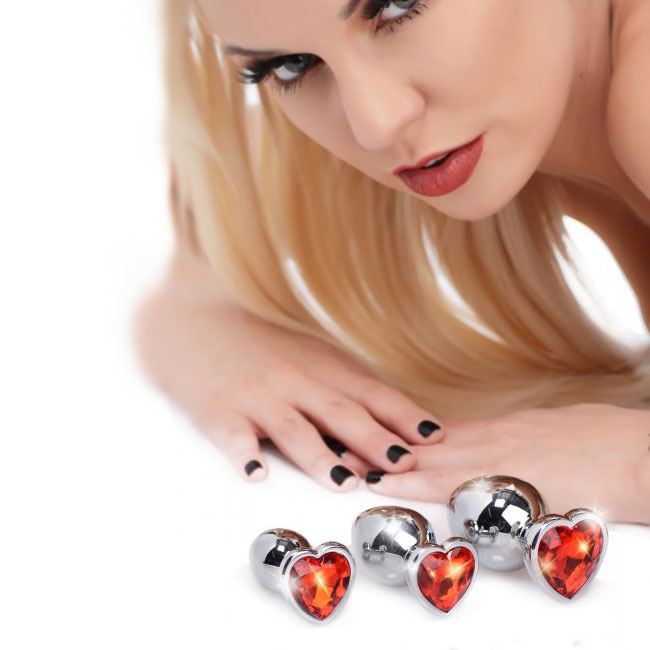 Product Dimensions:
Small: Overall length 2.8 inches, Insertable length 2.4 inches, Diameter at widest point 1 inch.
Medium: Overall length 3.2 inches, Insertable length 2.7 inches, Diameter at widest point 1.3 inches.
Large: Overall length 3.6 inches, Insertable length 3.1 inches, Diameter at widest point 1.6 inches.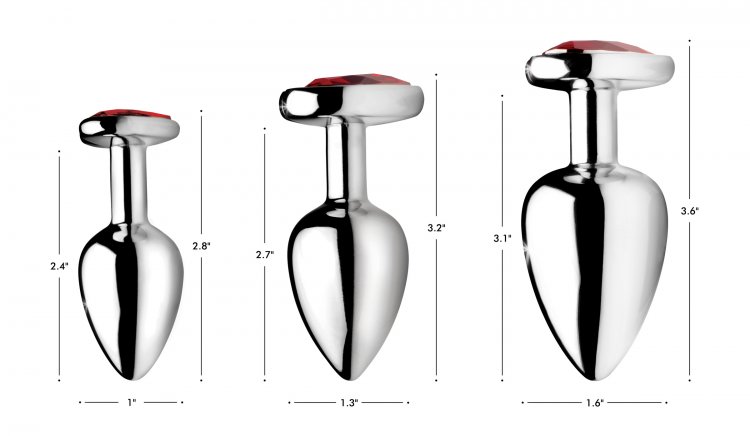 Add a touch of ruby red flash to your intimate moments during foreplay, warming up for the main anal event, or simply as a visual teaser for your lover to enjoy while you bend over. The set includes three heart-shaped plugs, starting with the smallest and progressing to medium and large, allowing you to explore and stretch your anal horizons at your own pace.
The Ruby Heart Anal Plugs can be used solo for personal exploration, or you can share the pleasure with your partner and indulge in exciting double penetration fun.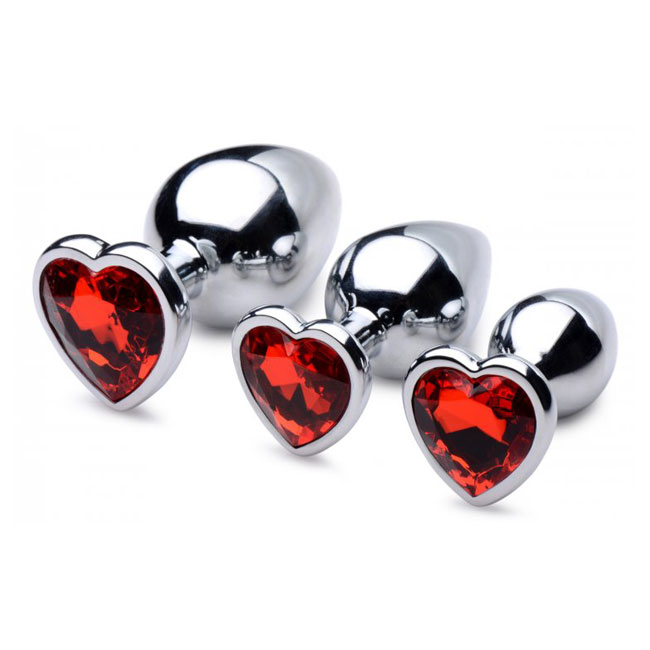 Crafted from a heavy aluminum alloy, these ruby plugs offer a weighty, smooth, and durable feel, ensuring a satisfying and stimulating experience with every use. The plugs are also perfect for temperature play; warm or chill them in a bowl of water to add an extra layer of sensation as you insert them.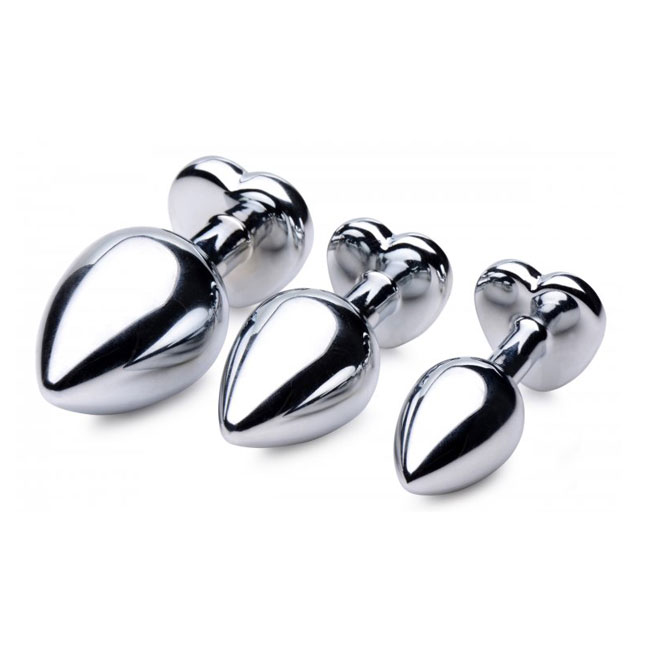 Each plug is satisfyingly hard, providing a delightful mass for your booty to squeeze on, enhancing your pleasure and enjoyment during playtime. These anal plugs are compatible with all kinds of lubricants, allowing you to customize your experience for maximum comfort and pleasure.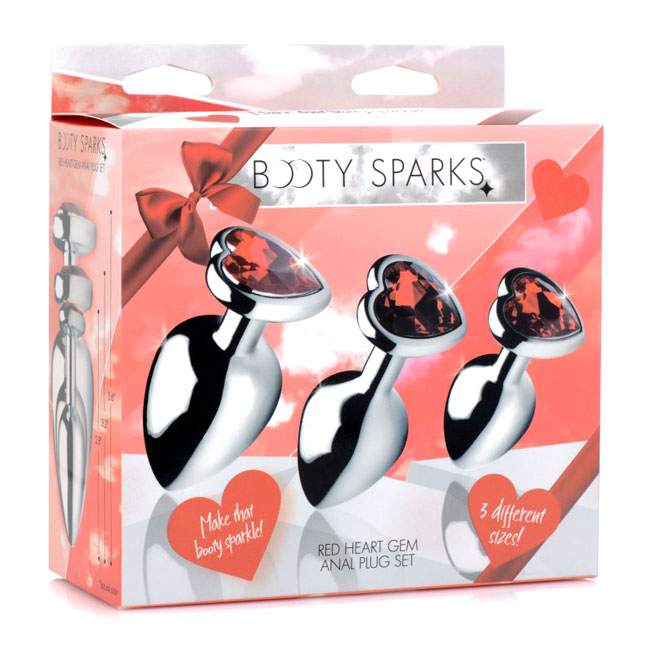 Materials: Aluminum alloy, ABS plastic.
Indulge in the beauty and pleasure of the Booty Sparks Red Heart Gem Anal Plug Set. Embrace the enticing allure of ruby hearts and explore new dimensions of pleasure as you play with these luxurious and versatile anal plugs. Whether you're a curious beginner or a seasoned explorer, this set is designed to elevate your anal experiences and leave you wanting more.
Weight: 0 pounds. Length: Inches
Released on 2021/7/11