Description
The Bedroom Bliss Lovers Bondage Bench from XR Brands is a specially designed piece of bondage furniture that offers comfort and support for extended play sessions. This ergonomically designed bench ensures that your torso and lower limbs are fully supported and cushioned, allowing you to indulge in longer scenes without sacrificing comfort.
Bedroom Bliss Lovers Bondage Bench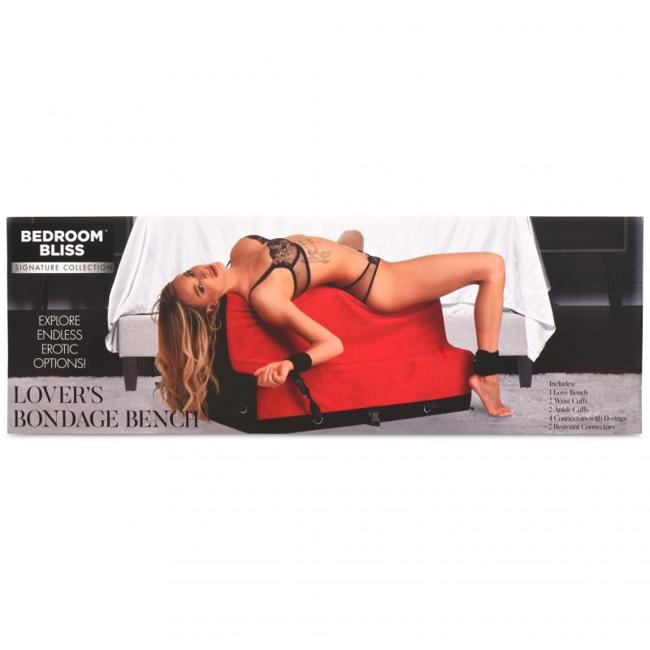 Unlike traditional bondage furniture, this bondage bench is made with high-density foam, providing firm support while still being soft enough to prevent numbness and discomfort. The vibrant red and deep black bench can be easily moved and placed on the floor or a bed for versatile play options.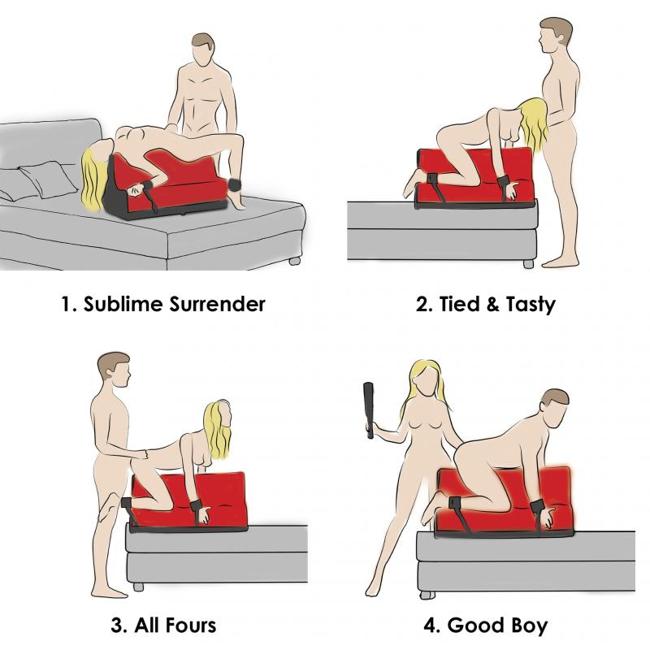 Featuring 12 different attachment points, the bench allows for a variety of restrained positions. It comes with 2 wrist cuffs, 2 ankle cuffs, 3 connectors with D-rings, and 2 restraint connectors, allowing you to experiment with different levels of restraint and play.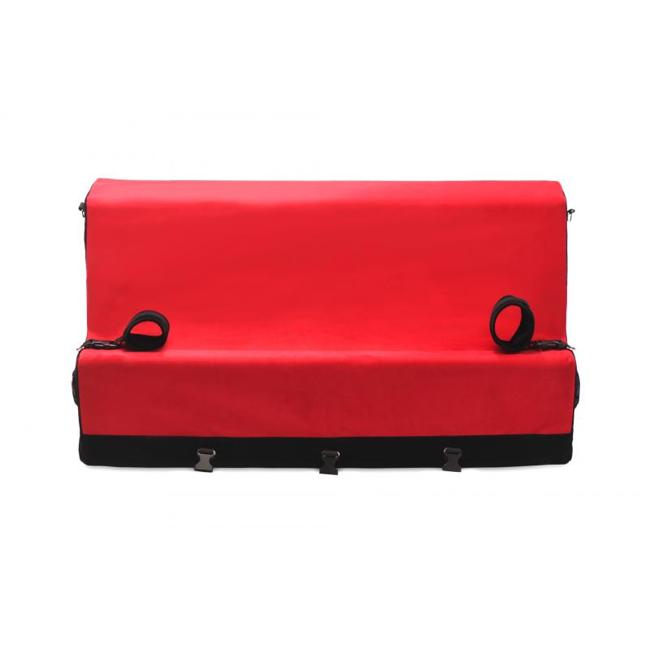 The bench is covered with a velvety soft outer cover that feels luxurious against bare skin. The inner cover is water-resistant, protecting the foam from spills and moisture. Both covers are machine washable, making it easy to keep the bench clean and hygienic.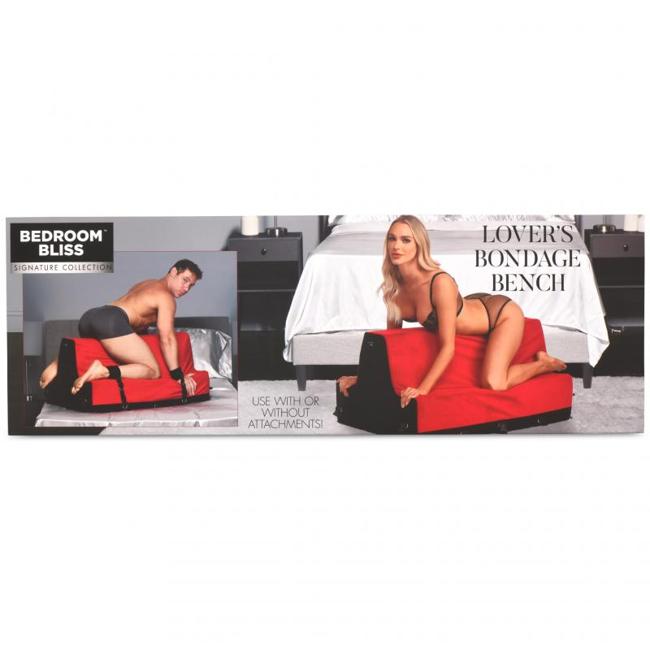 With its plush foam cushions, this bondage bench provides superior support and comfort for your most erotic adventures. Whether you're using it for light bondage play or exploring more intense BDSM scenes, this bench is designed to enhance your pleasure and allow you to fully indulge in your desires.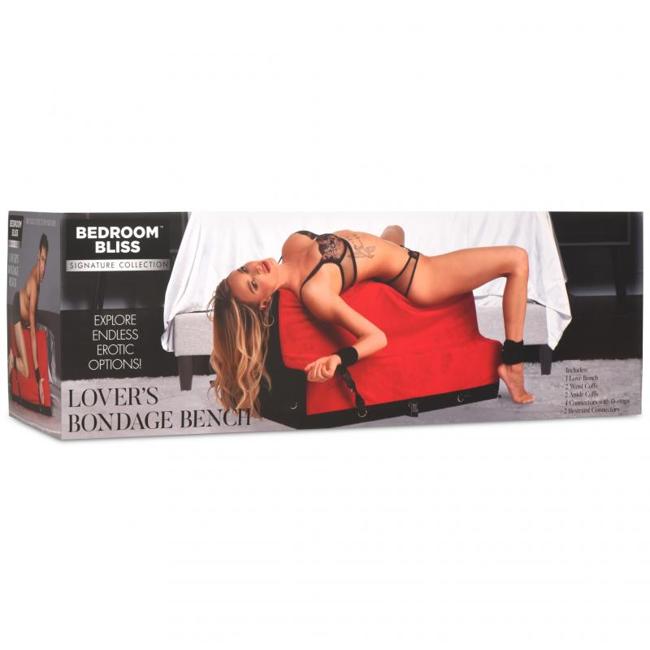 Measurements of the bench are as follows: length 36 inches, width 24 inches, height 17.5 inches, and knee pad height 8.5 inches. The materials used include polyester, polyurethane PU foam, nylon, ABS plastic, metal, and resin zipper. The bench is available in a striking red and black color scheme.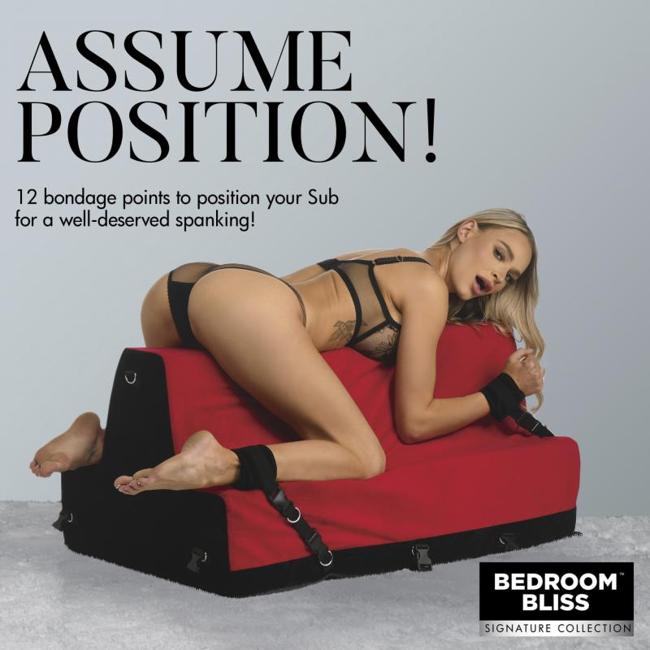 In summary, the Bedroom Bliss Lovers Bondage Bench is a versatile and comfortable piece of bondage furniture that allows for extended and enjoyable play sessions. Its ergonomic design, high-density foam, and multiple attachment points make it a must-have for couples who enjoy BDSM and bondage play.