Will Taiwan Legalize Same-Sex Marriage this Week? Party Proposes Change to Marriage Law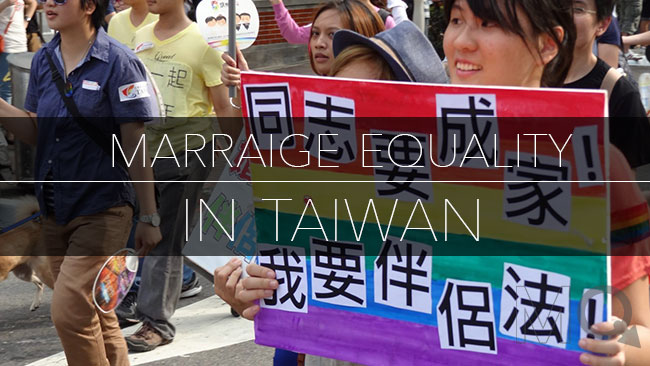 Marriage equality in Taiwan has been discussed again and again over the last few years and this year people have been counting on the newly elected president Tsai Ying-Wen to live up to her campaigns support of the LGBT community.
With Taiwan's annual Taipei pride parade, the biggest pride celebration in Asia, coming up at the end of this month, The Democratic Progressive Party has proposed to amend the Civil marriage law to recognize same-sex marriage. As of now, 33 legislators have signed up for the proposal, which would allow homosexual couples to have the same rights as heterosexual couples.
The content of the proposal has three major points – the first, to fix regulation 972, which currently limits marriage recognition between a "male and female party" to instead read "Both Parties". Additionally, this would change regulation 973 to limit the age of engagement to 18 years old.
The most important change in will be to include homosexual couples to be recognized equally under Taiwanese Civil law which would allow them to receive equal benefits and recognition as a married couple.
The proposed change would also extend adoption right in which the courts would need to be permitted without bias or discrimination against one's sexuality or sexual orientation.
Taiwan has already been making progress as one of the first in Asia to allow civil partnerships which compared to others in the region, has allowed Taiwan to be considered as one of the most progressive countries in terms of LGBT rights.
To date, the Taiwanese president has shown very prominent supports for same-sex marriage, and this new news seems like a promising glimpse of what is to come in the not too distant future.

We will keep you up to date as we learn more!
Original Source|Cover Image By YC Lo Under Flickr Creative Commons
Read More Male Q Guides