Description
Male Q Adult Store Featured Love Rings – BALLSLING BALL SPLIT SLING OXBALLS BLACK (NET) released on 6/18/2018, by OXBALLS.
BALLSLING BALL SPLIT SLING OXBALLS BLACK (NET)
Ballsling Ball Split Sling from Oxballs Black. You asked for it and we delivered introducing the special edition cock sling and ball separator, Ballsling. Ballsling is everything you love about the original Cock Sling design but it is thicker, softer and even more bang for your balls. Ball Sling has a built in sack ring at the base and a thick strap of Flex TPR that pushes down on your ball bag and acts as a separator.
The ring keeps your balls anchored down in the sling and the separator forces your nuts downward and away from each other for a sweet stretching sensation. It is made from signature Flex TPR so it is super blubbery and squishy but still firm enough to squeeze and separate your sack your nuts have never experienced anything like this. It is perfect for guys who like having their jewels handled or to present your balls for a serious CBT scene. Ballsling also doubles as a bulge enhancer to fill out your favorite jock strap pouch or some tight gear.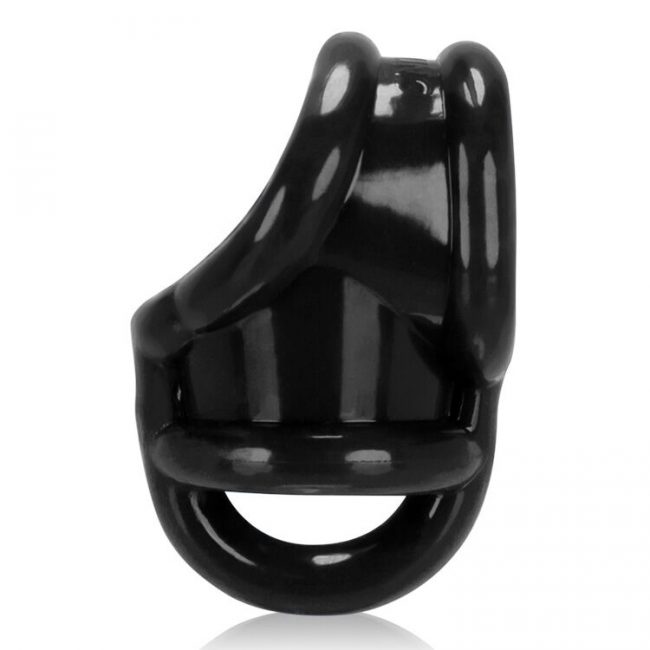 Original design copyright by Oxballs. Flex TPR safe, strong, non-toxic and phthalate free. Lube safe. Water based or silicone personal lubricant. Care: wash after use in warm soapy water, air dry. Store toys separately. Oxballs recommends breathable cloth pouches or cotton socks. Stats approximate: width 2 inches, height 3 inches. Main hole circumference 4.25 inches. Shaft hole circumference 3.75 inches. Ball hole circumference 3.25 inches. Weight 1.5 ounces.
Dimensions
Height: 0  Length: 0 Diameter: 0  Weight: 0
Features
Color: Black  Material: TPR Barcode: 8.40215E+11
MQ Sex Toy Store Mens Cock & Ball Gear product collection.