LGBTQ Youth Homeless and In Need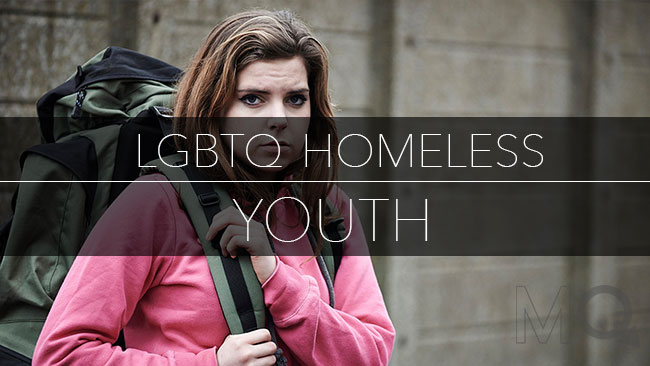 All 50 states in The US have legalized same-sex marriage, and the rights of the LGBTQ community have improved since, yet some have been left behind, especially for teenagers who are living in an unfriendly home environment.
Despite the media ramblings of true equality across The US, many LGBTQ people still face injustices and mistreatment.  Today, around 92% of LGBTQ teens reported being insulted and hearing negative messages about their sexual orientation, and even likely to be physically assaulted, according to the Human Rights Campaign.
Tessa, a young trans-woman who was bullied in school and violently abused by her father and was hospitalized three times before the age of 18 for attempting suicide. Eventually, she was moved to transitional housing, but was placed in "male housing", despite her request to be placed in female housing. The director rejected her request for "the safety of other women", saying the women who had been abused by men would be uncomfortable sharing a room with Tessa.
She consequentially became homeless after her father's own threat to kill her.  She then reached out to the Ali Forney Center, the largest shelter dedicated to homeless LGBTQ teens founded in 2002.  But even here in the nations largest center, there are not always enough beds for all the homeless LGBTQ youth.
The main reason for the increase of LGBTQ teens on the streets is lack of acceptance form their family or caregivers.  Most report having been kicked out of their homes for being who they were, some being abused and threatened by peers or even family members, which caused most of the teenagers afraid to come out. Despite only 7% of the teens identify as part of the LGBTQ community in The US, sadly, 40 % of the homeless teens identify as LGBTQ.
In New York City alone there are over 30 shelters and care centers , yet as of 2012, there were less than 10 shelters specific to LGBTQ teens. The statistics from this year also showed that over 5,000 teens were rejected by the shelters due to the lack of beds, forcing many to spend the night in the parks, trains, or on the streets. Without a roof over their heads, they are exposed and open to danger.
Many are caught in a cycle, unable to pick themselves back up.  With limited ways to earn money for basic needs to survive, many homeless kids turn to sex work in exchange for food, shelters, and money. Worrying where the next place to sleep is and how to get through the night, makes it almost impossible for them to worry about the educations and job hunting.
Luckily many are fighting against this and thanks to the dedication of shelters and community center, more and more teens from the streets now get to live their lives without worry, and can start to plan out their futures.
With the help of the Ali Forney Center, Tessa is now focusing on the future path and moving on with her life.
Still, the problem of homelessness is still a struggle as homeless LGBTQ youth can face many difficulties on the streets, dealing with drugs, abuse, discrimination, and even HIV and STIs.  It is not until the evolvement of people's acceptance that we can hope to see people a shift and societal solution to the problem. 
Source: Huffington Post | Cover image by U.S. Department of Agriculture
Read More Male Q Guides