Best Dildo for Women – Top 10 Dongs of 2022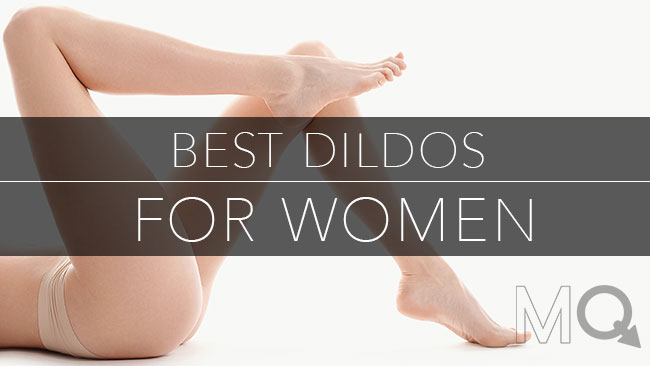 If you are on the hunt for a sex toy that is better than the real thing, then you have come to the right place! I'm Miss Q, and I am here to introduce you to the best dildo for women and my top picks of the toys you should try this year.

Best Dildo for Women

When choosing the best dildo for women you need to decide what your needs are. Are you looking for realism or stimulation? Size or something more beginner-friendly? To be frank, there is no best dildo for everyone, but instead, the best dildo for your needs. But, for most women out there the toy that ticks the most boxes, provides the best feeling, and comes as close to the real thing is our top choice.
Cyberskin Cyber Cock with Balls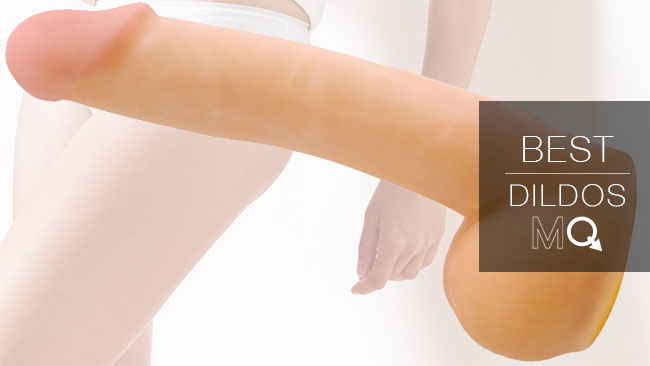 The best dildo for women is by far the Cyberskin Cock. Ever wondered what it feels like to use a sex toy that feels too real to be true? A dildo that has almost no difference from doing it with a real person? That's what using a Cyberskin dildo is really like!
The Cyber Cock comes in at a realistic 6 inches that is ecstasy inducing to every inch. It's really difficult to describe the magic of this toy, especially when compared to traditional dildos.
MQ Reader Review:
"The Cyberskin Cybercock is one of the most realistic feeling toys I've ever used. The shaft is the perfect thickness and feels just right. I highly recommend this to anyone who wants a realistic experience and a quality toy."
And it is the fine details that really complete the package. The addition of realistic veins, a sculpted tip, and a ball sack for more realism. Once you have tried a dildo made from Cyberskin, there is really no comparison.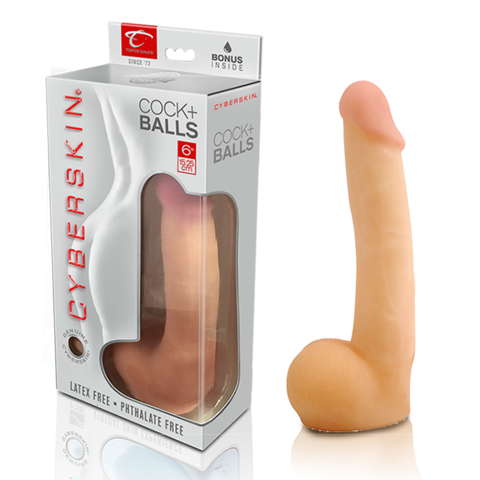 View on: MQ Store

Best G-Spot Dildos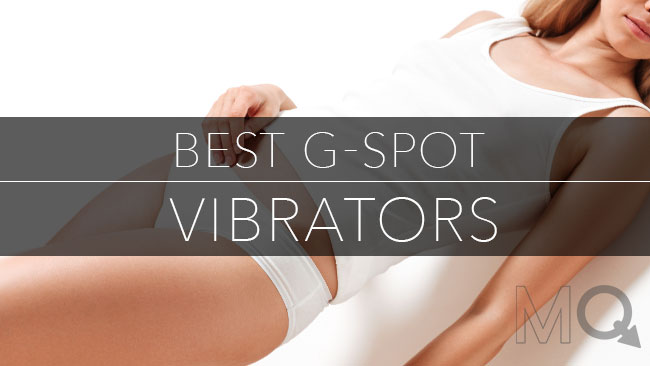 If you are looking for a dildo with more targeted stimulation, go for a g-spot dildo. These are specifically curved and shaped for g-spot stimulation and can be the best tool to get an intense g-spot orgasm. This makes G-Spot toys the best dildo for women to achieve an orgasm and maximize pleasure.
Glass Dildo Series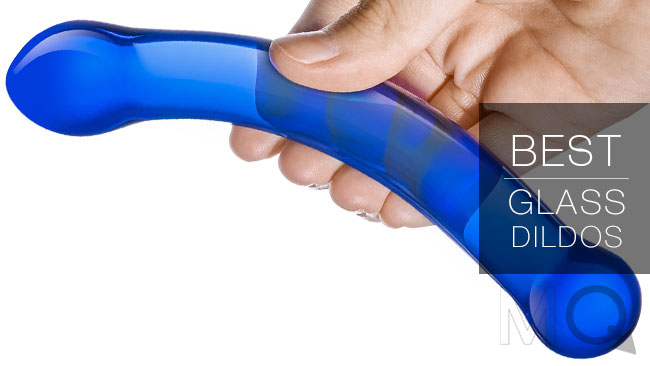 Worried about synthetic materials? Glass sex toys give you extra peace of mind as they are nonporous and free of any chemicals. These toys are also made from super-strength tempered glass meaning they are extra durable and body-safe.
Glass sex toys are something special. You get a dildo that is firm and rigid. This gives you targeted stimulation unlike any other toy on the list. They can also be heated or cooled to add a whole new layer of pleasure.
MQ Reader Review:
"This toy is a very slick glass probe and penetrates deep… It is very comfortable, and long. It is one of my favorites and has become my go-to toy."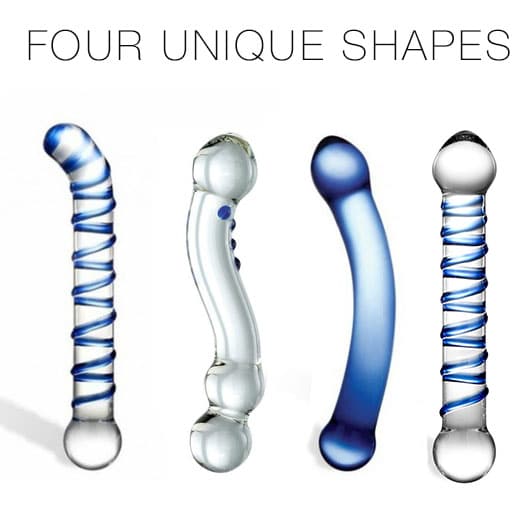 In terms of alternate materials, it really is the best dildo for women. The Glas Series also comes in multiple shapes and textures for a whole range of experiences.
Material: Tempered High-Strength Glass
Thickness: 1.5 in. (3.8cm)
Length: 6.5in (16.5 cm)
Insertable-Length: 5.75 in. (14.6cm)
Stimulating textures
Temptasia Reina Teal G Spot Dildo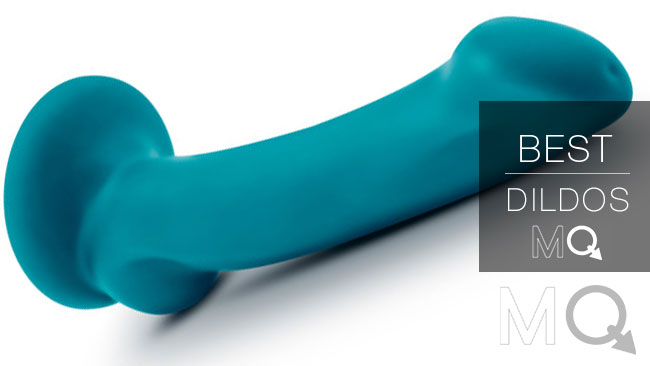 The Reina is a G-spot dildo with just a hint of realism. Made from medical-grade silicone, the silky-smooth shaft is designed to stimulate with minimal friction. It slides easily in and out and curved just the right amount to hit your g-spot.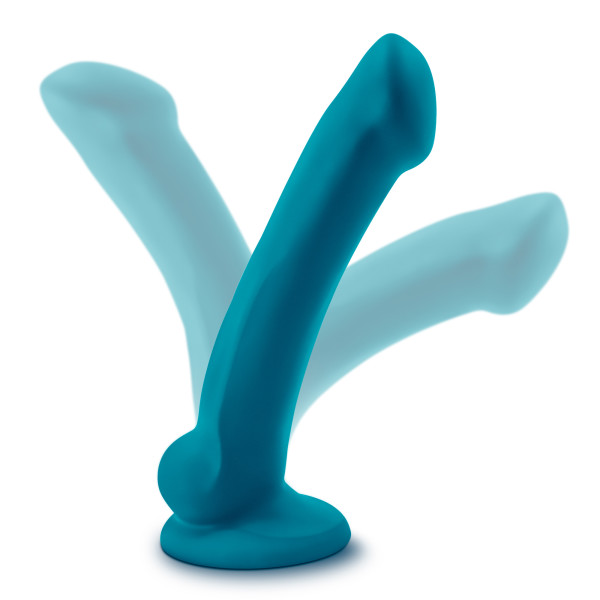 The intentional lines and edges curve to follow the inside of your body. The suction cup base also gives you a firm grip, or the option to use it hands-free. All in all, for g-spot stimulation, it is the best female dildo of its kind.
Material: Silicone
Strong Suction Cup Base
Smooth Glide Body
Insertable Length: 5.5 in.
Diameter: 1.4 in.
Fragrance & Phthalate Free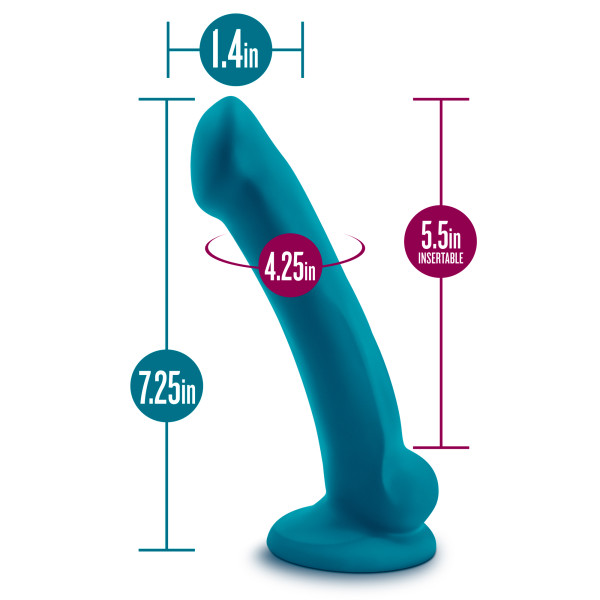 View on: MQ Store

Manhandler Dildo Baton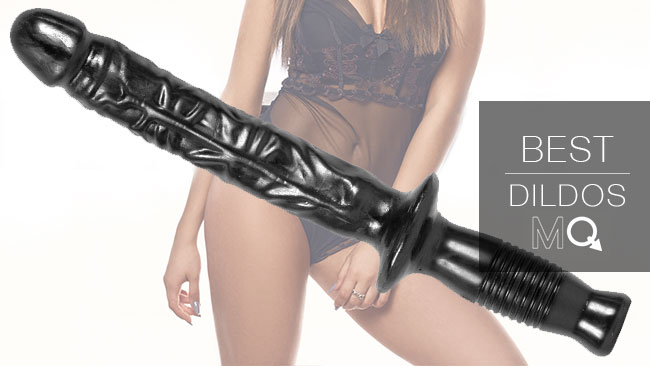 Now, the Manhandler is a classic piece of history. Originally released almost 25 years ago, it is a dildo that still stacks up today. The 14.5-inch Manhandler is the ultimate sex wand with a veined shaft and a bonus police baton handle for easy grip.
MQ Reader Review:
"Great fun, I love this cock. I use it to get warmed up and boy does it work wonders. After a few minutes it makes me squirt all over the place. Get ready for a good hard fucking."
Made from non-phthalate body-safe material, it has the perfect length and width to make you come. The handle is a great feature for control and the length is great for many different uses. Keep in mind that this is among the best dildo for women.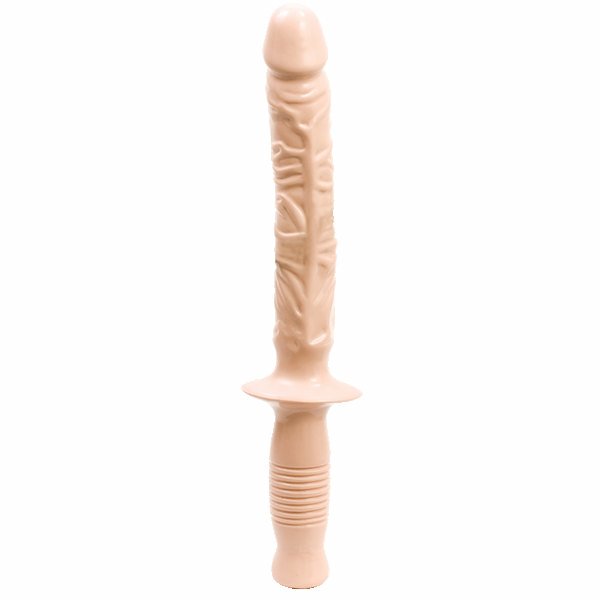 View on: MQ Store

Hands-Free Dildos
Hands-free dildos feature a suction cup at the base. This allows you to stick them to most flat and smooth surfaces for more realistic play. The best dildo for women in this category are realistically shaped and have strong suction for extended sessions.
Boy With Balls Dildo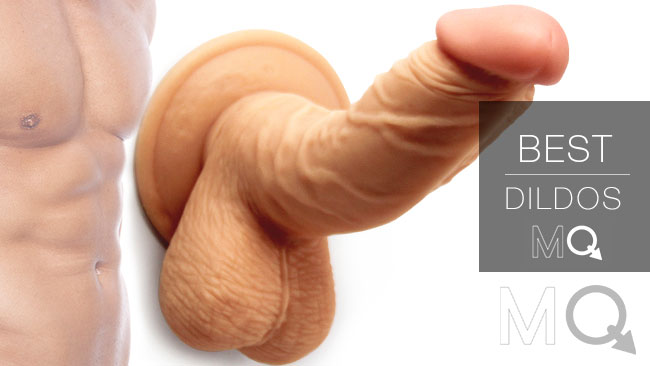 This 6.5-inch long beauty is super flexible and super realistic. It is surely not a veinless product but it is definitely among the best dildo for women. Made of the silkiest butter-smooth material, it has the perfect design and texture, not to mention the curve that helps to reach your G-spot.
MQ Reader Review:
"I'm new to sex toys and have always been hesitant. I saw this one, read the reviews and had to try it. It is great! Just the right size, nicely curved to fit and feels amazingly like the real thing."
It has a strong base and a suction cup that works great. My personal suggestion is to try riding it while it is placed on the ground or against your wall.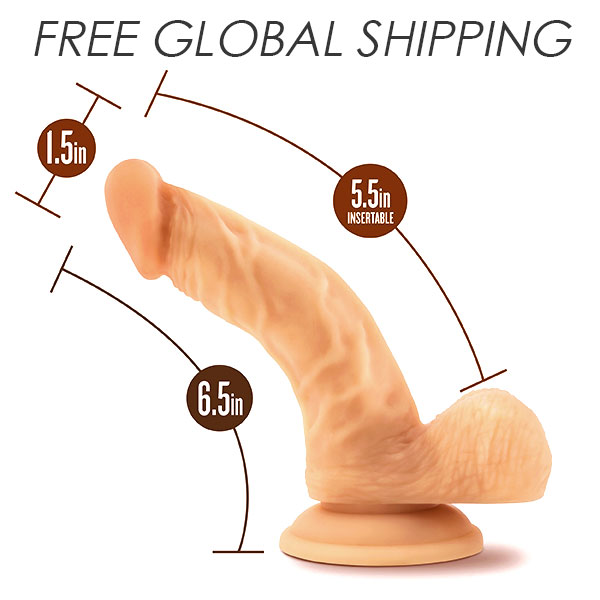 View on: MQ Store

Loverboy Tony the Waiter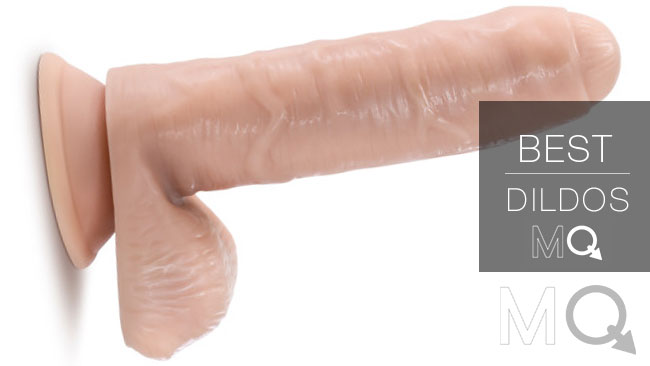 Are you used to hands-free stimulation? No problem! The Loverboy Waiter Dildo is part of a hands-free collection. Its included suction cup at the base provides strong suction that can be stuck to most surfaces. Then, get on top and ride for optimal stimulation.
Cleverly shaped and ergonomically designed, no wonder it is one of the top-selling dildos of all time. The realistic shape and foreskin give you a feel almost close to the real deal. Use it in your vagina or anus, either way, it will rock your world.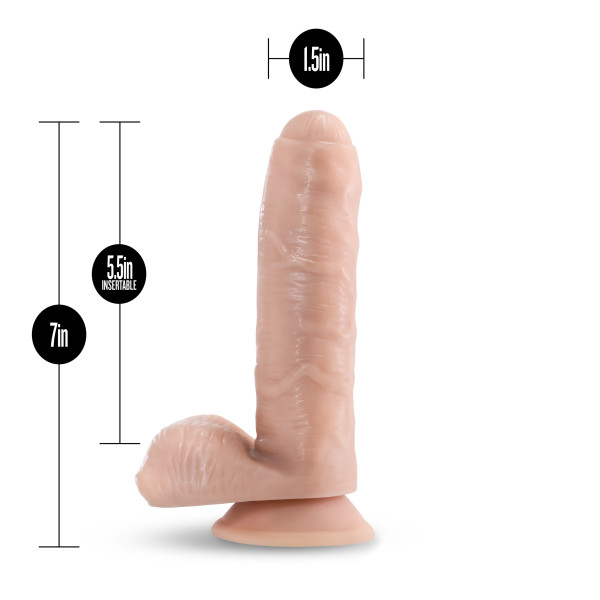 View on: MQ Store

Cloud 9 Platinum Silicone Dildo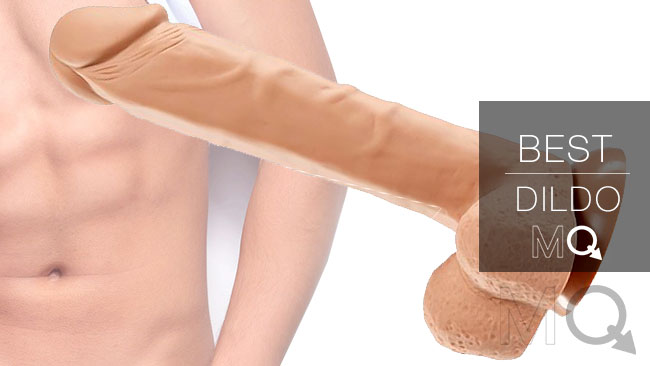 This dong is velvety soft to the touch, yet firm for effortless penetration. Made from body-safe silicone, non-porous for easy worry-free cleaning. It's generously sized, slightly curved, and heavily veined providing immeasurable pleasure. The versatile suction cup base is super strong for creative exploration.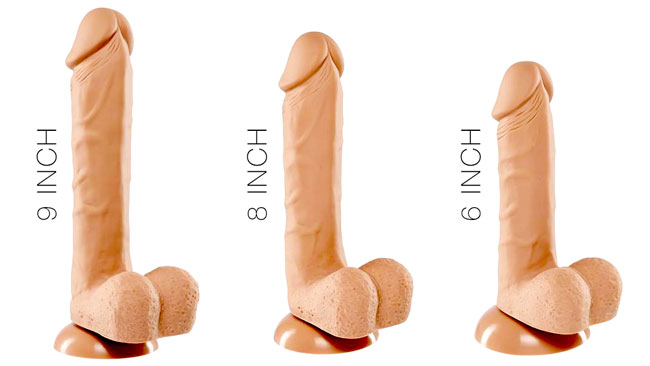 Some call it the most perfect vivid cock you can imagine. I especially appreciated the thickness of its head and the delicious veins. Some of our readers claim that their orgasms are huge from this bad boy who most obviously is on our list of top ten female dildos.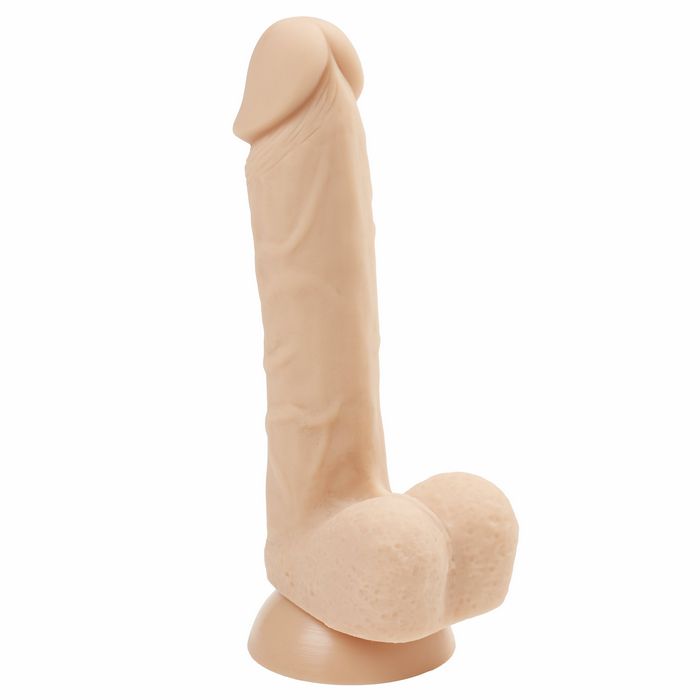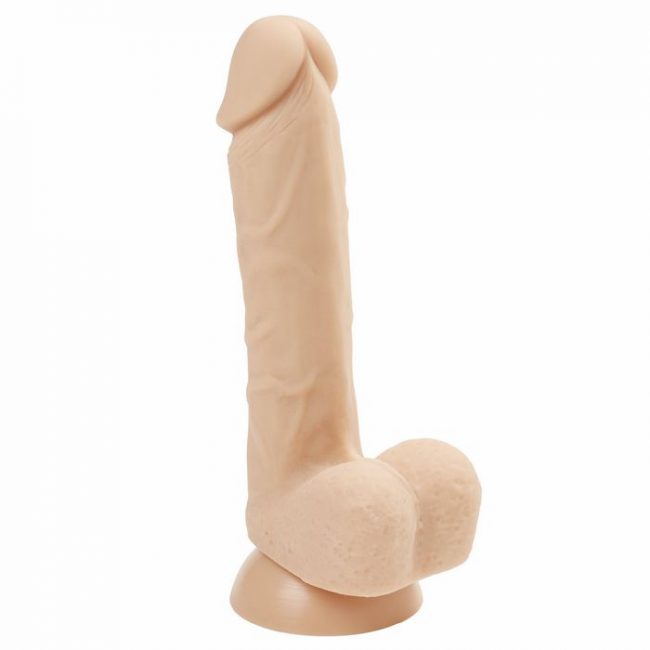 View on: MQ Store

Dr Skin Basic 8.5 inches Realistic Dildo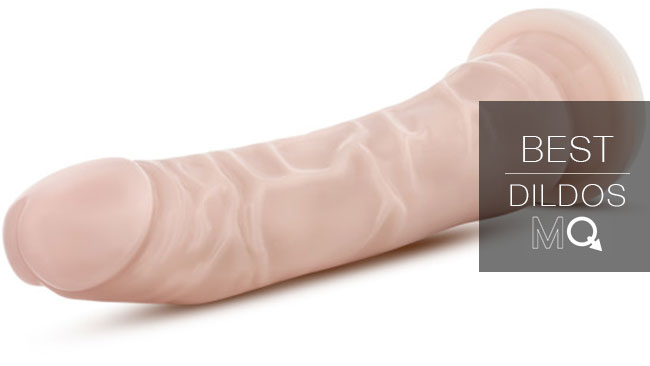 Dr. Skin Realistic Cock is a harness-compatible realistic dildo with a slight curve and veiny texture. Its length is perfect for beginners who want to experience the real feeling that comes with it. It comes with a sturdy suction cup base that holds to any smooth flat surface for solo time. Its slim shape and head is tapered for easy insertion.
Wanna know why I personally think this made it to our list the best dildo for women? Because it is made from latex and it is perfect to be kept on your shower wall. A satisfied owner enjoys an orgasm or two from it. Isn't it just what the doctor ordered?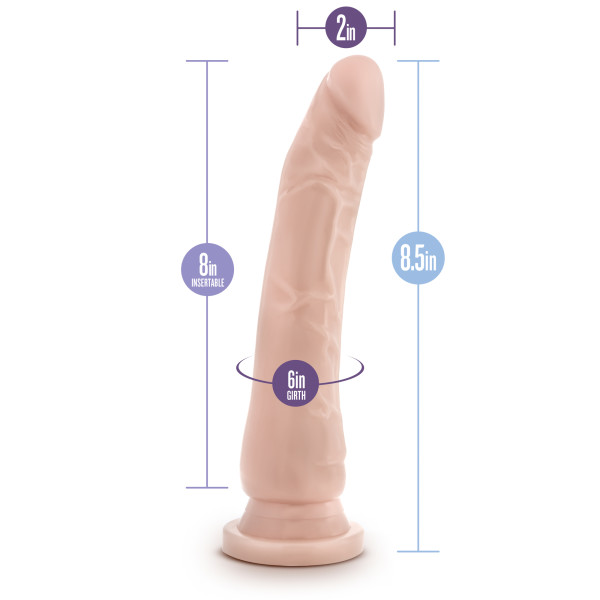 View on: MQ Store

Huge Dildos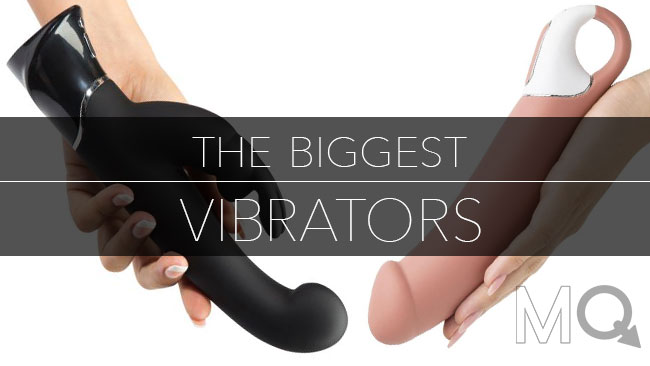 Want a dildo that gives you a true "Full" feeling? These dildos have the extra length, and girth to leave you truly satisfied. The best dildo for women to feel fulfilled comes in a realistic shape and some truly huge sizes.
Vac-u-Lock – Realistic Stryker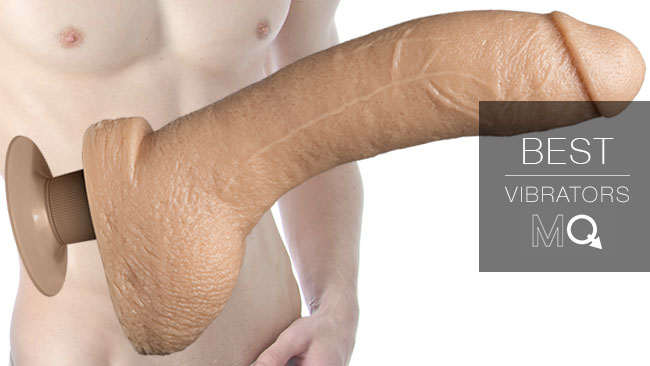 Have you ever wanted to get fucked by a porn star? The Stryker is 7.2 inches of pure pleasure. This magician of a dick is a gently curved penis with a bulging head and realistic squeezable balls. Once you figure out the moves that suit it best, it allows you to have your way with the real thing, or at least with one that feels like it.
MQ User Review:
"This toy is perfect. The shape, texture, size and width feels absolutely incredible. It really makes me feel full in terms of its width and length. Just like to feel the full feeling it gives me, before I start to really fuck myself with it. This is a great toy and I highly recommend it to anyone who likes a nice challenge. Great cock to play with!!!"
For some women, a lot of lube is necessary to take it all in, but when it happens, really intense multiple orgasms are guaranteed. No wonder the Vac-u-lock has made it our pick as the best dildo for women. It is a wonderful sex toy for any woman who wants to be filled up. It is worth every penny.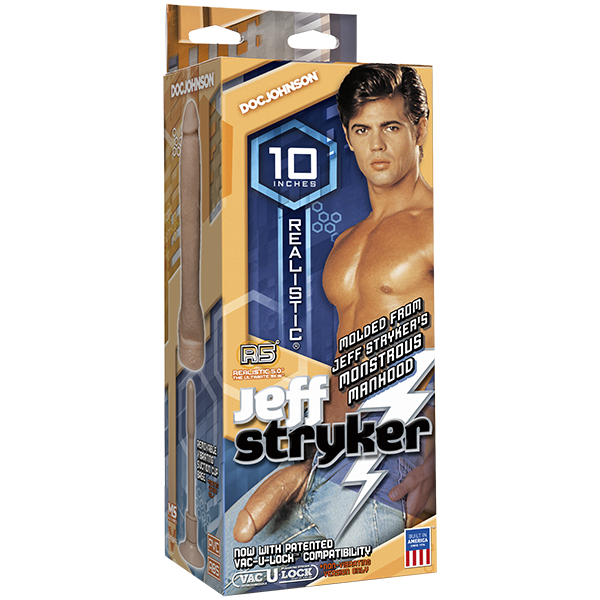 View on: MQ Store

Double Dong 18 inches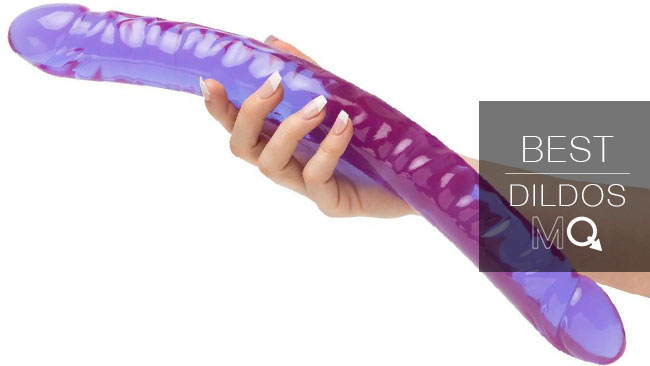 Let me show you a unique piece with a length in the double delights. Wanna enjoy a filling night for two? This dual-headed and veined dong with a textured surface will definitely make you share intense pleasure until you can't possibly handle it anymore!
It's 18 inches long and extremely flexible. It is easy to use on your own for single or double penetration, but it is also a must-try for anyone wanting to share with a lover, or just go extra deep on their own.
MQ Reader Review:
"I have only played with it myself. Can't wait to have someone to play with me. It is big."
A very satisfying double donger would certainly place this one on our list of the best dildo for women, while we highly recommend it too for deep anal lovers.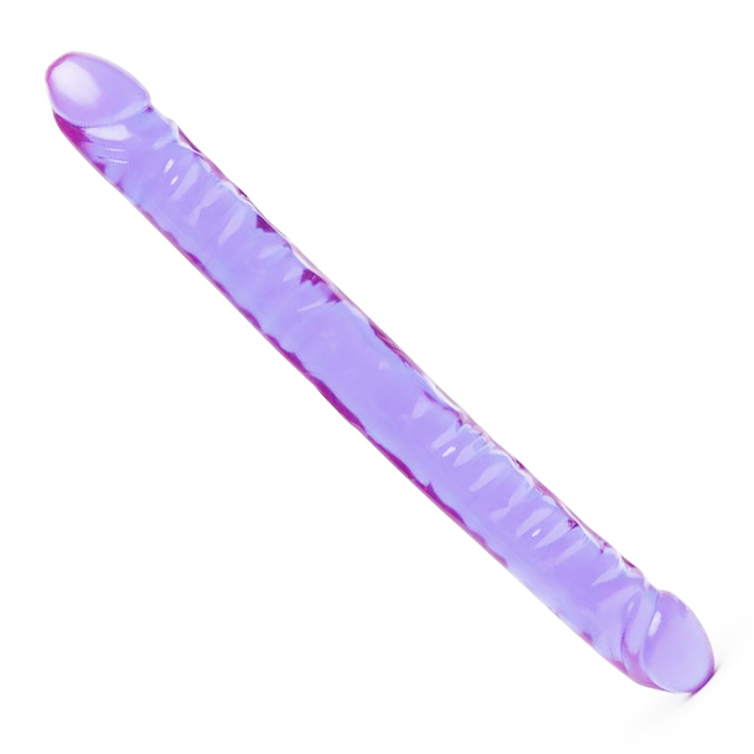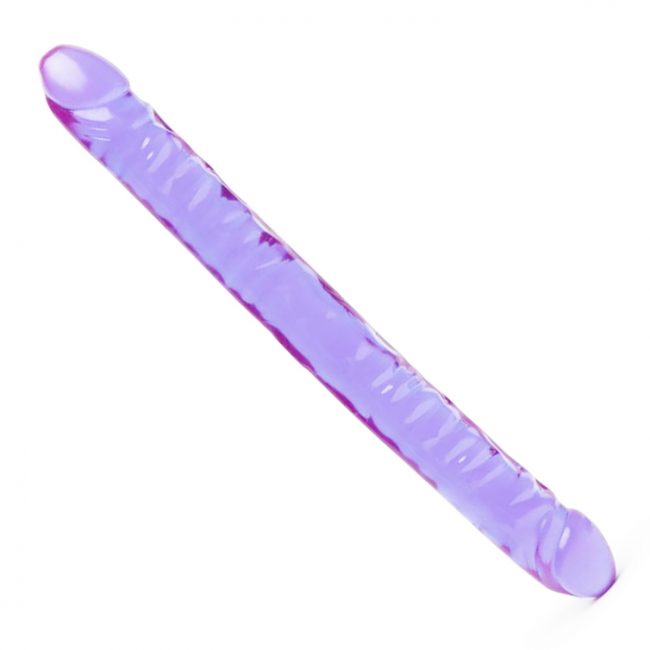 View on: MQ Store

Star Scene Stealer Solid Dong 12 Inches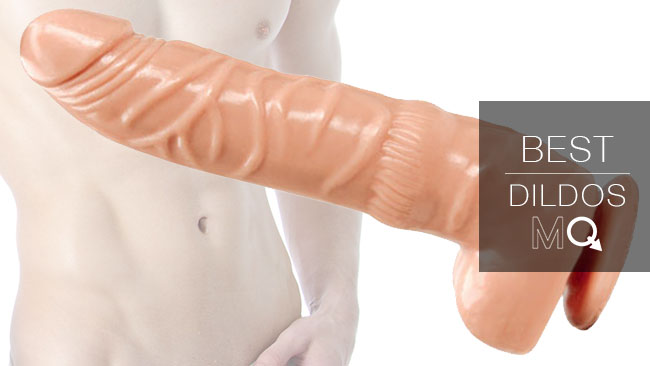 Let's face it, this thing is huge. That is the very adjective best describes it. It is also on the list of the best dildo for women. If you want to try something big, then this star dong is one of your best options! Don't be star-struck! This scene-stealer wants to do more than sign an autograph!
MQ User Review:
"This cock is awesome….the nice head makes it easy on entry and the shaft and suction did just what I needed. I highly recommend it!!!"
Treat yourself like a movie star with its almost 10 inches of usable length, textured and smooth material. One tip from me: it gets more exciting to sit on it after a few minutes of the trial. It is an incredible dildo with special veins that transport you into a perfect paradise of sensuality.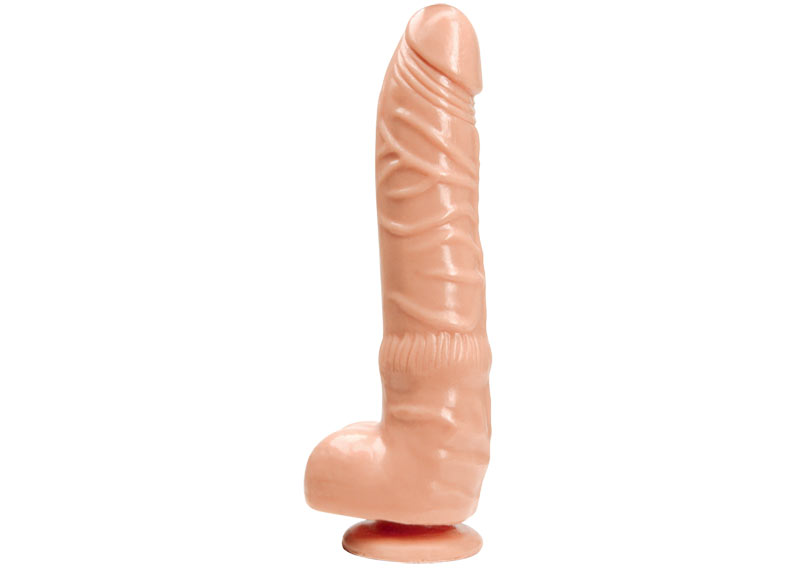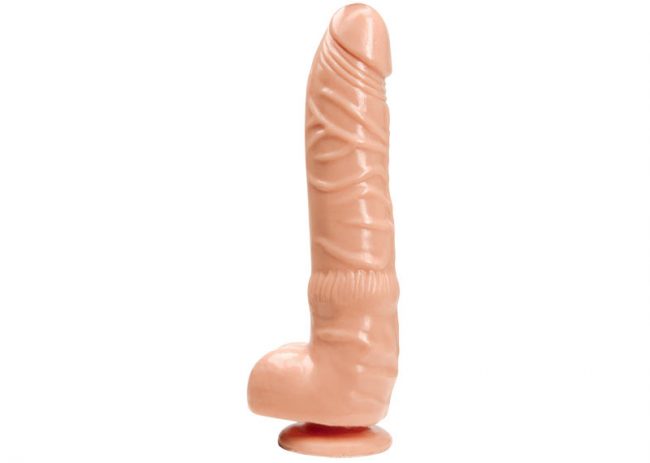 View on: MQ Store

How to Keep Your Dildo Clean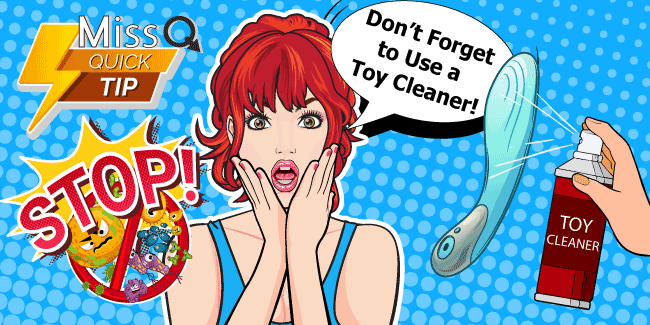 Using a toy cleaner is essential to keeping your dildo fresh and safe. Toy cleaner works by killing any germs and funny smells that might be lingering behind, even after washing with soap and hot water.
Toy cleaner is a great way to keep your toy fresh and safe.
Toy cleaner is a great way to keep your toy fresh, hygienic, and odor-free.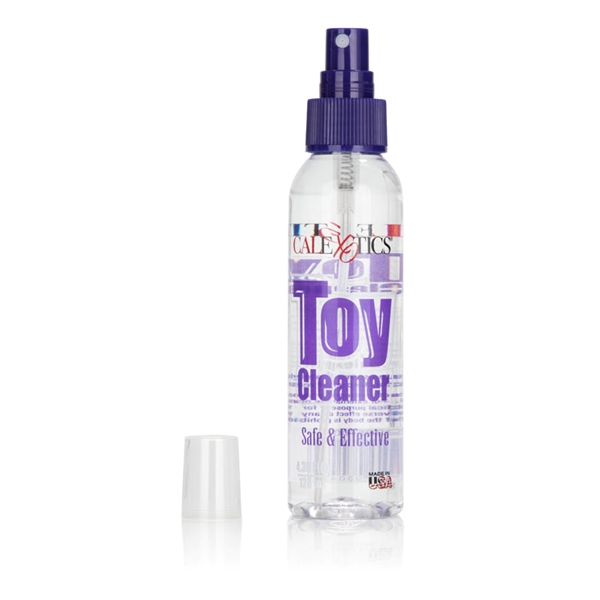 View on MQ Store

Use a Lube for Smoother Dildo Play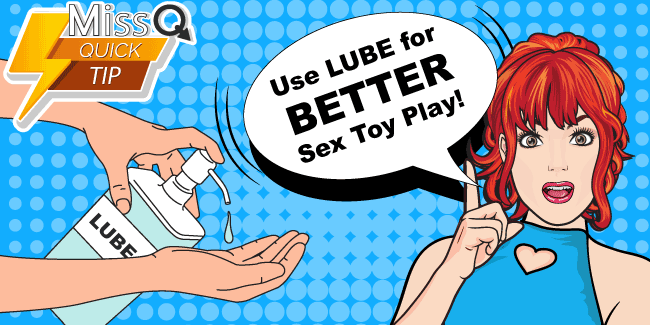 Pairing your dildo with quality lube can help to enhance your experience. Lube can help you have a smoother, more pleasurable experience and even enhance your final orgasm! Our favorite lube is Pjur's Aqua for women. It is a water-based lube designed specifically for vaginal play and pairs well with sex toys of any material.
Tasteless, Odorless, and Non-Toxic
Hypoallergenic
Designed Vaginal Play
Plays Well With All Toys
Water-Based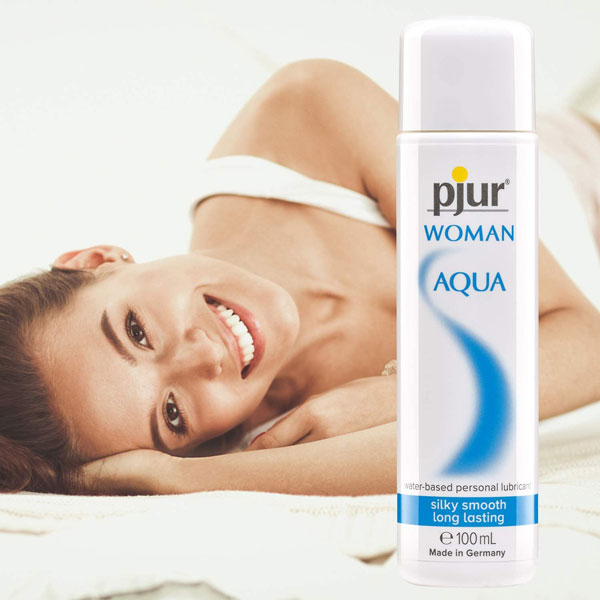 View on: MQ Store

These are our picks for the best dildo for women this year. Do you have a favorite we forgot to mention? Let us know in the comments below!
Read More Female Sex Toy Buyer's Guides